How to activate Jio eSIM on Apple iPhone models
Currently, Jio eSIM functionality is available on select Apple iPhone models including the iPhone XS, iPhone XS Max, iPhone 11 series, iPhone 12 series, etc. To activate an eSIM make sure you are using an iOS 12.1 or above OS-based device.
1. First Go to Settings options and click on General.
2. Next click on About which will display your EID and IMEI number. Please note those down.
3. The next step is to send 'SMS GETESIM' from your phone with its EID number and IMEI numbers to 199.
4. After that you will receive a 19-digit eSIM number and eSIM profile configuration details.
5. You will also get a notification to configure the profile.
6. Next send SMS SIMCHG to 199 followed by a 19-digit eSIM.
7. You will receive an update in two hours' time, which you will have to confirm by SMSing '1' to 183.
8. After this you will receive an automated call which will ask you for the 19-digit eSIM number.
9. Post successful confirmation, you will receive an SMS for the same.
10. In case you receive a notification to configure the profile, just click on it and select Install data plan.,
11. Press Continue.
12. In case you don't receive the notification, go to Settings and tap on Jio Data Plan Ready to be Installed
13. Next click on Continue and your Jio eSIM should now be activated.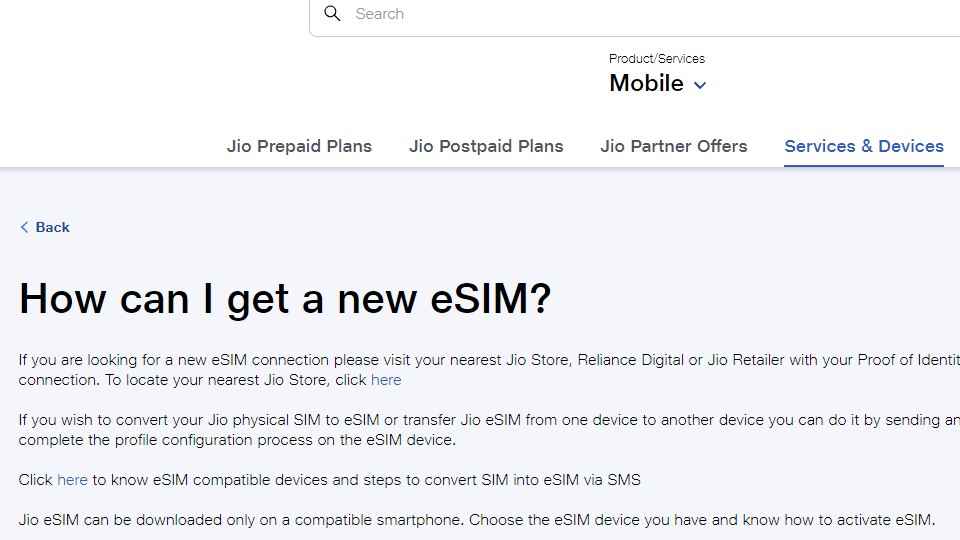 How To Activate Jio eSim on Samsung devices- Follow our step-by-step guide
The Jio eSIM feature works only on select Samsung devices including Samsung Galaxy Z Fold, Samsung Galaxy Z Flip, Galaxy Note 20 series, Galaxy S21 series, among others. Follow the steps mentioned below to activate the SIM.
1. Go to the Settings of the Samsung phone
2. Go to the About section where you would see an IMEI number.
3. Then click on Status information to get the EID number.
4. You will get an SMS GETESIM message to 199 followed by the EID and IMEI number.
5. Next you will obtain a 32-digit activation code and a 19-digit eSIM numerals and eSIM profile details.
6. Then for configuring the eSIM, go to Settings and click on Connections.
7. Next click on the SIM card manager.
8. Under the eSIM, click on 'Add mobile plan' and then tap on 'Scan carrier QR code'.
9. Then on the next screen click on Enter code.
10. You will get a 32-digit activation code via SMS, once you have completed the process.
11. Then you will have to click on Connect and wait till your Jio eSIM is activated.
Follow these steps on How to activate Jio eSIM For Google phones
Jio eSim is supported by a few Google Pixel phones including Pixel 3 series, and Pixel 4a. The steps 1-9 remain the same for all phones.
1.First you will need to go to the Settings option on your phone and tap on Network & Internet.
2.Next select Mobile network and then tap on Download a SIM option.
3.Then Tap Next and enter activation code manually
4.Enter the activation code in the following format
- LPA:1$smdprd.jio.com$ followed by the 32-digit activation code that you would have received via SMS
5. You will have to select Activate and then tap on Done
6. Your Jio eSIM will be activated.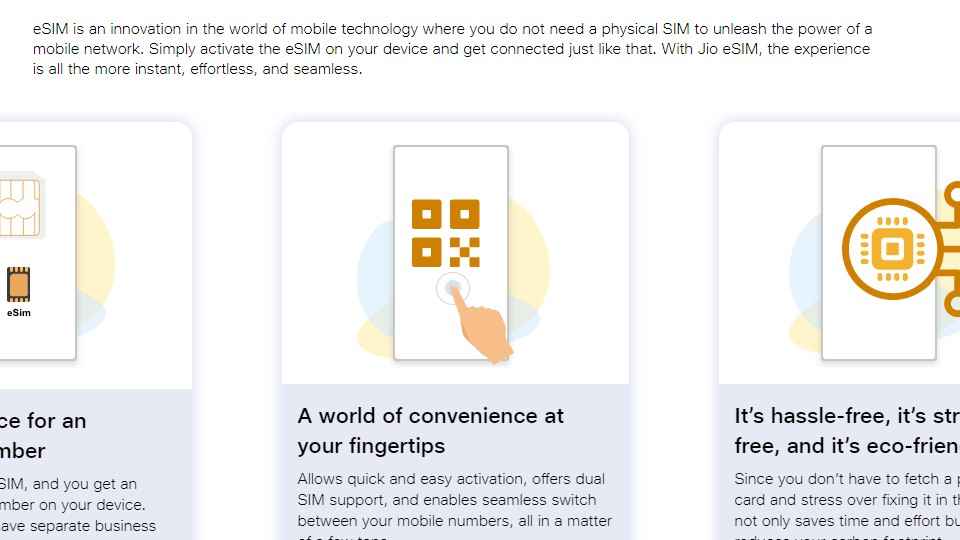 How to activate Jio eSIM for Motorola Razr and Motorola Razr 5G smartphone
Jio e-sim is supported by the Motorola Razr and Motorola Razr 5G phones. Follow the steps 1-9 from Apple iPhone. Then follow the below-mentioned steps.
1. For Motorola phones e-SIM activation go to Settings and select the Network & Internet option.
2. Next select Mobile network and tap on Next.
3. Then enter the activation code.
4. Next select the activate option and your Jio eSIM will get activated and confirmed.