How to activate airtel sim after porting your phone number with ease. Here is a step-by-step guide for Airtel sim activation which can be done online and you can also check your airtel sim status before activation.
Airtel is a leading telecom operator in India, which offers affordable plans as well as 4G connectivity all over India. Sometimes users may face problems in accessing 4G services on their phones, one of the reasons could be that you are using old 2G / 3G SIM cards. To access 4G services, it is important to have a 4G SIM card. The same process has to be followed to activate airtel SIM after porting.
Activating a 4G SIM card is an easy process. The same process needs to be followed for users who avail MNP facility. 4G SIM allows users to enjoy HD quality voice calls and faster internet connectivity speeds. Upgrading to a 4G SIM is free of cost by Airtel. The new SIM card also comes with adapters that make them compatible with micro as well as mini-slots found in different smartphones. For airtel sim activation follow the below-mentioned steps.
How can I activate my new 4G SIM?
Follow the below-mentioned steps to activate your new 4G SIM card.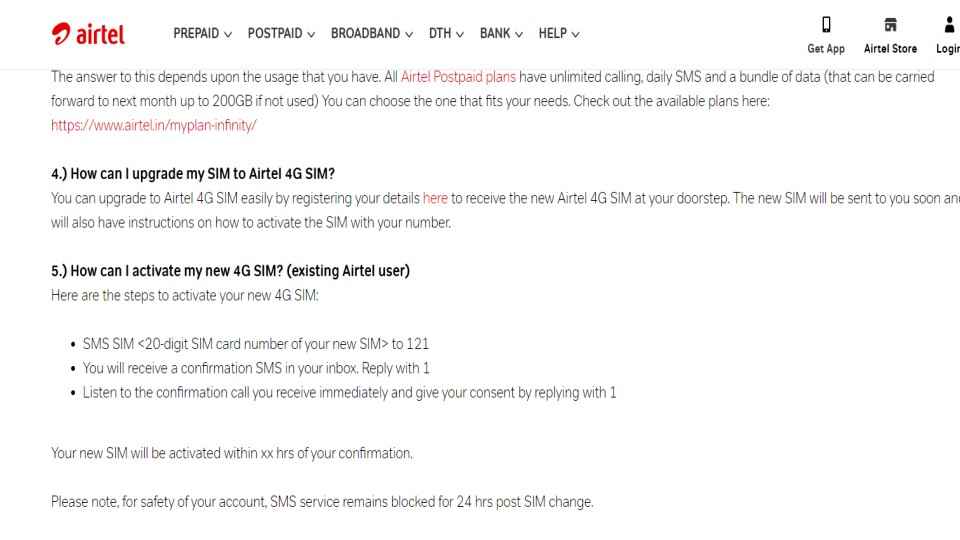 1. First, you will need to send an SMS 'SIM <20-digit SIM card number of your new SIM>' to 121
2. Next, you will receive a confirmation SMS in your inbox. You have to reply with 1
3. Then listen to the confirmation call that you receive and give your consent by replying with 1.
4. Your new SIM will be activated within a few hours of your confirmation.
Please note that the SMS service on a new SIM card remains blocked for 24 hours after a SIM change.
How to activate Airtel Prepaid sim card?
If you have an airtel prepaid SIM card follow the below mentioned for SIM activation.
1. After completion of the KYC process of your new prepaid connection, you will have to wait for 30-60 mins.
2. You will receive a signal on your new number after an hour after which you need to tele-verify your new phone number.
3. To tele-verify the number, please dial 59059 for Airtel.
4. You will be directed to an auto-recorded call. Just follow the steps as directed on the auto-recorded call to activate your prepaid SIM card.
How to activate Airtel's postpaid SIM card?
The activate a postpaid SIM card follow the below mentioned steps.
1. If you wish to activate your Airtel postpaid number, then you have to do a two-step verification process.
2. For tele verification, just dial 59059 to get signal on your new SIM.
3. You will also have to do Address Verification, where an Airtel executive will visit your address and verify the location that you have submitted in your documents as proof.
How to activate Airtel SIM after porting?
In case you need to activate your Airtel SIM after porting follow the below mentioned steps.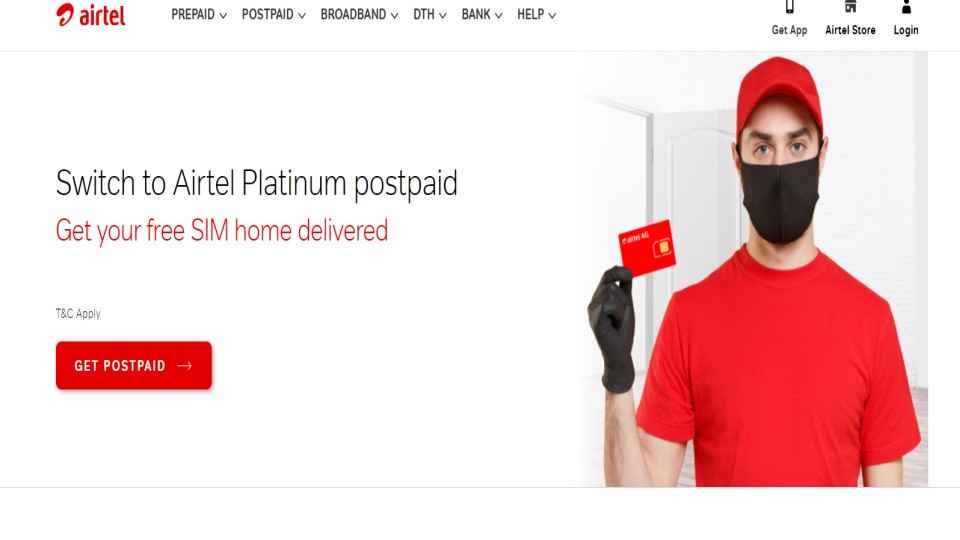 1. Insert your new SIM card into your handset and switch it on.
2. Next, you will need to enter a PIN. The PIN number is 1234 by default.
3. Simply enter this number and press OK.
4. Now dial *123# to activate your SIM card.
5. Once this process is done your connection will show 'Airtel' on the phone screen.
How to Reactivate your Deactivated Airtel Number?
As per TRAI regulations in case a prepaid mobile connection has less than Rs.20 balance and hasn't been used for incoming or outgoing voice/video calls, or SMS, data usages, etc. for 90 days, the SIM will be deactivated. Any prepaid Mobile connections can be reactivated within a grace period of 15 days from the date of deactivation, you can activate airtel sim by recharge of Rs.20.
Your Airtel SIM can be reactivated within 15 days by following the below mentioned steps.
1. You can request re-activation via email to airtel customer care at 121@in.airtel.com. Airtel sim activation online is easy.
2. You also have the option to visit the nearest airtel store and submit a reactivation request physically.
3. You will need to give an address and Photo Id proofs.
4. Next, you will receive a confirmation call and then your number will be re-activated.
What is the Airtel activation number?
To activate your Airtel SIM card, dial 59059.
How long does it take to activate a 4G SIM?
To activate a 4G SIM usually takes 2-3 hours, however, in case you are using an MNP facility, then it could take 7 to 8 days as well.
Is it mandatory to switch to an Airtel 4G SIM?
No, it is not mandatory to switch to an Airtel 4G SIM, as Airtel supports 2G and 3G connectivity also in most cities in India. However, to use 4G VoLTE services and enhanced data speeds it is important to switch to 4G SIM. It gives you better connectivity and network coverage.
How to check if your Airtel SIM is active or not?
In order to check your Airtel SIM status, you can call the Airtel customer care number 121 or ask someone to call on your Airtel mobile. This will help you check if your new Airtel SIM card is active or not.