Samsung today announced the launch of the Gear S2 smartwatch. The Gear S2, which is available in two variants, priced at Rs. 24,300 for the regular variant and Rs. 25,800 for the Classic variant. Both products will be available via Flipkart. The two devices were originally launched last year in the international markets. The Samsung Gear S2 sports a 1.2-inch circular Super AMOLED display with a 360 x 360p resolution. Unlike many other smartwatches in the market, Samsung launched the Gear S2 with its Tizen OS. The smartwatch runs on a 1GHz dual-core processor and has 4GB of internal storage, along with 512MB of RAM. A 250mAh battery powers the watch. It is IP68 certified and has the following connectivity features: Bluetooth 4.1, Wi-Fi and NFC. The watch also supports wireless charging and weighs 47 grams, making it quite light as well. The Gear S2 is compatible with all Samsung smartphones running on Android 4.3 or above and with at least 1.5GB of RAM. It will also support non-Samsung phones running on Android 4.4 or above and with at least 1.5GB of RAM. Apart from the look, both the Gear S2 and the Gear S2 Classic have the same specifications.
A unique aspect of the Gear S2 is its rotating dial, which can be used to select or navigate through apps and menus. We have seen Apple try something similar with the crown interface and while using the Gear S2 smartwatch the experience was quite smooth. The layout of apps too is very convenient whether you use the rotating dial or the touchscreen. Samsung claims that the Gear S2 is quite accurate when it comes to sports activities like Golf, Tennis, some gym exercises and more. We will of course do our best to put this claim to the test when we review it.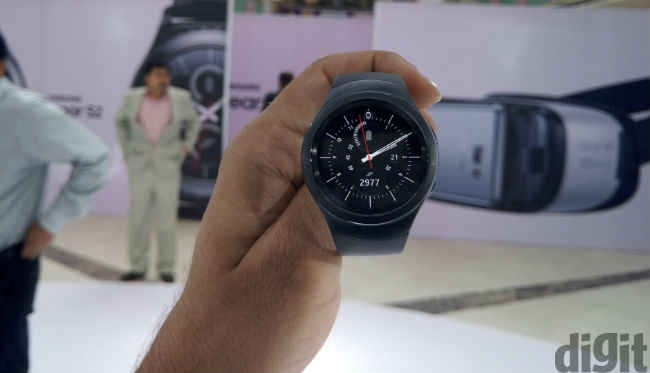 Coming to other connectivity options, the watch also has two buttons on the right side, which work as the back and home buttons. It's refreshing to see the Tizen interface, which is different from Android Wear that runs on most smartwatches right now. LG also has smartwatches running its WebOS interface. Android Wear has of course been the most obvious weapon of choice for smartphone makers and its nice to see Samsung take the Tizen route.
The Samsung Gear S2 has the standard lieu of features that we have come to expect – apps, watch faces, the ability to control music, so on and so forth.
Without Internet connectivity and no connectivity to a smartphone, there is little we can say apart from the fact that the looks of the smartphone are good and the UI is interesting. How it compares to Android Wear is something we will comment on when we put the devices through its paces.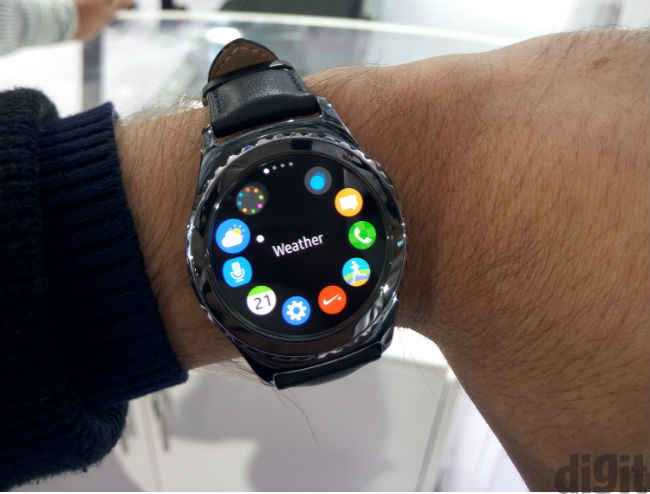 Watch Samsung Gear S2 First Impressions Video