I am not a fitness enthusiast. I don't exercise regularly, I don't hold back on good food, I work 8 hours a day (most of which requires me to sit), I have certain vices (which are best left undisclosed here), I sleep late and wake up early, and I go on an occasional weekend wine-dine binge. This was my self-admitted lifestyle description to my health coach when I first got my hands on the GOQii Life Fitness Band with a 3 month subscription to the health ecosystem; which includes the activity tracker, anytime access to a fitness coach, the ability to schedule calls with doctors and a health locker for all my medical records.
Now, a month after using GOQii services, life is different. What is it that makes GOQii a successful fitness ecosystem? Let's find out.
Ready...Set...Go
Right off the bat, the GOQii ecosystem is easy to setup and has great value for money. A three month subscription with the activity tracker can be bought for as low as Rs. 1999. The best part about GOQii is that it gives users an option of using the GOQii tracker or any other wearable such as the Jawbone Up, Garmin Fit, Withings Fitness trackers, Fitbit, and more. It can even sync with third-party apps like Apple Healthkit, Google Fit, MapMyRun, Nike+, and so on. This way, you aren't restricted to using the activity tracker provided with your subscription.
For the purpose of this review, I used the new and improved GOQii hardware. The band has a quick setup process and connects to any Android (4.3 and above) or iOS (9.0 and above) device via Bluetooth. Yes, with Bluetooth on and the device syncing data throughout the day, along with the number of times you will end up opening the app, does result in quicker battery drain on your smartphones, but the depletion is not that drastic. Once connected, the GOQii Health app automatically recognises the tracker and starts syncing fitness data with it.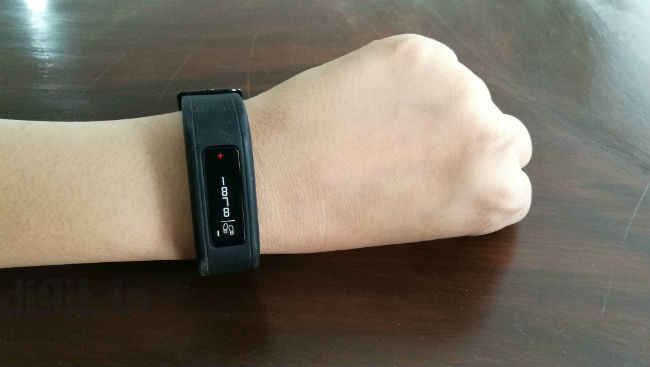 Before you begin using the virtual health ecosystem, the app presents you with a general assessment questionnaire which will have you fill in basic details like your height, weight, age, gender, goals, preferred training level (easy to hard), eating habits, sleeping habits, etc. The app then prompts users to select a coach based on one's goals. This is perhaps the most differentiating factor between GOQii and other wearables. An overdose of data and statistics is always an overkill, and most wearable users are put off by the dumb data push sooner or later. Having a human health motivator, someone to consult with, someone to constantly remind of the dos & don'ts, is a much better way to keep tabs on your fitness routine than trying to decipher complicated data. Remember, you cannot change your coach once selected. What you can change is the intensity of coaching, as per your progress.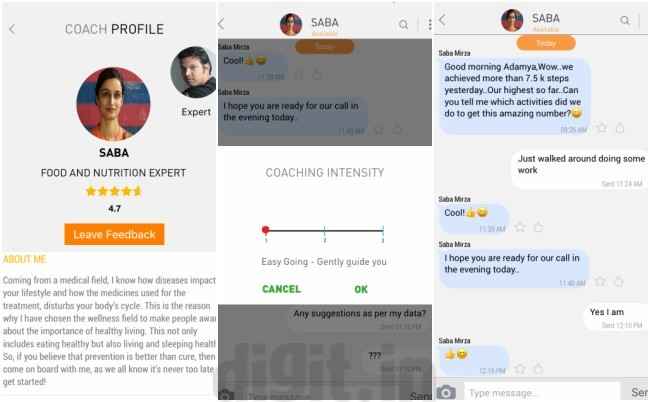 The Fitness Tracker
The GOQii fitness tracker looks just like any other regular fitness band. That said, it is not bulky and looks good on almost any wrist. It has a rubber finish, and a housing which fits the removable fitness tracker inside it. The tracker has an OLED display which can be tapped to view date & time, steps, calories burnt, Kms walked and sleep. An upgrade from the previous GOQii band, this one comes with an integrated USB charger which can be plugged into any standard USB port. This way you don't need to carry a separate charger all the time. In addition, the band is now capable of displaying notifications such as emails, SMS, WhatsApp, calls and more. However, you cannot interact with these notifications, which appear on the display along with a haptic alert on the wrist. I found myself disabling these notifications from time to time, as the constant buzzing on the wrist can get extremely annoying after a while.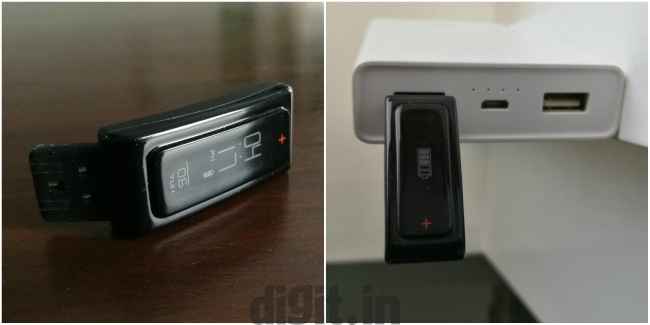 As far as the battery life of the band is concerned, on full charge the band lasted anywhere between 1 to 1.5 weeks, and this is with notification alerts turned on. The problem with most smartwatches with activity tracking built into them is terrible battery life. By minimising the amount of information one can access through the band, GOQii has done a good job of providing a long-lasting battery experience for its users. As I mentioned before, it's extremely simple to charge the GOQii band with the integrated charger. So incase you are running low on power, you can plug your band into a power bank, a laptop, or even a USB car charger.
The App & The Coach
The GOQii Health app is by far one of the simplest health apps I have come across. I last used the Withings Health Mate app with the Activite Steel fitness tracker, and compared to that, the GOQii app is far more user-friendly. The home screen gives you a simple layout where you can start a chat with your coach, see the last synced time of your band and view the status of your sleep, steps and water goals.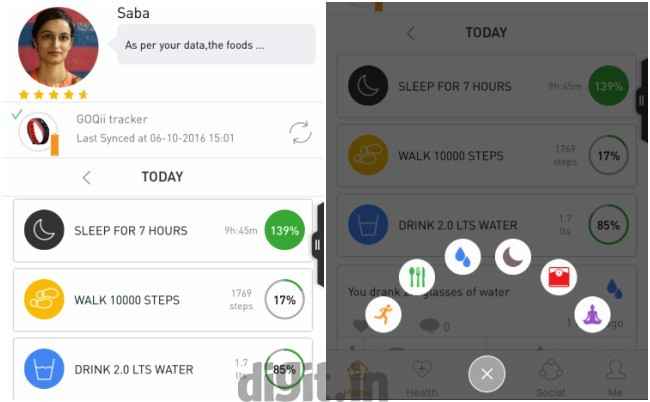 An obvious + icon lets you log your meals, water intake, activities, sleep, weight and meditation time. Logging itself is very intuitive and lets you add images of your meals, gives you a visual reference to log your water intake and lets you add small activities such as climbing stairs or short walks.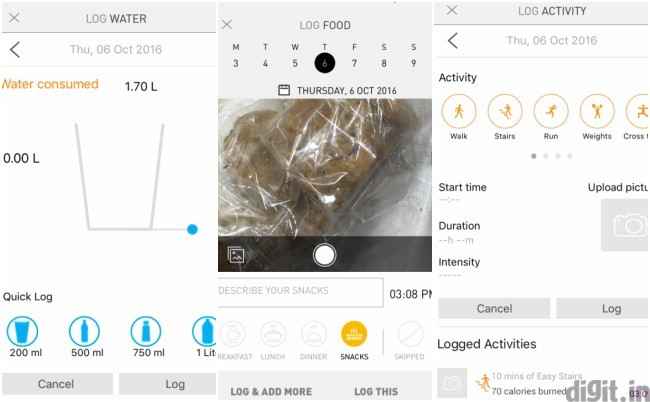 For a more comprehensive analysis, one can always take the GOQii Health Risk Assessment test (HRA), which is very similar to the questionnaire one answers on sign-up, with a few added categories like blood pressure, disease history, etc. The HRA score could be a health indicator of sorts, or a benchmark for you to improve upon. The Health tab on the GOQii app also serves as a digital locker to store medical records which can be scanned or simply photographed and uploaded. Furthermore, phone consultations with doctors are available on request.
Honestly, it's a lot of fun interacting with the GOQii app and it does have an uncanny way of improving your habits. For instance, the app notifies you to drink water every half-hour, and just the way it does so, makes you want to drink that water! By habit, I would barely drink a glass or two of water in a day. Alarming right? But, after I started using the GOQii app, my water intake has jumped to 3 - 4 litres of water daily. Now that's a marked improvement. Logging meals is also a neat trick to help one realise the quality and quantity of food they eat in a day. I for one, have been extremely cautious of eating junk, just because I know I have to log it and my coach will know I'm cheating. I guess it's just a placebo effect, but it works.
The feel good factor comes when your coach actually praises you for achieving a goal or informs you that you are eating better, exercising more and getting fitter. The coach is available to chat with or speak to over the phone as per your convenience (except for unearthly hours of course). In my case, the coach kept a note of all my habits and would instruct me on how much I should exercise, what I should eat, foods I should avoid and more. Then again, my goal is set to 'eating healthy' and 'losing weight'. Yours could be different. GOQii coaches are persistent and if you stop logging or updating your records, they will keep reminding you how much they miss seeing your updates. I guess that's a good thing for couch potatoes like me, who have a tendency to run in the opposite direction from fitness regimens.
Verdict
I have seen my friends and family use GOQii in the past and wondered just what's so addictive about it? Afterall, most people have a tendency to drop wearables a few weeks into using them. I now understand why someone would stick it out with GOQii. It is an extremely helpful, value-for-money and fun ecosystem to be a part of. The band has improved immensely over its predecessor and has a great battery life. The app keeps you hooked and on your toes. The only con here would be the constant urge to log activities, meals and water intake. On a busy day, it's difficult to remember to log. That said, if you want a daily health tracker with the element of human interaction, sans the hassle of decrypting data, the GOQii Life Fitness Programme is a must try.