When you think about it, e-ink displays were a pretty good idea for wearables. Sure, they weren't as vibrant as LED/OLED displays, but they had their advantages. They used very little battery power and offered near-perfect sunlight visibility. Very important factors when it comes to wearables. However, ever since Pebble was bought by Fitbit, wearables with e-ink displays have pretty much disappeared from the market. Now, Fossil has decided to give this tech another try with the Hybrid Collider HR smartwatch. This is a hybrid smartwatch with classic analogue dials on top of an e-ink display. We had the device with us for quite a while and here's what we think of it.
Design and Build
While looks are always subjective, I think you would agree that the Fossil HR Collider Hybrid smartwatch is a very good looking device. The variant that we got has the Smoke Stainless Steel strap and it looks very formal. This, combined with the fact that it comes with watch hands like a traditional watch means that I can wear this to a formal event and it would not look out of place.
Of course, the device is available with leather straps as well. It should be noted that Fossil also offers the HR Charter series which is available in more effeminate colours but is pretty much the same exact device.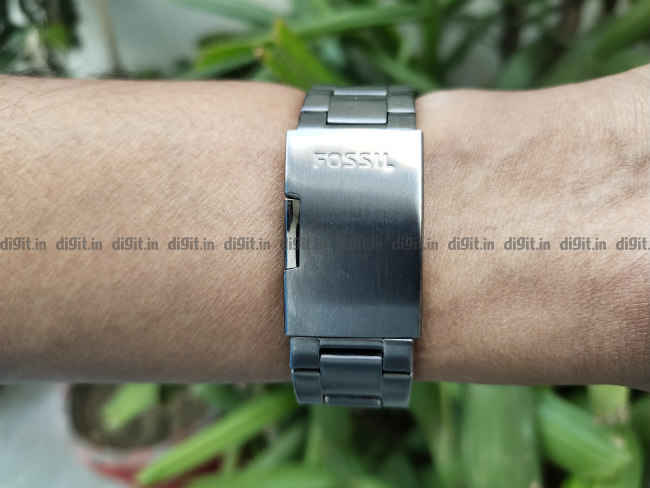 Coming to the main body of the smartwatch, you get three buttons on the side for navigating the UI. To be honest, these aren't the most comfortable to use and my dainty little fingers started to hurt a little after pressing the buttons for a bit. I'll be coming back to this point in my next topic. Moving on, at the back is the optical heart rate sensor which is pretty much required by almost all smart wearables devices by now. Further, since this particular wearable uses metal watch links, you can get them refitted by almost any watch shop.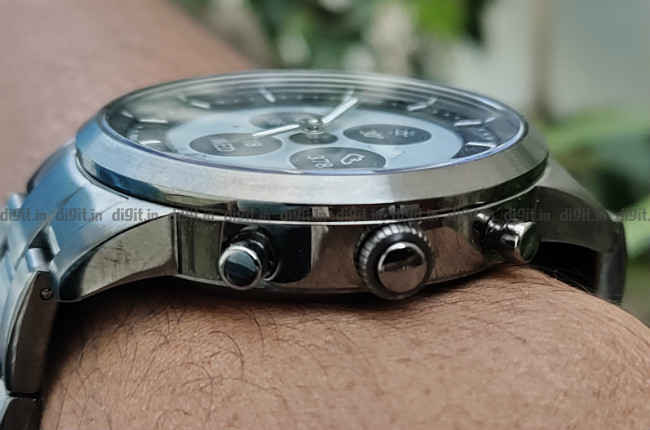 The build of the device is also pretty solid and I have no complaints about it at all. In fact, I accidentally dropped the watch face-first from a height of about one foot. Considering that the glass of the watch is little raised as compared to the rest of the body, I was sure that the glass was broken. But it came out undamaged. Full marks to Fossil for that.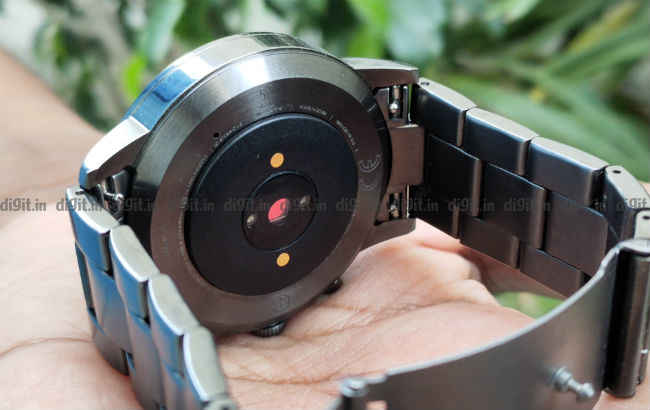 User Interface
The first thing you have to know about the Fossil HR Collider Hybrid's UI is that it does not have a touch screen display. This means that you are fully dependent on the three buttons for navigation. This added with the fact that e-ink display has a low refresh rate means that navigating the various menus of the watch can be slow. If you if wish to read a long message or access a particular option that's hidden away on the back of a menu, you will have to wait a bit.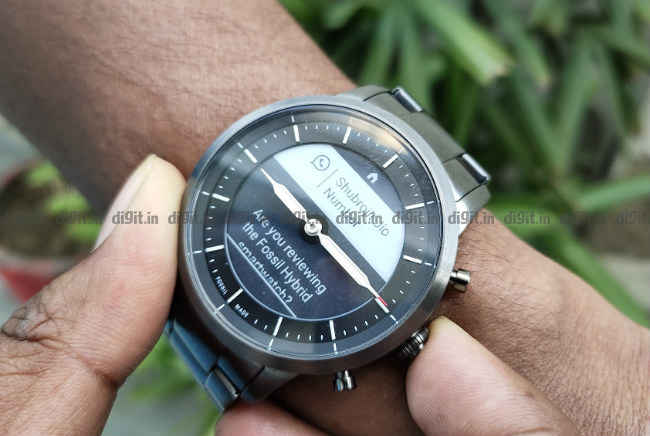 Fossil offers multiple dials that can be customized to your liking. These can be selected from the Fossil Hybrid app. These include presets for Daily, Fitness, and Travel. However, users can create new presets if they want. They can also customize the subdials (complications) as per their preferences.
It should be noted that the Fossil HR Collider Hybrid does not allow you to accept calls from the wrist. However, you will be notified of incoming calls or other notifications. However, you may have to turn on which notifications you want manually via the app. The review unit we got made us turn on everything, including the ability to receive calls and SMS notifications. This is pretty good as it gives us pretty much complete control the notifications we got.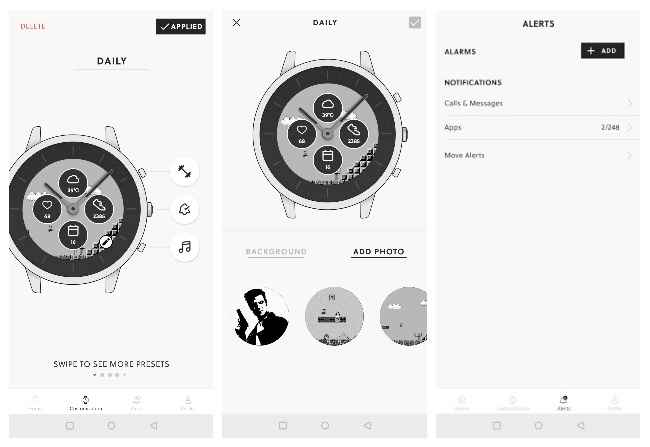 Of course, since the wearable is a hybrid device, there is a chance that the hands might block your view of the display. In order to get around the problem, the hands move to the 9:15 position in order to ensure that the hands don't block your view. A quick flick of the wrist also lets the two watch hands go around the watch face once, letting you reach the subdials. While this is slightly annoying if you just want to know the time, this little flourish is definitely cool and has raised a couple of questions about the device from a few of my friends.
Another thing to note is that the watch does not have a backlight. Instead, it comes with four small LED lights that turn by tapping the screen. It's not the most elegant of solutions if we're being honest. but it works.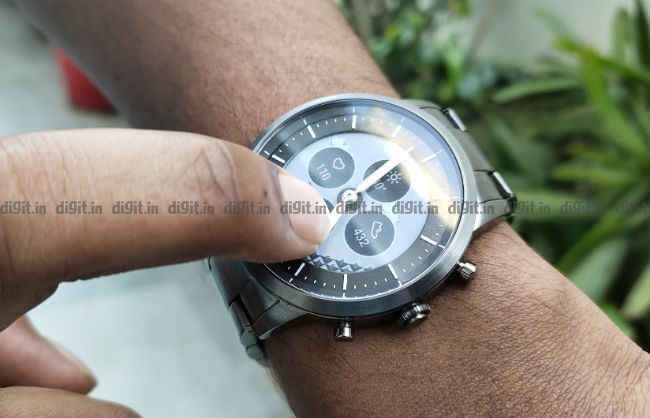 Fitness
Let me make things perfectly clear right from the get-go. While the Fossil HR Collider Hybrid does come with an optical heart-rate tracker and offers options to tracking multiple types of activities, it isn't the best wearable for fitness and neither does it seem that it wants to be used for that purpose. Case in point, the option to track workouts is buried quite deep inside the menu and turning it on will take a bit of time unless you have the 'Fitness' preset dial.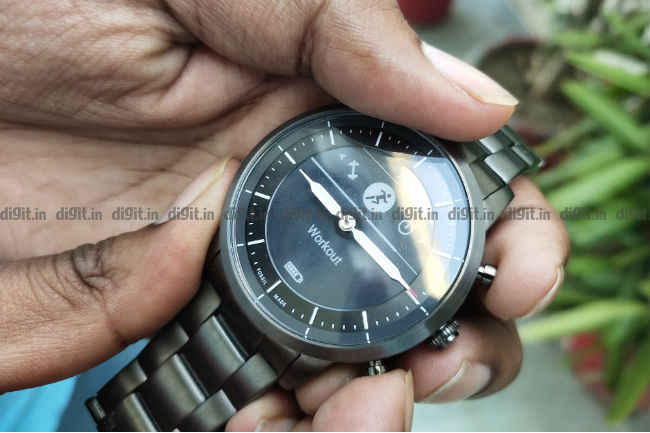 Regardless, it does come with options to track workouts, treadmill, elliptical machines, weight lifting, and running. I am not particularly fond of the gym and nor is the place where I live suited for running or jogging. But I do use a series of set workouts called the seven-minute exercises.
As you might expect, the workout information is stored on the Fossil Hybrid app. However, the information offered for the workouts were pretty minimal. You only get information on the length of the workout, distance travelled, steps taken, calories burned, average heart rate and maximum heart rate. But if you wanted more information like heart rate zones, graphs and so forth, you're out of luck.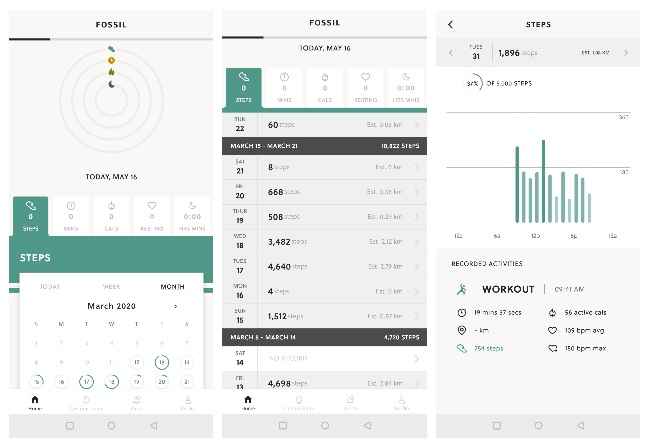 As far as accuracy goes, this wearable seems to be pretty accurate when it comes to tracking the heart rate. However, I did notice that the step tracking was racking up steps when as I was sitting in one place and typing away at my keyboard. It seemed to add on average about 100 extra steps, which is a pretty significant addition. As such, I have my doubts about the watch's ability to accurately track steps.
Battery
Fossil claims that the HR Collider Hybrid can offer about two weeks of battery life and I think that's pretty much on the money. This is quite impressive and should be good news to anyone who hates charging their wearable every night. The device is charged via a small charging cradle, which makes it easier to carry around when travelling. A definite plus in my book. On top of this, the charging cradle is magnetic. So attaching it should not be too much of an issue,
Verdict
The Fossile HR Collider Hybrid is priced at around Rs 14,000 and offers a great design and build. The e-ink display ensures excellent sunlight visibility as well as a great battery. However, navigating the various menus of the watch is a bit annoying and fitness tracking is barebones. If you are looking for better fitness tracking abilities for the price, then you could consider the Fitbit's Versa series of devices. In fact, the device's closest direct competitor would be the Garmin Vivomove which not only features a hybrid design but also comes with Garmin's expertise when it comes to fitness tracking. However, the Vivomove is more expensive and I personally feel the Fossil device looks better. To summarise, the Fossil HR Collider might be ideal for those looking for a formal and stylish device, with a handful of basic smart features thrown into the mix.