Garmin Instinct Review: Beginner athlete's best friend
The number of fitness trackers on the market is a dime and dozen, available across price brackets that were previously thought impossible. You can buy a fitness band for as low as Rs 3,000 or a fitness watch for as much as Rs 60,000. Of course, the price difference is based on not only the difference in a number of features offered by the tracker but also based on how accurate the sensors are. The Garmin Instinct is a fitness tracker that brings many of the features and accuracy of the more expense Fenix to a device almost half the price. But how well does it work? Long story short, really well. For those who want details, read on.
Garmin Instinct Sensors
Before we get into how the Garmin Instinct performs when it comes to tracking metrics, let's talk about the sensors that are on-board. For mapping and satellite tracking, you get GPS, GLONASS and Galileo compatibility, which means that you're covered by the three of the four most popular satellite navigation systems. This helps ensure your runs are properly tracked in terms of distance and maps. For measuring the heart-rate, we have Gamin's Elevate Heart rate sensor, which is Garmin's own fancy optical HR sensor. In addition, we also get a barometer, altimeter, accelerometer and a thermometer on board. For smart capabilities, the watch has both Bluetooth and ANT+ on-board which helps you pair it with your smartphone and other Garmin sensors like a Cadence and Speed sensor.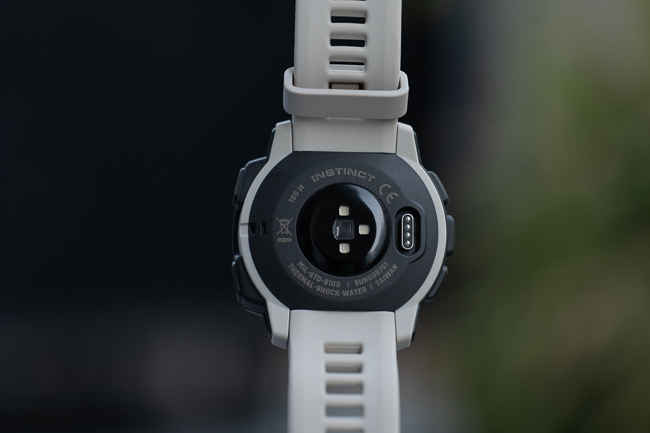 The Garmin Instinct has a boat load of sensors to accurately measure all your workouts
Using a combination of all the above, the Garmin Instinct is able to track a mind-boggling number of forms of exercise. You can track your runs, cycle rides, swim sessions, your gym workouts and also a plethora of regular activity. Let's then get right into it.
Garmin Instinct Performance
There's a lot of different kinds of workouts the Garmin Instinct can track, and it does so with surprisingly good accuracy. Where most trackers offer the ability to "track your run" or "track your workout", the Instinct goes several steps further. The Garmin Instinct can track multiple kinds of runs; treadmill running, indoor track running, trail running etc. Even when it comes to workouts, its capable of tracking cardio and strength workouts separately, along with also being able to automatically count your reps. IF you're into cycling, the Garmin Instinct can track your rides on the road, indoors and even trails. For swimmers, you get pool and open water swimming tracking. Needless to say, the Garmin Instinct is packed to the gills with tracking capabilities, of which, we tested some of the more popular ones.
First and foremost, we used the Garmin for step tracking, where the numbers reported by the Instinct were in-line with the steps counted by the Fitbit Ionic, our reference device for most fitness activities. While the Garmin Instinct would be overkill for "step-tracking," one area where it was surprisingly accurate was for tracking my cycling sessions.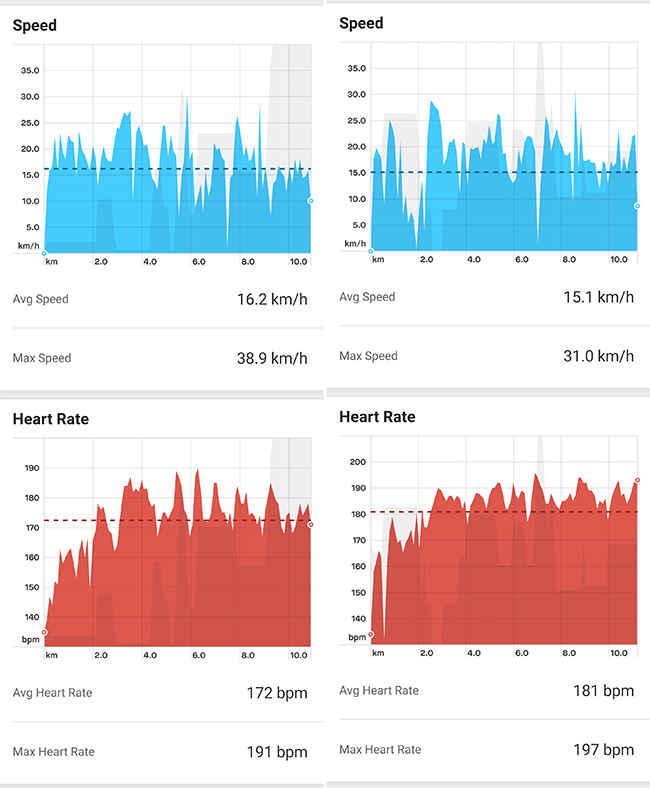 Left: Data from Gamin Edge | Right: Data recorded from Gamin Instinct
For cycling, I tracked my ride using the Garmin Edge 500 cycle computer with a Garmin Cadence and Speed 2 sensor along with a Garmin Chest HR strap paired with each other. This set became the reference for the Garmin Instinct to match.
Across multiple rides of roughly 11 kilometers each, the Garmin Instinct delivered surprising accuracy with regards to the final numbers but had a few hiccups with interim data. For the final ride stats, the Garmin Instinct reported a total ride distance of 10.91 kilometers while the Garmin Edge 500 reported a total distance of 11.2 kilometers. This is well within the margin of error. The average heart rate reported by the Instinct was 181bpm with a maximum heart rate of 197bpm during the ride. The reported numbers from the Garmin Heart Chest Strap were 172bpm average and 191bpm peak. Again, the numbers are well within the margin of error for an optical heart rate monitor, with the chest-type being more accurate and reliable. The average speed recorded by the Garmin Instinct and the Garmin Speed 2 sensor were 15.1KM/hr and 16.2KM/hr respectively.
We were not able to track any swims during the course of our review, but have asked Garmin to let us take another go at it during this swim season
Stress Levels
One thing that the Instinct is able to measure that most other wearables are not, is stress. Wearing the Garmin Instinct uses the Firstbeat All Day Stress and Recovery tracking to give you data on how your body responded to various stimuli throughout the day. The only way to confirm the Instinct's data is through anecdotal evidence. However, the data we recorded did allude to the fact that during work hours, our stress levels were generally higher. During the evenings where relaxing activities were generously indulged in, the Instinct showed a significantly lowered stress level. While this data should not be used for medical inferences, it is a good way to track your general stress levels throughout the day.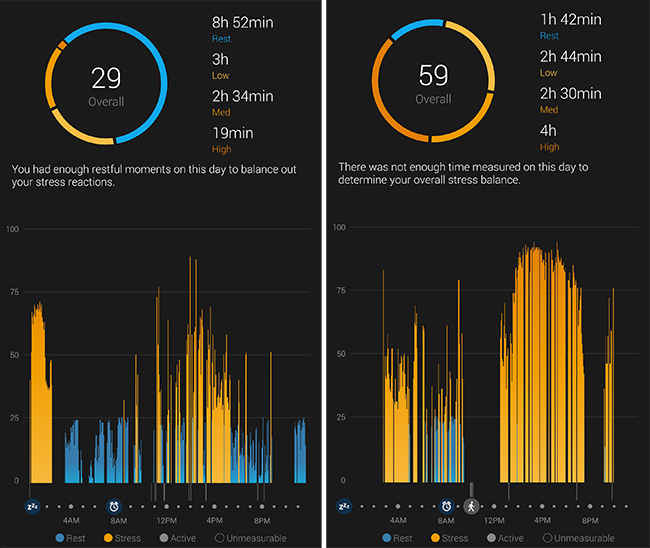 The Garmin Instinct can record your stress levels through the day
Smart Features and Battery Life
The Garmin Instinct is not a smartwatch, but it can pair with your phone using Bluetooth. What this allows the Instinct to do is display partial notifications on the watch face, but you cannot interact with this. This is because the Instinct has a non-touch display, one that actually very closely resembles a Casio G-Shock watch. Other than offering your notifications to you on the wrist, there are no smart features this watch offers, which is probably why this watch lasted an insane 8 days on a single charge. You can charge the Instinct using the supplied, proprietary cable in under 45 minutes, which is again impressive, though we wish Garmin would switch to a more common USB standard.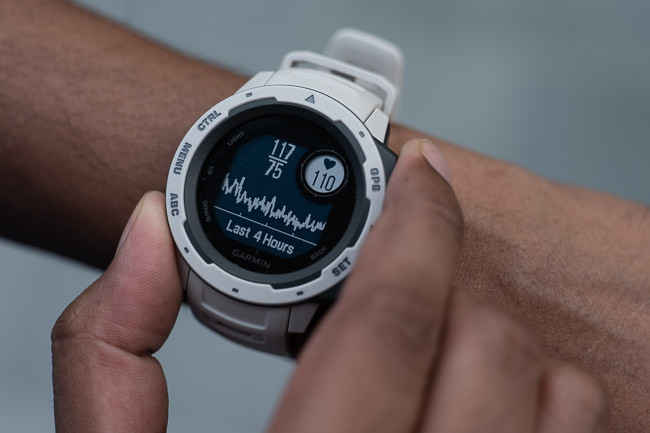 The Garmin Instinct can pair with your smartphone, but is not a smartwatch
Bottomline
Should you buy the Garmin Instinct? If you're an aspiring athlete or someone who's fitness routine is more than a casual run in the morning, then the Instinct might be a great companion for you. IF you're into cycling, running, or even technical workouts, the Instinct just will not let you down. For all intents and purposes, this might as well be considered a toned-down version of the Gamin Fenix 5s, the company's flagship athletic tracker. For the price of Rs 26,990, you get an extremely adept fitness and stress tracker that does its job exceptionally well. Where it will somewhat falter is in sleep tracking. The watch is pretty bulky to wear to sleep, which could force some users to take it off before bed.