The era of affordable 4K and HDR streaming has arrived, with high-resolution HDR screens and HDR content becoming accessible at reasonable price points. However, not all smart TVs can deliver an optimal viewing experience, leading to a growing demand for media streamers that can enhance software and offer an improved streaming experience. Xiaomi recently launched the Xiaomi TV Stick 4K, a feature-packed streaming stick that comes with Android TV 11, Dolby Vision HDR, Dolby ATMOS, and Chromecast built-in, among other features.
Is it the streaming stick that will address all your needs? How well does it compare against Realme 4K smart Google TV stick and Amazon's Fire TV Stick 4K Max? We have spent some quality time with the dongle and answer all such questions below. Let's first get the Xiaomi TV Stick 4K price and specifications out of the way.
Xiaomi TV Stick 4K: Price and Specifications
Processor and GPU - Quad-core Cortex-A35; Mali-G31 MP2 GPU
Operating System - Android TV™ 11
RAM - 2GB
Storage - 8GB (5.2GB free for users)
Connectivity - Wi-Fi 2.4GHz/5GHz, Bluetooth 5.2
Video decoder - AV1, VP9, H.265, H.264, MPEG-2, MPEG-1
Audio decoder - DTS HD, Dolby Atmos
Dimensions - 106.8mm(l) x 29.4mm(w) x 15.4mm(T)
Weight - 42.8 grams
Box content - Xiaomi TV Stick 4K, Remote (IR+Bluetooth), USB cable, charging adapter, HDMI extender cable
Price in India - ₹4,999
Who needs it?
People understandably don't upgrade their TVs very often, but media streaming and processing technologies keep evolving. TVs also age and get slower over time and many miss out on popular apps.
If your TV doesn't have proper software or app support or your media-processing hardware needs a refresh, a streaming stick can help. These dongles can make your TV feel more responsive and can be quite handy if you want to carry your entertainment hub with you while travelling. You can also use them to add smarts to dumb screens like monitors and other old TVs with an HDMI port.
Streaming devices, however, don't add any core AV functionality to your TV. For instance, the Xiaomi TV stick 4k has Dolby Vision and HDR10 support, but these will only work if your TV natively supports Dolby Vision and HDR10.
Xiaomi TV Stick 4K: Design and Remote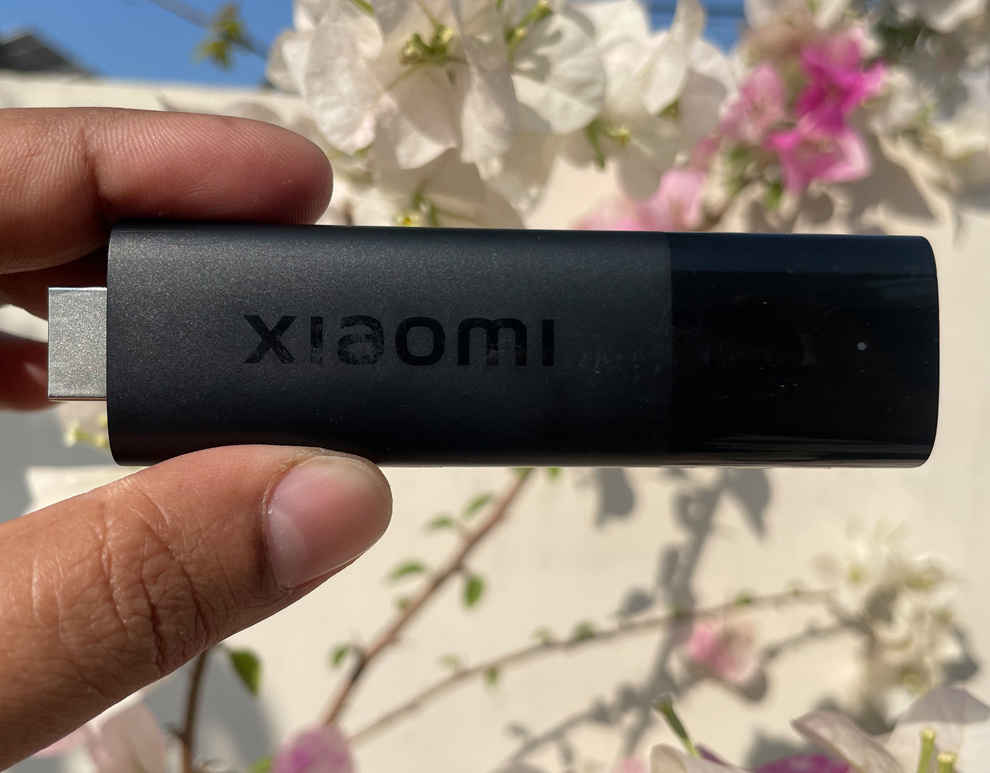 Design isn't a big priority when it comes to streaming sticks. After all, these are meant to fit behind your TV and be inconspicuous thereafter. The Xiaomi TV Stick 4K does just that. The quality of the plastic, however, feels mediocre and our unit has accumulated more than its fair share of scratches and scuff marks during the short testing phase. If you are often on the move and plan on carrying the Xiaomi TV Stick 4k with you, this is something to keep in mind.
The stick also has an LED indicator that indicated power on. The included remote closely resembles the ones that come with regular Xiaomi TVs. Although it's less curved compared to the remote that comes with the Realme 4K smart Google TV stick or Amazon's Alexa remote, it's still comfortable to hold and operate and the blocky design feels substantial in hand. The placement of the Google Assistant button above the D-Pad did not make it hard to access.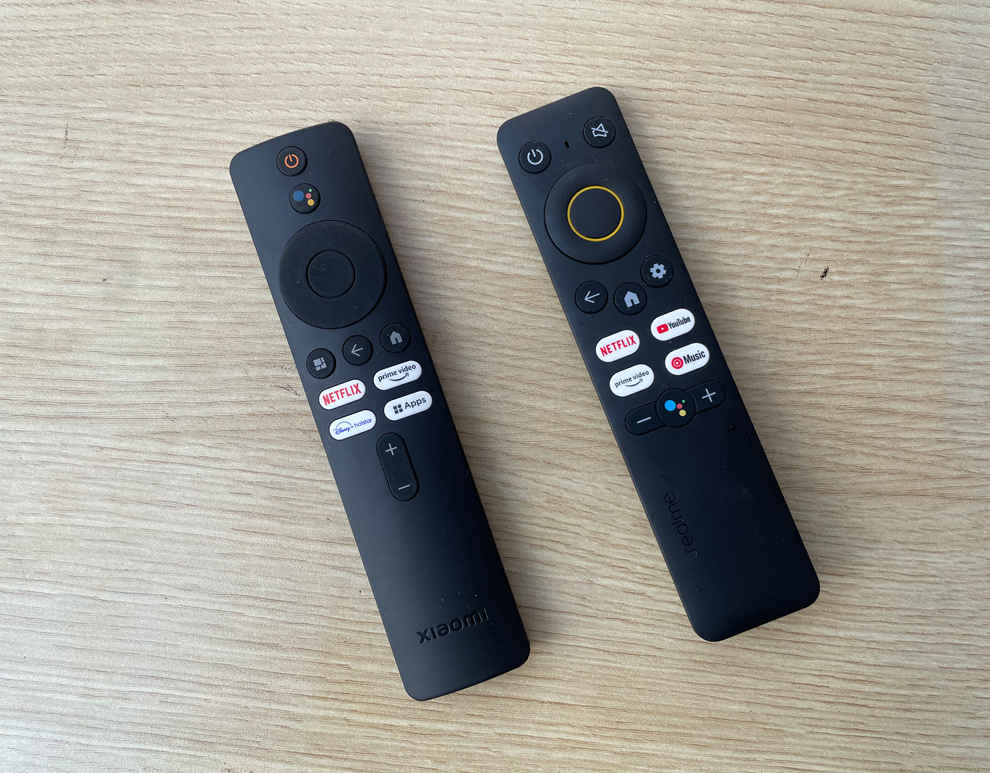 The remote comes with pre-set shortcut buttons for Netflix, Prime Video, and Disney+ Hotstar, making it easy to access these services. The 'Apps' button takes you directly to the Apps tab on the home page. Additionally, the remote includes a dedicated Patchwall button that takes you to Xiaomi's content curation service. The home button is now marked with a home icon (instead of a circle as on Xiaomi TVs) and this reduces your chances of accidentally pressing the Patchwall button every time you need to reach the home. The remote lacks a mute button, which, in our opinion, is a notable oversight.
Xiaomi TV Stick 4K: performance and quality
The process of setting up the Xiaomi TV Stick 4K is simple and straightforward. All you need to do is plug it in, power it up through a USB port or charging adapter, and follow the instructions for the Android TV setup.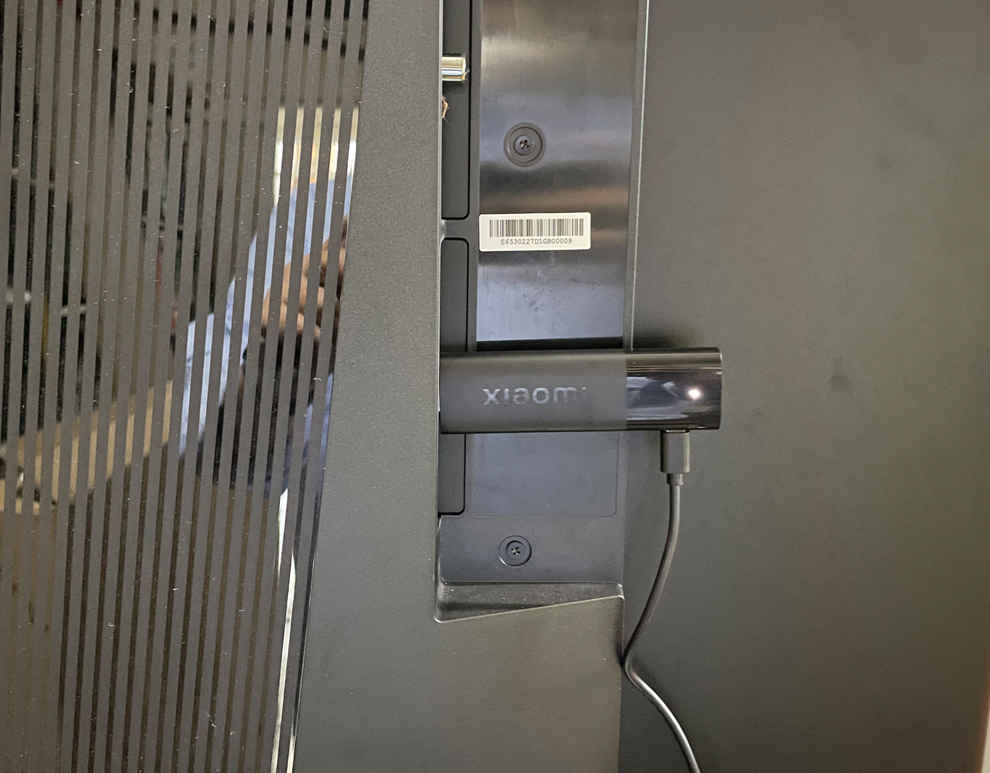 The streaming device is powered by Quad-core Cortex-A35 with Mali-G31 MP2 and has 2GB RAM. Out of 8GB of storage, 5.2GB is available for users, which is pretty standard when compared to other streaming dongles in the same price range.
Clearly, this is not stick meant for gaming but it can still handle a few casual games that you may download from Google Play Store. The UI navigation is responsive and smooth, and there were no issues with dual-band Wi-Fi or Bluetooth 5.2 connectivity
The streaming stick runs Android 11 TV OS and comes with Chromecast Built-in. Xiaomi's Patchwall app is basically a content-curating service which I personally don't find very useful. Netflix, Prime Videos, and Youtube also come pre-installed on the stick.
All popular audio-video codecs including AV1 are supported. The device can detect and trigger Dolby Vision HDR seamlessly. When plugged into our OnePlus Q2 Pro, the device streamed in DolbyVision IQ transmitting a 4:4:4, 8-bit signal which is fine since Dolby Vision uses RGB Tunneling to transmit 4:2:2, 12-bit data within an 8-bit container. The quality of the Dolby Vision content looked fine.
With HDR10 we experienced some inconsistencies. On the OnePlus Q2 Pro, the stick could detect and play HDR10 in shows that don't stream in Dolby Vision. The quality, however, wasn't great and we noticed unnatural skin tones. On the Xiaomi Mi TV 4 55-inch 4K HDR and Xiaomi Mi TV Q1 50-inch, the HDR10 didn't trigger. Dolby Vision worked fine on the Mi TV Q1, though. This looks like more of a Xiaomi TV problem than a stick problem. On an HDR10 monitor, the Xiaomi TV Stick 4K detected and streamed HDR10 content in the standard 4:2:0, 10-bit seamlessly.
HDR10+ is not supported on the Xiaomi Mi TV Stick 4K. This will be a problem only if you consume a lot of content on Prime Video where popular shows like Grand Tour, Boys, etc. output better quality in HDR10+. Otherwise, HDR10+ content is extremely limited.
The streaming quality will also largely depend on your TV screen. Automatic frame rate switching is not supported, but advanced users can manually switch input to 24Hz while watching 24Hz content on Netflix and Prime videos to fix inconsistencies in motion. Google Assistant was responsive and worked flawlessly across apps. As for audio, there is support for both Dolby Atmos and DTS HD audio formats and the quality will depend on your audio setup.
The competition
In India, the Xiaomi TV Stick 4K is primarily up against the FireTV Stick 4K Max and Realme 4K smart Google TV stick.
The FireTV Stick 4K Max offers a similar feature set but Amazon's proprietary interface. The FireOS is quite well-designed and has a really well-optimized Prime Video app but it is also quite pushy with ads and promoting partner content. It additionally includes HDR10+ and HLG HDR formats along with automatic frame rate matching that works across popular apps including Prime Videos and Netflix. The FireTV 4K Max is pricier but is often available for discounted prices in recurring sales.
The Realme 4K smart Google TV stick runs a cleaner Google TV interface and is also cheaper. It doesn't support Dolby Vision, though.
Xiaomi TV Stick 4K gets the job done
The Xiaomi TV Stick 4K generally performed well in terms of responsiveness and connectivity, although there were some inconsistencies with HDR10 playback on Xiaomi TVs. All popular apps are supported and we had no issues with Android TV features such as Google Assistant and Chromecast built-in, which functioned flawlessly.
If you're seeking a stock-ish Android TV interface on a Dolby Vision-compatible screen, we can recommend the Xiaomi TV Stick 4K as an option. On the other hand, if Dolby Vision isn't a priority, you might want to consider the Realme 4K smart Google TV stick instead. Additionally, if you prefer an interface other than Android TV, the Xiaomi Fire TV Stick 4K Max is also a worthy contender.