We haven't really had good looking smartphones this year. As far as looks go, 2016 has been quite drab, with similarly designed phones vying for the consumer's attention. Well, the ZTE Nubia Z11 will have no problem on the design front at least. The completely bezel-less design, combined with a metallic frame, back and gold accents, is a winner as far as design is concerned.
However, does that determine value as well? The Nubia Z11 has you covered there as well, at least on paper. It has 6GB of RAM, 64GB storage, and a Snapdragon 820 SoC, priced quite reasonably at Rs. 29,999. Seems like a OnePlus 3T killer, right? Nubia smartphones have historically had good cameras, and the Snapdragon 820 should be as fast as ever. But execution matters, and that's what we aim to determine here.
Speed
From a regular usage point of view, Nubia UI feels fast, but not what you'd call snappy. Apps often present a blank screen for a moment, before loading the full interface. It doesn't really hamper real world performance, but it's a pointer to slightly sluggish performance. These load times may increase with time, and we'll be able to provide a deeper analysis during the review.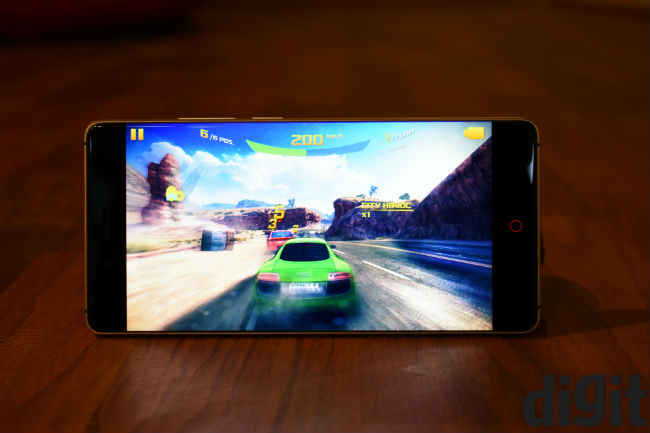 The phone maintained 30fps over 20 minutes of Asphalt 8
On benchmarks, the results are quite consistent with what we've seen on other phones running the Snapdragon 820. If you're nitpicking, the Snapdragon 821 is indeed faster, but the extra 10% really makes no real world difference, in our experience. However, the benchmarks do produce interesting results. While the Nubia Z11 does produce flagship level speeds, it is on the lower end of that spectrum, at least on our initial testing. You would notice that the difference between the OnePlus 3T and Nubia Z11 are more or less 10%, except on the AnTuTu Benchmark.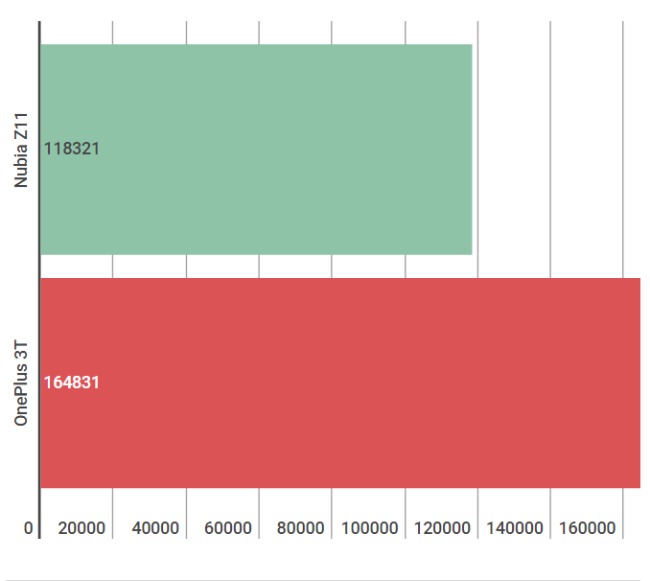 AnTuTu Benchmark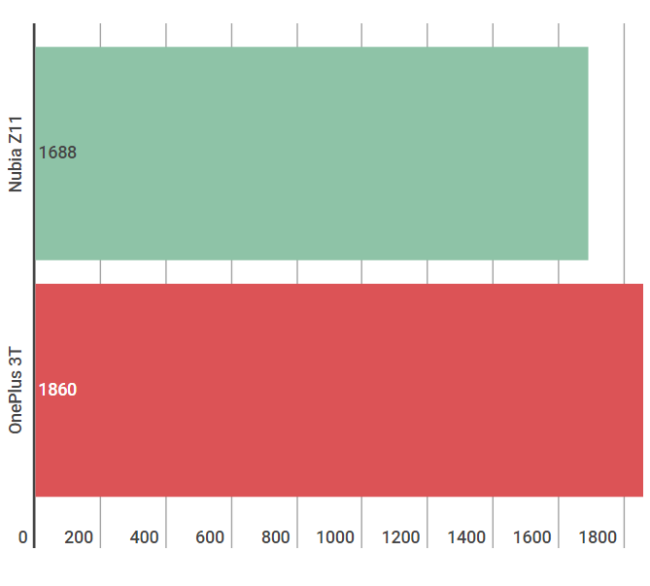 Geekbench 4 Single Core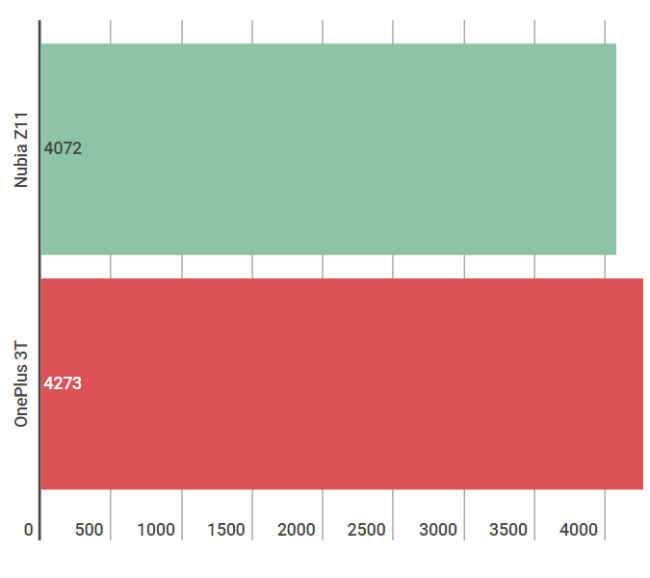 Geekbench 4 Multi Core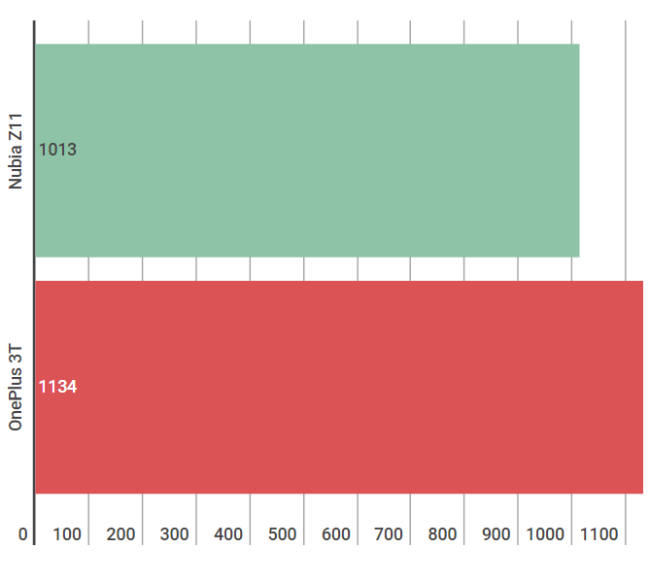 GFXBench Car Chase OnScreen
The phone has a 5.5-inch 1080p display, which allows pretty high frame rates. Playing Asphalt 8 for about 20 minutes, it maintined steady frame rates at 30fps during races.
Heat
Speaking of which, the Nubia Z11 does heat up faster than usual for Snapdragon 820-powered devices. Over the 20 minutes that we spent playing Asphalt 8, the phone reached about 38 degrees (on the back) in 5. However, the peak heat readings we've recorded so far isn't above 38 degrees either, which is acceptable, if not ideal.
While recording 4K video with this phone, the Z11 crosses the 40 degree mark in about 10 minutes. Here again, the peak readings, over about 20 minutes, came out to about 42 degrees celcius, which is as per usual.
Camera
From a performance point of view, the Nubia Z11 doesn't make the ideal use of the Snapdragon 820, but it still does qualify as fast. What's disappointing, and surprisingly so, is the camera. Why surprising? Because Nubia has usually been exceptional with its imaging quality. In fact, last year's Nubia Z9 Mini was almost as good as flagships at the time.
Nubia Z11 Camera Samples
On the Z11, photos are respectable at best, but that too on the phone's own display. Putting them on a calibrated display, it's easy to notice the soft edges in photos, and lack of details. Colours also are bleaker than they should be, and the phone doesn't seem to deal with shadows either.
The 16MP rear camera on the Nubia Z11 sports a Sony IMX 298 sensor and f/2.0 aperture. The only good thing we've seen with the camera is that it creates good depth of field effects automatically. Background blur is quite good.
Review in progress…
The Nubia Z11 is definitely the best looking smartphone of 2016, but from our initial tests, we don't think it will qualify as a OnePlus 3T killer. However, it may still turn out to be the second best smartphone to buy in the sub-30k segment. Stay tuned for our review.