The iPhone, and for that matter the iPad and the iPod Touch, come preloaded with the Safari web browser by default. However, the finicky amongst us prefer to use a browser that they have been using on the desktop. Mostly because that enables easy syncing of bookmarks and other data, like passwords, between the devices. For a mobile web browser, there are more important things than just sheer speed. You could consider trading off a few percentages in the speed game, for the wider compatibility and set of features.
Safari
This is the default web browser that will be sitting on one of the screens of your new iOS device. It is not inherently bad, considering the deep integration between the browser and the OS. Users can sync data across devices, and iCloud lets you keep the bookmarks updated across. It is the default browser, and that makes it the go-to app in case you click on a link in your Twitter timeline or the email. Speed wise, it is pretty good in terms of page rendering. However, there are the bad points of Safari. Unless you are completely on the Apple ecosystem, particularly the MacBook as a primary computing device, Safari may not be your first choice of a web browser. Secondly, the UI is a bit bland, while the power users will not appreciate the lack of tweaks that Safari allows.
Why use Safari: Preloaded on device, speedy performance, doesn't require tweaks for optimization
Why avoid Safari: UI is a bit bland, power users will miss tweaking options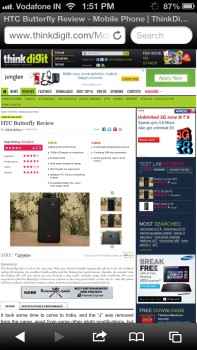 Safari for iOS
Chrome
When Google announced Chrome for iOS, there was a collective sigh of relief. It seems as if the entire world is using Chrome on their PCs, despite Microsoft claiming some insanely high market share for Internet Explorer. Anyway, coming back to the point, having Chrome on your PC and on your iPhone/iPad makes syncing data and sessions easier. Since that is the browser you will turn to on any device you may be using at any point of time. There are little features that make this more usable than Safari. Open a new tab, and you have the favorites pinned as Speed Dials for quick selection. Incognito mode is easier to select on Chrome than on Safari, and could be useful for some users! Like all good things, there are some niggles that users need to get past. First up, there are too many elements on the UI, and that can be an issue of you aren't careful. The stacked methods for tabs can also be an issue on the phone, since the tabs are stacked too close together.
Why use Chrome: Syncs with other devices, Speed Dial, catchy UI, easy access to Incognito Mode might appeal to some
Why avoid Chrome: Interface can be slightly overbearing on phones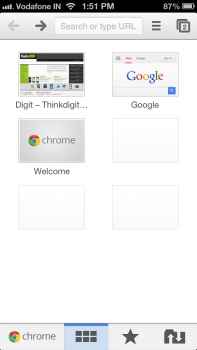 Chrome for iOS
UC Browser
With the latest update, UC Browser for iPhone is pretty much the underdog. Among all the options, I would post this as a solid third alternative for the phone. Browsing speeds are pretty much at par with the Chrome for iOS. Additionally, there is fairly tight knit integration from the browser end, allowing you to share to Facebook and Twitter from within the browser and even pin to Evernote. An RSS reader has been integrated as well, and data compression makes an attempt at saving your data charges when browsing on 3G is made on Speed Mode. It shows up a periodical counter about how much data is saved, and can be turned off if you find it annoying. The moment you open the browser, there are essentially three screens that you can access by swiping left and right – top sites, bookmarks and quick reads. The only niggle with UC Browser is some pages do not render properly at first, but a refresh solves the issue.
Why use UC Browser: Lot of features, acceptable page rendering speeds, gestures
Why avoid UC Browser: Some pages may not render properly at first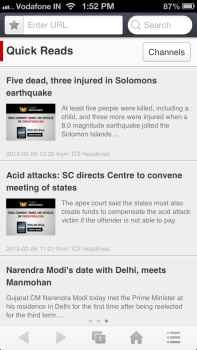 UC browser for iOS
If you prefer any other browser for iOS, we would like to hear your experiences with them.