Xiaomi yesterday launched its flagship bezel-less smartphone, the Mi Mix 2 in India. The smartphone is targeted at premium smartphone buyers and competes with the likes of OnePlus 5, Nokia 8 and the Honor 8 Pro. With so many smartphone manufacturers launching mid-ranged flagships, here's a quick look at how they compare to each other.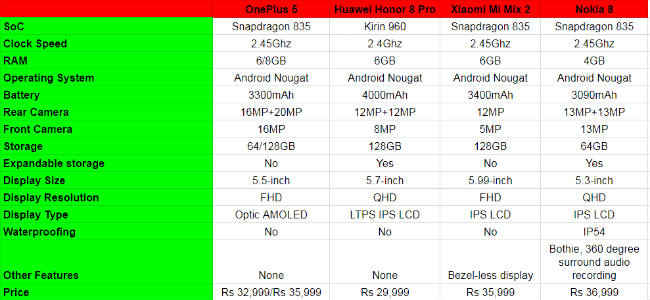 Performance and storage
The Xiaomi Mi Mix 2, OnePlus 5 and the Nokia 8 are all powered by a Qualcomm Snapdragon 835 SoC, all of which are clocked at 2.4Ghz. On the other hand, the Honor 8 Pro runs on the company's own Kirin 960 chipset, which is also clocked at 2.4Ghz.
Though the Mi Mix 2 and Honor 8 Pro sport flagship class chipsets, but as we have seen in our review, the former outperforms the Honor 8 Pro on performance tests. On the other hand, while we've already seen how fast the OnePlus 5 is, the Nokia 8 has the same chipset and runs stock software, which is encouraging. However, the OnePlus 5 does sport 6/8GB RAM, a whole 2/4GB more than the Nokia 8. That may be a difference maker here.
Next, in terms of storage, the OnePlus 5 and the Honor 8 Pro are available in 64GB and 128GB variants. The Mi Mix 2 comes with 128GB of internal storage, whereas the Nokia 8 only offers the 64GB option. There's not much to compare in this regard, since 64GB is usually enough storage for most users, and all phones hit that number.
Display
The OnePlus 5 sports 5.5-inch display with Full HD resolution, and an optic AMOLED panel. Both the Honor 8 Pro and the Nokia 8 offer Quad HD resolutions, with 5.7-inch and 5.3-inch screens, respectively. They both has IPS panels.
As we can see from our review, the OnePlus 5 offers balanced colours and good viewing angles, but some may question the lower resolution. Of course, as we mentioned in our review, FHD resolution is just fine for any phone, and it allows decent battery life and high frame rates on the OnePlus 5.
The same is true for the Xiaomi's Mi Mix 2 5.99-inches Full HD panel. This phone also has a bezel-less display, which is much more immersive than the OnePlus 5 and the Honor 8 Pro. As we said in our review, an AMOLED panel would be preferred on the Mi Mix 2, instead of an IPS LCD display.
Camera
Except for Xiaomi's Mi Mix 2, all the three smartphones feature a dual camera setup. The Mi Max 2 sports a 12MP single rear camera with dual-tone LED flash and comes with a 5MP front facing camera.
The Nokia 8 sports 13MP+13MP dual rear cameras with Carl Zeiss optics. It has one RGB sensor and another monochrome sensor. It features OIS and comes with a 13MP front facing camera for selfies. It also features a Bothie mode that uses both front and rear cameras simultaneously.
The OnePlus 5 also has a 16MP+20MP dual camera setup, with the 16MP sensor being a wide-angle lens and the other 20MP sensor has a telephoto lens. The camera supports optical zoom and EIS, and there's a 16MP front facing camera.
Huawei's Honor 8 Pro features a 12MP+12MP dual-rear camera setup and like the Nokia 8, it gets an RGB sensor and a monochrome sensor. At the front is an 8MP camera with an f/2.0 aperture lens. As per our review of the phone, it underperforms in low lighting conditions.
Battery and pricing
The Huawei Honor 8 Pro is backed by a 4000mAh battery, which lasts for a day on regular usage. Similarly, the OnePlus 5 comes with a 3300mAh battery, which also performs well and lasts for an entire day, depending on your usage.
The Mi Mix 2 is backed by a 3400mAh battery and in our review, we found that it performs quite well. The smartphone lasts for over 15 hours on normal usage and conserves its battery well when idle.
The Nokia 8 packs a 3080mAh battery and it remains to be seen how the device fares.
The OnePlus 5 is priced at Rs 32,999 for the 6/64GB variant and at Rs 35,999 for the 8/128GB model. The Honor 8, Mi Mix 2 and the Nokia 8 are priced at Rs 29,999, Rs 35,999 and Rs 36,999, respectively.