The OnePlus 5 is live, it's selling overseas now and comes to India tomorrow. As with earlier OnePlus phones, this one also has the makings of a flagship killer, but is it so this time? Initial reviews seem to disagree, primarily because of the higher price the company chose this time. There are also chinks in the phone's armour, but most initial reviews agree that the OnePlus 5 is blazing fast.
The embargo for reviews in India end tomorrow, so you'll have our review soon enough. But until then, here's something to keep you updated.
Spec-to-Spec
Despite the picture OnePlus wants to paint around its devices, they have everything to do with specifications. The company is known to take the best hardware the industry has to offer and sell it at a lower than usual price. That continues this time, though the OnePlus 5 is lacking "flagship features" so to speak. Before we get to that, here's a spec-to-spec comparison against the Samsung Galaxy S8 Plus (review), LG G6 (review), Sony Xperia XZ Premium (review), HTC U11 and their variations.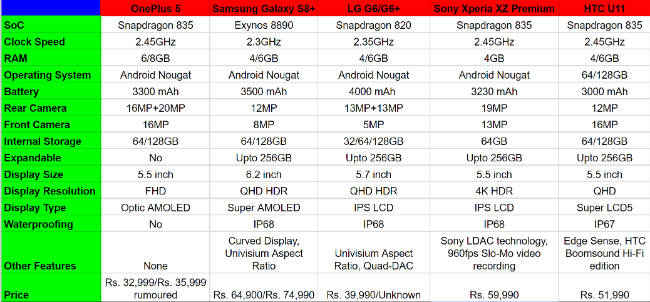 Pricing for the OnePlus 5 isn't confirmed yet, while LG hasn't announced how much the G6+ will be sold at
Click here for a closer look at the OnePlus 5.
The XDA problem
Over the years, OnePlus' fan-base has been comprised primarily of enthusiasts. To those consumers, XDA Developers' report about the company cheating on benchmarks again, may not sit well. While the OnePlus 5's benchmark scores don't matter for regular users, enthusiasts do care if the company is cheating, and showing about 6.5% higher scores than what the phone is actually capable of in real world terms.
There's no doubt that the OnePlus 5 is a blazing fast smartphone, but it would seem like the company is risking tarnishing its image in front of its core fans to reach a wider audience. Some may even say OnePlus is selling out on its core users to gain a larger consumer base. If so, this won't be the first time a corporate has done so.
Update Cycles
Speaking of its core fan-base, OnePlus recently announced that the OnePlus 2 won't receive the Android Nougat update, after having promised the same earlier. While this may again tarnish the company's image, the core user-base we just spoke of may actually not care. Updated ROMs for OnePlus' devices are quite easy to obtain, and they can be flashed onto OnePlus phones to get new versions of Android. The company's policy of not voiding warranty if phones are rooted comes in handy at this point.
That being said, this same aspect doesn't matter to the new non-enthusiast users OnePlus has been acquiring in countries like India. To them, OnePlus has simply gone back on its word. OnePlus 2 users are left stranded with Android Marshmallow as their last update. OnePlus should, at the very least provide an update roadmap for the OnePlus 3 (review), OnePlus 3T (review) and OnePlus 5 to answer any questions prospective buyers may have. And of course, stick to it later.
In comparison, Samsung, LG, HTC and Sony have all updated at least their past two flagships to the latest version of Android. We don't know whether they will be providing the Android O update to those devices, but it would be reasonable to expect the same on at least last year's and this year's devices. The update cycle, in our opinion, is a question OnePlus needs to answer immediately.
Price
While the US prices of the OnePlus 5 brings it dangerously close to other flagships there, the phone's expected India pricing is actually quite decent. At the 35k price point, the OnePlus 5 remains substantially cheaper than the devices in the table above, which could work in its favour. OnePlus' smartphones have always been touted as "flagship killers", and while we can't yet comment on whether this one will truly kill flagships, it's competent at least from a price point of view.
Will there be a OnePlus 5T?
OnePlus disappointed many OnePlus 3 buyers last year when it announced the OnePlus 3T. While the company hasn't explicitly said so, one wonders whether it will follow a similar route with the OnePlus 5. If so, should consumers be buying the OnePlus 5 right now?
Well, let's hope Qualcomm doesn't announce a Snapdragon 836 later this year.
What do you really compromise?
If you look at the specs table above, what you're really compromising with the OnePlus 5 are the peripheral features that Samsung, LG, Sony and HTC offer. The OnePlus 5 has no audio enhancements and it's a full HD display panel still. Similarly, it lacks features like waterproofing, dust-proofing or HDR support are also missing. The FHD panel will never be Daydream capable either, meaning it's not a phone for those who believe in a VR-driven future.
This is easily justified by OnePlus 5's lower price tag, but one may argue that these peripheral features are what flagships (and flagship killers) are made of. Samsung's curved displays make the Galaxy S8 a flagship class phone, while support for 4K HDR and ultra-slow motion video recording are Sony's gimmicks. HTC's Edge Sense feature doesn't really impress us yet, but the company also ships a stellar camera with the U11. Similarly, LG is shipping the LG G6+ with a quad-dac, while Univisium aspect ratio on Samsung and LG's flagships are often considered future facing. They also allow a more modern design that what the OnePlus 5 has.
If you consider such features, the OnePlus 5 is a flagship killer for those who do not care about the peripheral features. It's certainly a value-for-money smartphone, but we'll leave the final verdicts for our review.