Let's start with the elephant in the room this time, shall we? Having taken a brief look at the Galaxy Note 7, I can't tell yet tell you whether you should upgrade from your Note 5 from last year. What I can tell you is that the Note 7 isn't an S7 Edge replica. The stylus aside, there are subtle differences between the two devices, but this is a Samsung I can get on board with.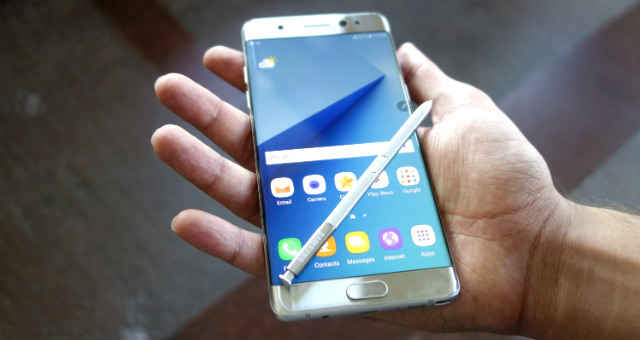 The Galaxy Note 7 has a 5.7 inch display, but it still compact.
The edge screens on the Note 7 are narrower than those on the S7 Edge. It's tough to tell the difference, which is why the phone looks almost exactly like the S flagship in pictures. The difference is evident when you see them together, or better still, hold them. Apart from narrower edges, a more rectangular design gives this phone the Note persona. If you take a close look, you'll recognise that the S7 Edge's corners are rounder than the Note's. The Note 7 is also compact for its huge screen size. It's actually just as big as the OnePlus 3, and the whole form factor is narrow as well, which makes it as ergonomic as a big screen phone can be.
To put it simply, the Galaxy Note 7 is the right evolution to the Note series, and continues the tradition that Samsung's best devices ever have set.
While that is all good, what I really like the Note 7 for is that I finally have reasons to use the S-Pen. Over the years, I've found the S-Pen to be great, but personally, I had no use for it, and I haven't met many people who did. To be clear, I'm not saying the S-Pen wasn't useful, just that it's more than a tool for stylus power users now.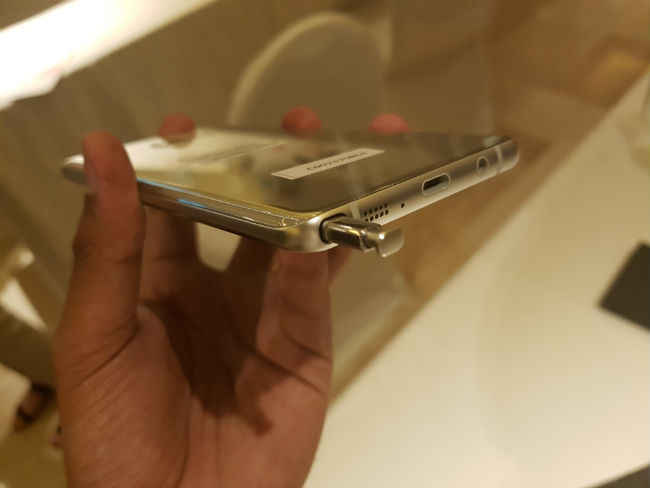 The S-Pen now supports 4096 points of pressure.
Samsung has added a GIF creator and translator to the S-Pen. They're not ground breaking additions, but make sense to the masses. I, for one, have to read leak stories off myriad websites, often not in English, and a quickfire translator is much appreciated. As for the GIF creator, who doesn't like GIFs, right?
Samsung says the S-Pen is also more precise, with 4096 points of pressure. That's an improvement, although I couldn't really tell the difference on first look. By the way, the pen can no longer be inserted the wrong way into the Note 7, so that's a bonus. This isn't the perfect stylus, but it's an improved one for sure.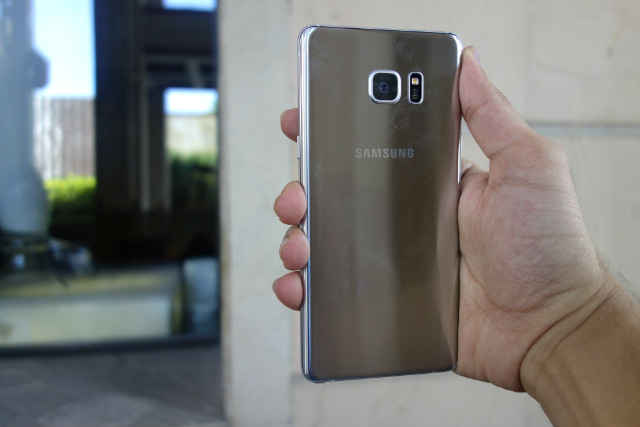 The Galaxy Note 7 has a fingerprint intensive, glass back, which still feels premium.
The only real disappointment in the Note 7, for me, was the Iris Scanner. Samsung's Windows Hello-like feature couldn't read my iris with spectacles on, possibly because of light reflecting off them. It's also not intuitive, given that you need to swipe the lockscreen to bring it up. You press the lock button, swipe, then wait for it to recognise, which is just way too many steps to unlock a phone.
Samsung did acknowledge that having an Iris Scanner just to unlock a device makes little sense and my experience with it leads me to believe it isn't meant for the same, either. An Iris Scanner is more secure than a fingerprint sensor, but this one makes more sense for locking lesser used, but important apps, like, say banking apps. I understand Samsung has made provisions for the same, though I haven't tried them yet.
To conclude, the Galaxy Note 7 has more or less the same hardware as the S7 Edge, and you don't need me to know that you should hold on to your device, if you bought Samsung's S flagships this year. I can confirm, though, that the Note 7 is a worthy successor to the Note line, but if you wanted to upgrade from a Note 5, wait for our review. There are subtle changes in the Note 7, like the ability to change the display's resolution from QHD to FHD and HD. The Note 7 can also play HDR videos, and has a video enhances to brighten other videos. Both of these looked quite good, and HDR is a first for smartphones. Samsung has fitted the mDNIE (Mobile Digital Natural Image Engine) chip to enable HDR playback, and process other videos and brighten them.
Accessories
With the Note 7 comes Samsung's new line of accessories as well. The Gear Fit 2, IconX and new Gear VR, that you probably have read about, are all in India now. There's really little that I can say about the Gear VR and Fit 2, given the little time I've spent with them. I did, however, focus on the IconX. Wireless earbuds have been intriguing for me, for a while now, and I'm yet to find something that suits all consumers. To start with, the IconX is a product made for the style conscious. Available in Black, White and Blue, Samsung's focus here is evident — style and fitness. The IconX makes sense for those who workout, and it will turn heads when you wear it. It won't however, suit all listening needs. I can appreciate the engineering in building something so compact, and the IconX do not need a wire to keep them in your ear, but the sound quality didn't impress me, at least not in the little time I spent with them. I'm no audiophile, and it would perhaps even be wrong to expect audiophile quality music from these, but the subdued bass is just too tough to ignore.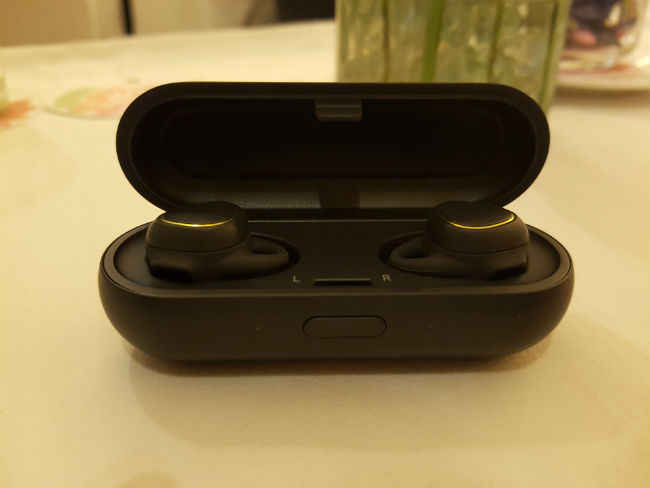 Samsung IconX (Above), Samsung Gear Fit with IconX box (below).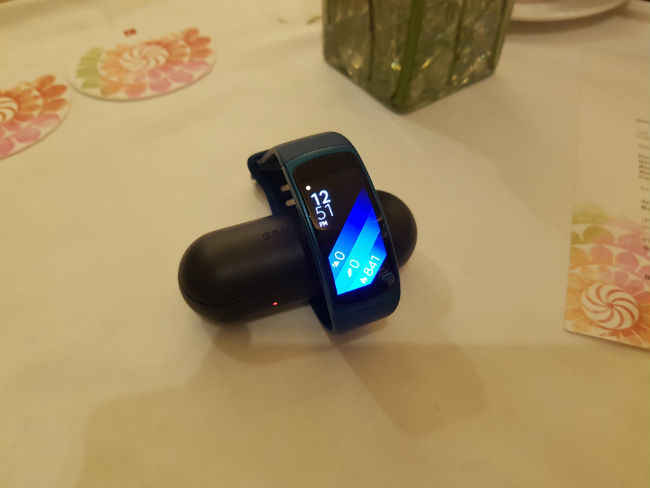 Having said that, one has to appreciate other things about the IconX. The noise cancellation seemed great, and Samsung has packed it to perfection. You'll get it in a solid tube-like box, which doubles up as a power bank for the device. Two red lights glow on the box, signifying that the device is charging. These lights will turn green every 90 minutes, when it is charged. It's not often that we talk about how a device is boxed, but with the IconX any style-conscious buyer will appreciate it. It looks like the futuristic device that it is. I hope Samsung can enhance the audio quality in its next iterations. While I personally didn't like the bass, I would implore the reader to await our review, so that our audio reviewers can give their two cents on the device. I am not an audiophile, and I confess I'm not the best judget of audio, and what I like may not be what you do.
Samsung's dumped an array of devices today, and honestly, I'm impressed. The company has tried to improve each device from its earlier variants, and largely, Samsung has succeeded. The Galaxy Note 7 is impressive, the IconX earbuds are appreciable even with the faults, and Gear Fit 2 has an impressive screen. It's too early for me to pass a judgement on any of them, but things are definitely looking up.