The Samsung Galaxy S5 was launched at the Mobile World Conference a few days ago. The reception of the phone has so far been...mixed at best. While many are happy with Samsung's latest offering, there are an equal number of people disappointed with the little cosmetic innovation that the phone brings to the table. We are particularly intrigued by the Camera, which seems to have gotten a lot of attention from Sammy. Here are some things that we like and some that we felt could have been better.
What's HOT: Live HDR
So, nVidia had first showcased this technology to be part of their nVidia Tegra 4 chips, but Samsung's bringing the technology out to the masses. The camera on the Galaxy S5 can not only shoot HDR, but is also capable of showing real time HDR previews. This way, you get to see exactly what your HDR image would look like even before you've shot it. What's even better is that the Samsung Galaxy S5 can do HDR in burst mode too. This is all showing some serious processing chops.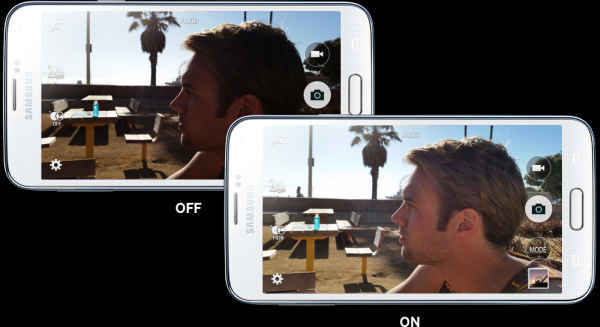 Realtime preview in HDR mode
What's Not: No Optical Image Stabilization
Nokia revolutionized the mobile imaging segment by pushing actual physical image stabilization gear into the optical assembly. After that, LG pushed to do the same, and we had hoped that the next version of the Samsung flagship would also do it. But as it turns out, it wasn't meant to be. Despite all the features that Samsung packs into a phone, one would think that this essential feature would also be there, but it isn't. Low light photographers could have definitely used this additional feature.
What's Hot: Phase Detect AF
Nokia may have beaten everyone by bringing regular camera tech into cellphones, but Samsung just took it up to a whole new level by packing phase detection pixels onto the sensor. Incorporating phase detect isn't as simple as "tossing more pixels onto the sensor," but requires a very delicate balance of extra pixels being packed into a tiny space, along with the corresponding circuitry. We are yet to see just how effective this will be, but it's still impressive that Samsung can boast of this "first."
What's Not: Small Sensor
We are looking at a 16 megapixel sensor along with additional phase detect pixels, but the entire sensor surface tops out at 1/2.6 inches. The limitations of a small sensor will always be there. We wish Samsung would have opted for a slightly bigger sensor.
What's Hot: ISOCELL Technology
While the small sensor limitation is understood by Samsung, they have tried to maximize the efficiency by utilizing what they call the ISOCELL technology. Their logic is that when photons enter the color channels on the sensor, there are times when the photos create cross-talk, resulting in some garbage signal generation. So now, Samsung has figured a way to keep the channels isolated from each other, eliminating cross-talk completely, resulting in about 30% more efficiency on the sensor. The result, as per them, is slightly increased dynamic range, and far better color reproduction than current cellphone cameras. Check out the video that shows how the ISOCELL works in the S5's camera.
Check out the Samsung's ISOCELL CMOS Image Sensors
)
What's Not: 4K Video
Okay, so everyone is going gaga over the fact that the Samsung Galaxy S5 can shoot 4K video, but we don't see that as a very good thing. First, there is the issue of storage space on the phone, since 4K video is bound to take up a lot of space. Second, the real advantage of 4K video comes forth when it is encoded at very high bitrates, bitrates so high that it would pretty much fry the insides of a phone. Therefore, you're definitely getting the resolution, but not the bitrate that makes 4K video shine. Secondly, screens capable of playing back 4K video natively aren't mainstream yet, and even though we're seeing more and more 4K TVs trickling into the market, it is still going to be a while before they become a staple in households.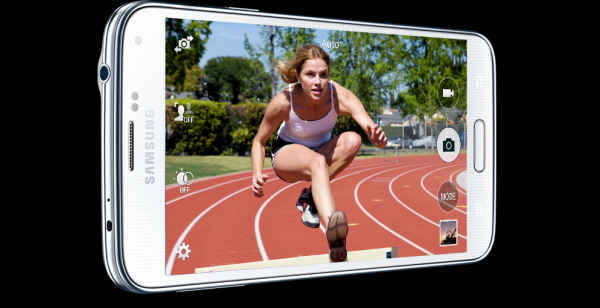 The camera on the S5 features fast auto focus
Other than these standout features (or their lack thereof), the Samsung Galaxy S5's camera also packs a fast f/2.2 aperture lens, which is somewhat of a standard in today's high end camera phones. The camera has focus shift enabled in camera by default, a feature which allows you to shoot and refocus later. Nokia has something similar, but it is a separate app. In Samsung's case, its a feature bundled into the camera app. All in all, the camera on the Samsung Galaxy S5 looks incredibly promising on paper and we can't wait to get a unit in our hands and put all these insane features to the test.