The Samsung Galaxy Note 7 was a good phone, at least until it started exploding. Samsung apologised, went back to the drawing board and come up with a brand new Note. The company has been very cautious this year and the new Galaxy Note 8 is somewhat restrained in terms of battery life, but besides that it has the same DNA. We had the chance to check out the phone at IFA earlier today and the Note 8 is poised to make up for the year-long gap left by the Note 7. The phone has a higher price tag than all its predecessors, but if you want a stylus with your smartphone and want it to perform flawlessly, this is your (only) option.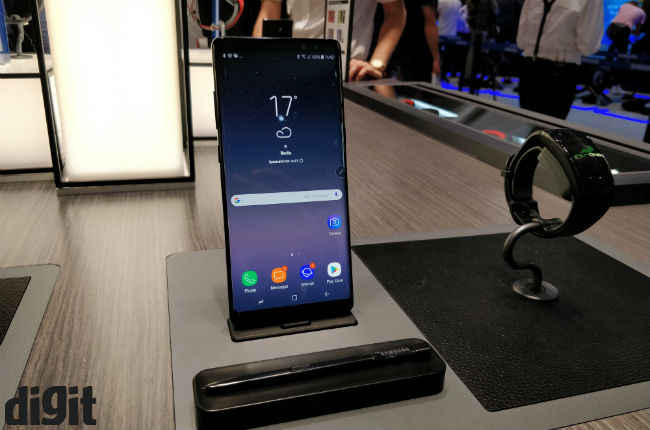 The first thing one would notice about the phone is the large 6.3-inch AMOLED display, which in its 2K glory is about 0.5-inches larger in size compared to the Note 7. Still, with the shrunken down bezels and new design, the Note 8 is just a hair bigger than the last model. One actually feels the difference once you hold the device in your hand. Even with a 6.3-inch display in place, the phone was easily grippable in one hand. Although, to use the Note you would be required to use both hands, as the overall form factor is still large.
While to some, the phone may look like a larger version of the Samsung Galaxy S8+, which is not completely wrong, the Note 8 does feel different when held. The main differentiating factor is the included stylus, that supports even more points of pressure now, according to Samsung, and a better tip. The stylus allows Note 8 users take notes and send live messages, but besides that the functionality is pretty much the same as we have seen on previous Note devices. With the new Note, one can also take notes while the display is off and Samsung allows up to 100 pages with the Note 8.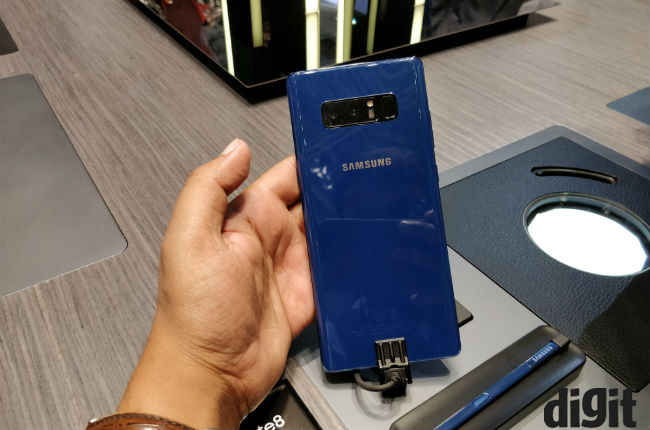 The other big feature for the Note 8 are two cameras on the back. The two 12MP sensors have an aperture of f/1.7 and both are optically stabilised. This means that the Note can now offer the regular 2X optical zoom, bokeh effect (Samsung calls it Live focus) and something called the dual capture mode, which takes the same image twice from both cameras. The front facing selfie camera also gets an f/1.7 aperture, promising better low light selfies.
There is no point talking about the performance of the device as this the company's flagship and all we can really say is that the phone was buttery smooth in the little time we used it. What we should talk about is the battery, which at 3300mAh is even smaller than the one used on the Samsung Galaxy S8+. While the chips running the phone remain the same (Exynos 8895), the larger screen size may hurt battery life. The Note 8 is also slightly thicker and Samsung could have put in a bigger battery, but the company may just be playing it safe this time. However, if that leads to shorter battery life, then Samsung has more criticism to deal with