Just a month after Samsung announced the M10 and the M20, the company has come out with the M30. Amongst other things, the Samsung Galaxy M30(₹ 12999 at amazon) boasts of a triple camera setup designed to improve the photography experience of the user buying this phone. Towards this, the Samsung Galaxy M30 sports a 13 megapixel primary camera with an aperture of f/1.9. The secondary camera is a 5-megapixel ultra-wide camera alongside a 5-megapixel depth sensor camera for portrait shots. On the front, you get a single 16-megapixel camera. We took the phone out for a quick test and returned with a sample of 50 images, all of which are available in our Flickr gallery, unaltered. Additionally, we have only used a handful of samples below, butr you can see a much larger set of photos in our Flickr Gallery. Do note this is only a preliminary test of the Samsung Galaxy M30's camera and we will be doing a more in-depth and detailed test during our review process. We will also be comparing the phone with its closest competitors.
Disclaimer: The samples you will see below in this article have been resized for web and hence, don't represent in true honesty the quality of the output. We do strongly recommend a good look at our Flickr gallery for the full-size images.
Modes and Features
The Samsung Galaxy M30 offers a host of features and modes that come together. The rear camera offers all the common shooting modes like Panorama, Live Focus (for bokeh shots), continuous shot, a stickers mode and even a Pro mode. The front-facing camera offers only Live Focus and predictably, Stickers mode only. While all of these modes work as advertised, what was surprising was the lack of any real settings in Pro mode. You can adjust the white balance and ISO, with an option for exposure compensation. Shutter speed and manual focusing are options missing from the pallet, as is the ability to capture RAW images. Sadly, the phone does not offer any kind of image stabilization, optical or electronic which does cause the overall photo-taking experience to take a hit in low light situations, which we will discuss in detail in the low light section.
Daytime Scenario
Taking photos outdoors during the day time using the Samsung Galaxy M30 is a rather easy process. You just have to point the camera in the direction of the desired subject and press the shutter button. In the event that you have composed your shot in such a way that the subject isn't bang in the centre, you can tap on the display and the phone will refocus impressively fast. Press the shutter button again and the photo will be taken almost instantaneously. What we learned in our usage of the M30 was that the focusing speed is adequately fast, and the system reliable. It had a decent minimum focusing distance, which should let you get closer than normal to your subject. In addition, the shutter response is also pretty good, as is the time between shots.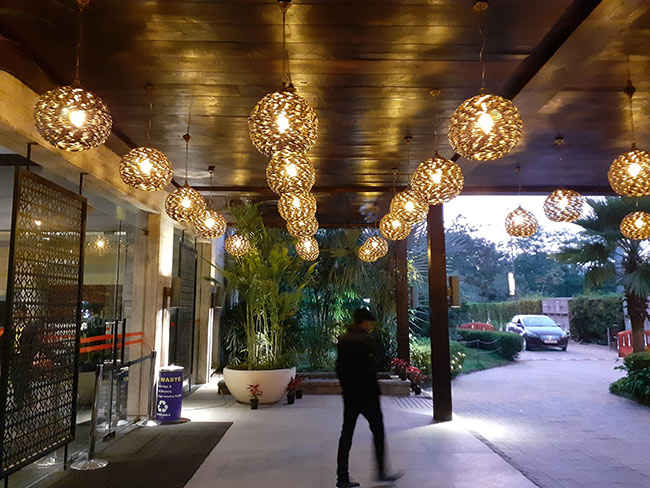 Sample shot from the regular camera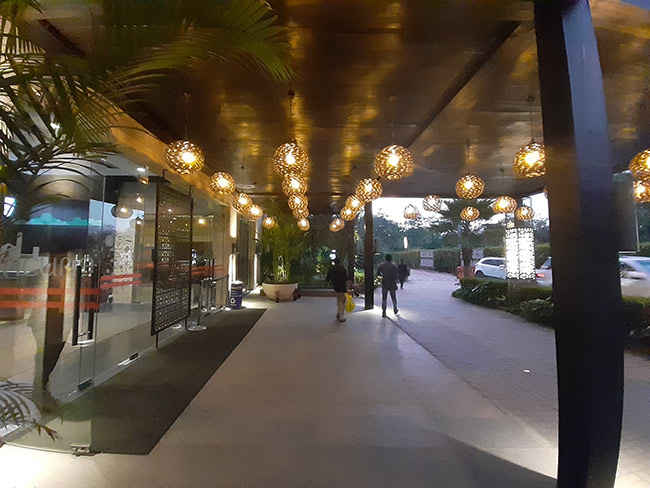 Same shot from the ultra-wide lens
The photos themselves appear to be of decent quality The colours are well balanced, save for orange and red, which tend to get oversaturated. In terms of dynamic range, don't expect great results for backlit subjects. In addition, subjects that are covered by a strong shadow due to the overhead sun will definitely see some loss in detail.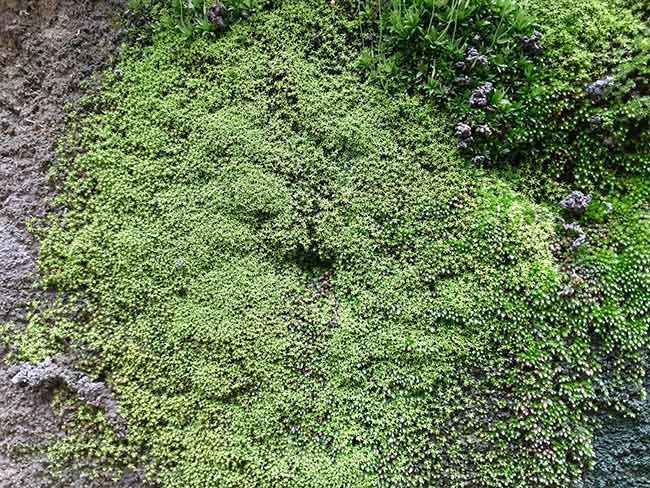 Daytime shot from the 13MP camera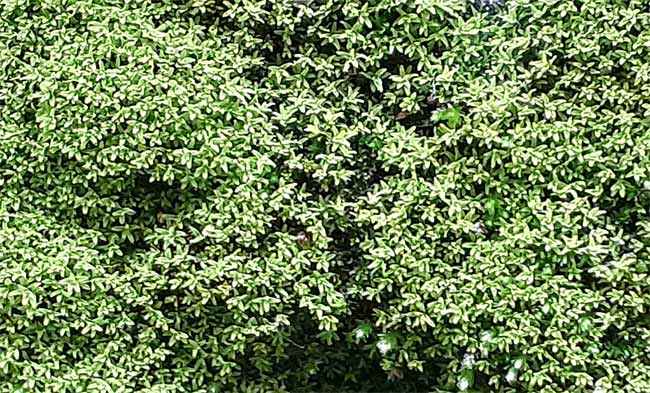 100% Crop from the centre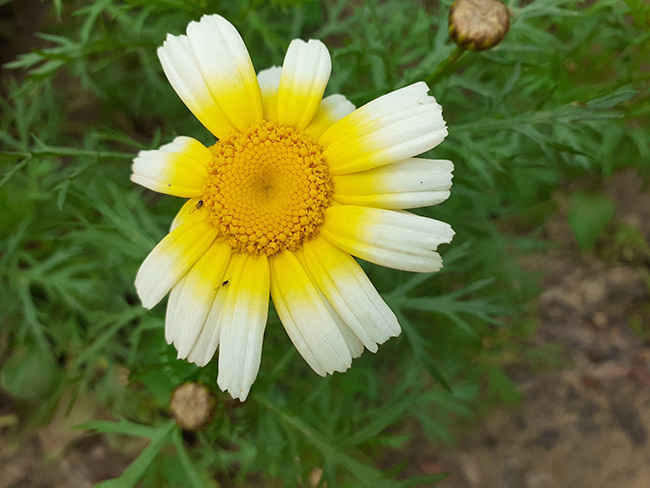 Shot from 13MP camera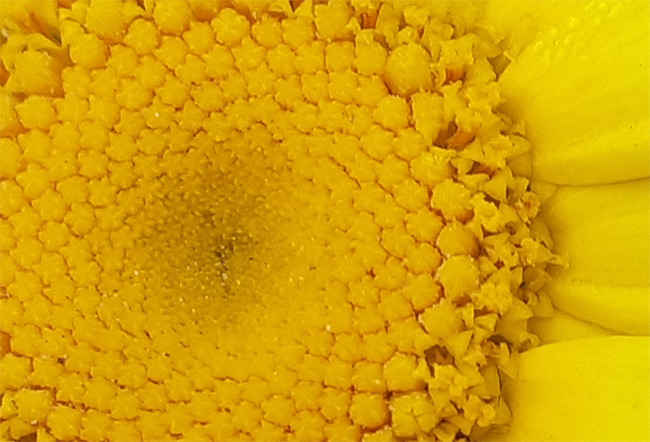 100% Crop from centre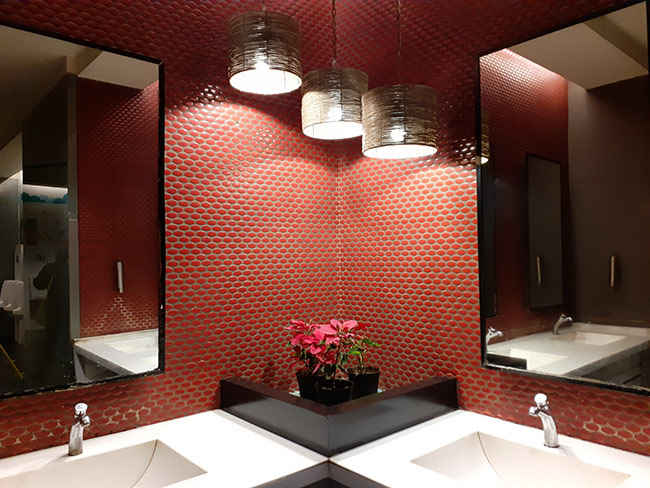 Good quality of photos when there is adequate light
Lastly, we noticed that despite adequate light and low ISO, the images exhibit some loss in detail. This is a common attribute of phones in the budget segment as the JPG compression in such devices tends to be rather aggressive, favouring smaller file size over detail.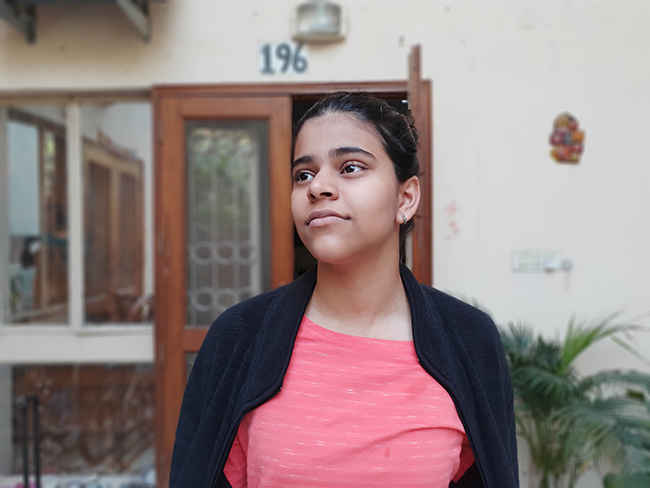 Live focus/Portrait mode works well for the main camera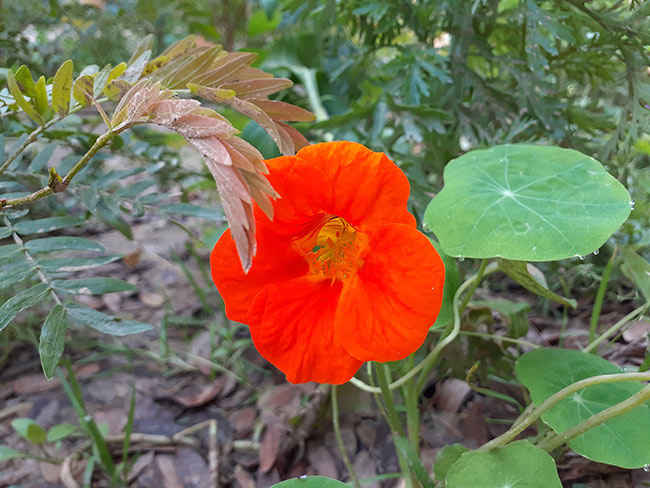 While most colours are well balanced, reds tend to be over saturated
Low Light Scenario
We tested the phone's low light capabilities from dusk all the way until after sunset. We also included shots taken at indoor, dimly lit venues and indoor, well-lit venues. In low light situations, the Samsung Galaxy M30's autofocus worked reliably, albeit was a little slow. There were very few instanced of the camera not being able to lock focus, which is well within reasonable performance metric. In terms of image quality, however, we see a significant loss in quality. The aggressive noise reduction results in significant loss in detail and sharpness across the frame. We noted the camera tops out at ISO 1250 in our test shots and the photos exhibit extreme smudging, especially in the corners. In the image sample below, you can see how the leaves of the tree have become one large patch of fuzz. While the loss in detail is still okay, what really bothers us is the lack of sharpness.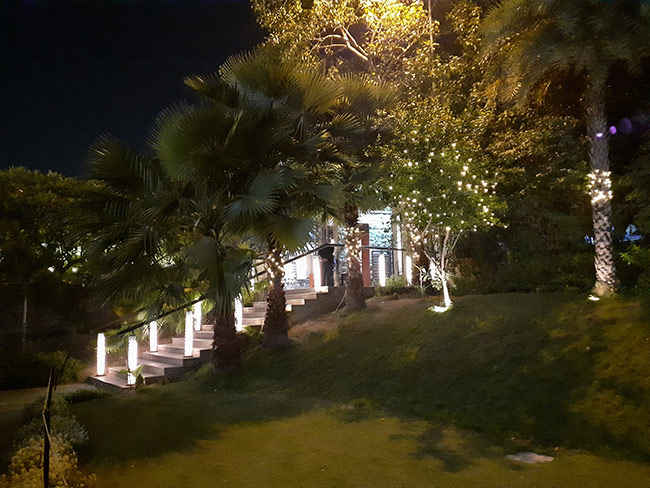 ISO 1250, f/1.9 SS: 1/10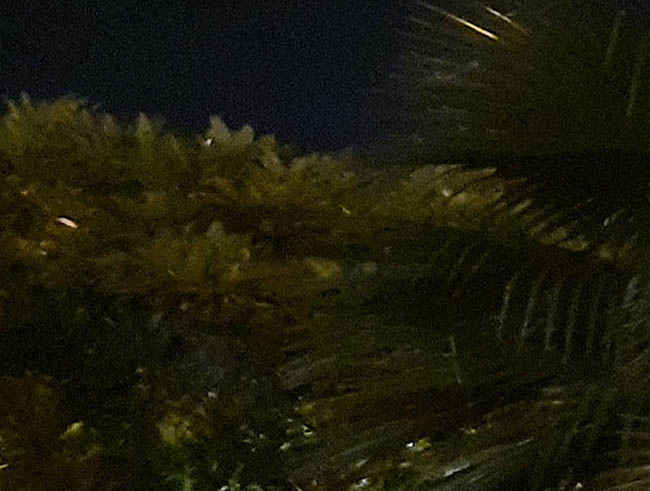 100% crop of left edge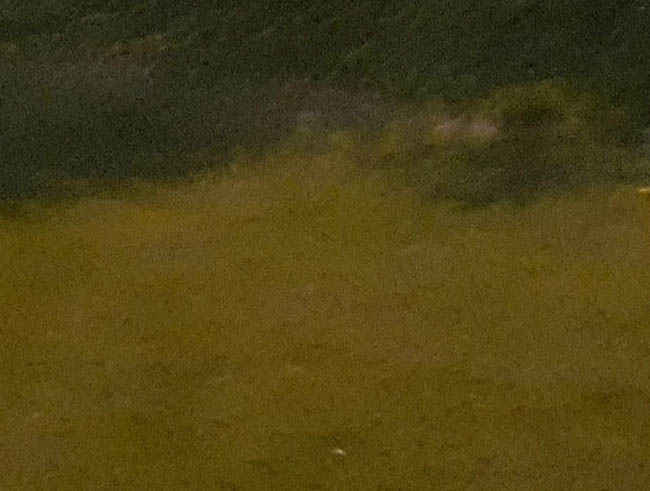 100% crop of the grass area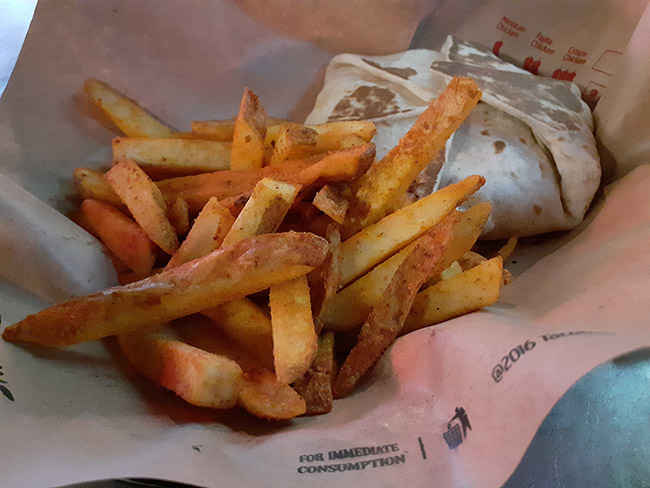 ISO 1250, f/1.9 SS:1/11 seconds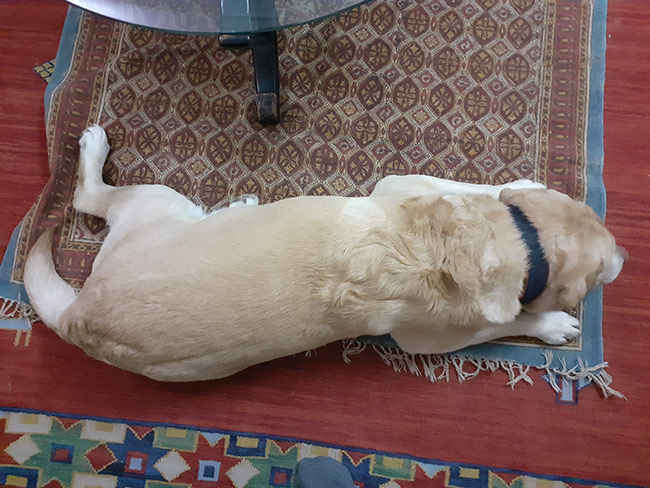 Indoor photos are bound to suffer from some loss in detail
Ultra-Wide Angle Lens
The ultra-wide angle camera on the Samsung Galaxy M30 offers a 123-degree field of view, but the resolution on this is just 5 megapixel. In good light, the camera offers decent images, with nice colours and adequate contrast. Sadly, the 5-megapixel sensor isn't able to resolve a lot of detail, meaning that the images do lack finer detail. Howe4ver, you are likely to notice this only if you would take closeup photos of subjects, which you won't end up doing as the camera has its focus fixed at infinity. Get any closer than 6 inches to the subject and things will start going out of focus.
Some of you might say that the wide-angle lens has too much distortion and you won't be wrong. However, its just a matter of optics that the wider the lens, the more distortion is produced. The only way to correct it is by using software, and that will always result in loss of resolution. You can correct the distortion in Adobe Lightroom Mobile if you'd like, but we are good with Samsung's choice to leave out software correction as 5MP is anyway too low a resolution.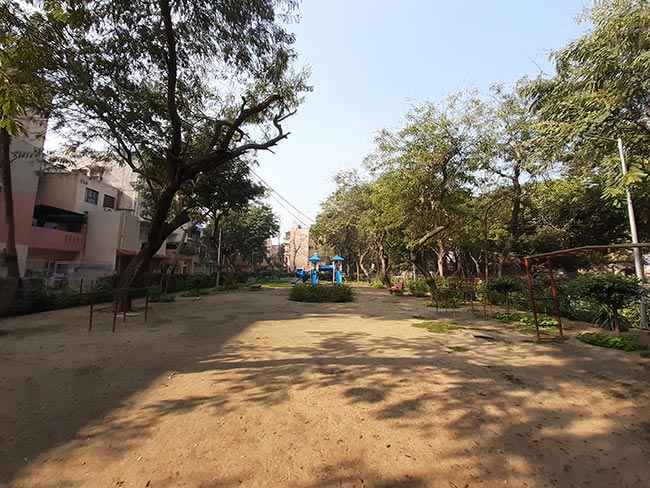 Ultra-wide angle lens produces decent images in good light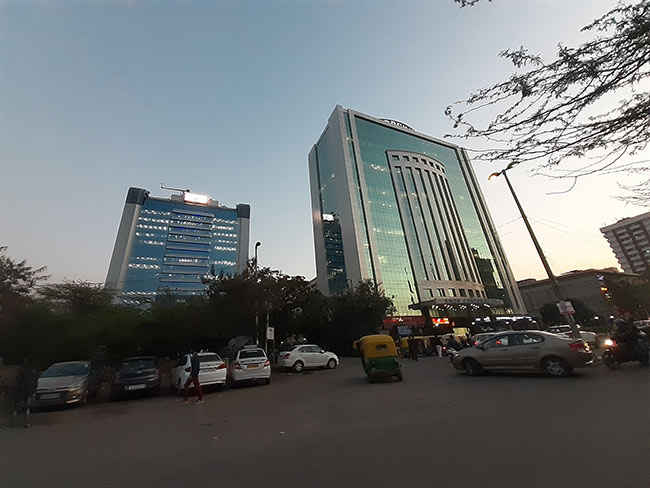 Not that great in low light though
In low light, the wide angle camera is just not able to produce usable images. This issue is mostly because of a combination of factors such as a small sensor paired with an f/2.2 lens which lets in very little light, to begin with. While not ideal for low light or indoor use, the ultra-wide lens is bound to result in some interesting photos during the day and that to us, is still a good thing.
Selfies
The 16 megapixel front facing camera on the Samsung Galaxy M30 was a surprisingly good performer in our use. While not that great for low light, we found it to produce good photos in the day time. By default, the camera has some beauty filters enabled, so if you're not one who cares for them, make sure to turn them off before you start taking photos. We did. What we found particularly impressive was that when shooting against the light, the camera is able to retain the right exposure for the human face. We took a few selfies with the sun directly behind us and totally expected the camera to underexpose, but it managed to take a good photo. This bodes well for Samsung given that the millennials who happen to be their target audience, do love to take selfies.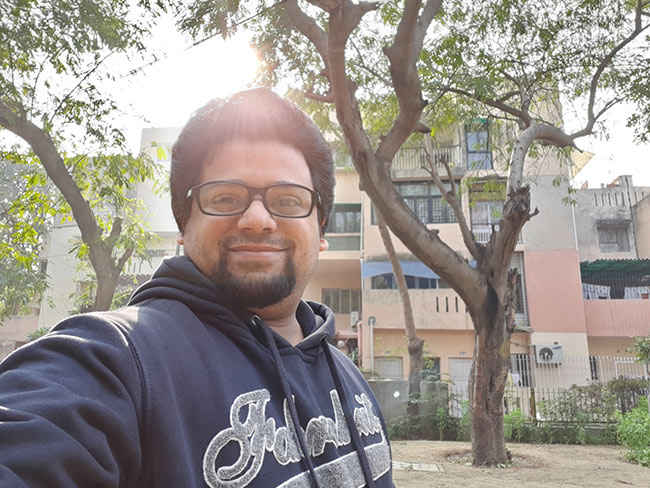 Selfies come out good even when shooting against the light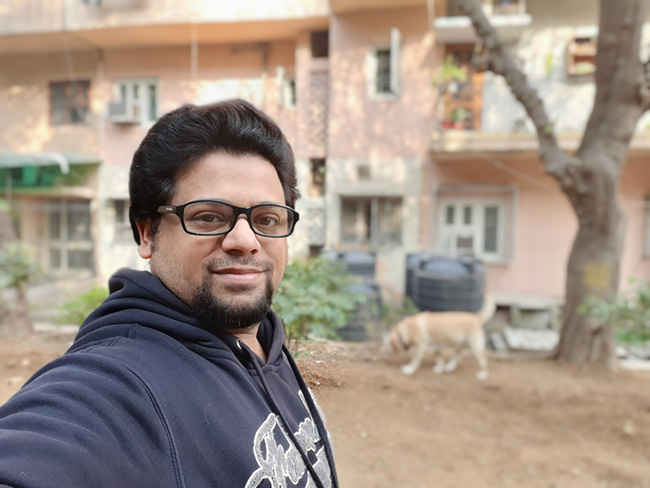 Portrait selfies are pretty good, but could be better
Conclusion
In good light, the Samsung Galaxy M30 does produce good images, the kind that you'd be happy to flaunt on social media. You may even be able to take some photos that are "profile photo" material, but when it comes to low light, the story is completely different. While the camera's autofocus does work reliably in all kinds of lighting, the low light imaging performance of the M30 does leave a lot to be desired.