The mobile industry is one space where things are almost always exciting. Whether it has to do with new form factors or the infusion of new technologies, the mobile space is always abuzz with activity. While we always get excited over phones and the camera modules or the material of make, one thing that gets always gets a strong mention but gets over looked are the processors. Nowadays, just the mere mention of "quad-core" or "dual-core" or even "octa-core" is enough to entice the customer, but they don't generally dig further, but that might all be about to change.
There are three processors about to become mainstream that could not only have a heavy impact on your purchase decision, but also a spell the next level of performance and evolution for the mobile computing space. These are the Snapdragon 800, the Nvidia Tegra 4 and the Samsung Exynos 5 Octa (5420), all with a varying number of cores but each offering something intriguingly unique.
The Breakdown
Snapdragon 800 - The Traditional 4-Core Approach
The Snapdragon 800 from Qualcomm incorporates four Krait 400 CPUs, each of which can be clocked up to 2.3 GHz. It also has a new Adreno 330 GPU which Qualcomm claims is 50% better than its predecessor, the Adreno 320. Qualcomm's also baked in an extra core called the Hexagon DSP which takes care of low-power tasks such as playing music while the screen is switched off etc. For connectivity, Qualcomm's thrown in the entire kitchen sink, and by that we mean that the 4G LTE, Wi-Fi, USB 3.0 and Bluetooth 4.0 are all baked into the SoC. IT also supports displays up to 2560x2048 while imaging can be handled by a camera module of up to 21 megapixels.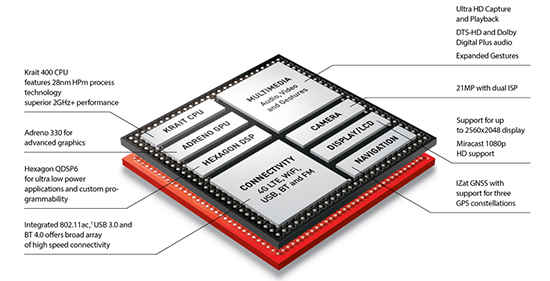 Exynos 5 Octa (5420) - ARM's 8-Core big.LITTLE Configuration
The Samsung Exynos 5 Octa employs ARM's big.LITTLE configuration where we find two CPU clusters, one cluster containing four A15 cores and the other cluster containing four A7 cores. The A15 have a maximum clock of 1.8 GHz while the A7's top out at a blistering 1.3GHz, making the new 5420 seem like quite a power horse. However, do make note that even though the Exynos 5 Octa has 8 cores, the big.LITTLE configuration only permits one CPU cluster to operate at a time. It's either all A15 cores or all A7 cores, with no option of running an uneven mixed combination of the two cores (e.g. 1 A15 and 3 A7's). The 5410 also seemed to suffer from a complete memory dump issue every time the SoC switched between the two CPU clusters, causing the battery and performance to take a hit. The last issue that the 5420 resolves is in the graphics arena, with Samsung switching back to ARM for the duties. The Exynox 5 Octa 5420 has the Mali – T628 MP6 in a 6-core configuration, which should theoretically boost graphics performance by about 50%.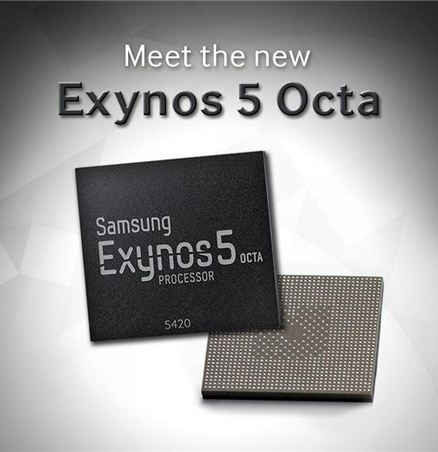 Nvidia Tegra 4 - The 4 1 Core Design
Nvidia has two SoC's the Tegra 4 and the Tegra 4i coming up, with the two chips bringing their respective A-games to the market. The Tegra 4 will be a 4 1 configuration of A15 cores with a maximum clock speed of 1.9GHz while the Tegra 4i will sport the same 4 1 configuration, but of A9 cores with a max clock speed of 2.3GHz. The Tegra 4 will pack up to 4GB of either DDR3L or LPDDR3 Ram while the Tegra 4i will only support 2GB of LPDDR3 RAM at the most. The two also have different graphical prowess, with the Tegra 4 boasting 72 custom GPU cores while the Tegra 4i has 60 of the same. All this difference in performance becomes apparent when you realise that the Tegra 4 is capable of 4K video output (3200x2000), while the Tegra 4i can only give an output of 1920x1200. The biggest difference between the two chips happens to be the fact that the power horse Tegra 4 chip has an optional LTE chip that must be built onto the circuit board, separate from the SoC, while the Tegra 4i comes with an integrated LTE chip built-in.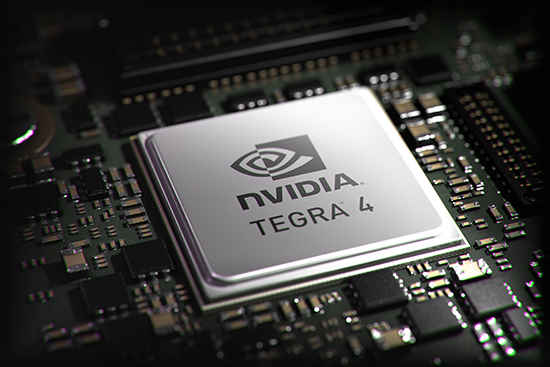 The Memory Game
Each manufacturer has outlined that memory usage has been streamlined in their new SoCs. The earlier Samsung Exynos 5 Octa (5410) had coherence between its two CPU clusters turned off, which caused the caches to be dumped from memory anytime the device switched between CPU clusters. This was of course not good for the overall performance, so with the 5420, Samsung has fixed the issue. Snapdragon's introduced a hardware data prefetcher that pre-emptively grabs data out of main memory and brings it into L2 cache. The original Krait core had no L2 prefetchers while Nvidia's doubled the maximum RAM supported from 2GB on the Tegra 3 to 4GB on the Tegra 4 with a humongous 2MB L2 cache.
Diving a little deeper, we examine that all three are using a 2x32 LPDDR3 RAM architecture, however, there are some subtle, but important differences. While the Snapdragon 800 supports clock frequency of up to 800 MHz on its RAM module, the Exynos 5 Octa and the Tegra 4 operate at 1866MHz, double the clock speed 933 MHz, about 16% faster than the Snapdragon 800. The peak memory bandwidth of the Qualcomm Snapdragon 800 stands at 12.8 GB/s while that of the Exynos 5 Octa and Tegra 4 stand at 14.9 GB/s, which corresponds to the difference in RAM clockspeed.
The Image Signal Processing Allure

Imaging has become a rather major part of any mobile device nowadays, whether it is cell phones or tablets. Today, it isn't just about the megapixels, but also add-on features like filters, effects, HDR, video etc. that matter a lot to any consumer. Understanding this need, Qualcomm has built some very impressive image signal processing (ISP) capabilities into the Snapdragon 800. Firstly, it has a dual ISP pipeline which allows it to handle up to 55 megapixels worth of image data. It also allows capturing of 3D images and can support up to 4 imaging sensors for shooting images whose focus can be tweaked at a later stage (hello Lytro!).
Nvidia is approaching the ISP game with its Chimera architecture, which has quite a portfolio to boast of as well. While HDR photos have become a standard in most camera phones, NVidia takes it up several notches by introducing the first ever always-on HDR camera. With this, users will be able to shoot video, panoramas, burst shots along with single photos all in HDR mode. The Chimera architecture also will enable Tegra 4 powered devices to achieve real time focus tracking, a first of its kind feature in mobile devices yet.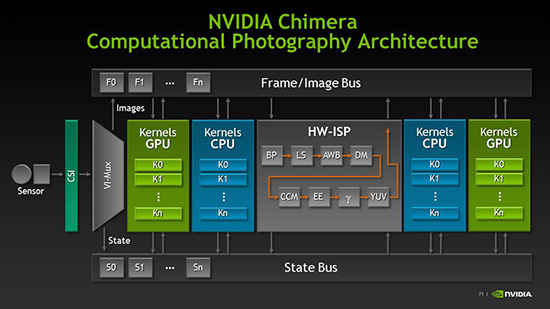 Samsung has not yet stepped up and spoken exclusively about the imaging prowess of its Exynos 5 Octa chips, but from what we've seen of the 5410, we can expect the same high speed shooting and zero shutter lag capabilities along with HD recording.
All three S0Cs are packing some major performance specs at least on paper, but what remains to be seen is their implementation by various OEMs. For example, even though the memory can be clocked up to 1866MHz on the Tegra 4 chips, it is possible that OEMs clock their RAM modules down to 1600MHz (or higher than 1866, as there is a possibility on this number going higher). While it is clear that performance boost has been a focus of the three company's new SoCs, they also claim improved battery life not only in general, but also in accordance with performance. There's some next-generation stuff with regards to imaging as well, which only adds to the excitement surrounding these chips. While all three sound extremely exciting on paper, what we'd like to know is how much of this power and efficiency will finally translate into real world usage on a device.