The Moto Z Play is the cheaper of the two modular smartphones that Motorola launched this year. On paper, the Z Play is weaker than we would have liked in this price range, but Motorola isn't really going for power here. Instead, the company wants to sell a phone that lasts really long, while also offering the modular aspect.
You can fit all of the Moto Mods on the Moto Z Play, and in practice, the phone's battery life is quite commendable. While we work on finishing our review, here's a quick look at what the new Moto Z Play's performance numbers are till now.
Performance
On benchmarks, the Moto Z Play is bleak, but benchmarks and real world performance are a world apart in this case. The Moto Z Play feels really smooth on initial impressions, and apps open with minimum load times. The same can be said for games like Asphalt 8, where the Moto Z Play felt much faster than the Asus Zenfone 3, which runs on the same SoC.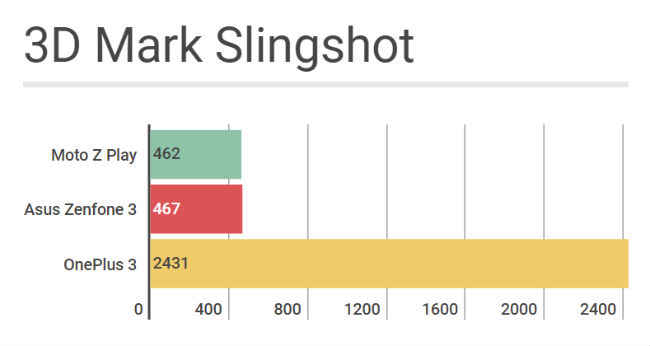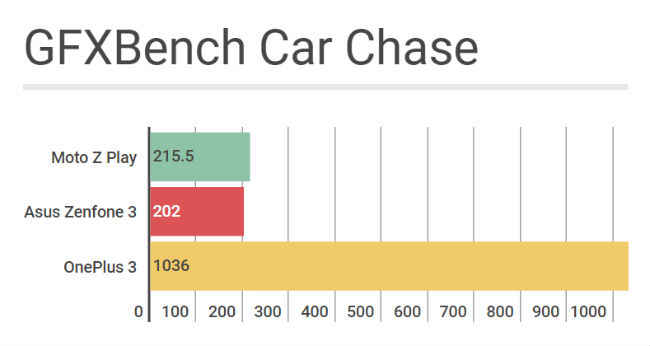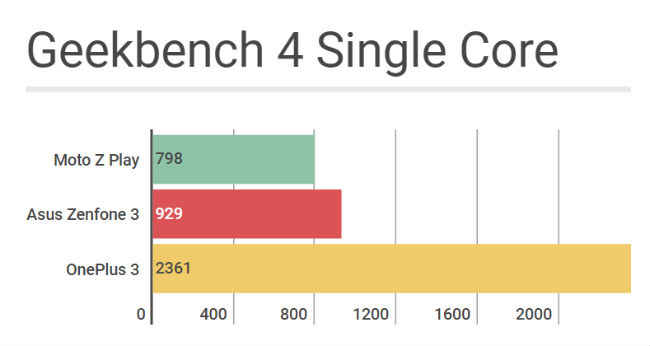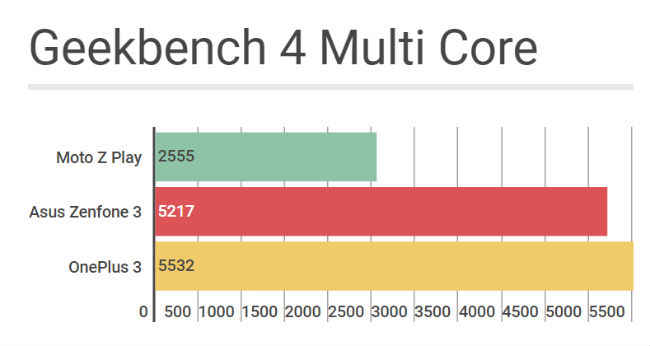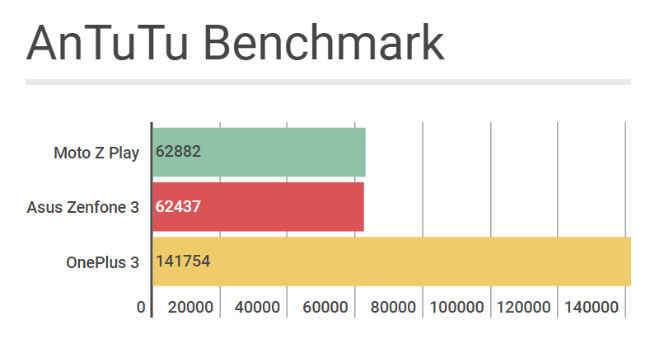 However, the big difference between benchmarks and real world usage means we need some additional tests to be performed. We shall do the same for the full review, to determine where the Moto Z Play stands.
Heating
The Snapdragon 625 SoC on the Moto Z Play is a low-power SoC, built on the 14nm process. As a result, the Moto Z Play doesn't heat up very easily. At the moment, we've recorded temperatures of about 39 degrees after 15 minutes of gaming (with Asphalt 8). This seems quite reasonable. This rises to 39.5 degrees after 10 minutes of 4K video recording, which again is quite reasonable.

That said, Motorola's Turbo Charger seems to heat the device up a little bit. While the temperatures aren't abnormal, we wouldn't recommend using the phone much while charging. Gaming while charging the phone drove the temperature up to around 43 degrees Celsius.

Display
The display on the Moto Z Play is an absolute stunner. It gave maximum luminance readings of 703 Lux, which is quite near the flagship class of smartphones in terms of display brightness.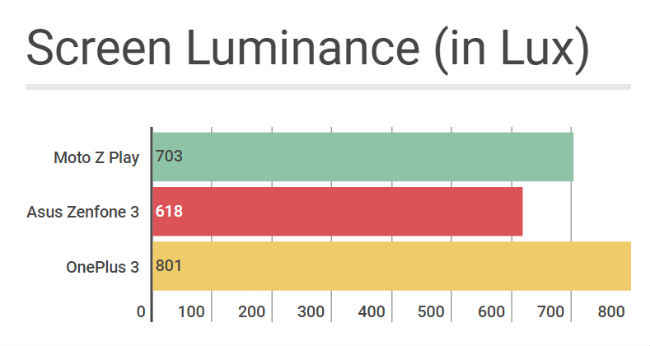 Furthermore, the 5.5-inch 1080p Super AMOLED panel is very good with colours and viewing angles. There is slight oversaturation, thanks to the AMOLED panel, but Motorola has done a very good job in balancing the colours on the display. Coupled with very good touch response, the display is indeed one of the best in this price range.
Bottomline
We haven't yet finished reviewing the device, so we'll hold our final judgements still. However, initial testing shows that the Moto Z Play is a commendable device, despite its lower benchmark scores. If the battery life is what Motorola claims, then this should indeed be a good phone to buy.