Out of all the announcements that were made on the first day of the Google I/O conference in San Francisco, there was one that made the most sense to India. The Android One platform, announced by Google Android boss Sunder Pichai, during his keynote makes the most sense for India, which is perhaps why homegrown manufacturers Micromax, Karbonn and Spice has been named as OEM partners for the program. The program will also be available first in India.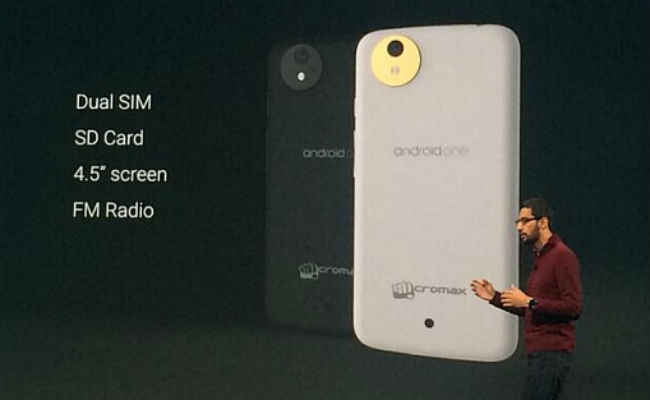 Android One covers hardware and software reference platforms, which will allow OEMs to build smartphones that are priced below $100, which comes to less than Rs 7,000. It's an initiative that is beneficial for both consumers and the manufacturers since Google will be pushing the updates to these devices itself. Imagine a Google Play Edition, just in a more basic phone. Google brings it updates, taking the task away from the OEMs. The OEMs on the other hand are relieved of the need to launch a new smartphone in less than 10 months because the old one is outdated.
That of course means that devices in the Android One platform will come without layering, pure Android being the way to go for them. This would mean that Google will be giving the OEMs the optimal hardware specification for the device, which would then run on stock Android. This would then be updated to the next Android version by Google, making the phone last longer. A good example would be the Moto E, but with Google support for updates.
Google showcased a Micromax Android smartphone at the I/O, which boasted a 4.5-inch display along with a micro-SD slot, FM Radio and dual-SIM support. This covers a big portion of what the consumer needs from a smartphone in budget sensitive markets like India. Moreover, Pichai said that Android One would be accompanied by Play Auto Installs, which is a service that tells the users what apps are recommended for his device.
Still wondering why this is good for the Indian market? Think back to the biggest grievance you have had with a smartphone that is priced below Rs 10,000. Yes, KitKat solved it to an extent, with the Moto E beginning a trend for the cheapest devices to be sporting the newest Android version. But, we expect that One will add better performance and more longevity to that, making the budget market highly attractive for OEMs.