Preparations for the India Mobile Congress are underway in full swing. The event is India's version of the Mobile World Congress held annually in Barcelona, and it is shaping up to be a confluence of global as well as Indian smartphone makers, telecom majors, startups, technologists and government representatives.
To be held in September, IMC was the brainchild of Rajan Mathews, Director General of the Cellular Operators Association of India (COAI). Although the India Mobile Congress is being supported by multiple Government bodies such as the Department of Telecommunications (DoT), Ministry of Electronics and Information Technology (MeitY), Ministry of Skill Development and Entrepreneurship (MOSD&E) and The Department of Industrial Policy & Promotion (DIPP), it was COAI that sowed the seeds for an event of this scale.
Talking to Digit about the idea behind IMC, P Ramakrishna, CEO of the event and Principal Advisor at COAI said, "Every year we take a big delegation from India to MWC in Barcelona. Some go to Shanghai, but not as many as Barcelona. We saw that this part of the subcontinent is not equally represented at MWC. So, the board of COAI discussed and considered that we should have a big event, and that too, we have 1.2 billion mobile subscribers and we didn't have a marquee event which will get global attention to India."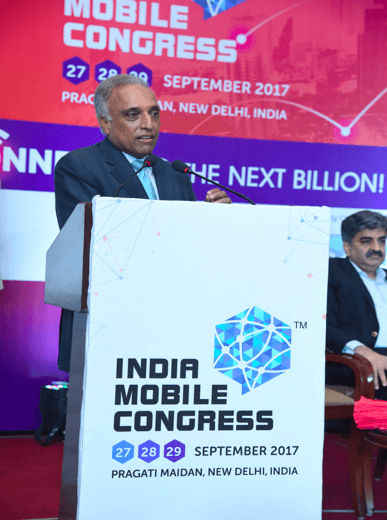 This is the first time India is attempting a mobile technology event of this magnitude. The national capital seemed to be the most strategic venue to host the India Mobile Congress, given its ease of access for global attendees and the fact that the central government is putting a lot of weight behind it. The mammoth show will be an annual affair going forward. Ramakrishna tells us that other states are already keen on hosting subsequent IMC events, Bangalore being one of the many that expressed interest.
As far as participation is concerned, a slew of technology giants have already confirmed their presence at IMC. Some prominent names include - Nokia, Huawei, Samsung, Facebook, Google, Cisco, Intel, Qualcomm, Airtel, Vodafone, Idea, Aircel, Telenor, Reliance Jio, Spreadtrum and more. We are told that the likes of Oppo, Vivo, Xiaomi and OnePlus are also in the fray, but have not confirmed their involvement just yet. Keeping with its Digital India and Make In India initiatives, the Indian government is writing to several tech CEOs around the world in hopes of attracting technology investments in India. US, United Kingdom, Japan, Israel, South Korea, France, Canada, Sweden, Bhutan, Finland and the European Union have confirmed participation and will be sending delegations from native tech companies, as well as key representatives from their IT and Communications departments to attend and exhibit at the IMC. Wilbur Ross, the U.S. Secretary of Commerce is one of the many high-profile government officials who have confirmed their attendance for IMC, and we are told that for the first time, the US government has provide DoT and COAI with a list of companies that would be of interest to the organisers. These companies will be encouraged by the US government to participate in IMC once the list is reviewed by the DoT.
Of all the smartphone makers participating in the India Mobile Congress, we are now told that Nokia will be launching some new devices at the event. The information does fall in line with Nokia's plans of unveiling a flagship class device later in the year. Huawei is also expected to use IMC as a launchpad for new smartphones, and is expected to have a large showcase at the event. A special Mobile stream, housing handset showcases from various manufacturers, will be designed to attract consumers at the IMC
A total of 300 global as well as Indian exhibitors are expected to set up shop at IMC, which will be attended by over 5000 native and international delegates and over 3 lakh people/day for three days. "You may see how 5G networks work, you might come across how a drones surveys power grids, you might come across a professor from UK playing a Piano with IoT sensors, those are some of the things we are planning. We will also have some master classes, we might have a whole street, a smart city street that India will have," said Ramakrishna.
Several Indian states have also been invited to participate in order to propel the government's Smart City project forward. Since IMC will see policy makers share the stage with telecom providers, smart city projects are definitely on the agenda. "Telecom has a 30-40% play and is an important component of smart cities, so we are asking all the municipal bodies, all policy makers, and all IT secretaries to come be a part of it," said Ramakrishna. "Certain policies will be framed and release with this as a platform," he added.
Apart from state IT ministers, DoT is also keen on organising a meetup of IT Ministers from all SAARC nations. According to Ramakrishna, "There's a lot of buzz around investments in India so they are writing to all IT Ministeries in the world to come and have a big roundtable discussion."
Given that India is home to a spate of technology startups, the COAI board is hoping to rope in at least 1000 startups for the event. IMC has partnered with Nasscom, Deloitte and IMI to help pick worthy Indian startups for the event. These startups will not be charged for exhibiting and will instead go through a pre-set selection process which will be revealed in the coming days. Ramakrishna said, "We want to have a qualification criteria for a startup to be present over there. Somewhere the traction has to come that this startup will go to the next level."
While Ramakrishna admits that attempting an event of this scale has been a tough job, he is confident of the progress organisers have made since last March. He also feels that Pragati Maidan in New Delhi might not be the most ideal, new-age setup to host the India Mobile Congress, but is hopeful of achieving international quality and standards. IMC is also in the final stages of launching an event specific app, just like MWC, which is currently in the final stages of development, and will soon go live on major app stores. Ramakrishna tells us that the registration process for the event will be under 3 minutes. Eco-friendly golf carts will ferry attendees to and fro at Pragati Maidan. Four halls will be dedicated to a technology conclave and a separate launchpad will be created for product launches. TV and other Media organisations will be able to broadcast straight from the venue as an entire studio setup is being created at the event.
The India Mobile Congress will be held from 27 to 29 September in New Delhi. We will get you more news and updates from the event as and when we get them. Until then, stay tuned to Digit for all the latest from the world of technology.