Pros: Great camera, Elegant design, Colourful display
Cons: Expensive, Camera is slow, Processor isn't fast enough, EMUI is too heavy
Our Verdict:
The Huawei P9 has an exceptional camera, but it's not without its faults. At the 40k price point, compromises are hard to forgive, and the P9's performance just doesn't justify the price. While the OnePlus 3 is the obvious cheaper alternative, the Samsung Galaxy S7 costs more, but is a much better phone overall.
In-Depth Review
When the company known for its network equipment came to make smartphones, consumers found it difficult to trust. However, tables have been turning for Huawei over the past two years, with Google's Nexus 6P being a major boost to its business. While the Huawei P9 still needs work, it should silence critics once and for all, on whether Huawei can go toe-to-toe with a Samsung or Apple. It's not the first smartphone aimed at camera enthusiasts, but it's one that has huge impact on the future of smartphone cameras.
Camera: Two to tango...
Huawei is no stranger to dual-cameras, but while the Honor 6 Plus was impressive, the Leica-branded Huawei P9 is even better, with its two 12MP cameras. It has a black and white sensor, and an RGB sensor. The image you get is an amalgamation of information from both these sensors. Before we talk about the result, here's what the this setup means, theoretically.
Why two sensors?
The monochrome or black & white sensor on the Huawei P9 allows more light, because it doesn't concern itself with colours in the image. Theoretically, the amount of light can be almost double of what a regular camera would take. So, this, when combined with the RGB sensor, brings about three times more light than other cameras, hence providing better low light photos. According to Huawei, the Huawei P9's camera takes 270% more light than an iPhone 6S.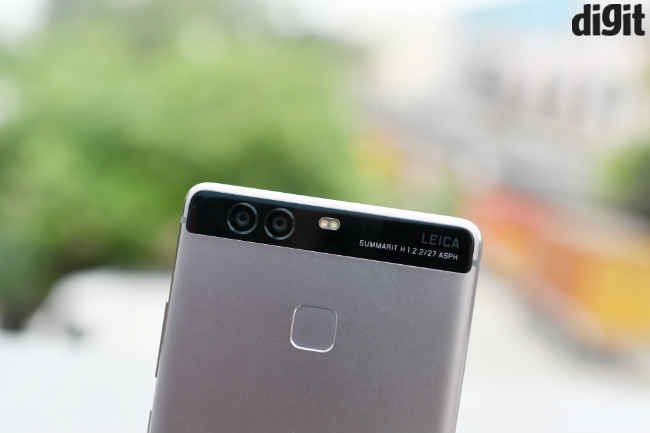 The Black & White image will also help tune contrast, using the extra information about the grey shades. The contrast that the Huawei P9 produces should, theoretically, be better as well. Further, two sensors allows the famous bokeh effect (I'll explain how to do that below).
All this is done on the Huawei P9, using two Summarit lenses from Leica, and two 12MP Sony IMX286 sensors, with a pretty large 1.25 micron pixel size. The auto-aperture is set to f/2.2 and Huawei threw in a hybrid flash, with both laser and contrast detection autofocus, for good measure.
Result
In practice, this results in some incredible photos. In its auto mode, the colours produced by the Huawei P9 may be considered a tad oversaturated, but, I suspect that's an effort at feeding general consumer preferences. You can, however, use the settings to reduce saturation to more natural levels. The same can also be said about the contrast, which some may consider too high. You can tweak this too. Colours on the Huawei P9, are retained in both brightly lit and low lit scenes. Personally, I love the colours and contrast the Huawei P9 produces automatically.
Note: Images below are cropped for representation. The gallery following these images has a full collection of untampered photos clicked using the Huawei P9.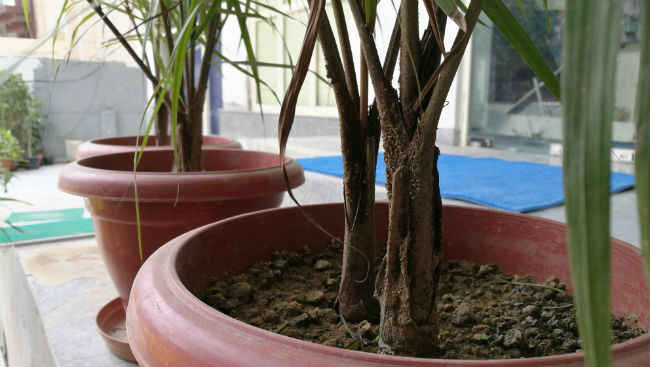 Image clicked under sunny skies are sharp, with very good detail and accurate colours.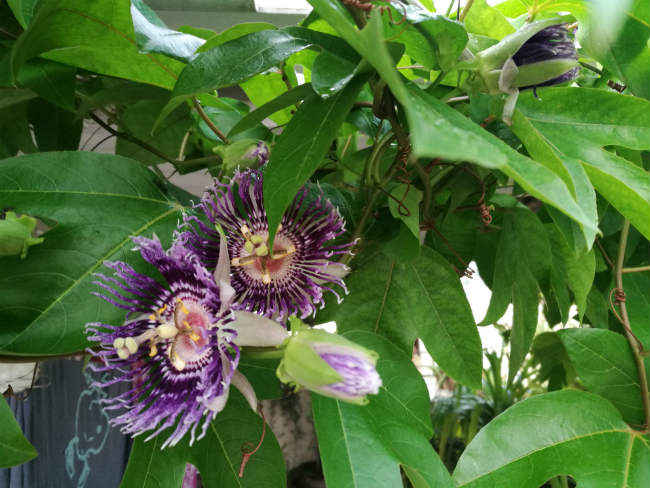 The Huawei P9 produces good detail in daylight shots, even on a rainy day.
The data from the monochrome sensor is used by the Huawei P9 to produce detail. Now under good light, this can result in amazing photos, although, I did see a little softness on people's faces when clicking under low light sometimes. Low light photography is really good, but I honestly expected more. Under low light, the Huawei P9 creates more true to source photos, but they aren't as bright as you may have expected. The Samsung Galaxy S7 Edge produces much brighter photos in such conditions.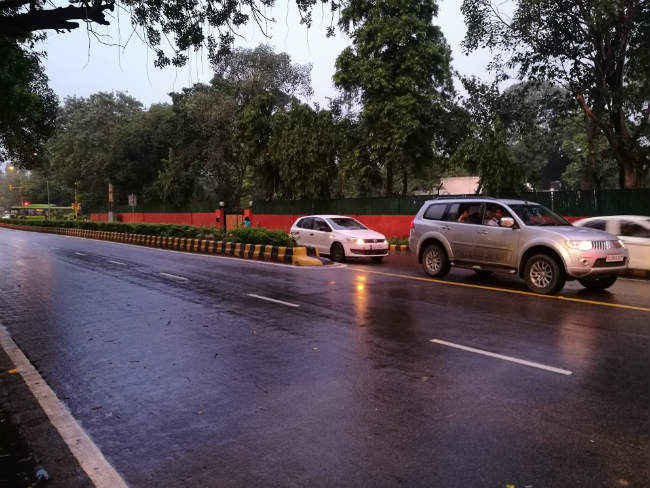 Dusk: Image shows some noise, but still considerable detail is retained. The contrast is also quite good.
View post on imgur.com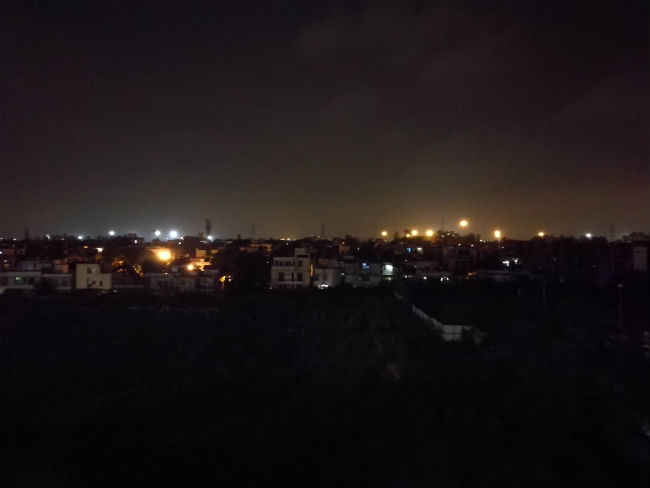 Night: While the image produced by the Huawei P9 is better than most other smartphones, the Samsung Galaxy S7 does even better.
While for the most part, colour reproduction and detail are good, the Huawei P9 doesn't seem very aggressive in noise reduction. This is perhaps to avoid side effects of NR, like suppressing details. There is luminance noise in images clicked under suboptimal light, but no colour noise. The luminance noise also isn't enough to hamper image quality, for sharing on social media or simply viewing on the phone's screen. Given that most won't be looking to enlarge and print a smartphone photo, it's not a very big issue. In fact, in the hands of a real pro, noise can be put to good use even. That leads me to believe that this was a decision by Leica more than Huawei.
Downsides
As good as the Huawei P9's camera is, it still has its weaknesses. For one, the dual-camera setup didn't include optical Image Stabilisation (OIS). This won't matter under good light, but in harsher conditions, the camera decreases the shutter speed and images can often be shaky. Shooting macros in low light, the phone sometimes tends to shift focus to infinity, creating blurry photos yet again.
Further, all that software and processing makes the Huawei P9's camera slower than other flagships out there. Huawei has fitted a digital signal processor (DSP) on its Kirin 955 SoC, to enhance camera speed, but much like the processor itself, I find this to be less than ideal compared to other solutions.
The camera takes a split second longer to open, but processing after an image is clicked is another split second too long. Also, when shooting at night, the Huawei P9 often takes extra time after a photo is clicked, presumably to take in more light. It asks the user to hold the phone steady during this time, and I shook the phone every time the message appeared.
So, is the camera good?
As I've already said, the Huawei P9's camera is great, exceptional even. It's right up there with the best in the market, but not the absolute best. If you fancy yourself a photographer, you'll enjoy this camera, while regular users can also take surprisingly good shots. I rarely took a photo I didn't like and I would wholeheartedly recommend the camera to anyone who can overlook the above mentioned faults. The Huawei P9 doesn't have the best camera in the market, but it comes mighty close.
Camera app and creating bokehs
The review of the Huawei P9 wouldn't be complete without speaking about the camera app. To start with, let me explain how you can use the two sensors to create bokehs.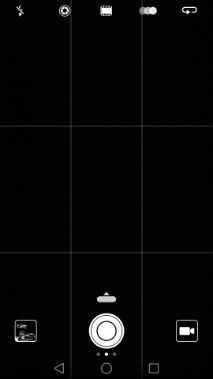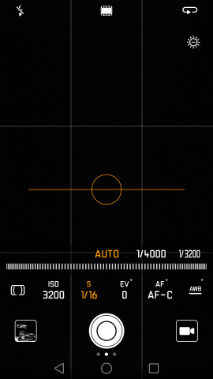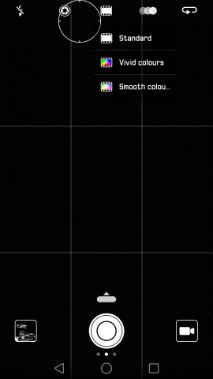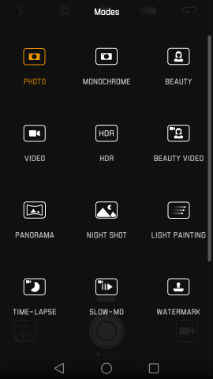 When you open the camera app, you'll notice the camera-lens icon beside the the flash. Pressing this button tells the Huawei P9 that you want to create a bokeh. When you tap the shutter button, it takes a regular image, with the focus on whatever you choose. You then open this photo and the camera-lens icon will appear over it. Drag your finger on this icon to create the amount of blur you want. It has an image signal processor (ISP) for depth processing, which comes into play here.
That aside, there's also plenty of control for manual freaks. Huawei calls this the Pro mode, and as I mentioned above, it's best left in the hand of pros. This mode appears in the form of a small pull-up icon above the shutter button. Swiping up on it puts the camera in pro mode, and gives you control on elements like shutter speed, ISO, exposure value, focus, white balance and more. You can tweak shutter speed between 1/4000th of a second to 30 seconds, and ISO goes from 50 to 3200. The Huawei P9 shows the impact of any change on the viewfinder in real time. A notable omission is aperture control, which the phone shall always determine automatically.
Topping this off are filters, a monochrome mode (to shoot with the Black and White sensor alone), three Leica film modes (Standard, Vivid and Smooth), and the regular Pano, HDR etc. The camera app is the heart and soul of the Huawei P9, and the company has really worked hard to make a good one.
Build and Design: Class, style and sophistication...
Huawei took its Nexus 6P design and perfected it for the Huawei P9. It doesn't have a camera hump like the former, but Huawei has retained the black band (it's a different colour on different variants) over the camera, which looks just as good. The black band has Leica's branding on one side, with the two lenses on the other. Separating these two is the hybrid flash, at dead center. Right below the flash, about a fourth of the way from the top, is the square fingerprint sensor. It doesn't sound like much when explained, but it's a workmanlike design. The only anomaly, which you will get used to with time, is that the cameras are placed too close to your finger when shooting.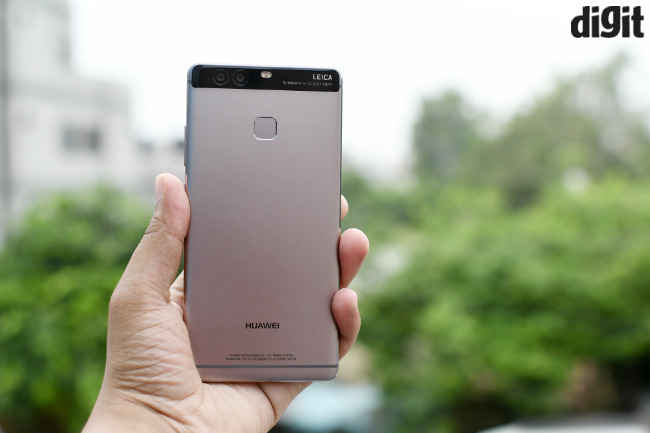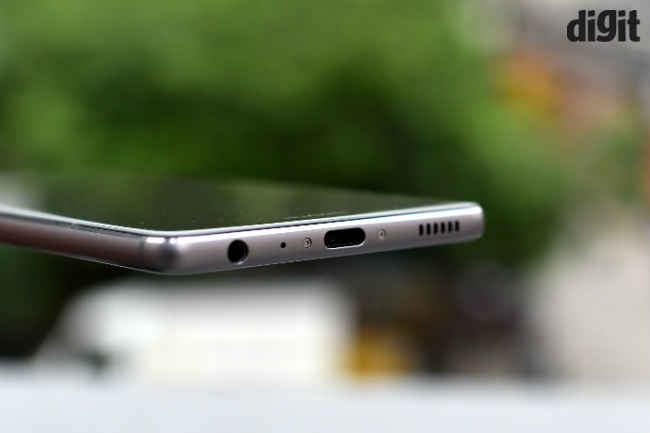 The phone is only 145mm tall, which means average sized hands are enough for your index finger to rest on the fingerprint sensor. Your thumb will always be on the power on/off button, with a part on the volume rocker. While using the phone I realised that I use the volume down function much more than volume up, which means I never really had to shift my grip on the phone.
All this is on a neatly polished and shimmering metallic body, which has chamfered edges, for that added touch of class. The USB-C port, headphone jack and single speaker grill are at the bottom, alongside the noise cancelling mic. The phone's design is done so well that even the two screws at the bottom feel like they belong. It's definitely one of the best designed smartphone in the market today, and I only wish Huawei would make the same in a 4.7 inch screen size. It's very compact, but just a hair away from being perfectly suited to single handed usage.
The Huawei P9 doesn't scream for attention, but it oozes sophistication and class.
Display: Quality over resolution…
Huawei's design prowess continues in the display department. While the phone already looked good enough, the glass on top is ever so slightly curved near the edges and slim bezels accent the display's efficiency. Huawei picked efficiency over brawn in this department, and I daresay it was the right choice. It's display isn't the best out there, but it works.
A 1080p display in a QHD world may be a questionable choice, but 424 ppi is quite enough. I'll discuss the battery benefits in a bit, but for now, let's focus on the quality.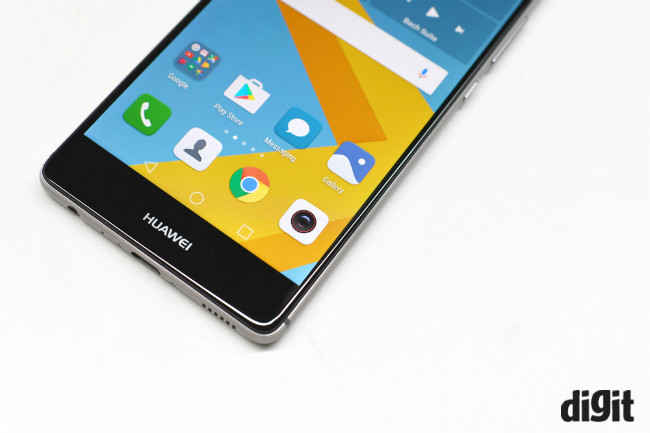 It's display has a maximum brightness of 681 Lux, which changes if you tweak the colour temperature from Settings. It doesn't have the deepest blacks, nor the whitest whites, but colours look generally vibrant for an IPS panel. It handles sunlight quite well, but you'll have to crank up the brightness manually.
Auto brightness is the only concern with the Huawei P9. The software doesn't seem to read ambient light readings very well, so it can sometimes appear too bright in darker conditions, or too dim when you step into sunlight. At first I thought the phone was simply slow in judging ambient light, but prolonged usage showed that it's not very good at doing so.
While auto brightness was a concern, I was able to adjust brightness manually, and never really had trouble with the phone's display. It feels premium, and the touch response is quite good, although I have some questions about EMUI, which I shall explain in the next section.
UI: Not the right emotions...
The Huawei P9 runs on Android Marshmallow (6.0) with EMUI 4.1 over it. Huawei's custom UI, I think, conflicts with the overall design of the smartphone. It's not suave like the rest of the device, and the rounded icons look childish, at least to me. That may change from user to user, though, there are other issues that may not.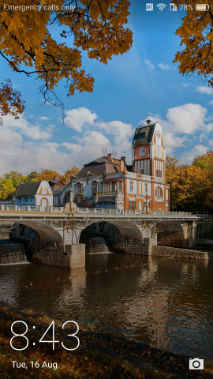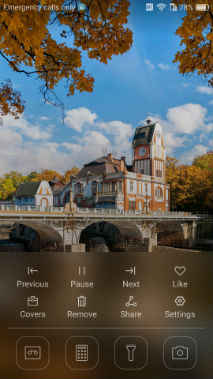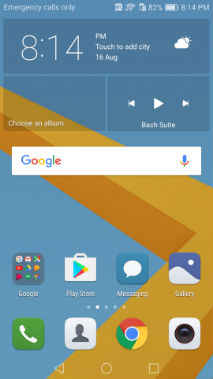 I like the timeline for notifications in the notification drop down, but what I don't like, is that the phone keeps reminding me about them. If you get a WhatsApp message while playing a game, you can simply swipe up to bury it in the drop down, but the phone will keep popping it back up intermittently. This gets irritating when I'm really not interested in a particular notifications and can't be bothered to stop my game or video to clear it.
Next, EMUI comes with a feature similar to Apple's Spotlight Search. You swipe down to open this and it lets you search Apps, Contacts and Messages without opening the respective services. However, I often ended up in this makeshift Spotlight search when swiping down for notifications. The margin for error seems to be too low, which is again annoying.
Also, EMUI doesn't allow much over stock Android, which makes it pretty much a branding effort alone. This, combined with the fact that its heavy is a deal breaker, at least for me.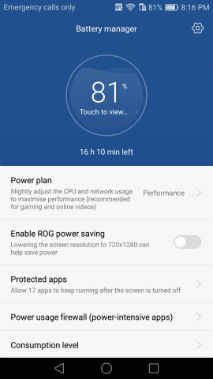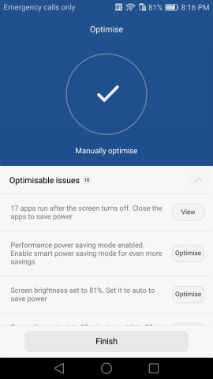 One appreciable thing about EMUI, though, is the battery manager. It has three presets for Performance, Smart and Ultra Power Saving, but more importantly, it allows you to drop the display resolution to 720p, to save battery. Huawei calls this ROG power saving. The difference is noticeable, but can come in handy in dire situations. You can also use the battery manager to create a firewall for apps that use too much power, while it'll intermittently keep reminding you when a rogue app is using too much of the battery's power. It even tells you how many of your apps run when the screen is turned off, and lets you shut them down. The battery manager on EMUI is quite a power user's dream. There are also a few fingerprint sensor tricks that many would enjoy.
Performance: A step forward, yet far…
My confidence in Huawei and its devices over the years have a lot to do with the fact that it produces its own SoCs. The Kirin chipsets, however, have lagged behind Qualcomm's solutions in more departments than one. I explained in the camera section how the DSP seems to produce below ideal results in what it's meant to do, and the same can be said about the processor itself. While it is ahead of some last-gen flagships, the Huawei P9 is still behind current generation devices. Given that this is the third generation of Kirin chipsets we're reviewing, Huawei needs to buck up.
The octa-core chipset combines a quad-core Cortex A72, ARM's latest and greatest, with another quad-core Cortex A53 cluster. It's built on the 16nm FinFET, and all things combined, it falls behind Qualcomm's combination of Krait cores with 14nm manufacturing. Benchmarks show that the Kirin 955 is about 30% slower than the Snapdragon 820.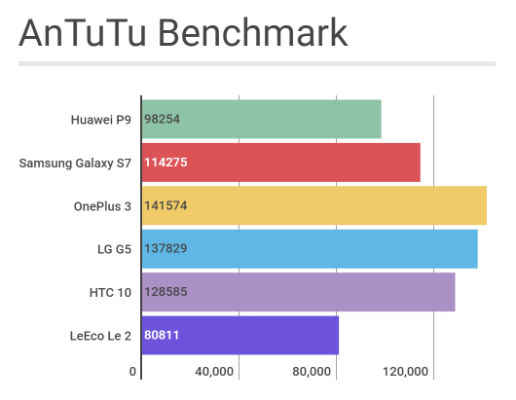 Popular benchmark AnTuTu puts the Kirin 955 behind the Exynos 8890 and Snapdragon 820.
The Kirin 955 seems closer to the Snapdragon 652 (LeEco Le 2).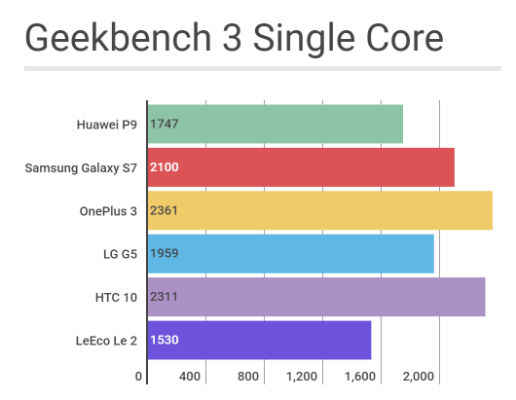 Single core performance, important for Android phones, is lesser, but satisfactory.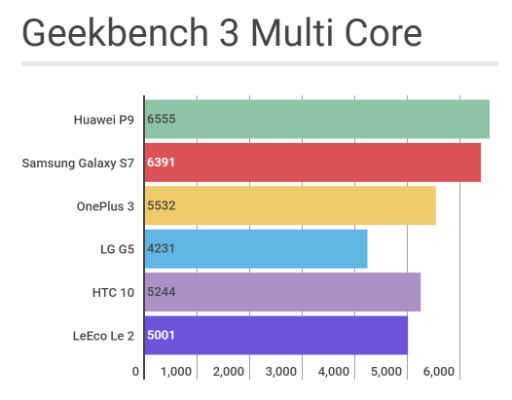 All eight cores together, the Kirin 955 stands more of a chance, while the SD820 falls behind in numbers.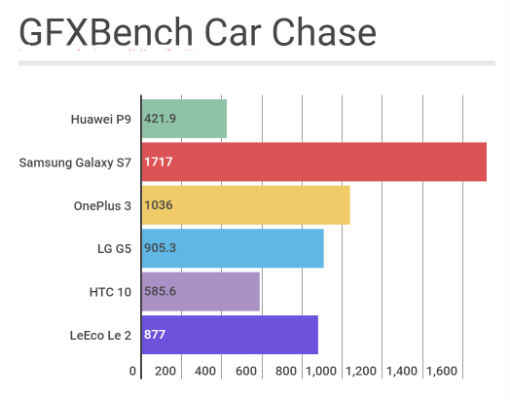 As far as pure gaming performance is conerned, the Huawei P9 is much slower than most flagships. It's not quite as noticeable, though.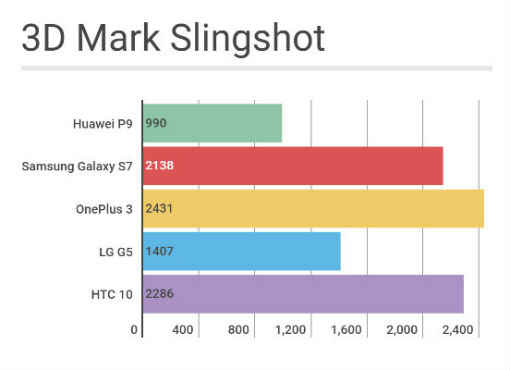 3D Mark takes a more wholesome view of the system, while rendering games. It still ranks the Huawei P9 far behind other flagships.

It's easy to heat the Kirin 955 on this device. It reached 40 degrees (red line) often.
In practice, the Kirin 955 shows few issues. The frame skips between app switches are ever so slight, and the GPU does well with gaming as well. However, you'll see slight differences here as well. For example, your car in Asphalt 8 will tend to slide into a drift instead of seamlessly moving its tail to shift into a drift.
Having said that, I have to say that the lower power wouldn't bother any regular user. You have to be a stickler like me, and you have to be reviewing a device to really care for them. A more bothersome quality of the Kirin 955 SoC is the fact that it heats up easily. This happens when you're downloading too many apps in the background, have shot images/recorded videos for more than 5 minutes, or used resource intensive apps (like games).
The temperature on the body reaches 38-39 degree celsius, while the SoC itself can hit 40 degrees quite easily, leading to thermal throttling. I couldn't bring it above 40 degrees, though, which means Huawei is really pushing the boundaries when it comes to heating. Five minutes of FHD recording (maximum resolution for video) takes the temperature to 37 degrees. This will only get worse during peak summer in India. The average clock speed right now is between 1.2-1.6GHz, but it may be much worse during the summer.
Lastly, 3GB of RAM is enough for regular usage, but a flagship today needs 4GB. It seems to be aggressive in closing apps, with games restarting sometimes when all I did was turn the display off just for a few minutes, while playing. You don't need 6GB of RAM yet, but 4GB on a phone like this would make it future proof. That, and a Qualcomm processor, at least for now. Huawei hasn't had the best record in providing Android updates either, and its Kirin SoCs of course have a lot to do with it.
Battery: Reasonable…
The battery is the single point of failure for a lot of smartphones today. If you're looking for a full 24 hours worth of battery life, it isn't the phone for you. However, if you're fine charging the battery to 100% once every night, then this is just fine. This is where the 1080p resolution really pays off. Rendering lesser pixels will save some battery, and you can use the battery manager to cut some more.
I put the Huawei P9's battery to test with the popular Pokemon Go game application. With the display at 60%, an hour and 15 minutes of gameplay, 30 minutes of calling, 20 texts on WhatsApp, and about 20 odd minutes of camera usage, the phone was at 15% battery, after about four hours. This, isn't ideal, but not bad either, considering the brightness and high screen on time. Over the past week, I've been able to get about 4.5-5 hours of screen on time from the Huawei P9, which works for a full work day.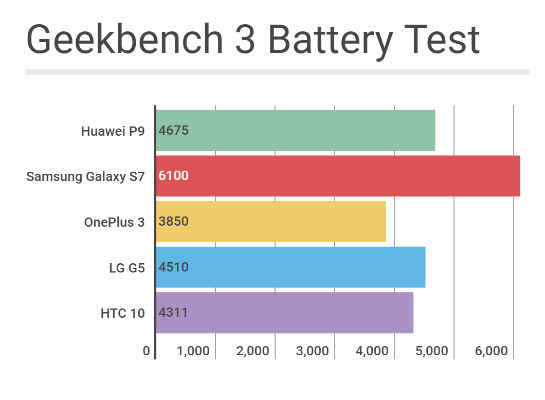 As with many other things, the Huawei P9's battery is acceptable, but not exemplary.
On the Geekbench 3 battery test, the phone lasts for over seven hours, with a score of 4675. Interestingly, it routinely turns off when at 2% battery. This is to avoid deep-discharge of the battery, which is a good idea. It also leads me to believe that the phone may have a Coloumb meter inside, although I'm awaiting the company's confirmation on the same.
Bottomline: To buy or not to buy…
I'll be honest, I loved using the Huawei P9. For me, it epitomises the reason why Huawei is a force to be reckoned with in the smartphone market. It's well designed, has one of the best cameras available today, and boasts of decent performance. The mobile is a complete package, and a phone that I would love to use as my primary smartphone. Yet, I wouldn't recommend this over competitors.
As far as dual-cameras are concerned, this is the right way to implement them. Huawei's take is much better than LG or anyone else's. That said, the Huawei P9's camera is exceptional, but not the best. It's performance and battery life are also decent, yet not the best. It is simply not the best smartphone out there today, though it comes mighty close. It has some notable omissions as well, like 4K video shooting.
At the 40k price point, you're in the flagship territory, where there can be no compromise, and Huawei P9 fails in that regard. The OnePlus 3 is the obvious, and cheaper, alternative, while the Samsung Galaxy S7 is more expensive, but a considerably better phone. Huawei also doesn't have the best track record with Android updates, which is another
If you're still buying the Huawei P9, you're probably smitten by the design and believe the phone suffices your need. In which case, I'm still with you, and I assure you that you're not buying a bad smartphone. You're just not buying the best.