Huawei announced a slew of new smartphones at their London event and one of those devices was the Huawei Mate 20 X. It's an interesting blend of design and feature choices all culminating into a device that is definitely for a specific audience, an audience that has not been catered to in the longest time. These are the people who want big smartphones. We had an opportunity to spend some time with the Huawei Mate 20 X at the London launch event and here are our first impressions.
Build and Design
The very first thing that strikes you about the Mate 20 X is not its colour scheme, but its massive form-factor. The massive 7.2-inch display sits inside a 6.87-inch body with a width of 3.36 inches. By no means is the Huawei Mate 20 X a smartphone that can be thought of being used by a single hand. In fact, in our time using the phone, it was difficult to manage the phone with a single hand. In terms of colour and texture, you get the same finish as the Huawei Mate 20 Pro, but the Mate 20 X is limited to just two colours; Midnight Blue and Phantom Silver.
Display
The real allure of the Huawei Mate 20 X lies in the massive 7.2-inch display. The phablet sports a resolution of 2244x1080, same as the Mate 20 (First Impressions). What is different, however, is that the panel isn't an LCD panel, but instead, Huawei has used OLED for the Mate 20 X's display. Thanks to the OLED panel, the pixel density of 346ppi seems to become irrelevant, as everything on the display looks sharp. We played some YouTube videos on the Mate 20 X to see how it performs, and suffice to say, people who turn to the smartphones as the primary device for content consumption are absolutely going to love the Mate 20 X. The near bezel-less display offers an immersive viewing experience, only somewhat hindered by the teardrop notch, but it is a very minimal distraction. The display scores extra brownie points for having a built-in digitizer and hence being compatible with Huawei's M-Pen. The screen is sensitive up to 4096 points of pressure. Unfortunately, there were no M-Pens at the demo area and we weren't able to verify how well it would work with the Mate 20 X.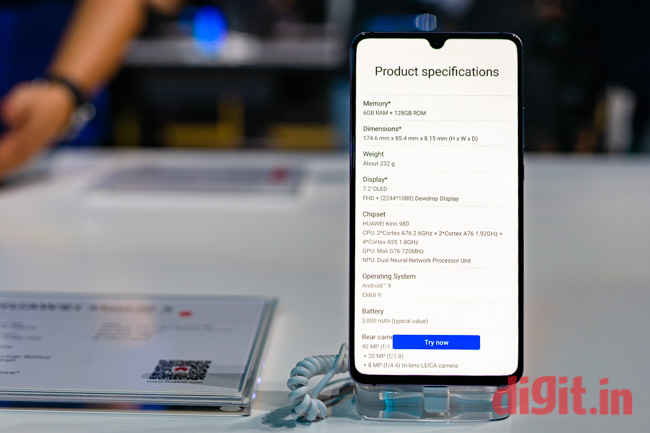 Camera
This year's theme for Huawei is definitely cameras. The third smartphone to be launched by Huawei also comes with a three-camera setup. It has a 40 MP sensor with a wide-angle lens, (f/1.8 aperture), a 20 MP ultra-wide angle Lens, (f/2.2 aperture) and an 8 MP telephoto lens, (f/2.4 aperture. This is the same camera setup as the one seen on the Huawei Mate 20 Pro (First Impressions). We tried taking selfies with the Mate 20 X, but it was incredibly hard to manage the smartphone with just one hand. In fact, even for taking photos from the rear camera, it is important to hold the Mate 20 X with both hands.
Specifications and Features
The Huawei Mate 20 X also runs on the Kirin 980 chipset and will come with 6GB of RAM and 128GB of storage. Unfortunately, the M-Pen is an accessory and will have to be purchased separately. The phablet, which is 8.2mm thick, also manages to pack in a 5000mAh battery, without adding significant weight to the device as a whole.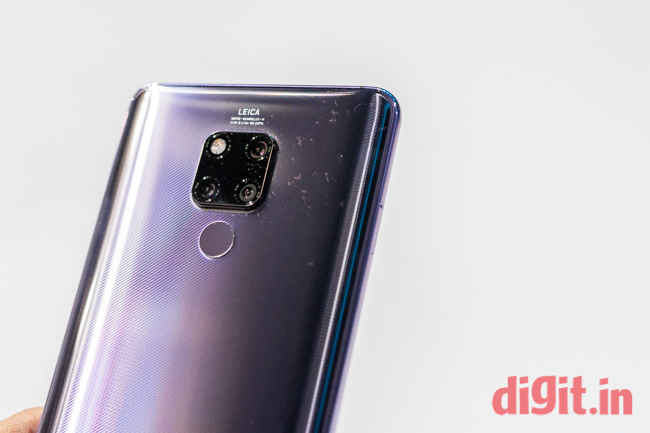 First Impressions
The Huawei Mate 20 X is a gigantic phone. While we wondered as to who would want to consider buying a phone this big, several other journalists at the event expressed how a phone this size was going to be perfect for them. There's, of course, the "logistics" of carrying something this big around, but for people who find smartphones to be "not big enough," the Mate 20 X will open up a few exciting avenues. It has a great display with enough real estate to not just consume, but also create content. You can also work with Excel and PowerPoint files with ease on something this big. Sadly, there is no word on if and when the Huawei Mate 20 X will come to India, but given its pricing of €899 (Rs 76,500 approx), it would be interesting to see how a phone of this size and price does in India.