Huawei unveiled the Mate 20 series of smartphones at an event in London, which included three smartphones and two wearables. The smartphones include the Huawei Mate 20 Pro, the flagship smartphone along with the Huawei Mate 20 and the Huawei Mate 20 X. There was also a Porsche Design Mate 20RS announced, which is basically the Mate 20 Pro in a slightly different, but a distinguished body. We attended the launch event hosted by the company and had time to spend with each of the devices. Here are our first impressions of the company's flagship device, the Huawei Mate 20 Pro
Build and Design
The Huawei Mate 20 Pro utilizes a familiar glass-metal design that we have seen in every flagship this year. Two panes of glass that gently curve into a metal frame are how we would describe the design of the Mate 20 Pro, however, where they set themselves apart is the colour treatment. When Huawei launches a smartphone, you know it's going to have interesting colours. This time around, the Mate 20 Pro comes in Emerald Green, Midnight Blue, Black and the popular Twilight colour. However, it's not just the colour, but also the subtle diagonal lines etched on the back glass that gives it an interesting feel. What stood out immediately after handling the phone was that it is not slippery like other glass-made phones, making one-handed use easier. The smartphone is also IP68 rated and in case you want to take the phone deeper than 2meters, Huawei also makes a case that will allow you to take the Huawei Mate 20 Pro for deep dive sessions.
The other unique aspect of the design is the camera module, which is a 2x2 matrix of three lenses and a relatively large LED flash module. The Huawei P20 Pro (Review) also had a very striking camera lens arrangement, as does the Mate 20 Pro. The rest of the back is devoid of anything else (no fingerprint sensor). The bottom has the USB Type-C charging port and the SIM Card tray which supports two nano SIM cards.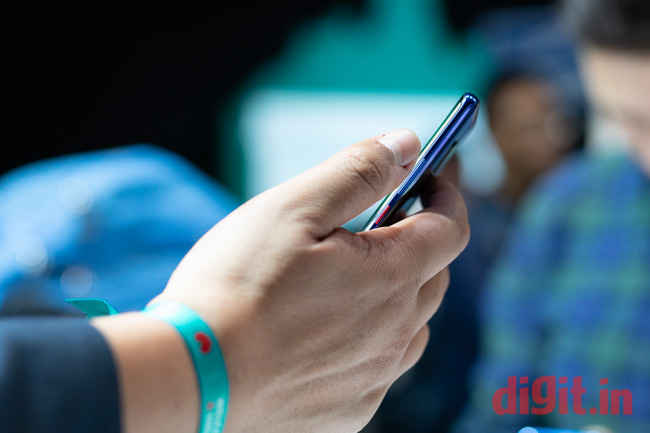 On the front is a gorgeous 6.39-inch OLED display with a notch that houses hardware to facilitate face unlock. Unlike most other Android smartphone OEMs who use a 2D face scan to unlock the phone, Huawei has its own depth sensing hardware to provide Face Unlock in a secure manner. How secure it really is is something we will only find out with time and extensive testing.
Hardware and Specifications
The Huawei P20 Pro boasts of a lot of features packed into a smartphone. For starters, it is powered by the 7nm Kirin 980 chipset which Huawei claims is leaps and bounds ahead of its predecessor, the Kirin 970. Additionally, the phone packs 6GB of RAM and 128GB of on-board storage, and while you can expand the storage, it won't be through a standard microSD card. Huawei has come up with its own proprietary memory card which has the same form-factor as a nano-SIM. Along with offering hardware-backed face unlock, there is also an under-display fingerprint sensor. In our experience with the phone, registering the fingerprint initially was a major pain, with the phone telling us to clean the finger after each scan (else it would fail). However, unlocking the phone so far has been a breeze. Yes, it is slower than a regular capacitive fingerprint sensor, but so far, it hasn't thrown up any unnecessary rejections.
Display
The Huawei Mate 20 Pro features a 6.39-inch OLED panel with a 2K+ resolution (3120x1440) with a pixel density of 538 ppi. The display is DCI-P3 compliant in terms of colour space, but offers a maximum colour reproduction of 16.7 million colours, meaning, no HDR10 or Dolby Vision support. Regardless, it looks like a gorgeous panel which was easy to use at the event where we had very harsh and multi-coloured lighting. It also seemed to resist fingerprints to a certain extent, but not entirely. What's interesting is that Huawei has opted for a curved display, giving the phone a very Samsung Galaxy S9+ vibe. It is only when you see the notch on top you realise that this is not the Samsung, but something else.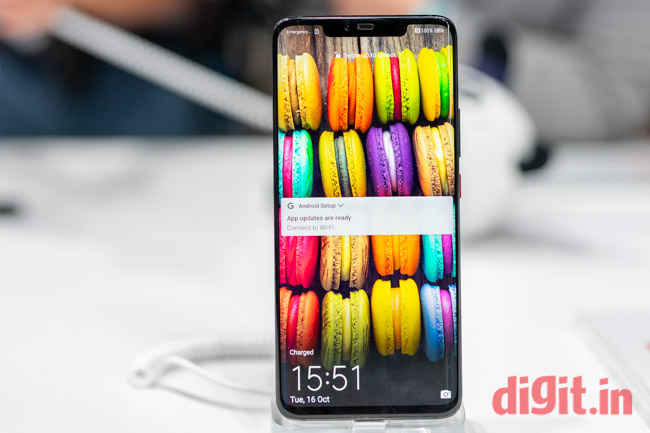 Cameras
The imaging setup of the Huawei Mate 20 Pro is also a big story in of itself. After having made waves in the smartphone photography world with the P20 Pro, the Mate 20 Pro boasts of similar specs. A 40-megapixel large 1/1.7" sensor with a wide angle lens (f/1.8 aperture) is complemented by a 20-megapixel camera with an ultra-wide lens (f/2.2 aperture) and an 8-megapixel sensor with a telephoto lens (f/2.4 aperture). Interestingly, Huawei has left out the monochrome sensor that it popularized throughout the years in favour of an ultra-wide lens. The front facing camera is a 24-megapixel unit with an aperture of f/2.0. Once again, the camera is supposed to make waves for the Mate20 Pro, given that it is now on a smartphone with a more modern chipset.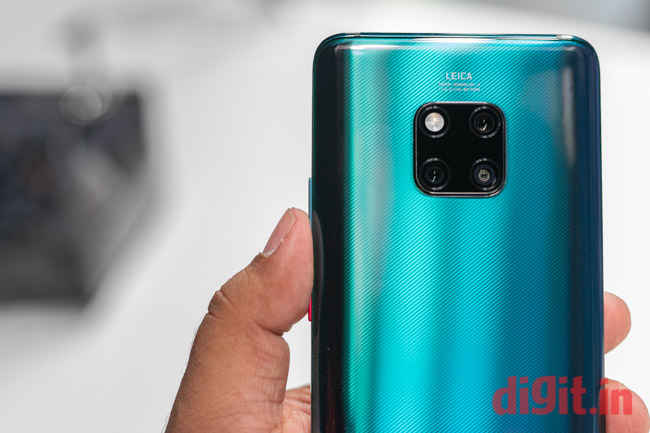 While using the camera briefly at the demo zone, it was apparent that the company has carried over the UI from the P20 Pro's camera to the Mate 20 Pro. It managed to focus decently fast and there was little shutter lag. However, we have not managed to get any image samples yet, but will be providing you with many in the coming days.
Battery and Wireless Charging
The Huawei Mate 20 Pro packs a massive 4200mAh battery, but that's not the only trick this pony's got. This time, Huawei has packed its SuperCharge charger in the box, and it is capable of pushing out 40Watts of power into the phone, allowing it to reach 80 percent battery charge in 30 minutes. There's also 15Watt fast wireless charging via supported wireless chargers. However, if you happen to own a second smartphone which can charge wirelessly, you can place it on top of the Mate20 Pro and the Huawei device will act as a wireless charger itself. Huawei calls this Reverse Wireless Charging and says the Mate20 Pro is the first smartphone in the world to be capable of such a thing. We did test this feature with our iPhone XS and found the iPhone to start charging when placed on top of the Mate20 Pro.
First Impressions
The Huawei Mate 20 Pro has a steep price tag of €1049, which roughly comes out to 89,000 for the 6GB/128GB variant. At this point in time, the Huawei Mate 20 Pro could be considered the most expensive Android flagship, but in some ways, the features it offers could be used to justify the price tag. However, the final worth of the device can only be determined after an in-depth review where we rate all the features and just how well they work. Regardless, we do expect the camera unit to make some waves. The Huawei Mate 20 Pro looks like a really well rounded Android flagship (at least on paper), albeit with a slightly high price tag. As of now, the company has not revealed any plans of bringing the smartphone to India, but if they were to do so, we can only hope they are more judicious with the India pricing.