Apple has ditched the age old Home Button in favour of a new Home Bar on the iPhone X. With the Home Button gone, Apple users will have to relearn how to use the iPhone X with the new swipe gestures. It may take you some time to get used to the tenth anniversary iPhone and we have dedicated a whole feature to explaining the iPhone X's gesture based controls. You can click here to read it.
However, if you miss the good ol' Home button and find yourself double pressing your iPhone X's screen to multitask, instead of swiping up and right, a nifty little trick can help you get the home button back in your life. Well, sort of.
The trick is to use Assistive Touch on the device and customise it to perform some of the same tasks as the now defunct physical Home Button.
To do this, head to the Settings of your iPhone X. Search for 'Accessibility' within the Settings app or simply head to General>>>Accessibility. Here, find the option for 'AssistiveTouch' and turn it On. After turning on AssistiveTouch, find 'Customise Actions' in the same menu.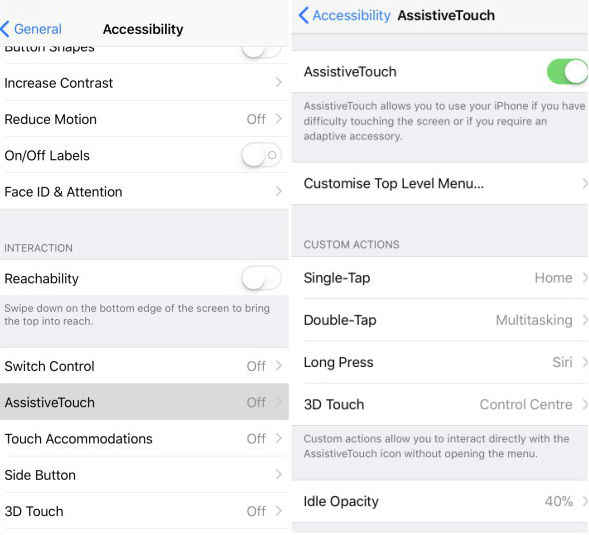 To make AssistiveTouch act like the Home Button on your iPhone X, set your Custom Actions as follows. Select 'Home' for 'Single-Tap', 'Multitasking' for 'Double-Tap' and 'Siri' for 'Long Press'. You can even go a step ahead and add 'Control Centre' to 3D Touch to access it easily.
After doing this, you are all set. You will see a circular icon for Assistive Touch at the bottom of your iPhone X's screen. You can place the icon anywhere on the screen as per your comfort. The only problem in placing it where the Home Button used to be is that it will be overlayed on the app tray at the bottom of the screen. While using the iPhone X, the icon keeps shifting places on its own to accommodate the contents of the screen and this can be pretty annoying.
Still, if your muscle memory gets the better of you every time while using the iPhone X, this is as close as you can get to having a Home Button.