If you are planning to upgrade your phone to the latest offerings at a reasonable budget, then OPPO has something in store for you. The company has just launched it's newest smartphone, the OPPO F15 with powerful features, all packaged in a slim and stylish design.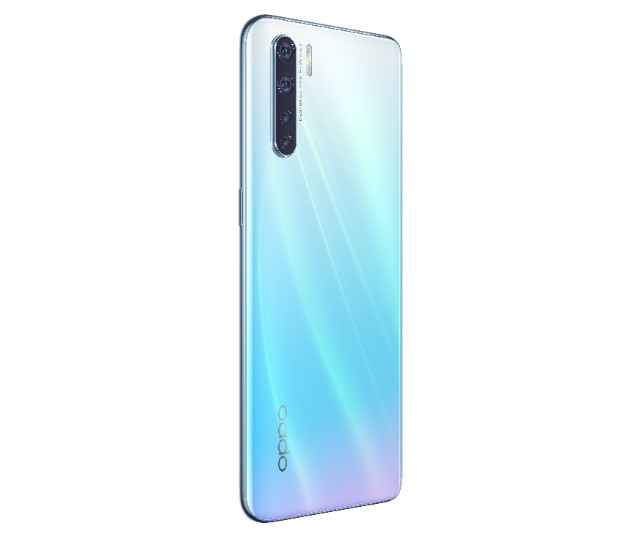 The new #OPPO F15 weighs 172 grams and is just 7.9mm thin. It has an aspect ratio of 20:9, which helps with ergonomics as it allows for the large 6.4-inch screen to be used single-handedly. The OPPO F15 features an FHD+ AMOLED screen with a resolution of 2400 x 1080 pixels. The AMOLED display technology not only consumes less power but also offers deeper and more vibrant colours. It comes with a 90.7 percent screen-to-body ratio and for binge-watchers, the phone comes with a Widevine L1 certification, which lets users watch YouTube, Netflix or Amazon Prime videos in Full HD. So, you get a device that offers a large display, can be used with one hand and is impressively thin.
The OPPO F15 is intelligently designed to look great, while still offering users everything that they may need. The quad-camera setup features a minimalist design and the flashlight has been uniquely elongated to match the shape of the camera array. The raised decorative ring also raises the surface of the camera, helping prevent scratches to the lenses.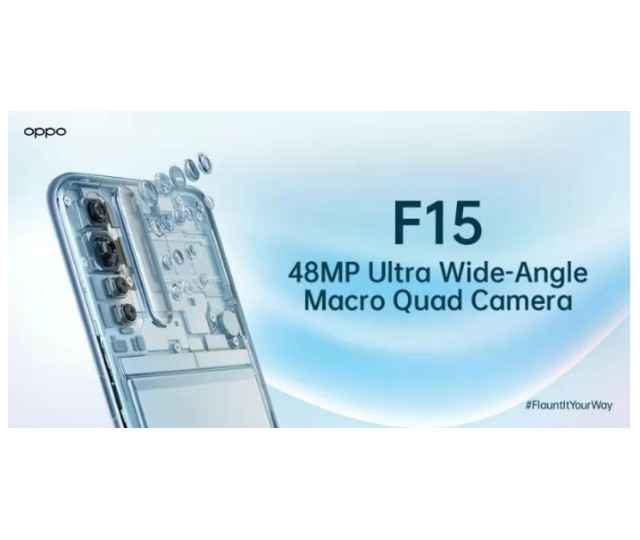 Speaking of the camera, the OPPO F15 packs a quad-camera setup with a 48MP+8MP+2MP+2MP configuration. The 48MP sensor used to take most of the shots. It features a 4-in-1 pixel combination technology, which is said to help take better photos in low light conditions.
The 8MP 119° ultra-wide-angle lens with OPPO F15 means it is now even easier capturing those big group photos. To ensure that distortion is kept at a minimum, it features a distortion correction tech so that the images look as natural as possible.
The 3-8m Macro lens allows OPPO F15 users to autofocus at a distance as close as 3cm. This lets you to take pictures of everyday objects in a different perspective. With the new lens, the types of photos users take will only be limited by their imagination.
While the OPPO F15 itself is quite pretty to look at, it does its bit to ensure that its users look even prettier. The smartphone's AI Video Beautification feature adds subtle beautification features to the subject's face through customised analysis of every face to apply custom beautification adjustments while optimising for facial detail.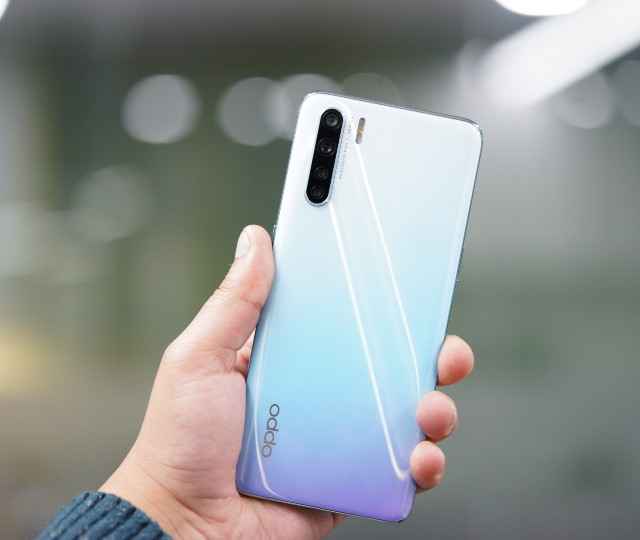 The OPPO F15 also comes with a Night Portrait Mode that can help you take classy Portrait shots, even in low light conditions. It's like having your own light crew on set every time, helping you deliver clearer, brighter and natural night shots of people.
The OPPO F15 is equipped with 8GB RAM and 128GB ROM, which should enable a smooth experience when using the phone. If that wasn't enough, it has a triple-card slot, which means that users can enjoy having two SIM cards and a microSD card.
While the OPPO F15 may be thin and light, that doesn't mean that it is a weakling when it comes to performance. The smartphone is engineered with gamers in mind. The Game Boost 2.0 tech keeps an eye on latency and control issues, as well as touch control and refresh rates to deliver a smoother performance. There is also 'Gaming Voice Changer' which allows you to change your voice from male to female or vice versa with the press of a button. The company claims that PUBG: Mobile's Frame Rate Stability has been increased by 55.8%, and the possibility of lag has been decreased by 17.4%. Plus, the OPPO F15 allows you to better detect and hear noises while gaming with its in-game noise-cancelling effects.
The OPPO F15 comes equipped with In-Display Fingerprint Unlock 3.0, which will allow users to unlock the device in 0.32s. This new generation of fingerprint unlocking incorporates improvements at both the hardware and software level. It also increases security through hardware-based anti-forging technology.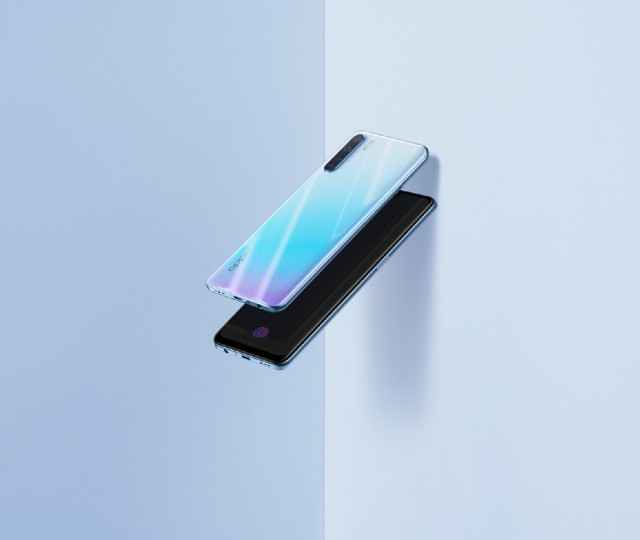 Generally, so many features are likely to take a toll on battery but that should not be a problem with the OPPO F15. It packs a 4000mAh battery that supports VOOC Flash Charge 3.0. The VOOC 3.0 charging system also focuses on the higher current instead of higher voltage, ensuring greater safety.
The OPPO F15 is not only beautiful on the outside but on the inside as well. It is also quite intelligent. It's Smart Assistant that acts as a one-stop service portal, simplifies the user experience by sorting all the vital information on 'cards' that are displayed on the home screen.
With so many features inside a well-designed phone, the OPPO F15 stands out from the crowd of competitors. The phone is available in two colours, Lightning Black and Unicorn White. So users can pick a colour that best suits their taste.
If you are into devices that perform well, look good and offer great experience, rush to your nearest offline store, or visit Amazon and Flipkart, as the sale for OPPO F15 has already started. If you hurry, you can grab amazing offers that are limited till 31st January and include10% cashback on HDFC and 5% cashback on ICICI and Yes Bank credit card/debit card. You can also avail zero down payment option from Bajaj Finserv along with interesting EMI options from IDFC First Bank, HDB Financial Services and Home Credit, plus additional100% data on Reliance Jio.
[Sponsored Post]