Apple has finally rolled out the official version of their "biggest iOS release ever" - iOS 10. After a rough beginning, where the new OS was found bricking a small number of devices, Apple upgraded the software further and released iOS 10.0.1, which is probably what you got when you installed the new OS.
Yes, lots has changed in iOS 10, some of which is pretty good, some bad, and some that's outright ugly! Let's find out what iOS 10 has to offer and what we most like and dislike about Apple's nouveau operating system.
Lock Screen
The Good: iOS 10 has a new, more interactive lock screen which incorporates new gestures. Users will be able to swipe right in order to access their lock-screen widgets. Users can also reply to their notifications straight from the lock screen, without having to unlock the phone and access a particular app. So, if you get a WhatsApp message, you can 3D touch it to reply without actually opening the app.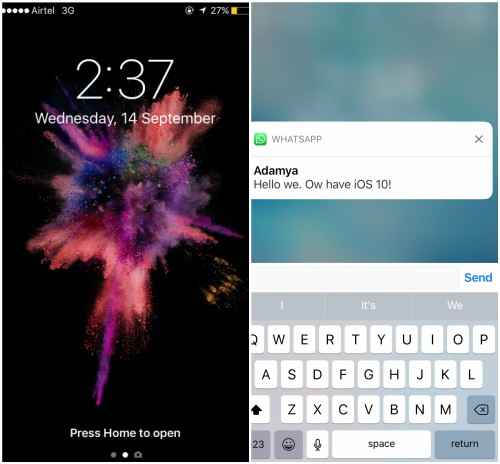 New iOS 10 lock screen and reply from lock screen feature
The Bad: If you don't own an iPhone 6s, 6s Plus or Apple's latest flagship iPhone 7, then forget about replying to those WhatsApp messages from the lock screen. Yes, you need 3D Touch to be able to interact with notifications on your lock screen. Don't worry, the new swipe-right gesture will work on your iPhone 5s, iPhone 6 and iPhone 6 plus. But, if you want to take complete advantage of iOS 10, it's time to upgrade (you'll know why in due course). In addition, iOS 10 adds the 'Raise to Wake' feature through which the phone screen simply wakes up when the user lifts the device, the same though is not available on devices below the iPhone 6s.
The Ugly: One of the first, most annoying thing you will notice about iOS 10 is "Press Home to open" default setting. Yes, you can change the setting from the Accessibility settings, but keeping this a default shows Apple may want you to get used to doing this in future iPhones. Most of us loyal Apple users hate the feature. It felt so slick when the iPhone unlocked with a simple, gentle touch of the home button. The added press of the home button may be a plus for Android users looking to move to iOS, but it's hard to believe ardent Apple users will like it very much.
Notifications & Widgets
The Good: iOS 10 brings with it a redesigned way of displaying notifications. Although the gesture of swiping down from the top remains the same, notifications are no longer clubbed by apps and this is great. You don't have to dismiss notifications from each app category anymore and a single tap on the top right corner can clear all recent notifications.
As we told you before, swiping right will bring up a much improved widget interface where users can place things like favourite Contacts, Reminders, Siri suggestions, Maps, News and more. This allows for easy access to the most used functions on the device and users can also add or remove widgets as per their preferences.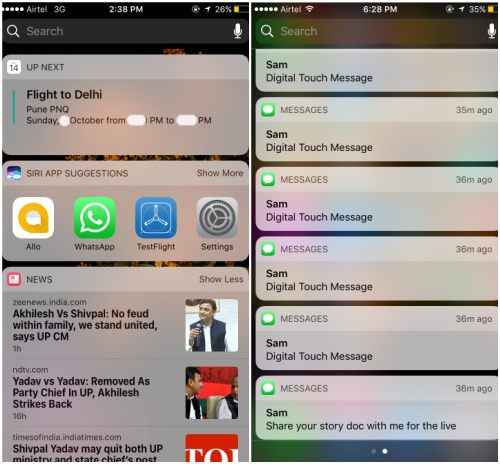 iOS 10 Widgets menus, revamped notifications drop-down
The Bad: Notifications on iOS 10 look bigger and bolder, and are very reminiscent of Android notifications. I personally don't like the rectangles in the notifications center, although some may prefer the new black text on the white background, which makes it easier to read notifications. The previous OS had white text on a black backdrop, sans the annoying rectangles. In iOS 10, you can even club a set of similar apps in a single folder, which will then give you a cumulative read on the number of notifications in that folder, but the feature requires 3D touch to view these notifications at a glance. Another reason for users to upgrade to iPhone 6s and above.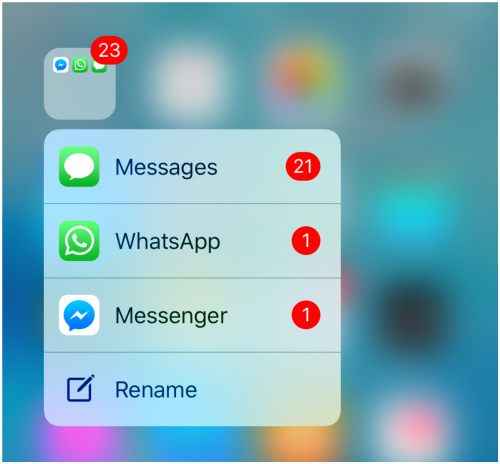 3D touch to view folder notifications on iOS 10
The Ugly: Swiping right from the lock screen, from the notifications screen and from the home screen, all take you to one place - the widget interface. Did Cupertino run out of options? No one like repetition Apple.
Siri
The Good: Everything with Siri seems to be good in iOS 10. The iOS voice assistant now gets third-party app integration and can type out a WhatsApp message for you or look up restaurants on Zomato, in addition to posting Facebook statuses and Tweets. It can even call you an Uber, but the feature is not available in India just yet. This only goes to show the potential of Siri, something even Google Now cannot do till now. On the other hand, the Google Assistant on the soon to be launched Allo Messaging app does get some of these functions. Seems like Apple has finally stopped doing a catch-up job.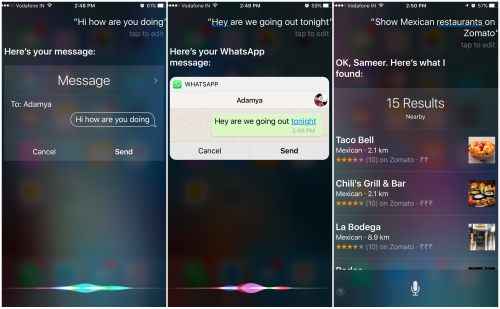 Siri on iOS 10
Messages
The Good: iOS 10 seems to have put life back into the boring old SMS app. You can now do a bunch of cool stuff straight from Messages, including - search and share popular GIFs, images and videos; Send Digital Touch Messages like heartbeats, doodles, sketches, fireballs, kisses and more; Send short video clips with disappearing doodles; Send invisible ink message which have to be rubbed to be read; Assign various effects to text messages; Share Apple Music tracks.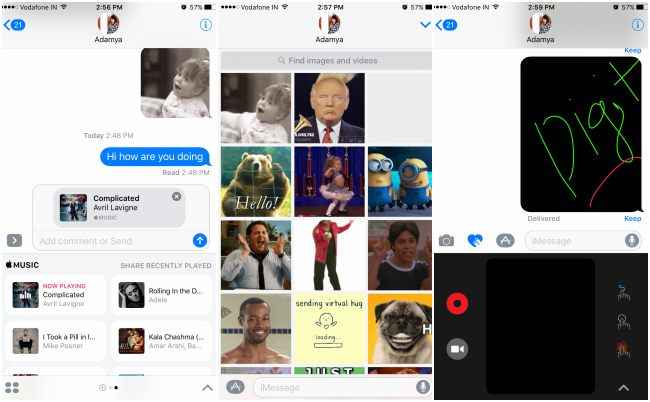 Messages on iOS 10; Sending songs, sharing GIFs & images, sketching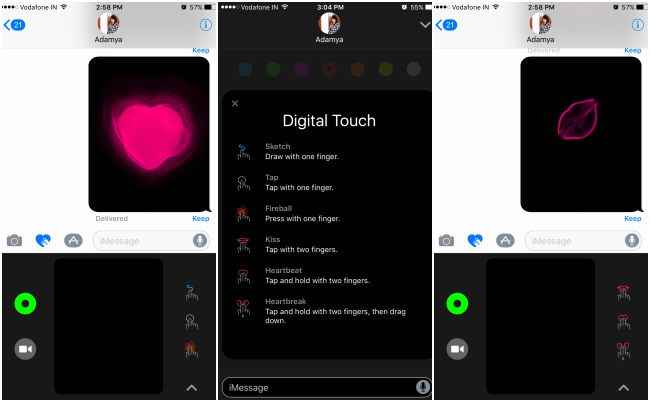 Digital Messages on iOS 10
The Bad: You may just get overwhelmed with all that you can do on Messages now, and this isn't a good thing for your iPhone's battery. iOS 10 is definitely feature packed, but at the same time it is also a battery guzzler and prolonged use of the Messages app tends to drain the battery quite rapidly.
Apple Music
The Ugly: What did they do to the sophisticated and cool Apple Music? The music streaming app has never looked this bad. The icons are ugly, the font size is better for those with a weak eyesight, the whole design reminds me of an old iPod. It's just not good looking anymore. For this reason alone, I am willing to switch back to iOS 9.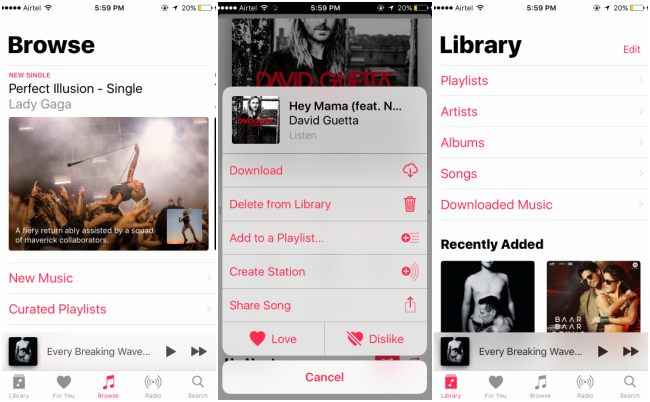 The Good: With iOS 10 you can now get lyrics on Apple Music which is great addition for Karaoke fans. However, not all songs come with lyrics, as you can see in the screenshot above. The 'For You' section adds 'Connected Posts' from various artists and a 'My Favourite Mix' list which updates as per your listening preferences.
So, those were all things good, bad and ugly in the new iOS 10 update. Of course, there's much more to Apple's new software update, and we will keep you informed on the same. Let us know what you think of the new OS in our comments section below.