Too much is happening in tech this month, but perhaps nothing is more important for India than Android One. In case you didn't know, this is a program by Google in which it partners with OEMs to bring out low cost Android phones that perform much above what is expected from them. We've reported this before but there's a lot more to come. While the reviews of the first Android One devices will be live on Digit soon, we have tested the performance and camera on these devices. Now we took some time to test out their batteries and pit them against some other Android competitors.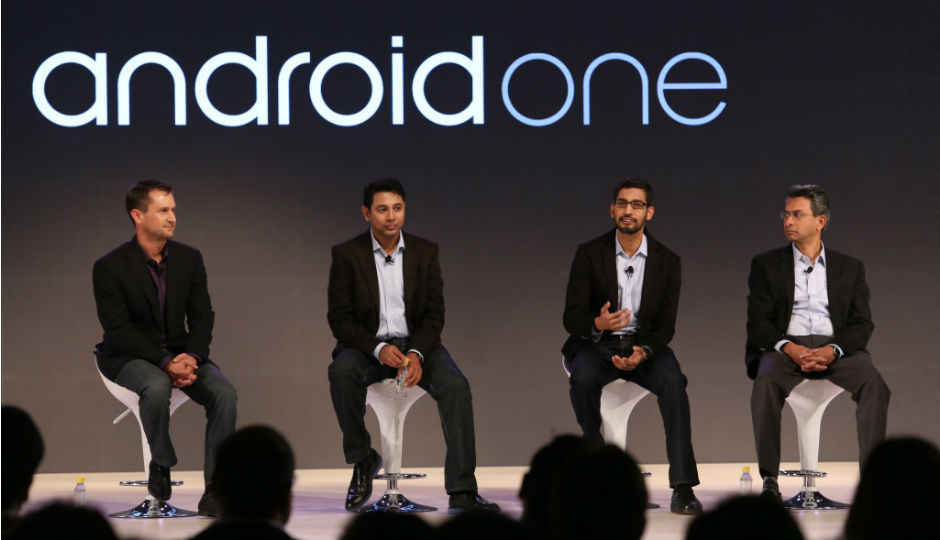 Devices used: Micromax Canvas A1 and Karbonn Sparkle V
Android competitors used: Moto E, Xiaomi Redmi 1S, Lava Iris X1, Micromax Unite 2, Xolo Q600S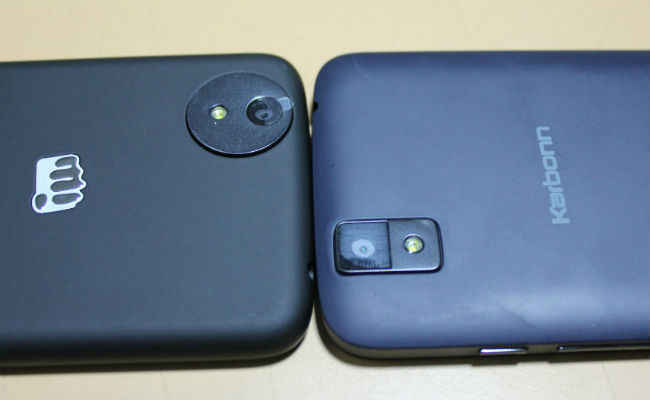 Battery test: If you have followed our reviews in the past, you would know the test. For the uninitiated, we run a 1080p video with the screen turned to full brightness and WiFi connected.
What this means
The screen on your smartphone is a big battery hog. Even the smallest screens take a lot of battery, especially when the brightness is high. So, at full brightness, your screen is consuming the most battery that it will. When a video is played on your phone, the screen is constantly turned on, which means you are consuming a lot of the battery. In general, you won't face this situation in everyday use, but a phone that can last long under such circumstances, can last longer in regular usage.
The WiFi is turned on because under regular usage, most of us generally consume the most amount of data when on WiFi. All our updates are done when we have WiFi, most of our apps are allowed to run fully, update etc. when we have WiFi. So, not only is the video running on our phone, the background apps are also given no bar and WiFi is switched on to create a more realistic situation.
Finally, playing a 1080p video takes a lot of processing power, which means that the CPU is also consuming a lot of your battery.
Results
We charge every device to 100% and then note the drop in the battery after the video has been played for an hour. This gives us a comparative idea between devices, showing how long they would be able to run the video for. So, after the battery test, here's what we found on these devices.
Micromax Canvas A1: 18% drop
Karbonn Sparkle V: 17% drop
Moto E: 14% drop
Xiaomi Redmi 1S: 19% drop
Lava Iris X1: 26% drop
Xolo Q600S: 21% drop
Micromax Unite 2: 22% drop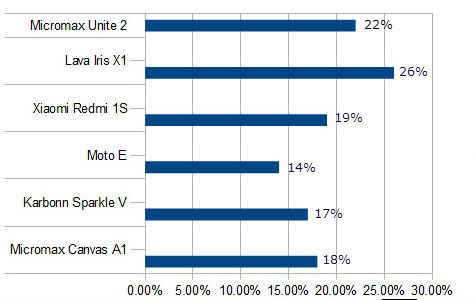 The best we have seen in the below Rs. 8,000 range so far has been the Moto E, which drops 14% battery after the test. Both the Android One devices used though dropped to around 18%, as mentioned above. This means that while the Moto E would have been able to play the video for 7.1 hours, the Android One devices would have done so for just over 5.5 hours.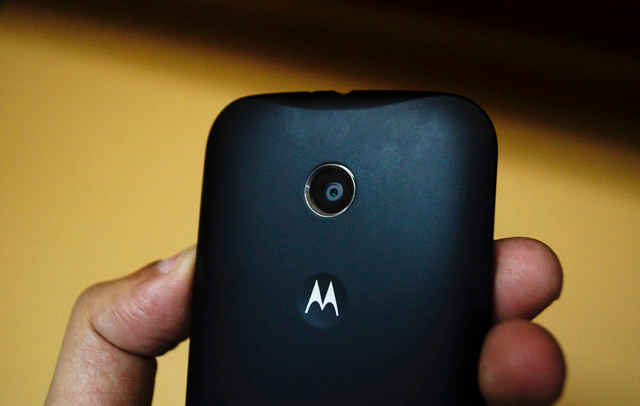 Bottomline
From our battery tests, we were quite impressed with the Android One devices. The battery life is above almost all other devices in this range, except the Moto E. First note that the Moto E has a 1980 mAh battery, while the two Android One devices we used have a 1700 mAh battery. In our experience, the Moto E lasts well over a day of regular use, which means that the Android One devices would run a full day with the 1700 mAh batteries. In fact, we have already used these devices as our primary phones and can confirm the same.
Considering that Android One phones will reach tier II and tier III cities more easily (because of the aggressive marketing), this is quite good. The lack of marketing and exclusive online sales of the Moto E and other smartphones in this range means that they are not easy to buy in all parts of the country.
Also, the two Android One phones that we used showed better battery compared to any other in the test. At the launch event, Google had said these phones would easily go a full day and our tests seem to point towards the same.