OPPO has been a part of the Indian smartphone market for many years now and during that time, the company seems to have understood the pulse of the market. For much of that time, the OPPO F-Series was the staple offering from the company in the country. The series aimed to offer users a well-rounded smartphone experience. The OPPO F19 Pro+ 5G is the newest smartphone to join these ranks. The smartphone comes with the tagline 'Flaunt Your Night', which should give you an idea of what OPPO is aiming at with its newest smartphone, a slick and suave device that combines beauty with brains.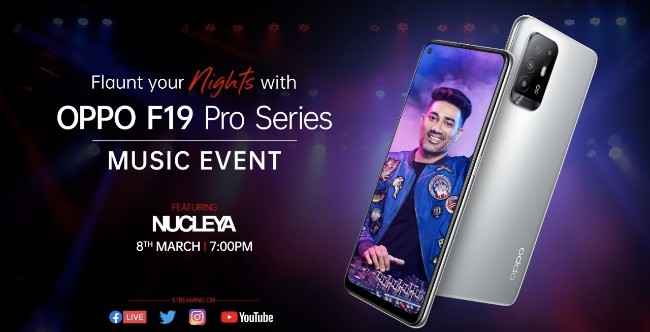 This theme of 'Flaunt Your Night' was also seen at the launch of the OPPO F19 Pro+ 5G. The company decided to move away from the ordinary and give its fans something to remember. In a move that harked back to the launch of the OPPO F17 series, the unveiling of the smartphone was accompanied by an energetic performance by India's popular EMD artist, Nucleya who belted some of his most popular tunes. Not only that, but the event was live-streamed on OPPO India's official YouTube channels, Facebook, Twitter and Instagram and. So people from all over the world were free to join in the celebration.
Here's a look at some of its key features of the newly launched OPPO F19 Pro+ 5G.
Flaunt the Design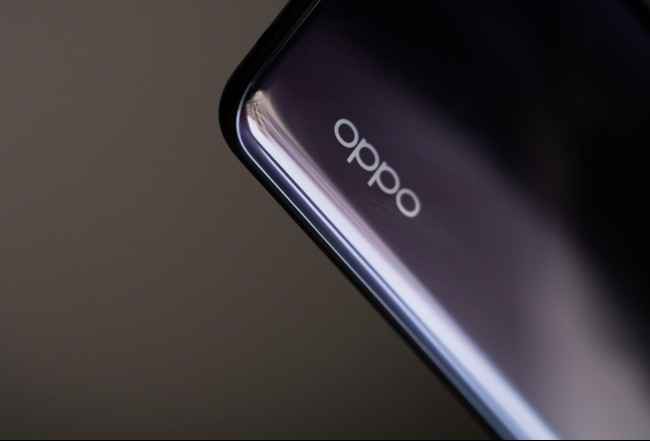 At 7.8mm thin and weighing only 173g, the OPPO F19 Pro+ 5G is striking to look at. But OPPO's engineers still managed to cram in a 4310mAH battery, while also including all the other hardware components. Not only that, the company notes that the smartphone's body has been optimised to improve heat dissipation. It does this by adding three layers of graphite plates as well as aluminium and copper tubes. On top of all this, OPPO says that it has used a new battery heat dissipation method that increases the motherboard's surface area to better dissipate heat.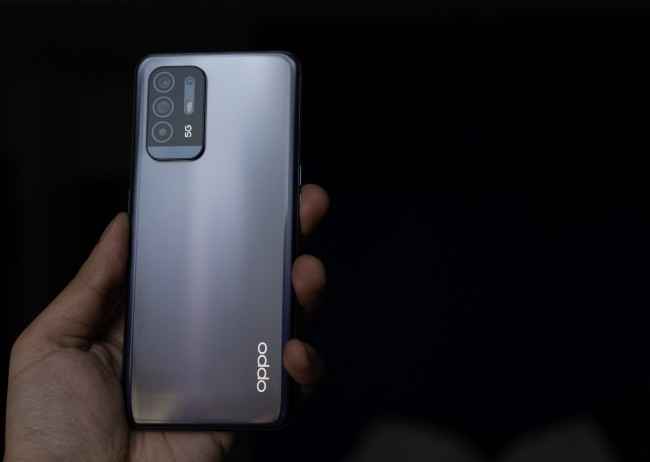 But the design of the OPPO F19 Pro+ 5G isn't just limited to what's inside. The phone comes with a one-piece quad-camera that sees all four rear cameras embedded behind a single piece of Corning Gorilla Glass 5 making it look both elegant and classy. It also comes with etching technology that uses a silk screen printing method to add a sense of depth to the printed text
The OPPO F19 Pro+ 5G is available in two minimalist colours. These include Fluid Black and Space Silver. The use of these minimalist colours adds a sense of simplicity, elegance and gives the device a premium feel. The phone used in these images is the Fluid Black version.
Flaunt the Camera
Of course, with a tagline of 'Flaunt Your Night', you'd expect the smartphone to excel when the sun goes down. The phone comes with four rear cameras. This includes a 48MP primary camera, a 2MP Portrait camera, an 8MP wide-angle macro camera, and a 2MP macro mono camera. These cameras give the user the flexibility they need to take the shots they want.
In order to help take better shots at night, the OPPO F19 Pro+ 5G comes with the company's AI Highlight Portrait Video. This feature uses algorithms to improve video quality in less than ideal lighting conditions. The Ultra Night Video feature can automatically detect and apply algorithms to improve video brightness in low-light conditions. OPPO notes that the new F19 Pro+ 5G offers a 26% increase in brightness and 35% increase in saturation as compared to the OPPO F17 Pro. In other words, users should get brighter videos with better clarity and richer colours.
There is also HDR Video that helps ensure an evenly lit image when filming under strong light. This includes studio lights or even the sun. At night, the feature combines with Ultra Night Video to deliver HDR videos in low-light conditions.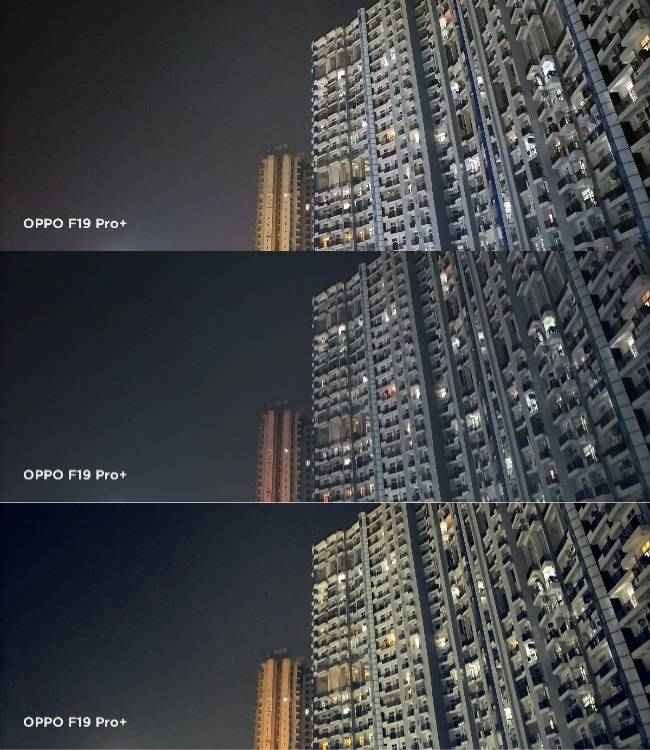 Top to bottom: Cosmopolitan, Astral, Dazzle

Video isn't the only thing that OPPO's engineers have focused on. The phone also comes with Night Plus which is specially designed to take better images in cities at night. It also offers users three different modes to choose from. This includes Cosmopolitan, Astral and Dazzle. So users can pick one that suits their taste.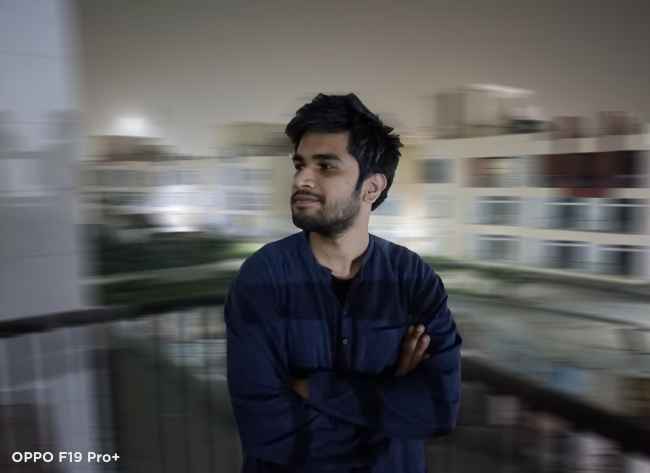 Of course, this isn't all that the OPPO F19 Pro+ 5G has to offer in the camera department. Dynamic Bokeh helps take better portrait photos in low-lit environments, while AI Scene Enhancement 2.0 automatically recognises 22 different scenes and alters the camera settings to take better photos.
There is also Dual-View Video that uses both cameras simultaneously to record a video.
Flaunt the Speed with Smart 5G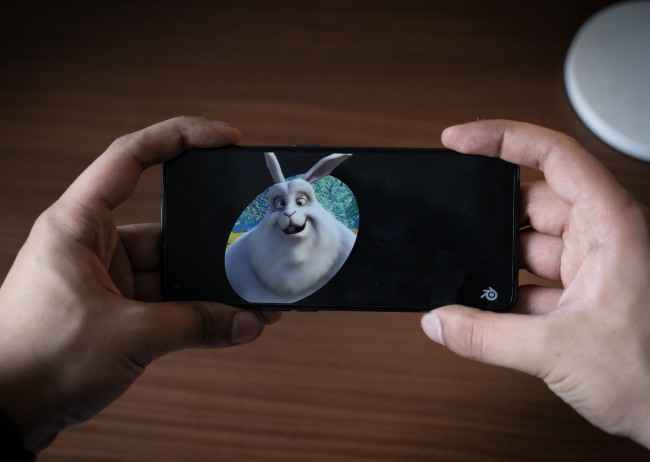 As the name would suggest, the OPPO F19 Pro+ 5G supports 5G connectivity. This is due to the MediaTek Dimensity 800U chipset that is at the heart of the smartphone. As such, it is the first smartphone in the F-Series to offer Smart 5G connectivity. However, OPPO's engineers aren't just resting their laurels on that. The phone comes with Dual Network Channel. This allows the smartphone to connect to Wi-Fi and a 4G/5G channel at the same time. It is also capable of connecting to two Wi-Fi connections simultaneously. This should allow users to enjoy faster and more stable data speeds.
Flaunt the Charging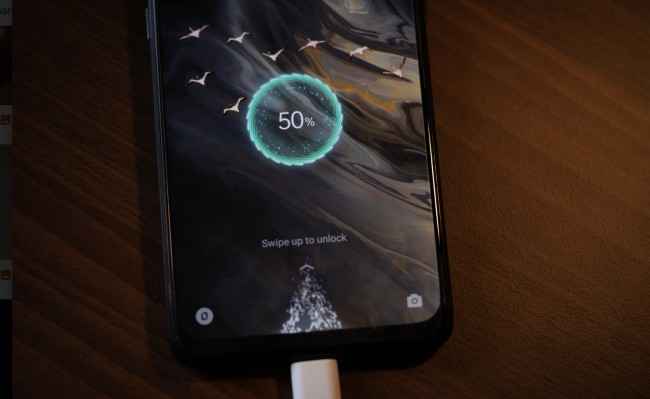 Another key feature of the phone is OPPO's 50W Flash Charge technology. As mentioned earlier, the OPPO F19 Pro+ 5G packs a 4310mAh battery. With this charging tech, the phone is said to fully charge in 48 minutes. Interestingly, OPPO notes that a five-minute charge with the 50W Flash Charge technology will allow users video playback of 3.5 hours.
Flaunt the Rest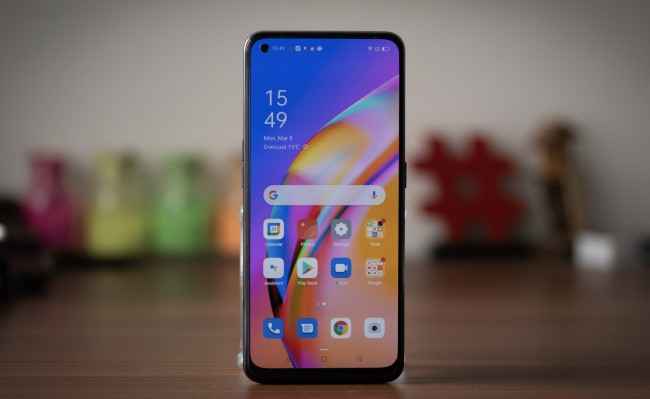 Of course, all this isn't the only thing you get with the OPPO F19 Pro+ 5G. The phone also comes with a massive 6.4-inch FHD+ Super AMOLED display. The phone offers a 20:9 aspect ratio with a 3.7mm diameter hole-punch in the top left corner. This allows the phone to offer a large screen-to-body ratio of 90.8%.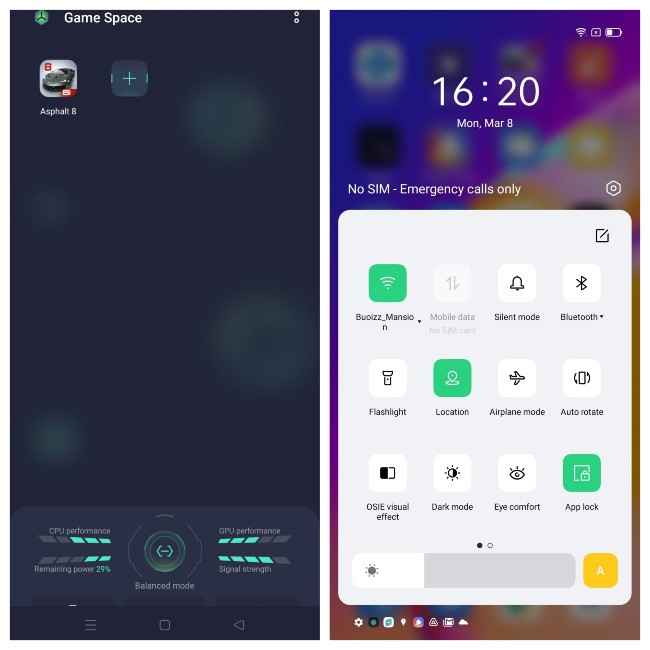 The OPPO F19 Pro+ 5G also comes with ColorOS 11.1, which is based on Android 11. So not only do users get all the features from Android 11 but also a bunch of added features. This includes a Game Focus, Three-Finger Translate with Google Lens, One-Tap App Lock, and more.
This was a quick look at some key features of the OPPO F19 Pro+ 5G. When looking at the phone's combination of design and night shooting capabilities, we can see how OPPO came up with the tagline of 'Flaunt Your Nights'. By looking at everything that the OPPO F19 Pro+ 5G has to offer, one can easily see that the phone not only matches the lofty expectations that one has with OPPO's F-series of smartphones, but manages to raise the bar even further. The phone is up for pre-order at a starting price of Rs 25,990 and will go on first sale from March 17. It will be available across mainline retailers and on Amazon.
For even greater value, OPPO is offering a special bundle deal wherein buyers of the F19 Pro+ 5G or the F19 Pro will be able to pick up the OPPO Enco W11 earbuds for Rs 999. They can also pick up the OPPO Band Style fitness tracker for Rs 2,499.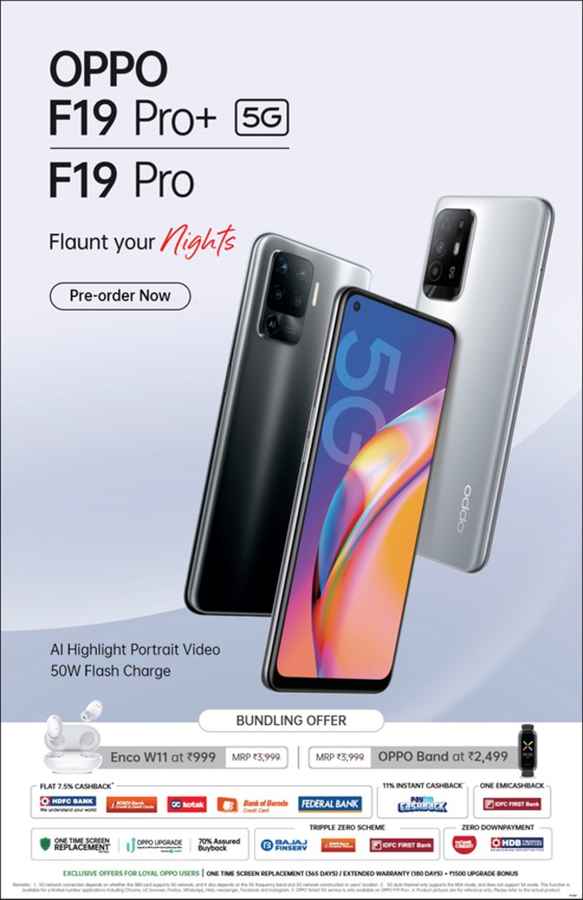 Those planning to buy the OPPO F19 Pro+ 5G are in for a treat as there are a range of discounts and cashback offers across a range of banks and digital wallets. This includes a flat cashback of 7.5% on HDFC, ICICI, Kotak, Bank of Baroda, and Federal Bank credit cards. There is also 11% instant cashback via Paytm and one EMI cashback with IDFC First Bank. HomeCredit and HDB Financial Services are offering a zero down payment option, while Bajaj Finserv, ICICI Bank and IDFC First Bank have a triple zero scheme. As if all this isn't enough, OPPO's existing users can avail an additional one-time screen replacement offer that is valid for 365 days. Buyers can also get extended warranty for 180 days along with Rs 1,500 upgrade bonus. One can avail these offers via the OPPO AI WhatsApp chatbot.
[Brand Story]