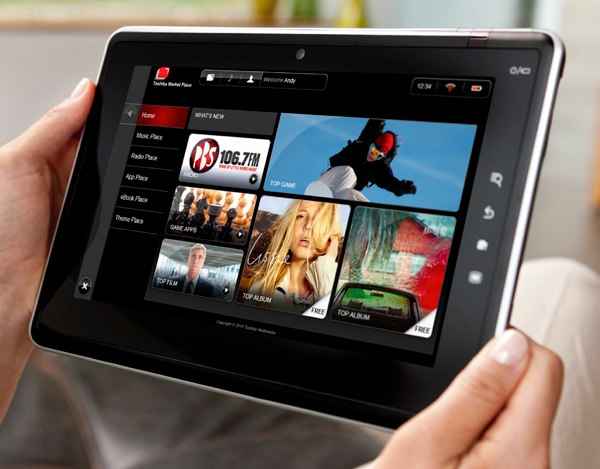 Toshiba recently showed off its Google Android 2.2 and Nvidia Tegra 2 based Folio 100 tablet at IFA. Though the device certainly seems well-specced (it also supports Flash 10.1), some those who've had a hands-on with the device are not very impressed with the build quality or the apparently drab UI customization…Let us hope that Toshiba decides to do something about this criticism before they release the tablet in the last quarter of this year, in the initial launch markets of Europe, Middle East, and Asia. Here's a look at the specifications of the Toshiba Folio 100 tablet:
CPU: Nvidia Tegra 2
Display: 10.1-inch capacitive multitouch display with 1,024 x 600 pixels resolution, UI auto-rotate with accelerometer
OS: Customized Android 2.2
Storage: 16 GB onboard with SD expandability (no word on the limit)
Connectivity: Bluetooth 2.1 EDR, Wi-Fi 802.11 b/g/n, Mobile Broadband (for certain models & countries), DLNA compatible, 1xminiHDMI®, 1xUSB 2.0 (client and hub), SD/MMC Card Reader
Camera: 1.3MP webcam
Battery life: 7 hours (65% web browsing, 10% video playback, 25% standby)
Weight: 760g
Size: 281mm x 181mm x 14mm
Software (excerpt): Opera Mobile, Toshiba Media Player, FBReader, Fring, Document to Go, Evernote
Other features of the Folio 100 tablet include an instant-on functionality. The tablet will also have access to Toshiba Market Place, which features such platforms as Music Place, Radio Place, and App Place. This unfortunately means it will have no access to the Android Market, at least until Google gives it, and the numerous other Android tablets waiting in the wings, this access. Toshiba's suggested retail price for the non-3G version of the Folio 100 is £329, including VAT, which is £100 less than the 16GB WiFi-only iPad, and it might have really have a chance to give the iPad a run for its money, especially if the Android Market is added to the mix.