Bixby routines may not be as popular but they are a great way of automating Samsung phones. These are simple 'if-then' commands that can be used to automate Samsung phones based on location, app actions, time of the day and several other conditions. If you just discovered these, here are some of the cool things you can do using Bixby Routines.
How to access Bixby Routines?
You can access Bixby Routines from Settings >> Advanced Features >>Bixby Routines. You can also add Bixby Routine triggers on the home screen that can be used to manually trigger a set of commands. Samsung adds a nice assortment of predefined ones under the 'Discover' tab, but you can add your own ones.
Also Read: 15 cool Windows 11 Tips and Tricks
10 Cool Bixby Routine Examples
Here are a few Bixby routines that we find quite useful.
1. Keep screen awake for specific apps
There are certain apps where you might want the screen to remain awake for a longer duration. Two such apps for me are Microsoft Teams and Youtube, where my son pauses videos while taking classwork notes, or while building lego cars, or while practising art. You might also want to keep the screen awake for longer with the clock timer, stopwatch or your Workout app.
To permanently set the screen timeout to 5 to 10 minutes can be unnecessarily harsh on the battery and at times extremely annoying. Using Bixby routines can help you make screen timeout adjustments for specific apps and give you more control. You can set certain apps to remain awake for longer and also add other conditions for routine to trigger - when you are connected to home Wi-Fi, when the battery level is above a certain threshold, etc.
Similarly, you can also predefined certain apps to run at a specific resolution and refresh rate (60Hz or 120Hz) or at certain brightness levels.
2. Automate Audio Profile for work on Samsung phones
You can use Bixby Routines to automatically customize your phone's sound profile based on your location. For instance, you can add a Bixby routine that triggers when you are connected to your office's Wi-Fi network and automatically dials down ringtone, system volume, and media volume to pre-specified levels.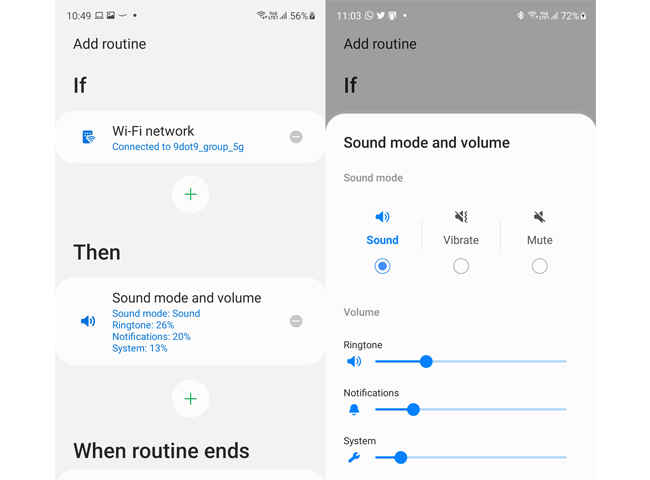 As you can see in the example above, you can also set your phone to silent mode altogether. Similarly, you can add routines to bump up audio when you are at home or at a specific time of the day.
3. Customize power-saving based on time, location or app
With the Bixby routine, you can create your own power-saving profiles for a specific time of the day or night, for specific locations or when you have specific apps open.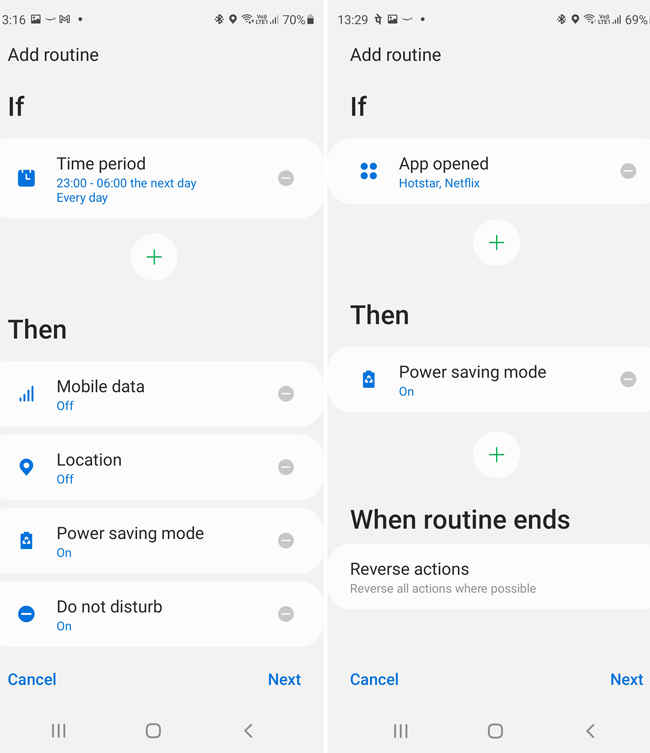 You can set your phone to turn off mobile data, lower brightness or enter power-saving mode at night time. You may also set your phone to switch to power saving mode when you turn off your data or to close certain power hogging apps once the battery is below a certain threshold percentage.
4. Slow charge overnight
If you often charge your phone overnight, you could set a Bixby routine to automatically turn off fast charging at bedtime. This way, your battery health should remain better in the long run. If you have a smart plug compatible with Samsung SmartThings, you can also set the plug to power off once the battery is charged to a specific percentage.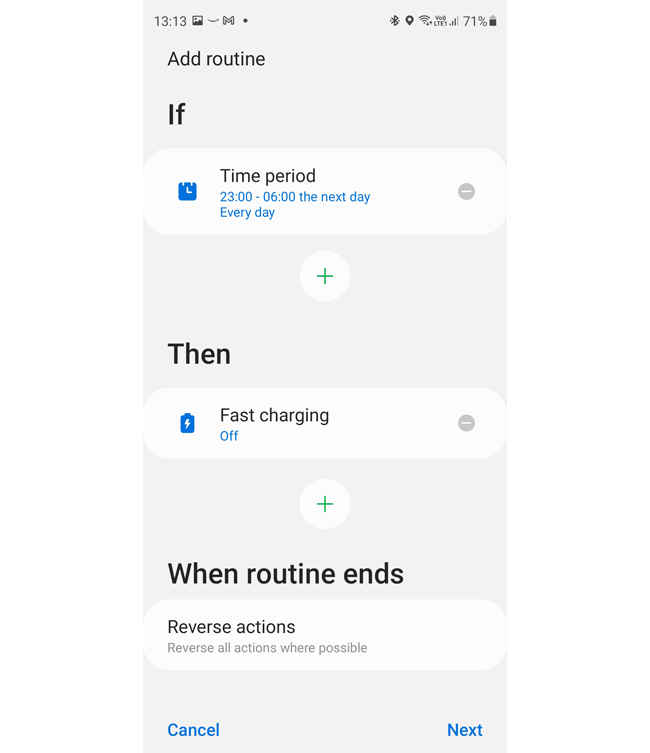 As we discussed above, you might also add the command to turn on Power saver mode, turn off Wi-Fi and others in the same nighttime routine.
5. Automatically close apps and data when you fall asleep at night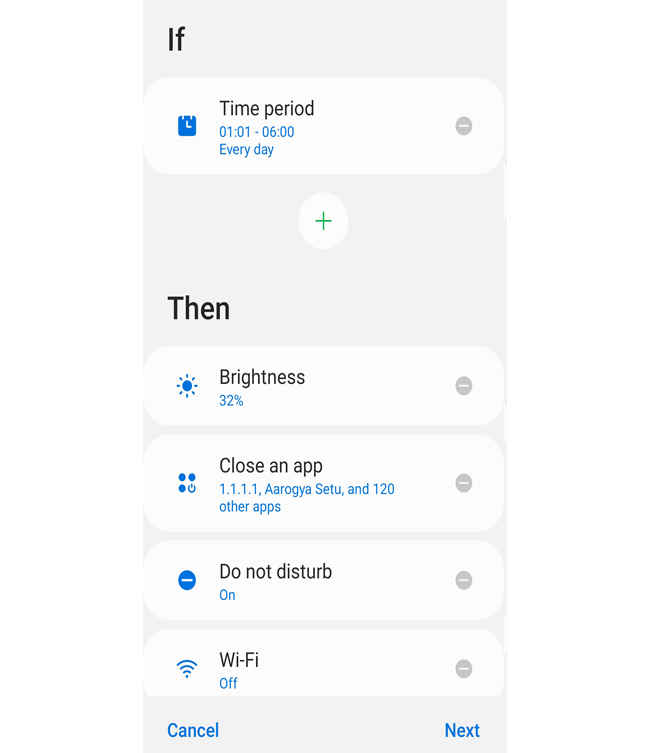 I frequently fall asleep while listening to music or watching some content at night time, only to find the battery completely drained in the morning. To avoid such trouble, you can set a Bixby routine that kicks in late at night and switches off all opened apps. You may add other instructions like turning on the power-saving mode.
6. Eye Comfort Shield in Reading Apps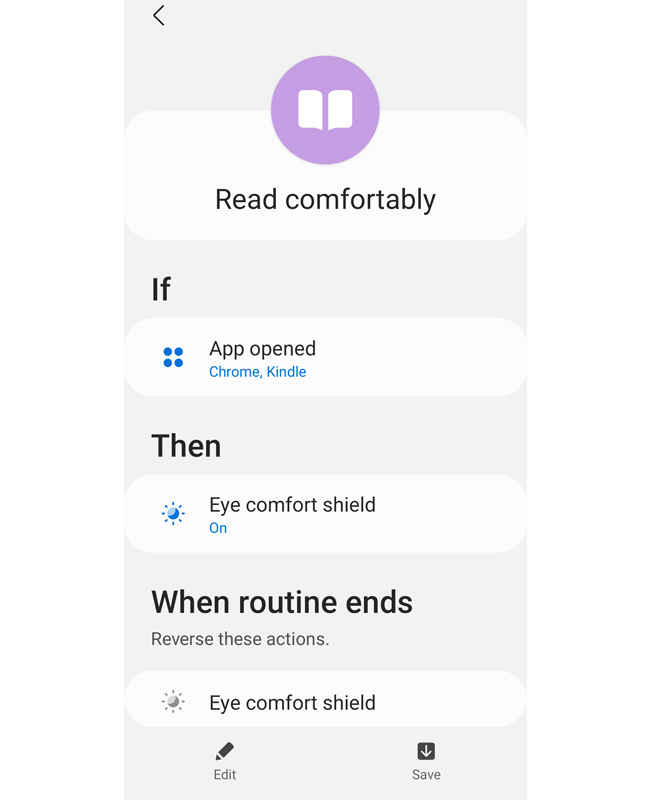 If your eyes are sensitive to blue light and you often read on your phone, you can get the eye comfort shield to turn on automatically in select apps like Kindle and Chrome. That's perhaps better than keeping the yellow cast perpetually on.
7. Map hardware buttons to specific actions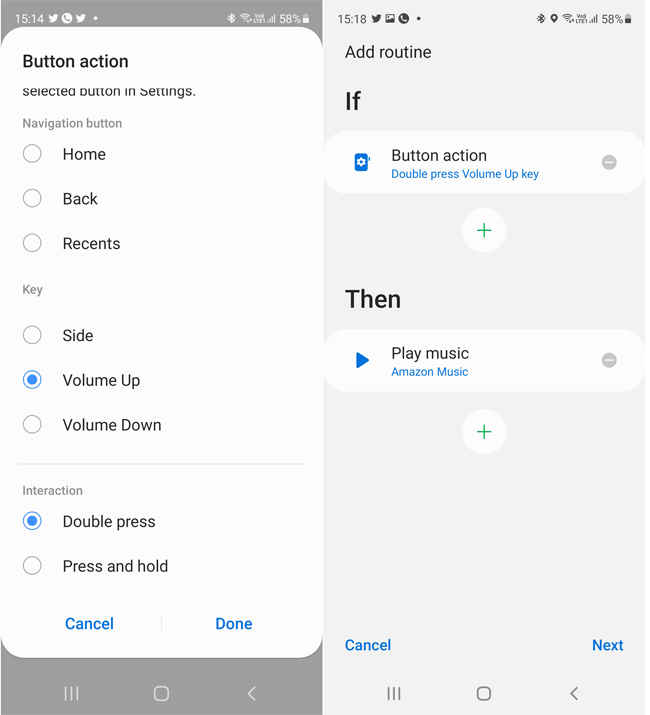 Using Bixby routines, you can map 'double press' and 'press and hold' action on volume up, Volume down or power button to launch specific apps, to turn on the lights in your room, or to switch on your smart TV. Just select the button action in the 'If' part and map the desired action to the button.
8. Switch to Mobile Data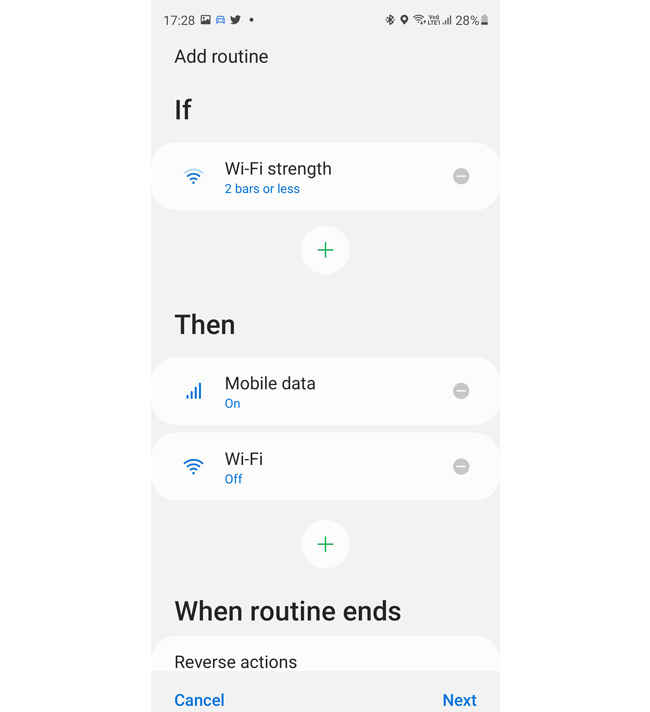 A routine to automatically switch to mobile data when Wi-Fi signal strength is less than 2 bars proves incredibly handy for me when I move to my terrace or to a far corner in my home. This helps with more reliable connectivity and saves me from manually toggling the Wi-Fi off every now and then.
9. Customize Sound profile for different Bluetooth Devices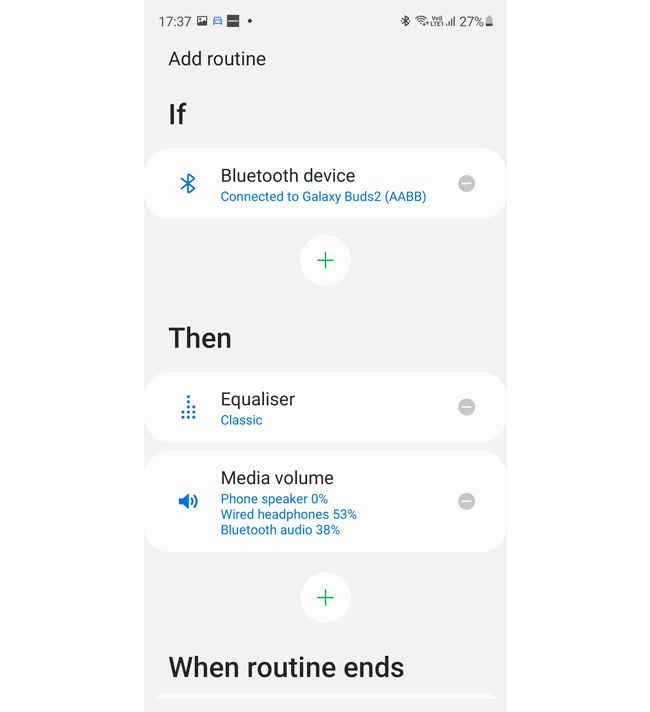 Customize Bluetooth profiles for different connected devices. You can set separate equalizer settings and volume for your earbuds, home theatre, speakers, etc. by creating separate routines for each. If you are fastidious about your audio needs, this should save you some trouble.
10. Light Effect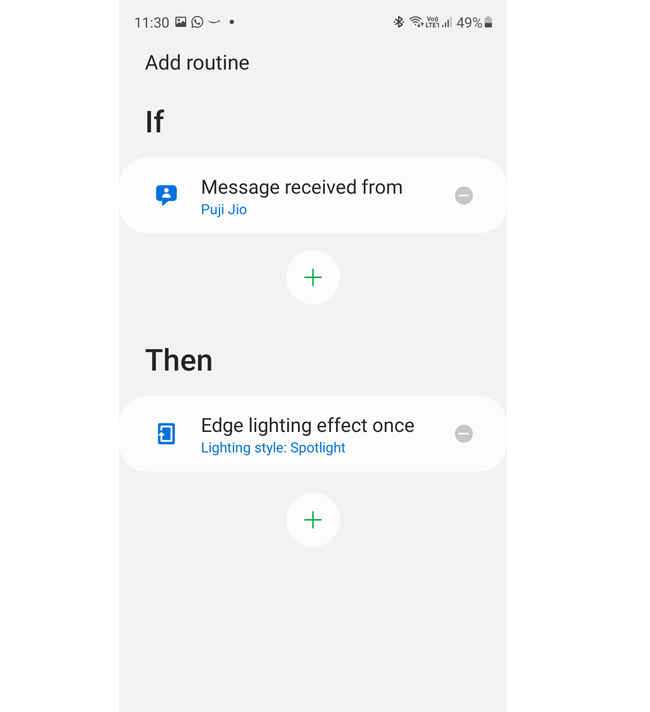 Bixby Routines can be used to add special lighting effects for incoming calls and messages from specific contacts. OneUI has some interesting light effects like multicolour edge glow, Echo and Spotlight that can easily grab your attention and prove quite useful when our phone is lying on the work desk in silent mode.