Windows 11 brings several big and small UI improvements. The interface is more touch-friendly than previous versions of Windows. Microsoft has put in some effort to enhance the multitasking experience for power users.
Windows 11 brings several small changes and refinements that add up to make a substantial difference. Microsoft has tried to add uniformity across different aspects of the interface, focused more on user security and privacy, has tried to make Windows 11 more appealing to Android users, and also tried to make it more suitable for touch-enabled devices - even if all these improvements come at the expense of few users switching over from old Windows 10.
Note: All Windows 10 users with PCs that support minimum requirements can switch to Windows 11 as a free upgrade.
Interesting Windows 11 Features that you should know about
If you just switched to the new Windows version, here are some of the most interesting Windows 11 features that you should know about:
1. Snapping Windows on Windows 11
Snapping Windows left and light is extremely convenient but only if you are well accustomed to the keyboard shortcuts (Windows Key + Arrows). Windows 11 makes this a lot more convenient, especially for people who do so once in a while.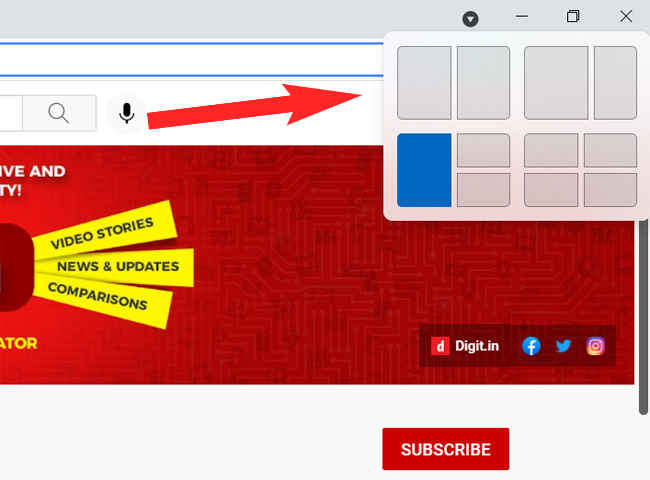 You can simply hover your cursor over the minimize-maximize or resize button and you will see some mini snapping templates that you can choose. This is a lot more convenient and precise than dragging Windows to corners or using keyboard shortcuts.
Most importantly, once you have snapped your windows you won't lose the setting even if you expand one of the windows independently. You can just however over the icon in the taskbar and you will see a group option to get back to the Snap settings.
2. Try Widgets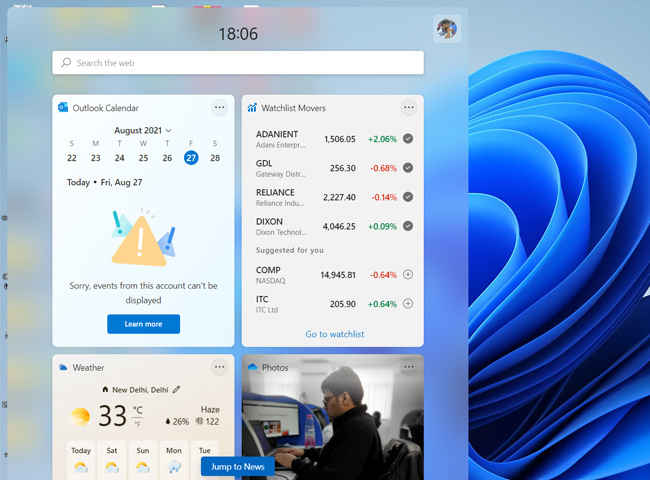 Widgets on Windows 11 are a nice way of keep tabs on stuff you frequently monitor. Apart from the news feed, this is where you can conveniently check or keep an eye on stock prices, weather, calendar, your 'To do' list and more.
The list of widgets you can add is pretty limited and these are highly dependent on Microfost services. Over time we expect more third-party options to be added. Users can also resize and customize available widgets.
3. Try dictation with auto punctuation on Windows 11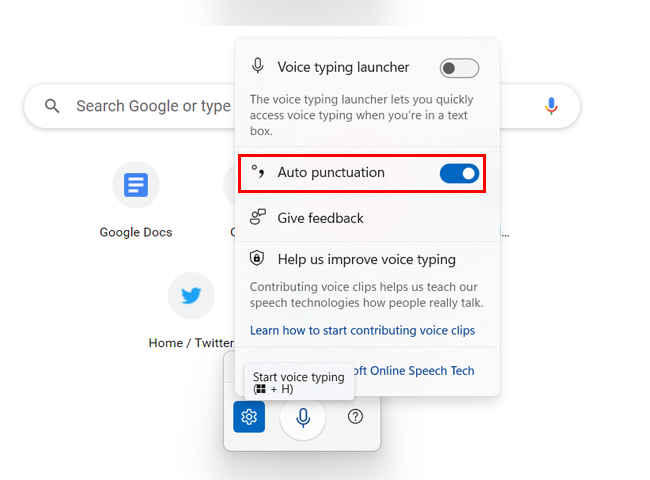 Windows dictation tool can now understand punctuation and it really works like a charm. All you need to do is press the Windows Key plus H and the dictation tool will be activated. You can just dictate whatever you need to type in Note pad, Word, Google Docs, or any other text window.
4. Enable Shake to Minimise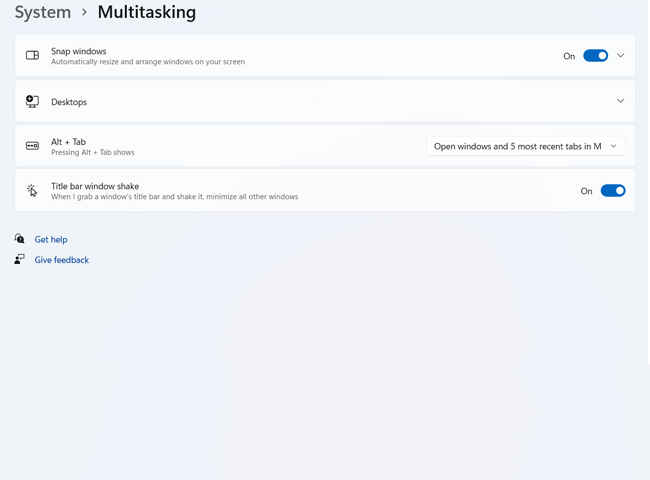 This is a handy feature from Windows 10 that is disabled by default on Windows 11. You can enable it from Settings >> System >> Multitasking. Once enabled, you can simply left-click on the title bar of a window and shake it to minimize all other open windows. You can also re-shake the title bar to restore all windows to their previous state.
5. How to copy files using right-click on Windows 11?
Context menus have been modified through Windows 11. Many users who aren't tech-savvy and use right-click to copy may end up hitting "copy path" instead.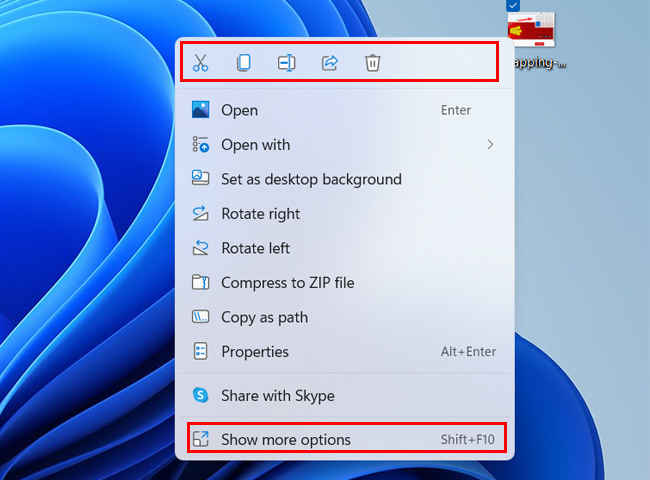 The options to copy, cut, rename or delete are now present as icons in a bar as shown in the image above. You can also see the old Windows 10 menu options by selecting the "Show more Options" at the end.
6. Check peak brightness, HDR support, and refresh rate for the display
Windows 11 highlights HDR a lot more prominently than Windows 10. Under System >> Display >> Advanced Settings, Windows will tell you details like colour space your display is targeting, Peak brightness for HDR, HDR certification if any, and the option to switch between refresh rates.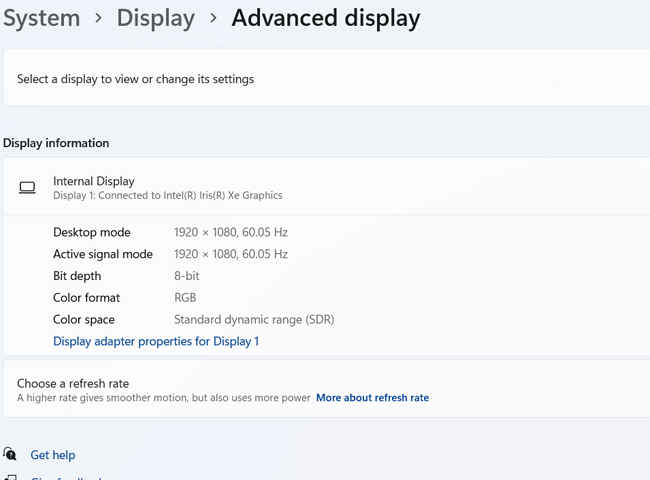 If your laptop does not have HDR compliant display, you will not see stats like peak brightness as is shown in the image above. Windows 11 also has an "Auto HDR" feature in the working that can pass on HDR metadata for SDR games.
7. Windows Command Terminal
The Windows Command Terminal adds a lot of new features for people who use command-line tools and shells like Command Prompt, Subsystem for Linux (WSL), PowerShell, and more. You can now open multiple tabs of command-line options, rename different windows and customize their appearance.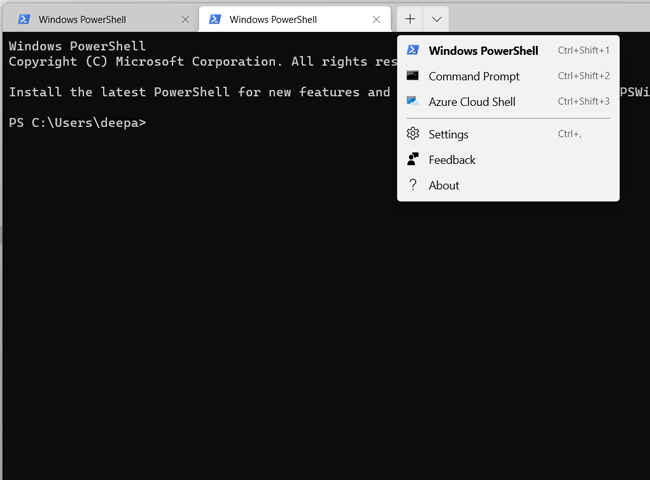 Windows Command Terminal uses GPU to render text and supports custom commands. To access Windows Terminal, you can search for the app in the search box or just right-click within a folder or on the desktop and select "Show more options" in the context menu.
8. Customize multiple Desktops on Windows 11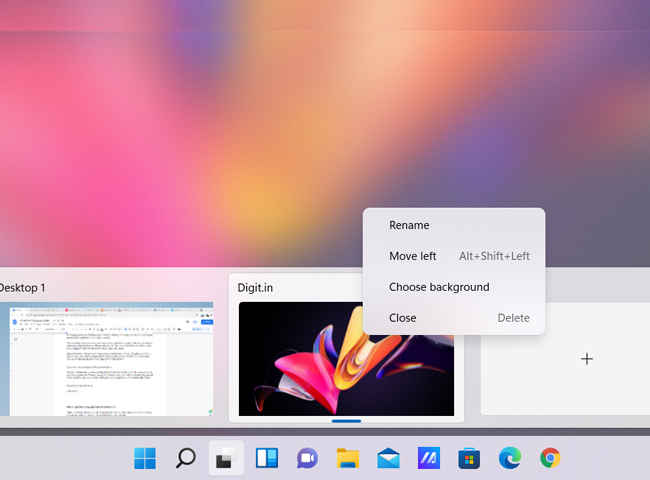 Using multiple Desktops on Windows 11 is now simpler. Users can assign different names to multiple desktops and also customize them with different backgrounds. If you always have a million apps open on your PC, then multiple desktops could help with better organization.
9. Compact View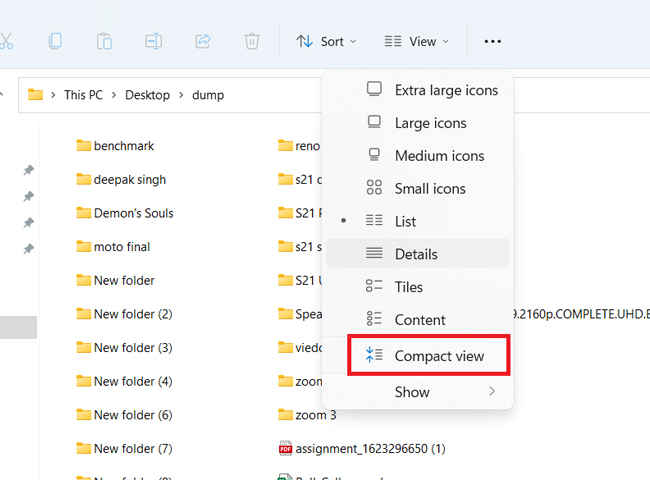 By default, Windows 11 adds some extra spacing between different files in a folder, probably for a better touch experience. If you prefer the old Windows 10 spacing, you can switch to "Compact View". You will find the option in the top bar listed under the "View" menu.
10. Scroll to control volume
One neat Windows 11 feature is that you can simply hover your cursor over the volume button and scroll the wheel up to increase volume and scroll the wheel down to decrease volume. This is quite convenient and now our preferred way of volume control.
11. Add Revamped Touch Keyboard to Taskbar
Windows 11 has a revamped touch keyboard that takes inspiration from smartphone keyboards. It now supports voice inputs, Swipe-typing, emojis and GIFs. Users can also use the space bar as a cursor, resize the keyboard, and customize it with different themes. This should make the touch keyboard a lot more useful for convertible laptops.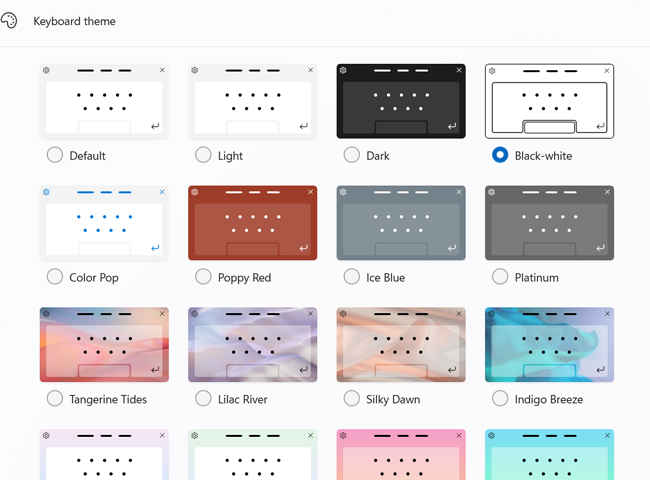 To add Touch Keyboard icon to taskbar, just go to Settings>> System>> Personalization >> Taskbar. The toggle to add touch keyboard will be listed under the "Taskbar corner" section.
12. Detailed Sound Controls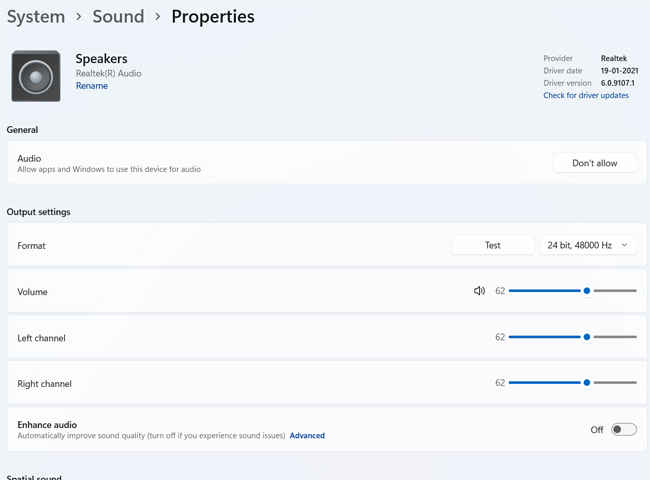 Windows 11 has more elaborate Sound controls with several useful options and a volume mixer that will let users change the volume for individual apps. Users can check detailed properties of the input and output devices including driver information and the option to update drivers. If you are always unsure about audio properties on your PC, do check out the new Sound controls.
13. Align Taskbar to the left
Windows 11 has a centrally aligned taskbar by default, which is again more convenient on touch-enabled devices. If you'd rather have the traditional left-aligned Taskbar on your Windows PC, here's what you can do.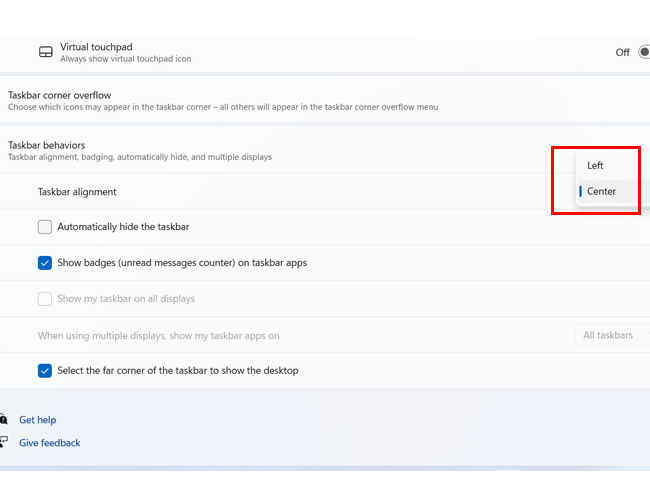 Just right click on the taskbar and select 'Taskbar Settings'. Now scroll down to the 'Taskbar Behavior' options and change the alignment to left.
14. Try Your Phone app
The Your Phone app works a lot more seamlessly on Windows 11, especially with high-end and mid-range Samsung phones. Using the Your Phone app, you can seamlessly drag and drop files between your phone and PC, directly use Windows context menu options on your phone's images, check messages, notifications on your android phone, enjoy universal copy-paste between your PC and phone, and even attend calls on your PC.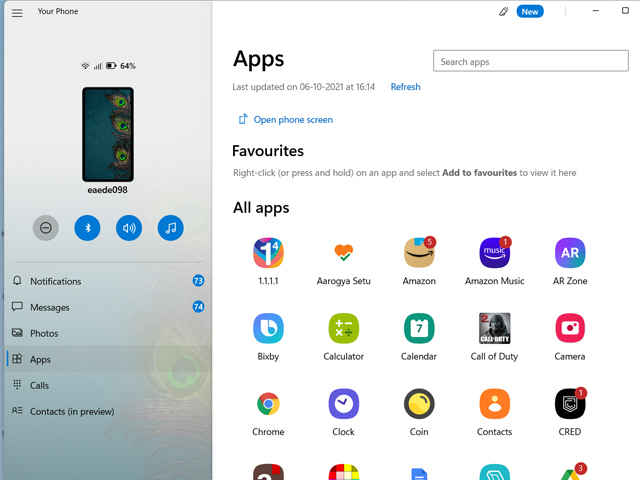 Tools that let you do these things have always existed, but the Your Phone app on Windows 11 makes them work as they should.
15. Access legacy menus and other new shortcuts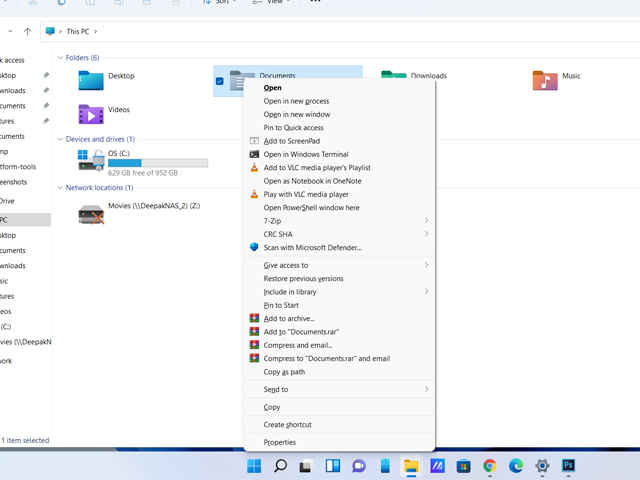 Right-click in Windows 11 lead to new menu options. If you need the legacy menu options, you can either click "show more options". This adds a step and the simple workaround is to use the "Shift + F10" shortcut. This will unfurl the legacy menu options.
Here are a few other new Windows 11 shortcuts that you must try:
Windows key + W - To access Widgets
Windows key + c - New Teams app
Windows key + A - For quick settings
Windows key + N - For notification centre
Windows key + z - For new Snap layouts
Windows key + V - To access Clipboard
Windows key + I - To open settings
Windows Key + Alt + R - Record screen
Right-Click on the Windows button on the taskbar to access device manager, shut down and other options
16. Enable Dark Mode and Night Light on Windows 11
To enable dark mode across all Windows 11 apps, you can go to Settings >> Personalization and switch the mode from 'Light' to 'Dark'. You may access the Personalization options from the right-click menu on your desktop.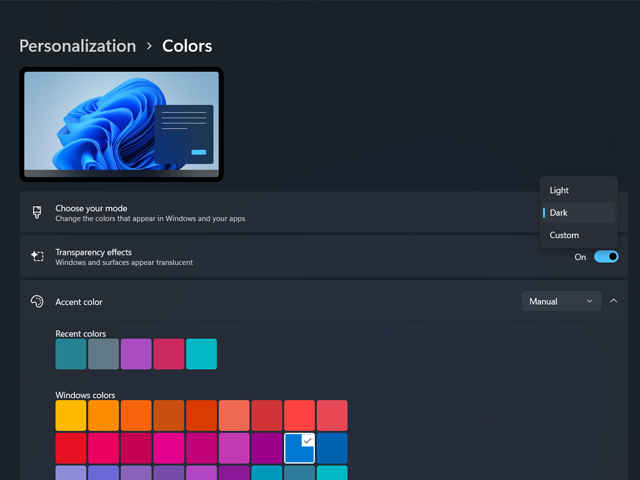 There is also the option to turn on the 'Night light' that switches to warmer tones and wards off harsh blue eyes. You can access 'Night light' under Display settings or just hit the Start button and search for it.
17. Customize the Start Menu
If you often access your apps from the Start menu, it would be worth the effort to customize it with options that you access frequently. Go to Settings ( Window Key + I) and open the Personalization option. Or you can simply open the Start menu and right-click at any empty space to directly see the 'Start Settings' shortcut.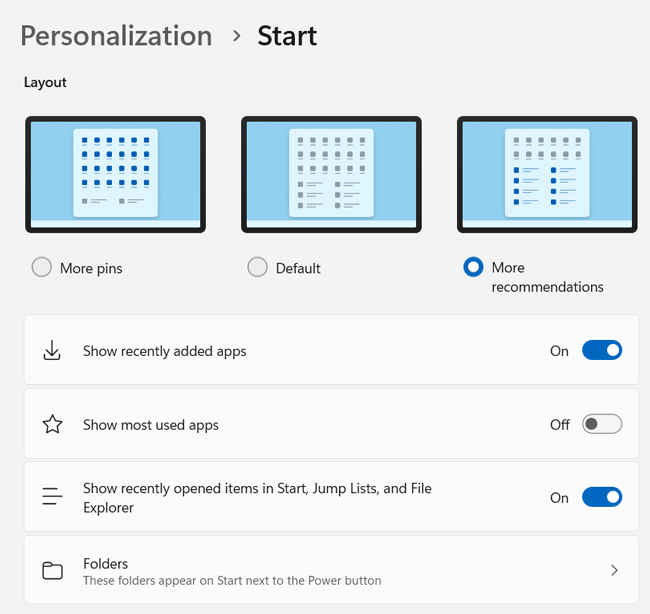 Now select Start. From the Start Settings, you can select your Start Menu Layout and the options you wish to see in your start menu. You can also add buttons like the Settings cog or File Explorer icon next to the power button in the start menu. The changes you make will take some time to reflect in the Start Menu, so you might not notice a difference as soon as you toggle your preferences in the settings.
18. Try Focus Session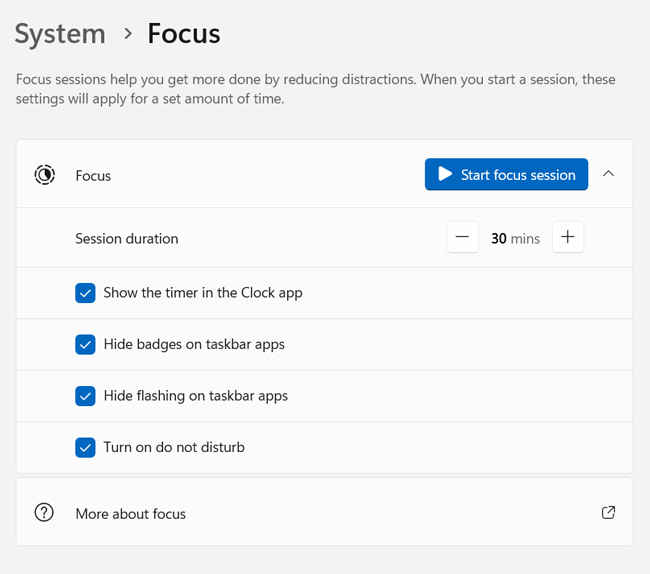 Microsoft Windows also has a focus mode or rather Focus Session that lets you be more productive by minimalizing distractions. You can access it from Settings >> System>> Focus or from the Clock app. You can choose the distractions you wish to avoid, you can set your daily goal, and even link your Spotify account to the session to enjoy your music while you work. If you think you are losing productivity due to incessant interruptions, the Focus Session is definitely worth a shot.
19. Change Default Apps in Windows 11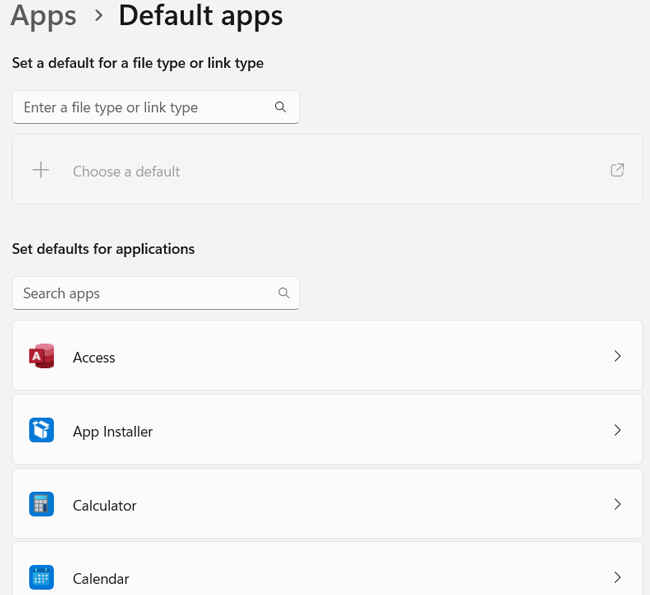 Changing Default Apps in Windows 11 can be a tad tricky since the OS requires you to assign a default app for a particular file type. For instance, if you want an AAC file to open in the VLC player by default, you will have to navigate to Settings (Windows key + I) >> Apps>> Default app. You can now either search for AAC file type and assign it to VLC or you can search for VLC player in the second search bar below and then scroll down to .aac extension and assign it to the player. It might seem a little complicated at first, but it's actually not.
Apart from the features that we have mentioned above, many more including support for Android Apps will be available in the near future. We will keep adding more features as soon as they surface or any new ones that we run into.