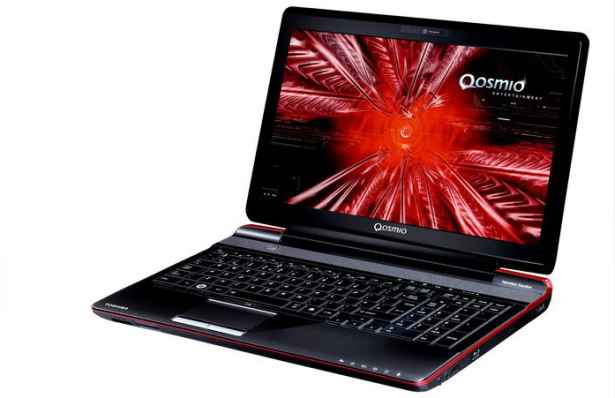 The Toshiba Qosmio F60-X5310 is an extraordinary 15.6-inch entertainment laptop that has some very powerful features, namely the Toshiba Quad-Core graphics processor (you know, the one the PlayStation 3 has, the famous Cell processor?) that uses a Spurs Engine, the Core i5 processor, and the integrated Harman Kardon stereo speakers. This Cell GPU is the primary difference between this model and the one released in Europe in January, which featured an Nvidia 330M GPU instead.
Starting at Rs. 61,490, the Qosmio F60-X5310 15.6-inch screen is LED backlit and has a wide 16:9 aspect ratio, at a 1366x768 pixels native resolution. Users will greatly enjoy the benefits of the quad-core Cell processor GPU, especially in hardware video encoding. An example of this is Toshiba's Upconversion Technology called Resolution (also seen in the Portégé R700), which uses a proprietary super-resolution algorithm solution to upconvert standard definition images/videos to near high definition level. The process is unique when compared to other upconversion processes, as it downscales the upconverted images/videos and then compares it to the original one, further enhancing the quality (also using Digital Contrast Enhancement) before finally upscaling it again.
Another great multimedia feature is one of the three Toshiba Value-Add software available on the laptop, namely Toshbia Face Navigation, which lets users select any face in a video, after which they can see all the parts of the video where the face appears. Useful if you are looking for a particular part of a movie, or enjoying the multiple player highlights in a sports match!
The other two Value-Add software are Toshiba Bulletin Board, and Toshiba ReelTime, both of which help users organize their tasks and files with unprecedented ease. The Toshiba Media Controller allows users to control the laptop media that's being ported to their televisions via their laptops, with innovative features, such as Flash video playback.
However, what is perhaps the most exciting thing about the laptop is its Toshiba Gesture Controller, which using the laptop's integrated 1.3MP HD Automacro Webcamera and the Quad-Core GPU to simultaneously recognize and interpret a user's hand gestures. This allows the user to control media as well as the mouse pointer (especially useful during presentations) on the Qosmio F60, with simple hand gestures.
We were unfortunately unable to get some hands-on time with the Qosmio F60-X5310 during our recent visit to the Toshiba laptop plant at Hangzhou. We will however be putting the laptop through its paces shortly, so stay tuned to learn how it performs, and how its Quad-Core GPU handles tasks like gaming, though we aren't sure if it isn't dedicated only to HD Transcoding, Resolution , Gesture Controller, and Face Navigation. That would be a great pity, to have such a GPU on board, and still use the integrated Intel HD graphics solution for everything else.
Check out the specifications below:
| | |
| --- | --- |
| CPU | Intel Pentium i5-520M processor (2.4 GHz with turbo boost up to 2.93GHz) Toshiba Quad Core HD processor Spurs Engine |
| OS | Choice of Windows 7 Home Premium 32-bit and 64 bit |
| Chipset | Mobile Intel HM55 Express Chipset |
| RAM | 4GB DDR3 1066MHz RAM (expandable up to 8GB) |
| Display | 15.6-inch WXGA HD Clear SuperView LED backlit TFT display, 1366x768 pixels |
| Graphics | Intel HD graphics with up to 1024MB shared video RAM |
| Hard Disk | 500GB (SATA) with 3D Motion Sensor |
| Optical Disc Drive | DVD SuperMulti Double Layer Drive (DVD RW/RAM) |
| Pointing Device | Touchpad with Gesture Support, and Gesture Controller |
| Communications | Bluetooth v2.1 with EDR, integrated WLAN 802.11 b/g/n, RJ45-10/100/1000Mbps Ethernet LAN |
| Built-in Camera | Built-in 1.3MP HD Automacro web-cam with Toshiba SmartFace technology |
| Sound System | Harmon Kardon Stereo Speakers with 16-bit stereo, with Intel High-Definition support |
| Interfaces | 2xUSB 2.0, 1xUSB/eSATA combo port (sleep and charge), RGB, HDMI-CEC, external mic, external headphone (stereo), SD card reader |
| Battery Type | 6-cell Lithium-ion |
| Battery Life | 3.5 - 4 hours |
| Physical Dimensions | 387 x 266 x 29.1/34.8 mm |
| Weight | 2.6 kg |
| Warranty | 1-year carry-in international limited warranty (parts & labour) |