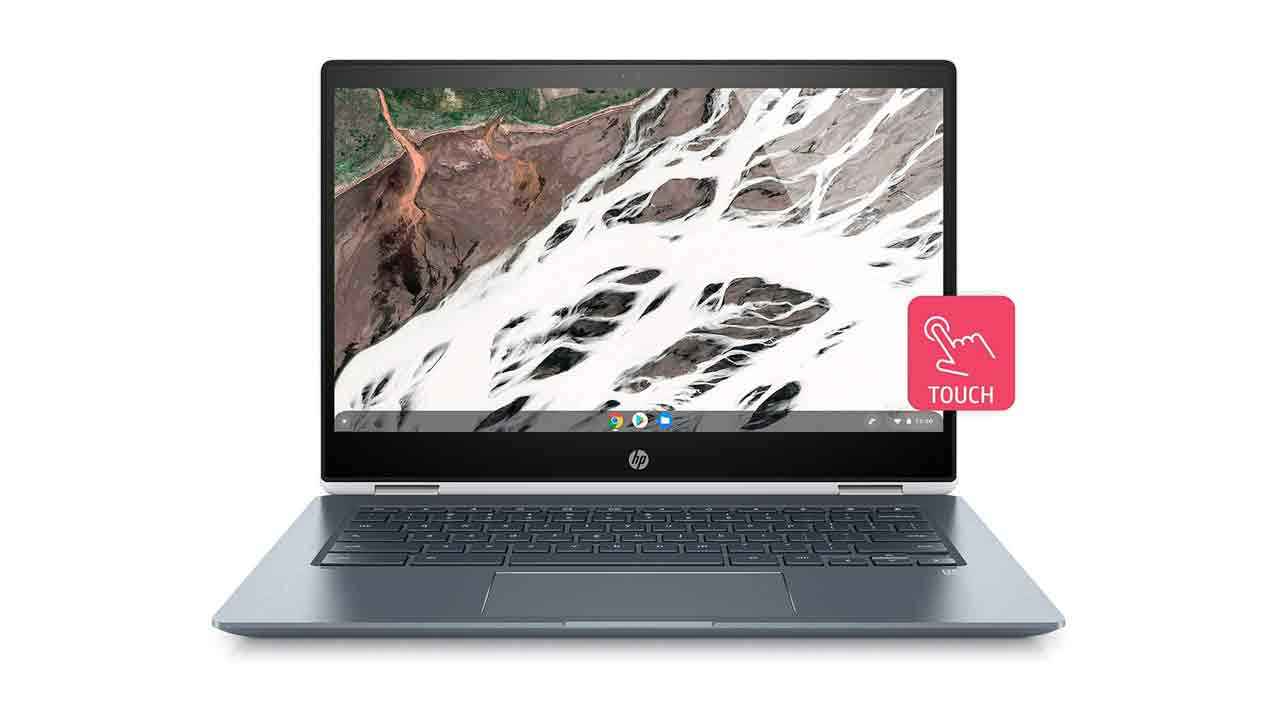 "Why buy a Chromebook when you can buy a laptop for similar price?" This is probably one of the questions that Chromebook owners hear a lot. Here's the thing – a Chromebook should suit you perfectly if you just use your laptop for basic functionalities like writing, creating presentations, browsing the internet, watching Netflix or playing a few basic games, without using any heavy apps like video editing software or high-end games. Chromebooks do not use Windows or iOS but instead use Chrome OS, which allows you to use all the apps from Google. Some advanced Chromebooks even allow you to download apps from the PlayStore. Chromebooks come in different sizes with varied features like touch screens or foldable screens. If you are someone who mainly uses Social Media, Gmail, YouTube and a few online streaming apps, then a Chromebook is great for you as it allows you to operate on a screen that's larger than a smartphone. Here is a list of some of the top Chromebook options you can buy:
HP Chromebook x360
If you are looking for a powerful Chromebook that lets you easily play light games or use different Google apps and other third-party apps, then the HP Chromebook x360 is one of the most robust Chromebooks that you can buy. It comes with 8GB RAM and 64GB eMMC SSD storage space (expandable to 256GB). It comes in two variants – one with an i3 processor and another with an i5 processor. Furthermore, it is one of the most stylish Chromebooks available in the market because of its convertible touch-screen that allows you to use it as 14-inch tablet as well. You get access to top apps like Amazon Prime, Adobe Lightroom, Evernote, WhatsApp and all the Google apps through this Chromebook, which makes it great for users who want all the basics to be sorted.
HP Chromebook 14
If you want to buy an affordable Chromebook that does not lack features, then the HP Chromebook 14 should be a great option for you. It comes with a 14-inch thin and light touchscreen with an Intel N3350 processor. It has 4GB RAM and 64GB memory along with additional cloud storage. Keep in mind that you can increase the storage space to 256GB with the help of an external card. The company claims that it offers 12hrs of continuous battery life with this Chromebook so that you can enjoy watching movies or work for long hours uninterrupted. It also claims that it boots up in less than 10 seconds, which just implies how fast and smooth the device is meant to be.
Asus Chromebook
If you are looking for a large Chromebook with a thin bezel display for a better viewing experience, then this Asus Chromebook with a 15.6-inch screen should fit the bill perfectly. It has a screen resolution of 1366×768 and also comes with anti-glare technology to enable you to use the laptop for long hours at a stretch. It comes with 4GB RAM and 32GB eMMC storage, but you get an additional 100GB storage in your Google Drive as well. You get access to a line of apps available on the PlayStore which will help you enjoy your favourite movies, songs, books, magazines and much more.
Acer Flagship R11
If you want a compact and stylish Chromebook, then the Acer Flagship R11 is a great option to look out for. With its small 11.6-inch convertible touch-screen display, you can most certainly use it as a tablet as well. It runs on an Intel Quad-Core N3160 1.6GHz processor and 4GB RAM, which should be enough for you to operate all your Google apps smoothly. With a 10-hour battery life, you should be able to power through your working hours with a single full charge, or so the company says. It also offers you a webcam to interact with others through Google Duo.