The Dell G16 7630 is a desktop replacement and you can't convince me otherwise. And after testing the laptop thoroughly I am convinced that it is easily just that. But a hefty price tag and some 'interesting' choices taken by Dell do try very hard to take the value out of an otherwise very well-built, high-end gaming laptop, that's also a desktop replacement. Yes, it is, and you can't convince me otherwise.
Before I begin, here's a small refresher about the Dell 'G' series gaming laptops. In terms of pricing, the Dell 'G' series sits below the Alienware gaming laptops but the former does take some of the best bits of the latter. For starters, the Dell 'G' series gaming laptops easily resemble the design and build quality of its much pricier cousin. And another thing which these laptops does really well is to offer a good thermal and graphics performance. The latter is due to the fact that Dell employs high TGP GPUs on its gaming laptops. But nothing is perfect and in the past, the Dell 'G' series gaming laptops have also suffered from a low-quality 250nits display.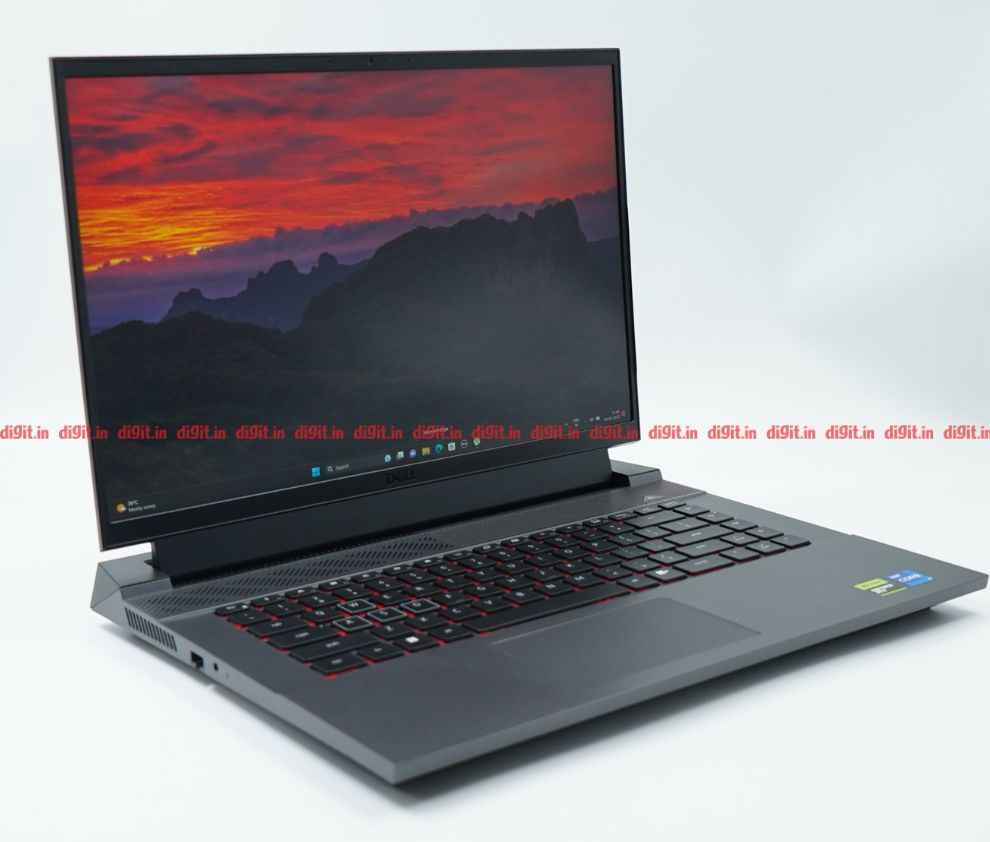 Today we're taking a look at the Dell G16 7630, a 16-inch 'G' series gaming laptop. So the great build quality, high TGP GPU and great thermal performance are some things which I am naturally expecting from this device. Moreover, considering its price tag, I am also expecting an overall excellent machine in all the other areas as well.
Dell G16 7630 Review: Specifications
Processor - Intel Core i7-13650HX 14-Core 20-Thread featuring a 4.90GHz boost clock
Graphics - Nvidia GeForce RTX 4060 with 8GB GDDR6 VRAM and 140W TGP
RAM - 16GB DDR5 4800MHz
Display - 16-inch WUXGA 16:10 display with 240Hz refresh rate
Storage - 512GB SSD
Weight - 2.8kg (approx.)
Battery - 84Wh
Dell G16 7630 Gaming Laptop: Build Quality, Keyboard And Trackpad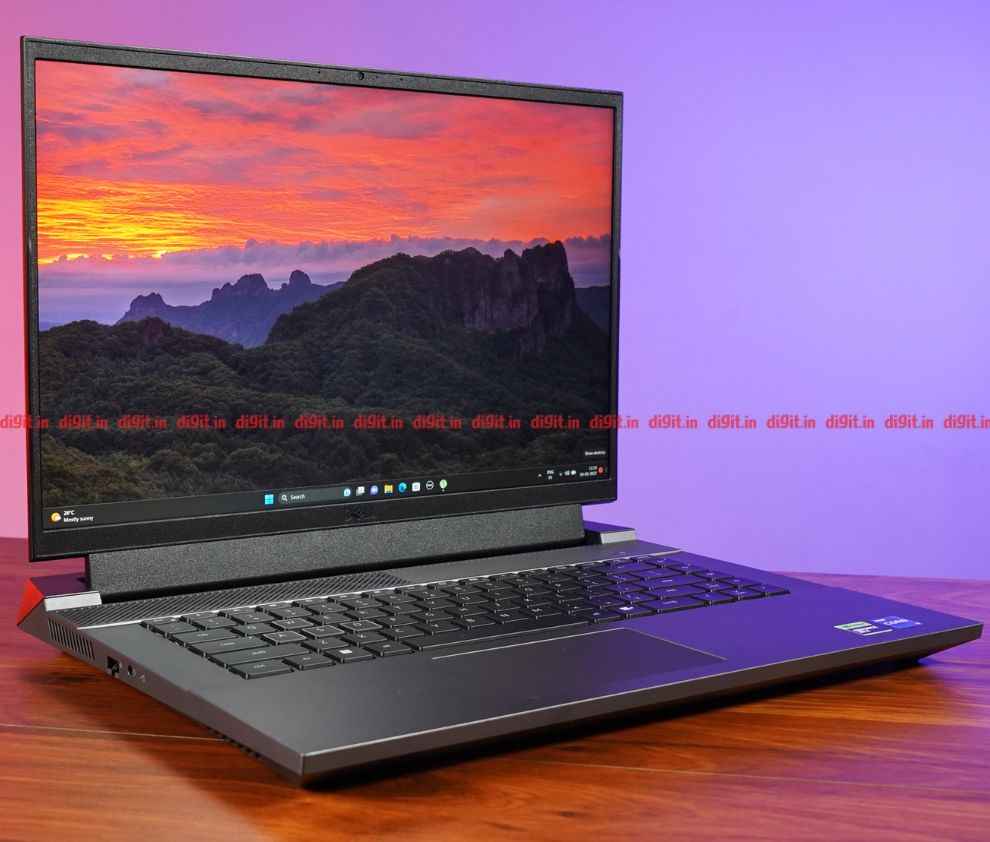 The Dell G16 7630 is big. Diagonally measuring a bit more than 16 inches, the latest G16 weighs close to 2.8kg. But that's not all its 330W charging brick weighs close to 1.2kg on its own. So do not consider this laptop as something you can carry around your back all day.
In addition to being big, it is also quite thick. At around 25.65mm thick, the G15 is as thick as a Samsung Galaxy Book3 Pro 360 and a Lenovo YOGA Slim 7i combined. And although it goes without saying, being a 16-inch gaming laptop, the Dell G16 7630 won't fit in the normal-sized office backpacks which are primarily designed for a 15.6-inch laptop.
Now that you know how big the device is, let me tell you how it's built. The answer is like a tank. More specifically, like a tank made out of hard plastic. The quality you get here is in terms of fit and not so much in terms of finish. The laptop's hinge feels very solid and stays in its position doesn't matter where you put it.
The laptop's deck is quite huge and it employs a 60% keyboard. Its keys have a good spring action and they're quite firm instead of being soft or mushy to press. Like, you do feel a good pushback when you press something and it makes the typing experience very good.
What's not so good is the accompanying trackpad. It fits well and has a good fit and finish but it's quite small. Its left and right-click buttons work decently well but I wouldn't choose them over a mouse. So my advice would be to get one whenever possible.
A gaming laptop requires good ventilation and this is where the Dell G16 does a really good job. The laptop's backside has two vents near the corner. Similarly, you'll find two vents on both the left and right side near the I/O ports. And finally, the laptop also has two vents underneath it. And as we'll see later in the article, the G16's overall awesome thermal performance is also representative of the same.
Dell G16 7630: Screen And Speakers
The Dell G16 employs a 16:10 aspect ratio display with 1600p maximum resolution support. Since it is a gaming laptop, the screen also has a maximum refresh rate support of 240Hz, which is pretty nice. The peak brightness of the screen, however, is a bit low at 315nits. Compared to a Lenovo Legion 7 Pro, which has a peak luminance of around 500nits, I really think that there is a bit of room here for Dell to improve. On its own, the 315nits does not look bad. But at this price range, the competition is really delivering a better package.
Earlier generations of the Dell G15 also had a low-brightness 250nits display. And although this one at least is a bit more bright. I really feel that in an era of AMOLED panels, which brands like ASUS have also begun to offer in a budget segment, low-brightness displays, at this price point, need to be phased out.
In terms of colour gamut coverage, the Dell G16's screen is quite good. It has 99% sRGB and around 98% DCI-P3 colour gamut coverage. The screen's overall average Delta E value, which represents a display's ability to showcase accurate colour, is 3.5. For reference, it should be lower to at least less than 3 to be considered a colour-accurate display. But this value is for an uncalibrated display. I reckon that with some tweaking, the display can be a bit better.
The speakers on the other hand are pretty loud. I generally do not expect gaming laptop speakers to be good but the one on the Dell G16 7630 is, for most intents and purposes, great. They're loud enough so you can play games in a noisy environment or even with the fan ON at full speed.
Dell G16 7630 Performance And Gaming Review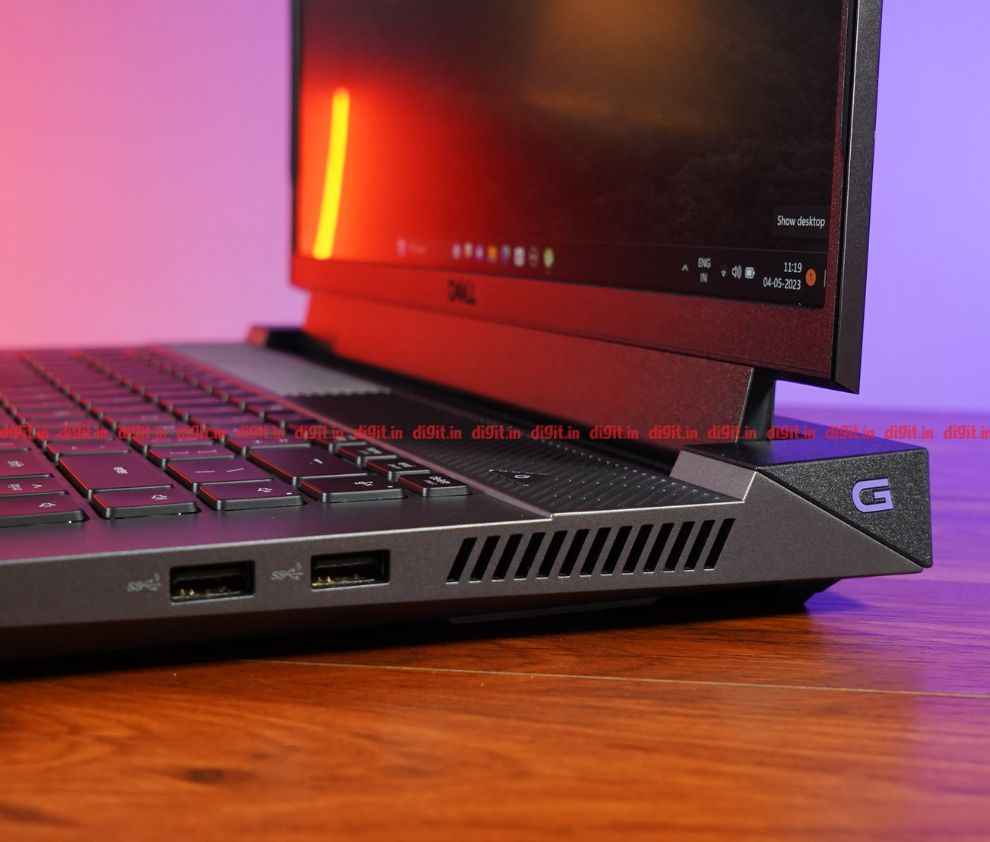 Before I dive deep into the laptop's gaming performance I have to talk about its fantastic I/O. The laptop comes with three USB Type-A super speed ports, an ethernet slot, a 3.5mm audio jack, a type-C PD charging port, along with a proprietary charging DC charging slot. The thing which is most impressive here is an HDMI 2.1 port, which is capable of outputting up to an 8K 60FPS display. Additionally, if you have an ultrawide 21:9 or a superwide 32:9 monitor, you can easily power it using this particular port. Thus allowing you to experience ultrawide gaming. And speaking of gaming.
In such a powerful laptop you expect high performance and the Dell G16 absolutely delivers. And the Intel Core i7-13650HX chip is the main reason. In the Cinebench R23, the Dell G16 scored around 19437 in the multicore score and around 1847 in the single-core test. Meaning, that the CPU performance of the Intel Core i7-13650HX is really high making it exceptionally suitable for tasks like video editing, gaming, streaming on YouTube, Twitch and much more. Not only that but the thermal performance of the laptop is also really good because, during the R23 throttle test, the laptop delivered sustained performance and only dropped a few points from its overall score. Also, remember that I am testing this laptop during summer with the ambient temperature hovering in the low 40°C.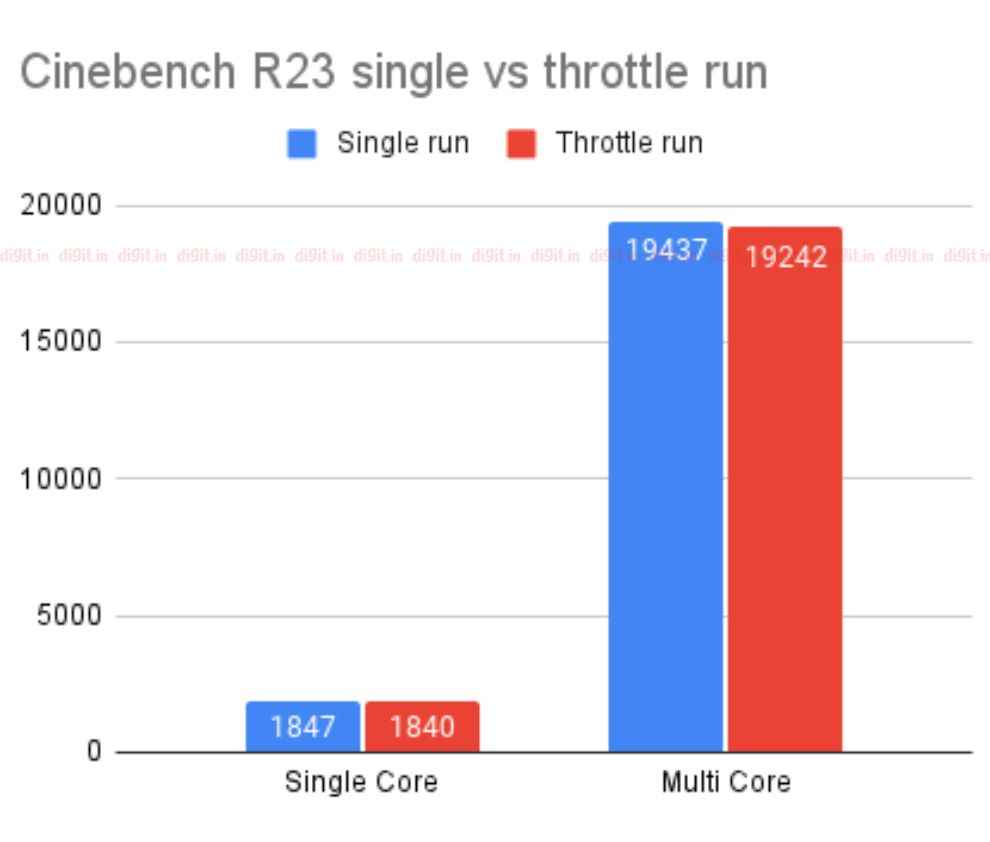 Moving on to the GPU and expect it to perform just as well. The other good thing that Nvidia GeForce RTX 4060 has is the high TGP. It comes with a 140W TGP. But I have to clarify to you here that in real-world tests, the GPU consumes a maximum of 114W in a sustained manner. However, the chip still has around 25W of dynamic boost. And if you take a look at the GPU benchmarks, the capabilities of the RTX 4060 and the generational gain from the RTX 3060 becomes much more apparent. The graph below also proves the same and it is a clear indication of how well the new RTX 4060 GPU performs.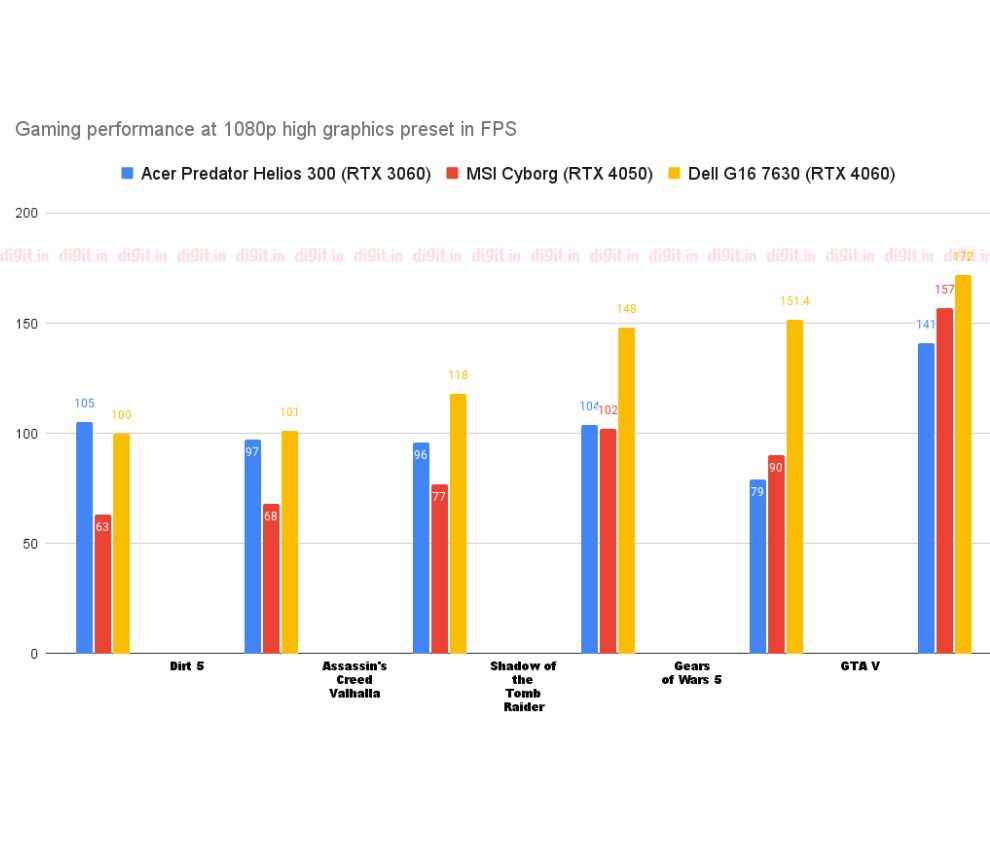 But the main letdown here is the slow 512GB SSD. Firstly, the 512GB unit is also pretty small in size and storage, for a high-performance gaming laptop. The SSD's sequential read speed is decent but the write speed is very slow. In our test, it came out to be 525MB/s. For comparison here are some SSD speed tests of some other laptops. But that's mainly because I have a review unit and not the actual retail unit. The Dell G16 which the customers will get their hands on will not have any such issues. Apart from that, the 16GB DDR5 RAM performs really well. But the laptop comes with a lot of bloatware and that eats up the memory usage quite a bit. In the stock condition, memory usage remains close to 48-49%. And if you run any apps like Chrome or Office, then the memory usage goes beyond 50%.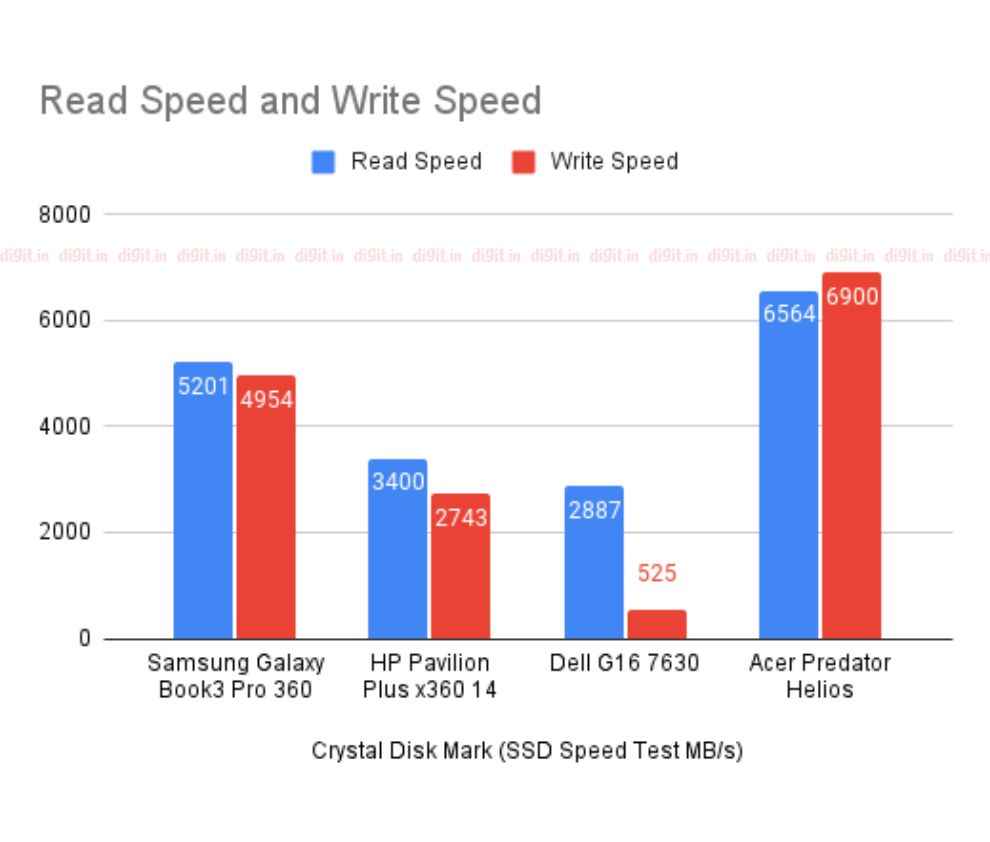 Therefore, I'd recommend cleaning it up by deleting the non-essential apps to free up the memory space.
Dell G16 7630 First Impressions - Conclusion
The Dell G16 7630 proves its worth as a high-performance gaming laptop. Its below-average portability and amazing throttle performance also make it an easy recommendation for anyone looking for a desktop replacement. But the small-sized SSD, average trackpad and a relatively low brightness display compared to the competition are the things that you must be aware of before making a buying decision. And lastly, I do need to point out here that the SSD size and speed here is mainly because it is a review unit. The starting price of the Dell G16 series is ₹1,61,990.