The Lenovo Legion 5 Pro gaming laptop is one of the best modern gaming laptops thanks to an AMD Ryzen 7 5800H CPU and a monstrous Nvidia RTX 3070 GPU. The laptop I tested is almost a desktop replacement. I said almost because a full-blown gaming desktop PC with an RTX 3070 requires a 750W of power supply meanwhile the Lenovo Legion 5 Pro gaming laptop uses a 300W power brick. The desktop GPU will always remain powerful. However, the Lenovo Legion 5 Pro can be a worthy investment if you want a powerful PC and building a desktop is just not an option. And in that case, here's how capable the Lenovo Legion 5 Pro gaming laptop really is.
Lenovo Legion 5 Pro Gaming And Performance Review: Specs
CPU: AMD Ryzen 7 5800H 8-core/16-thread processor with a 3.2Ghz base clock, 4.4Ghz boost clock and 45W TDP.
GPU: Nvidia Geforce RTX 3070 140W TGP with 8GB GDDR6 VRAM
Memory: 16GB DDR4 Dual Channel RAM @3200Mhz
Display: WQXGA LCD 1600p (2560 x 1600 pixels), 100%sRGB with 500nits of brightness
Storage: 1TB SSD
Battery: 81Wh
Weight: 2.4kg
Lenovo Legion 5 Pro Synthetic Benchmarks Review
The Lenovo Legion 5 Pro is available in two variants, one with an Nvidia RTX 3060 (6GB GDDR6 VRAM, 130W TGP) and another one with an RTX 3070 (8GB GDDR6 VRAM, 140W TGO). I have the latter one. And I think if you're looking to spend close to Rs 1.5 lakh on a machine then going with a GPU with at least 8GB VRAM is best for future-proofing. For reference, my particular model is listed for Rs 1,74,990 on Lenovo's website. However, the model on the official website is a 32GB RAM variant meanwhile the Lenovo Legion 5 Pro I have has 16GB DDR4 memory. It could become relevant with the tests we perform so keep that in mind.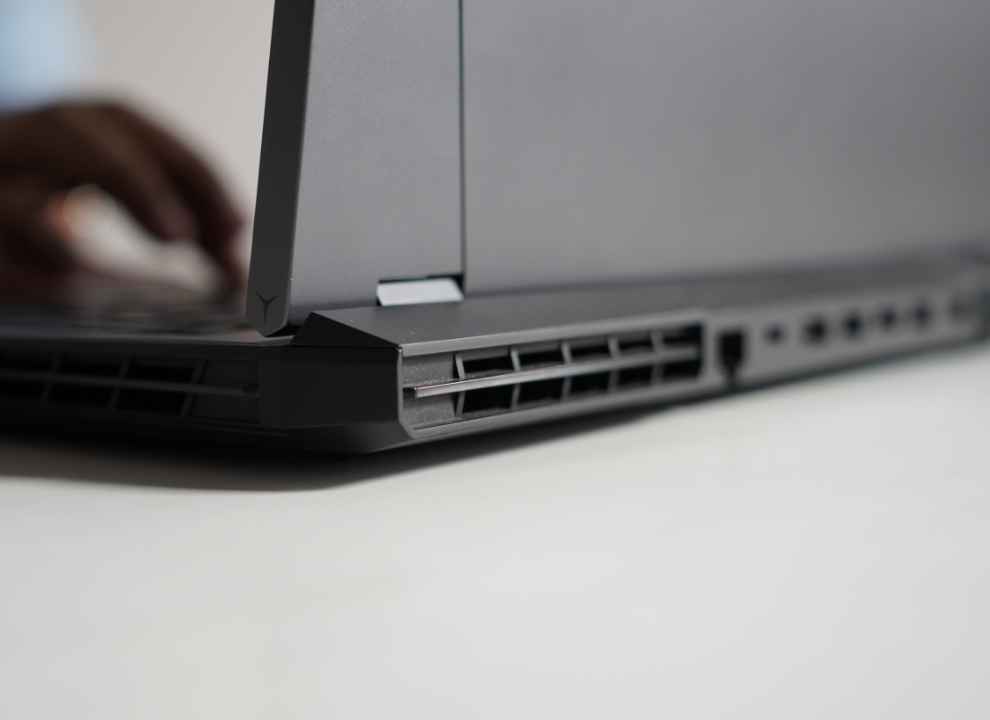 Speaking of tests, I ran a bunch of synthetic benchmarks on this device to see how it performed. Starting with the PC Mark 10, which tests a laptop overall performance, the Lenovo Legion 5 Pro scored 8779, beating out the HP Victus 16 we tested earlier by over 600 points. Both laptops are powered by the same AMD Ryzen 5800H CPU having the same 45W TDP. Although Lenovo Legion 5 Pro gained an upper hand over HP Victus 16 in terms of Digital Content Creation and Gaming, the latter has a better score in daily office tasks, however. That doesn't really mean much because both laptops are already an "overkill" for any kind of office task you can throw at them.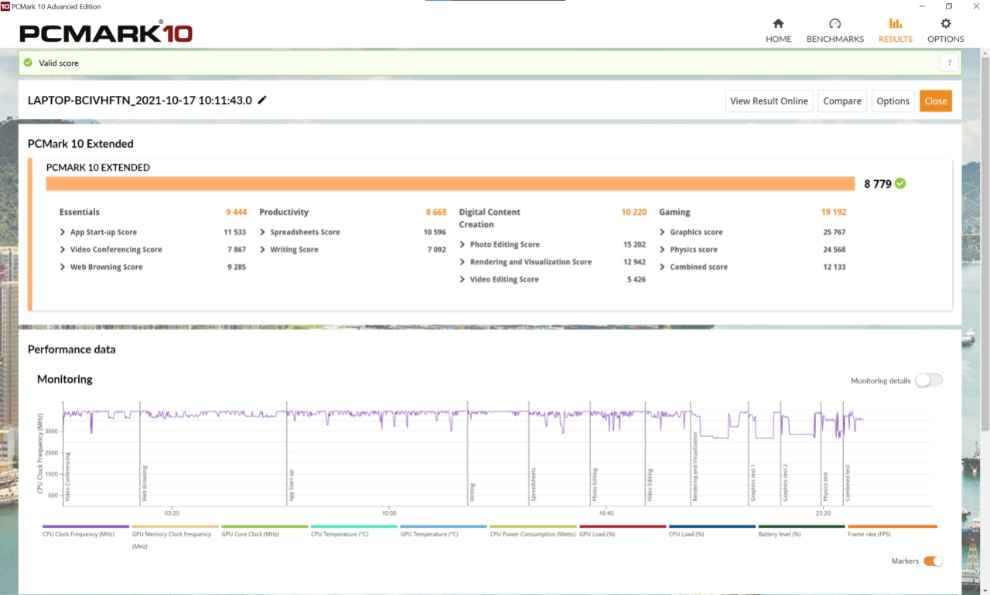 Next up, I ran Cinebench R23, to test the single-core and multi-core performance of the AMD Ryzen 7 5800H CPU. The Lenovo Legion 5 has scored 1398 in single-core performance and 12523 in multi-core performance. Meanwhile, the HP Victus 16 has a single-core score of 1412 and a multicore score of 11959 in the same test. Do note that we've had multiple Windows updates between the time interval of reviewing these laptops so the slight performance difference could also be due to that. In most cases, the CPUs in both laptops are pretty neck to neck.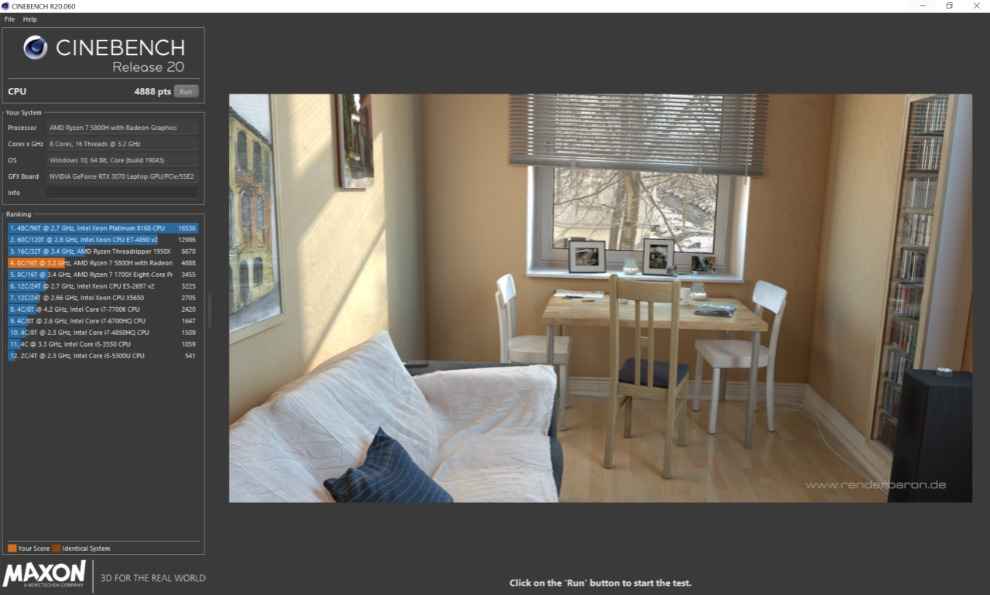 The same reason is most likely also responsible for the performance difference between these CPUs in the Cinebench R20 test as well. The difference is minute as far as I am concerned and causes little to no change in real-world performance.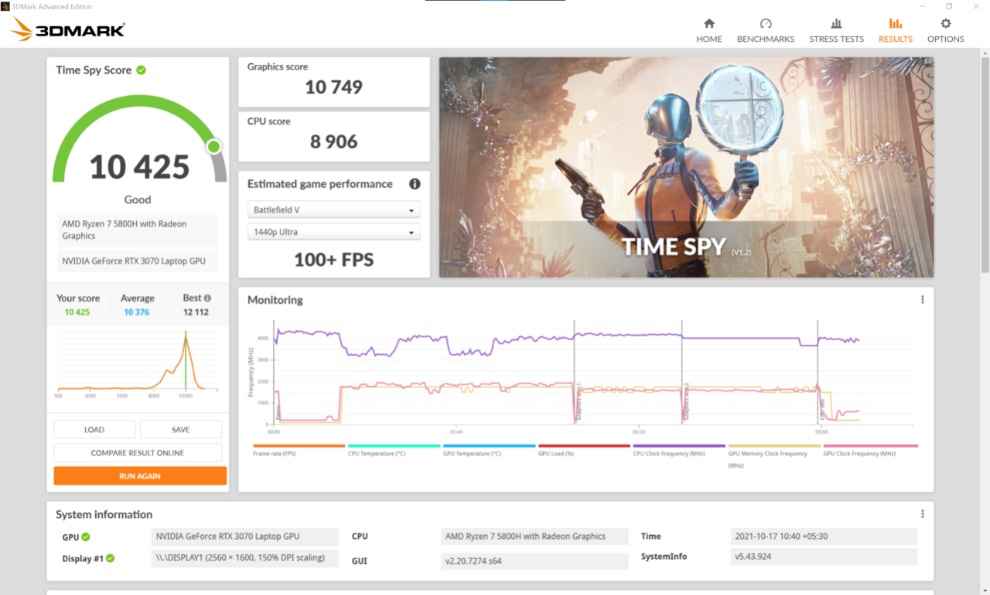 We see a big difference in terms of synthetic GPU performance benchmarks. In 3D Mark's Timespy, the RTX 3070 in the Lenovo Legion 5 Pro scored 10425, for comparison, the RTX 3060 in the HP Victus 16 scored 7939. In 3d Mark's Firestrike, the RTX 3070 scored 23390 meanwhile the RTX 3060 has a score of 18034.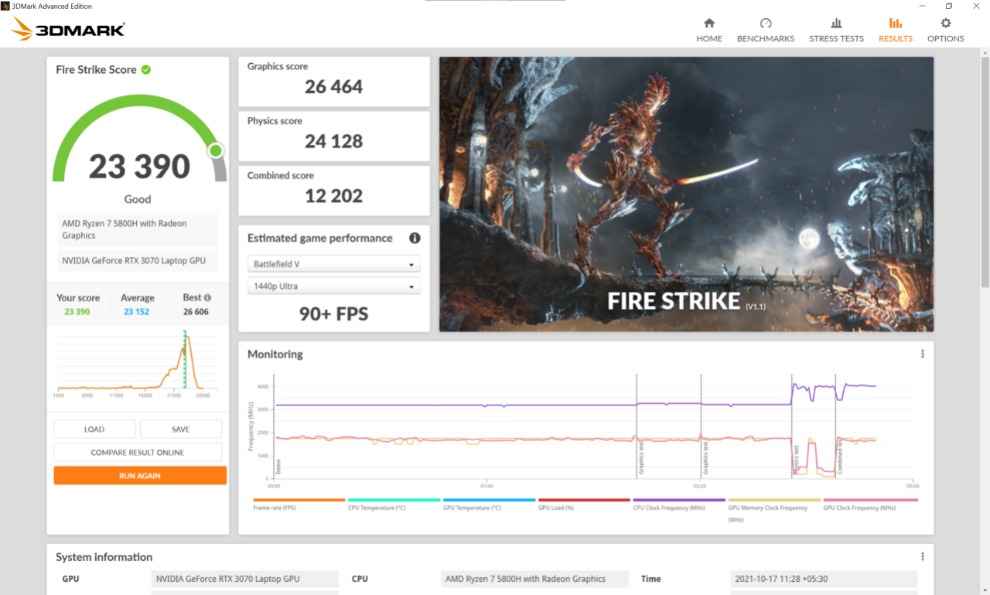 Overall, these benchmark figures prove that the AMD Ryzen 5800H CPU and the Nvidia RTX 3070 GPU are both pretty solid performers.
Lenovo Legion 5 Pro Thermal Performance Review
The Lenovo Legion 5 Pro comes with two vents on the side, two on the back and multiple vents below the laptop. We tested the laptop's performance during CPU/GPU focused benchmarks and gaming. During the TimeSpy synthetic benchmark, here's how the Lenovo Legion 5 Pro performed. As you can see, the CPU temp remained between 60-100 °C celsius most of the time.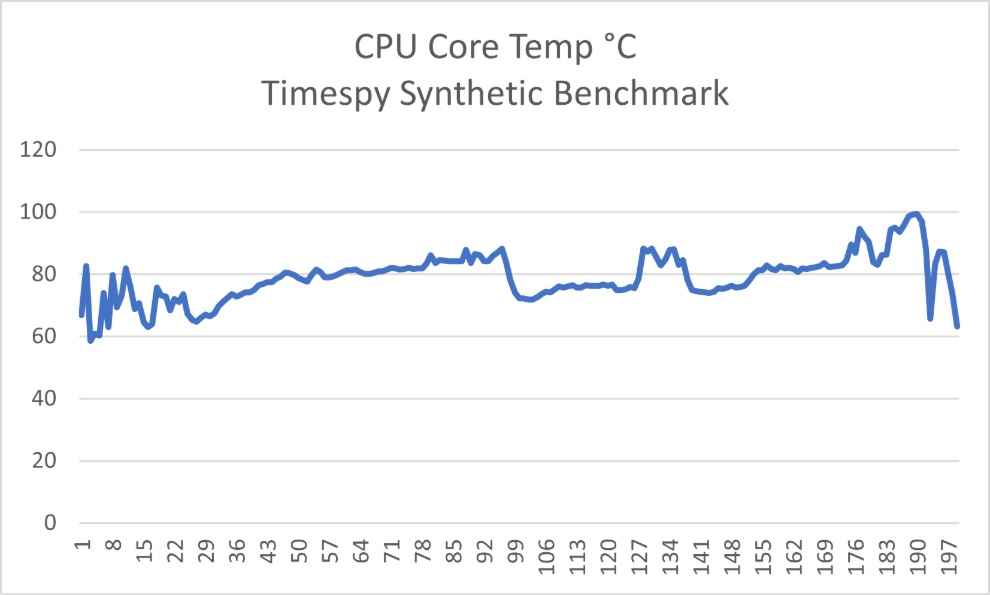 The CPU did manage to touch 100 °C towards the end of the test but quickly came down. The GPU temps also remained pretty well managed between 50 to 80 °C during the same test which indicates good cooling capabilities.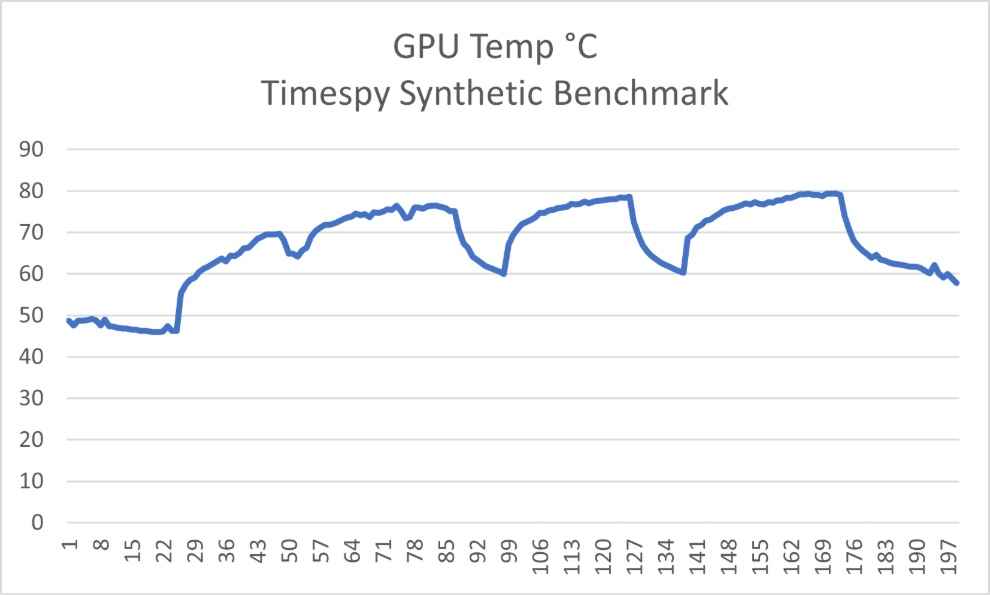 In terms of gaming, I tested the laptop's thermal performance while playing AC Valhalla. I changed the game graphical setting to Ultra-high and the resolution to 2560 X 1600 pixels. And here are the results. As you can see during the in-game benchmark testing, the CPU temp remained between 76 to 88 °C.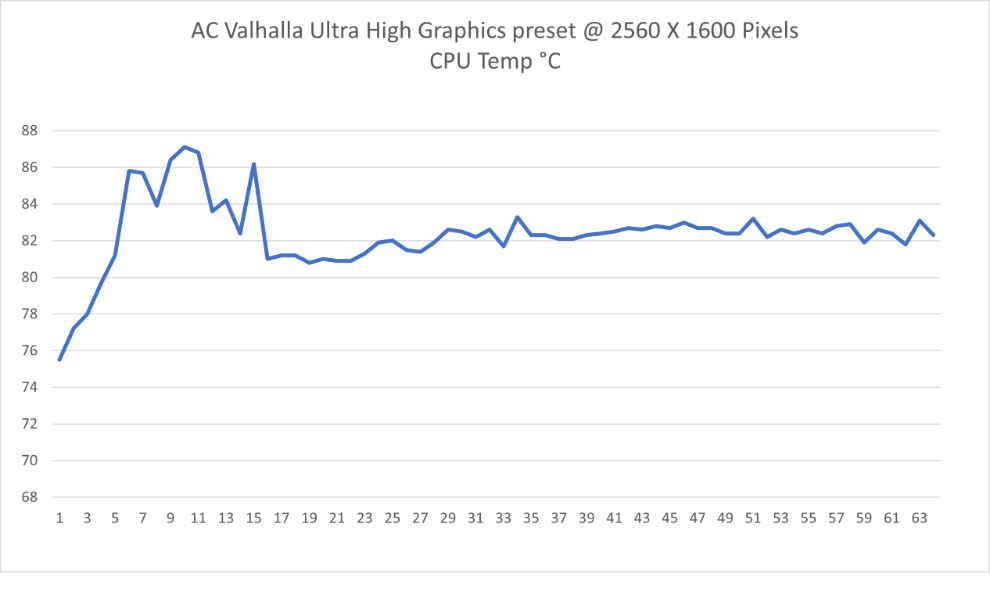 The temp spiked off initially but then hovered between 80 to 82 °C during the rest of the test. GPU temperature on the other hand remained between 68 to 80 °C. The temperature did reach close to 80 °C celsius towards the end of the test.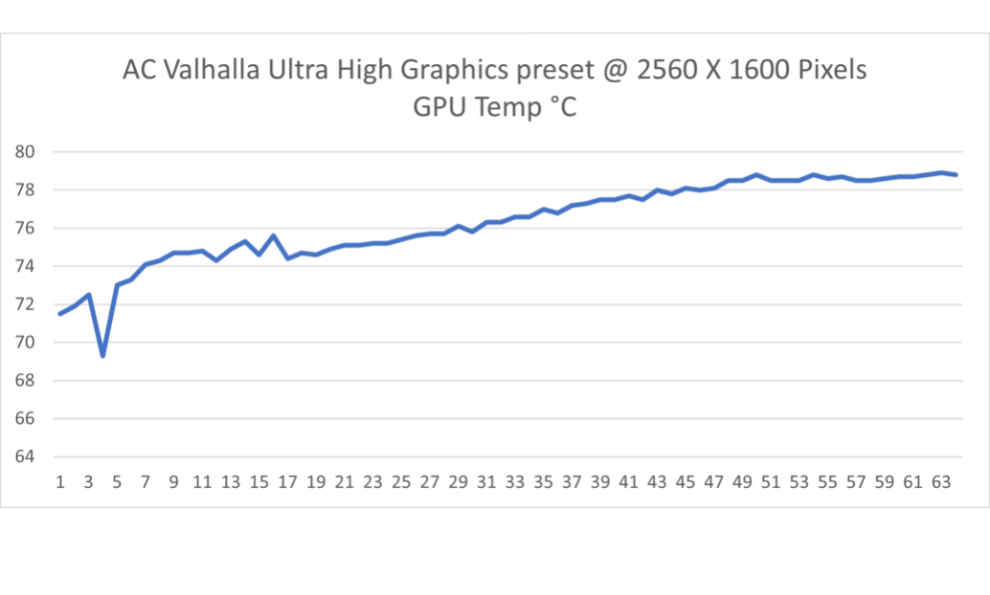 Lastly, in terms of surface temperatures, I found only one area which emitted most of the heat. The area near the mid of the keyboard is the place that sees the most rise in temperature. However, W, A, S, D keys and the palm rest remain relatively cooler.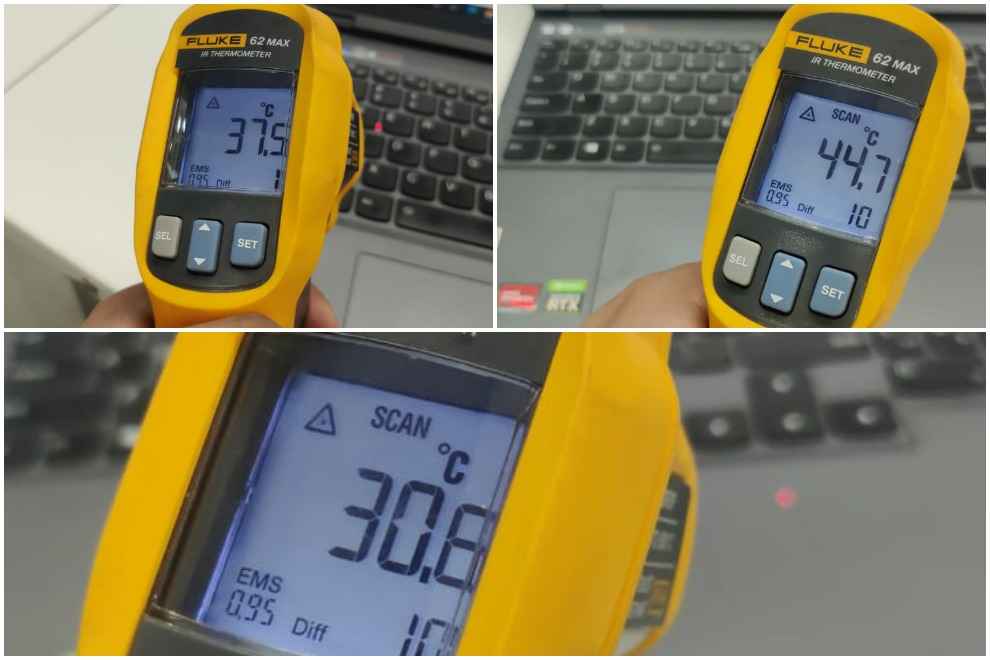 Lenovo Legion 5 Pro Gaming Performance Review
The Lenovo Legion 5 Pro has a 2560 X 1600 pixel native resolution. Therefore we tested some of our most demanding games in high and medium graphical preset at two resolutions: 1920 X 1200 pixels and 2560 x 1600 pixels. When testing the games at 1920 x 1200 pixels, we found that the laptop performs exceedingly well in our test titles.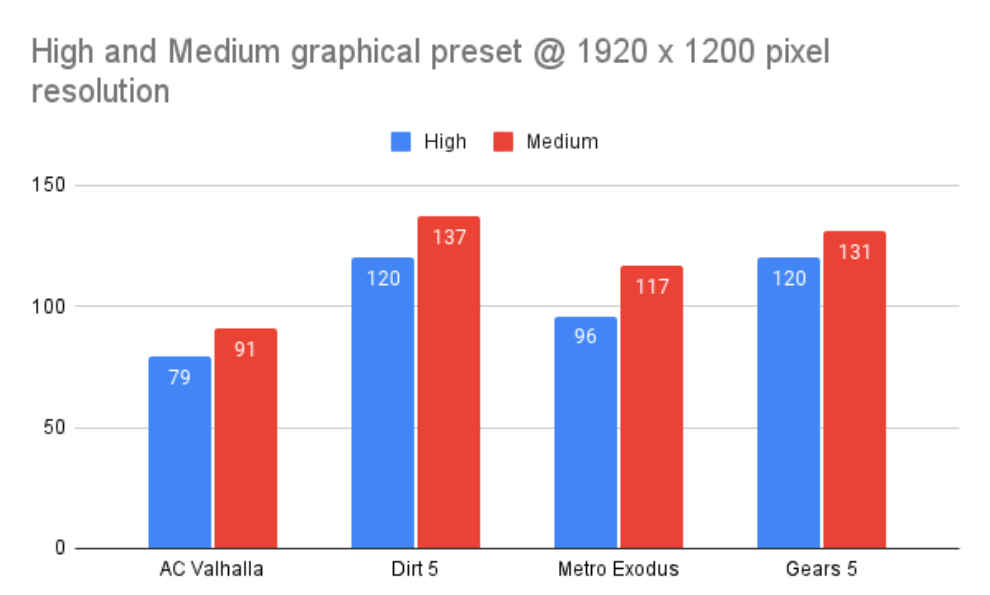 In extremely demanding titles like AC Valhalla, the laptop delivered 79 FPS at high graphical settings and 91 FPS at medium settings. Furthermore in games like Metro Exodus, the Lenevo Legion 5 Pro scored 117 FPS in medium settings giving us an ultra-smooth experience.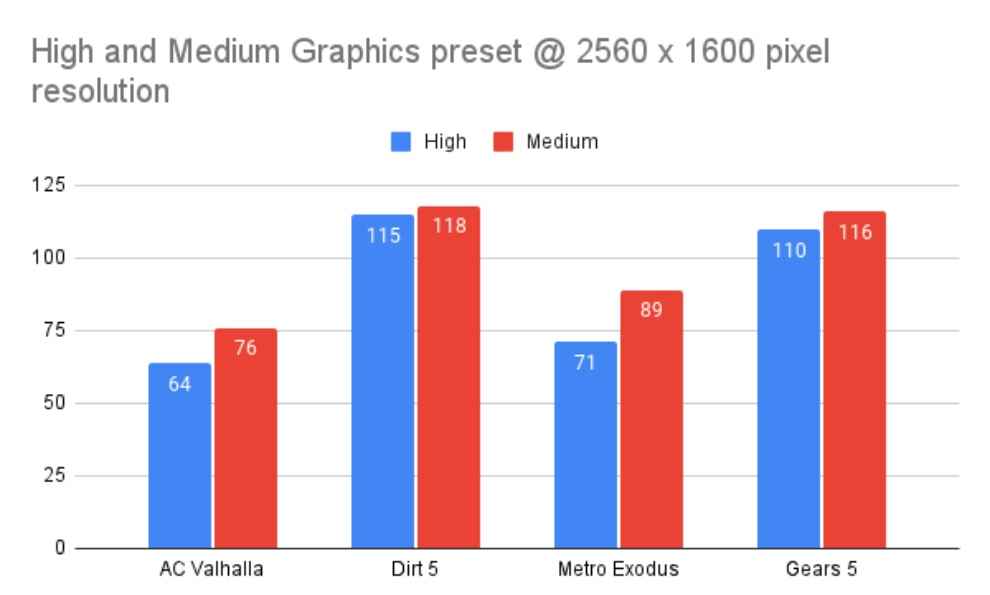 At the higher 2560 x 1600 pixel resolution, the laptop managed to deliver great performance as well. You can still play AC Valhalla at above 60FPS in high settings at this resolution. Additionally, you can also play Dirt 5 and Gears 5 at more than 100 FPS at this high resolution. Overall, the Lenovo Legion 5 Pro is easily capable of delivering more than 60 FPS in demanding AAA titles at 1600p resolution and more than 100 FPS at FHD+ resolution.
Lenovo Legion 5 Pro Display
The Lenovo Legion 5 Pro comes with a WQXGA LCD 1600p display which supports 165 Hz of max refresh rate. It has a maximum resolution and brightness of 2560 x 1600 pixels and 528 nits. In our test, we found that the display covers 99% sRGB and 77% DCI P3 colour spaces.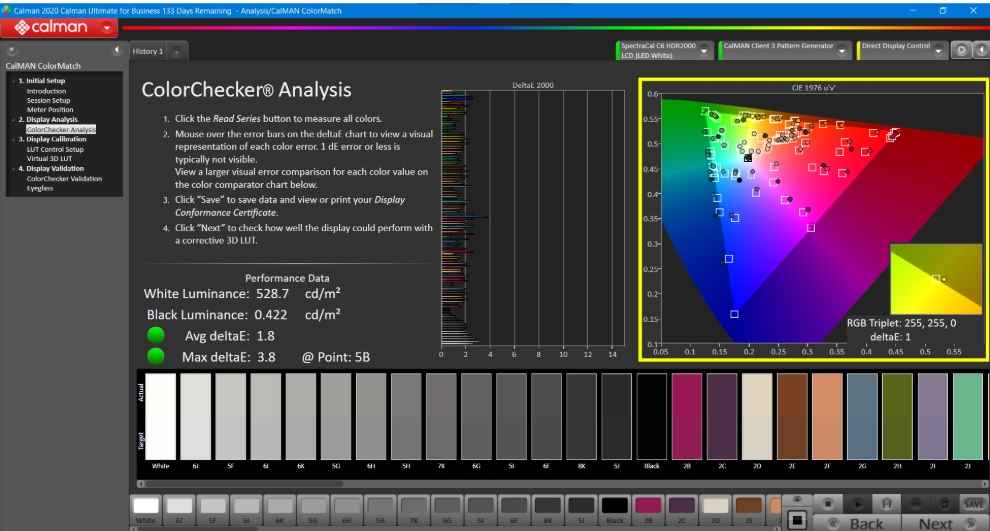 However, the main highlight of this display is its colour accuracy. During the Calman ColorChecker analysis, we received an average DeltaE value of 1.8 and a maximum DeltaE value of 3.8, making it one of the most colour accurate displays on a gaming laptop.
Lenovo Legion 5 Pro Gaming And Performance Review: Verdict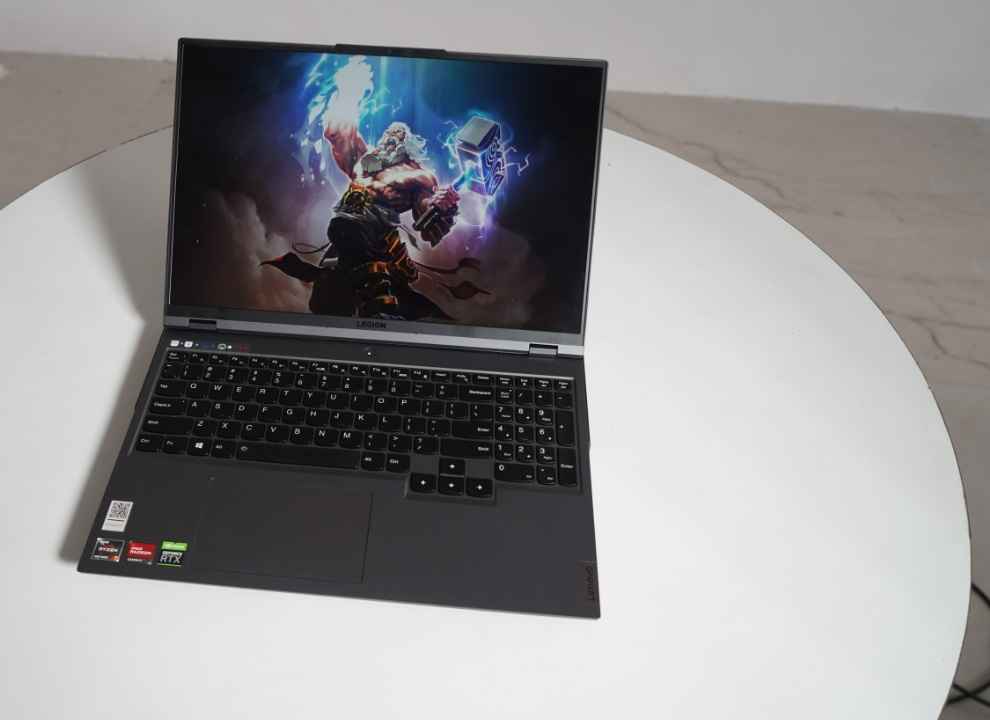 The Lenovo Legion 5 Pro packs with it a powerful CPU, extremely capable graphics card, a great display, and a hefty price tag. Is the Lenovo Legion 5 Pro, the best in its class? Probably yes. But is the best use of your money, well it depends. If you're looking for an all-rounder gaming/content creation machine for editing 4k videos and playing games at ultra-high settings then Lenovo Legion 5 Pro will fit you like the Iron Man suit fits Tony Stark.
But if your budget is a little tight and all you want is a gaming laptop that'll last two or three years then you can find a better deal out there. For example, the Acer Nitro 5 powered by an AMD Ryzen 9 CPU and an Nvidia RTX 3060 can be purchased for Rs 1.31 lakh. However, you will only get a 1080p 144hz display with that laptop along with a tiny 256GB SSD and an ancient 1TB HDD.
With this knowledge, I hope you're ready to take a final decision.