Intel had launched some of its 9th generation desktop CPUs earlier last year, but it was only a few weeks ago that the processor finally released its entire 9th-gen lineup, including the processors for laptops. There are a total of 6 SKUs for laptops, two in the Core i9 series, two in Core i7 and two in Core i5. Unlike with the 7th and even the 8th generation chips, Intel is putting an immense amount of focus on the new generation of processors' gaming chops and worthiness in machines used for creative tools. This isn't a bad approach, given that by Intel's estimates, there are about 580 million PC gamers and about 130 million PC-based content creators. That is a huge market, one that Intel projects is only going to grow in the coming years.

All the Intel 9th generation laptop SKUs
In a closed-door session with select media, Lee Machen, General Manager, Gaming Sales at Intel dives into the 9th generation processors, stating that Intel refers to them as platforms. The concept of the platform is built on three key areas of delivery; enthusiast gaming, content creation and premium performance. In order to achieve this, Intel is pairing their 9th generation laptop processors with key innovations like built-in gigabit Wi-Fi (Wi-Fi 6), Optane for better performance on machines with a traditional hard drive, a focus on graphics and improved battery life. Machen also mentioned displays as a part of this platform, which he says is critical for content creators. He points to the increased use of IPS displays in gaming machines, capable of high refresh rates. He said a lot of content creators have used gaming laptops for their work, but the display had traditionally been a problem. This is solved by IPS displays, with some manufacturers going so far as to get them certified and factory calibrated. The ninth generation bridges the gap between gaming laptops and laptops for content creation, finally merging both the types into one.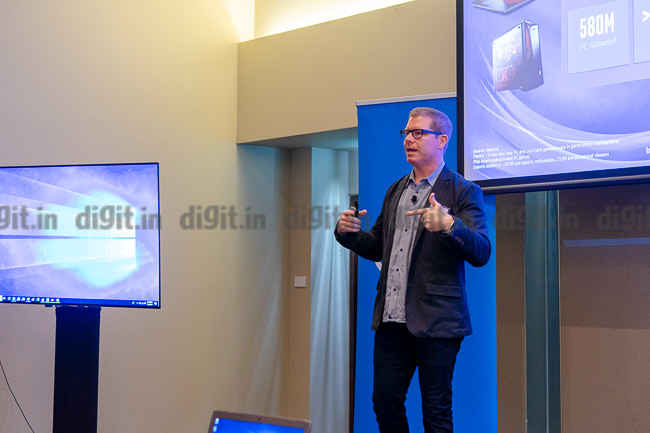 Lee Machen addressing the media on the benefits 9th generation processors will bring to laptops
Given the platform approach, it does seem to shed some light on why the laptop SKUs of the 9th generation has come much later than its unlocked desktop counterpart. The Intel Optane H10 modules are only just starting to make their way off the manufacturing line, and routers capable of Wi-Fi 6 are only starting to come into the market. IPS panels have finally gotten to the point where they can support refresh rates as high as 240Hz. OEMs have finally started to work out the thermals, allowing some of the models they offer to be considered "slim." Bringing the 9th generation laptop processors to the market at this point in time makes plenty of sense for how Intel plans on marketing the new generation of machines. We're already starting to see incredibly unique form-factors in the laptop space like the Asus ROG Mothership and the Acer Triton 900. We also now have super thin gaming laptops with enough power to please even competitive gamers. The ninth generation from Intel isn't going to be about just pure performance, but finally, also about elevating other features which could make laptops the choice of device for gamers and content creators alike.