A brand that needs no introduction when it comes to gaming. Alienware has been at the forefront of building gaming PCs for hardcore gaming enthusiasts for the past 25 years. Anand Subramanya, Director – Product Marketing, Consumer & Small Business for Dell India talks about what makes the brand so appealing to the hardcore gamer and how what can gamers expect from the brand going forward as it completes 25 years in the gaming arena.
Digit: As an Iconic gaming brand, Alienware is known for pushing the boundaries when it comes to PC gaming hardware, how far has Alienware managed to build that connection with the gaming enthusiasts in India?
Anand: We have been at the forefront of shaping the gaming industry for more than 25 years with Alienware. Gaming has certainly seen growing interest globally as well as in India. While the ecosystem is coming together in India, we have been engaging with the gaming community closely to grow the overall ecosystem.
Over the last decade, we've had the privilege of nurturing the growth of esports globally. Alienware and Team Liquid have partnered for the last 10 years on this phenomenal esports journey. As per a report by EY, the esports industry is expected to grow at a compound annual growth rate (CAGR) of 46% to touch ₹11 billion by 2025. With this phenomenal growth comes significant job opportunities too, and not just for the players and trainers. It takes thousands of software engineers, content creators, data analysts, game designers, social media specialists, venue operators, accountants, lawyers, and more to make the world of esports turn.
To further drive this growth, in India we have leveraged our partnership with Team Liquid and Ankit Panth from Team Brutality to host gaming masterclasses during our ongoing 3rd edition of Dell Futurist. It is a program for college-goers who wish to develop careers in the field of gaming and entertainment. One can register and get access to subject matter experts in gaming or even interact with e-sports team leads like Ankit. In last year's edition of the Alienware #LevelUp challenge, we saw participation from over 100 squads from various parts of India where Team Mighty emerged as the winner.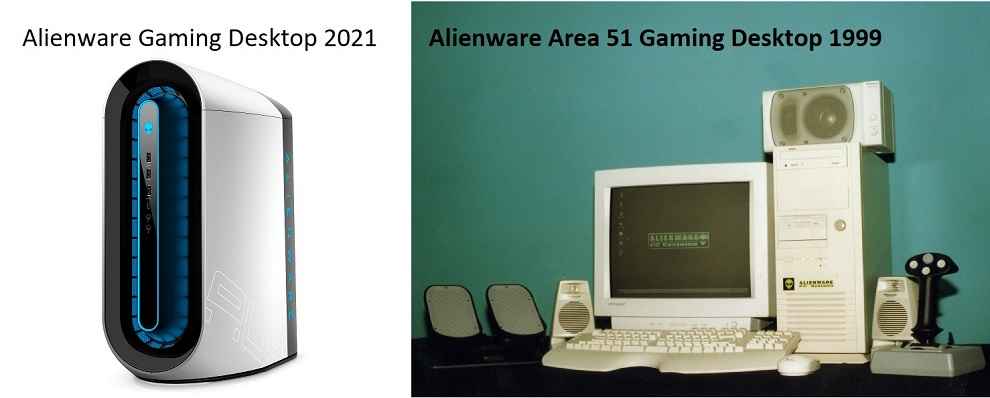 Digit: With the PC Gaming industry growing and evolving at a rapid pace, how has Alienware's portfolio adapted to the change and shift in preferences?
Anand: Alienware brand stands for bold innovations, high performance, Iconic design & premium quality, besides leading the segment with tech innovations, like Alienware Cryo-TechTM cooling technology, Alienware command centre, etc. Over the years, you've seen us make some radical upgrades to our Alienware family. From unveiling Alienware Area 51m, the most upgradable, overclockable laptop with desktop-grade performance, to the world's first gaming laptop designed in collaboration with CHERRY MX to debuting the brand-new X-Series family - our thinnest 15" and 17" laptops to date. We've always listened to what our customers want and brought about some major changes to our design language as well as thermal capabilities. In the Alienware X-Series, we engineered the next evolution of our Alienware Cryo-TechTM cooling technology which introduces Element 31, an exclusive thermal interface material (TIM) concocted from Encapsulated Gallium-Silicone liquid metal compound. This material exists between the CPU and its thermal elements to disperse heat and mitigate spikes in core temperatures from affecting the system's performance. Unlike what's currently available on the market, X-Series delivers up to a 25% improvement in thermal resistance advantage with Element 31.
Anand Subramanya, Director – Product Marketing, Consumer & Small Business, Dell Technologies, India
Digit: From a core product perspective, gaming laptops still seem to have a few limitations (thermals and footprint), when it comes to pure performance and how far one can go on the design front. What are Dell and Alienware doing to stay on top of the curve?
Anand: This is exactly what we have tried addressing with our new Alienware X-Series. When developing the X-Series, we wanted to provide the gaming community with more than just your everyday thin gaming laptop. We wanted to challenge the status quo and create something that redefines the ultimate mobile gaming experience. Advancement in thermal technologies within mobile form factors continues to be the number one request from our customers. Besides engineering Element 31 for hyper-efficient cooling, we also introduced a new positioning of the fans. The new Quad-Fan technology is an industry-first exclusive and patent-pending design. This new design includes a combination of standard evacuative fans which move air through the system as well as, patented, dual opposite outlet (DOO) fans. DOO fans blow air through the system, through the chassis, and over various internal hotspots. By doing so, they create a pressurized environment where air floods the inside of the chassis while also pushing air out making them excellent help towards the dissipation of heat which aid in the reduction of skin temperatures (external temperatures to the touch) and/or gaming performance. In this Quad-Fan design, each fan is also intelligently controlled and uniquely programmed. Depending on the thermal conditions of the system anyone fan may ramp up or spin down in order to meet the desired equilibrium or new target state.
The technologies allow gamers to enjoy their favourite games at high performance within an exceptionally thin form factor while maintaining an impressive level of quiet and coolness.
Digit: Alienware just turned 25! How is Alienware celebrating its 25th Anniversary in India?
Anand: Our 25-year old legacy is a strong statement of the strong engagement we share with our consumers and our gaming community particularly. Our secret sauce, while there really is not one, is a combination of our commitment to fuel technology innovations and understanding the gaming community closely.
On this special occasion globally, we have announced the new Aurora desktop. The Alienware Aurora is a reflection of the ecosystem's strong need for a true computer dedicated to serving PC gamers. Alienware Aurora, our flagship desktop that pioneered the liquid-cooling movement, stood as a symbol of innovation when it was introduced in 2004 (recognized as the Aurora ALX back then) and has since become the mid-tower desktop of choice for the world's best esports players in the most demanding, high-stakes tournaments. The Alienware Aurora is available for our global consumers and is soon making its way to the Indian market. To explain this in terms of a few features, the new Alienware Aurora debuts an open-air design that reorganizes its inner components to promote better accessibility, greater airflow, improved acoustics, and cleaner cable management--enriching the gaming experience in every possible way. This new open-air design increases internal chassis volume by a whopping 50% without significantly expanding the overall footprint of the chassis. The result is more efficient total airflow and a reduced acoustic profile that provides gamers with a more enjoyable daily experience. All while providing a 5% increase in graphics performance.
The Alienware Aurora mirrors the kind of high-tech innovation we stand for as a brand.
Digit: With the launch of the Alienware X-series, can we expect even slimmer and lighter gaming laptops from Alienware in the future?
Anand: While Alienware's X-series laptops are purpose-built to deliver high-performance in boundary-pushing designs, our M-Series can be more versatile and introduce new components more quickly as its chassis offers greater freedom. We invest a significant amount of R&D into this family to discover new materials and invent breakthrough cooling solutions, which results in longer planning and engineering cycles. Our portfolios are designed to cater to users as per their tailored needs and hence we will continue to innovate and engineer new designs that set Alienware and our gaming community a class apart.