ASUS ProArt StudioBook 16 OLED is the latest creator's laptop which promises to bring some cool new features for video and photo editors around the world. Right off the bat, the StudioBook 16 sports a dashing 16-inch OLED 4K HDR display which the ASUS claims is one of its kind. The laptop also features new design changes that could potentially help the ASUS ProArt StudioBook 16 become one of the best creator's laptops on the market.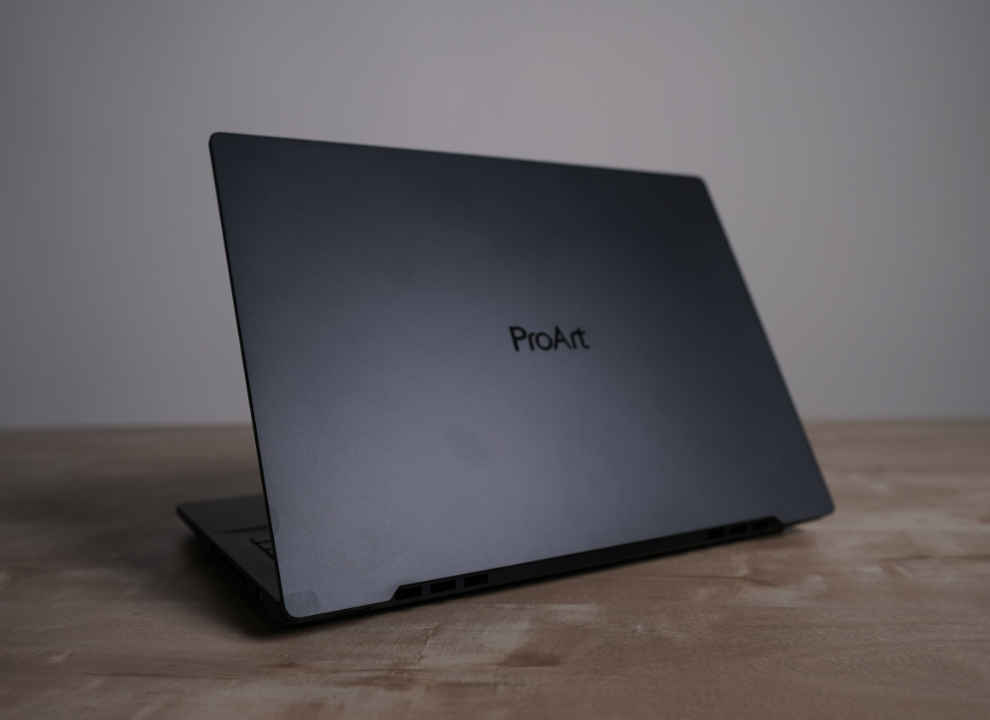 ASUS ProArt StudioBook 16 OLED Specs
Processor: AMD Ryzen 9 5900HX with up to 4.6Ghz boost clock along with 8-cores and 16-threads
Graphics Card: Nvidia GeForce RX 3070 With 8GB GDDR6 VRAM and Nvidia Studio Drivers Support
Display: 16-Inch 4K OLED HDR Display with 60Hz refresh rate
RAM: 32GB DDR4 (3200MHz)
Storage: 1TB NVMe SSD
Weight: 2.4kg
Battery: 90Wh
ASUS ProArt StudioBook 16 OLED: Synthetic Benchmarks Performance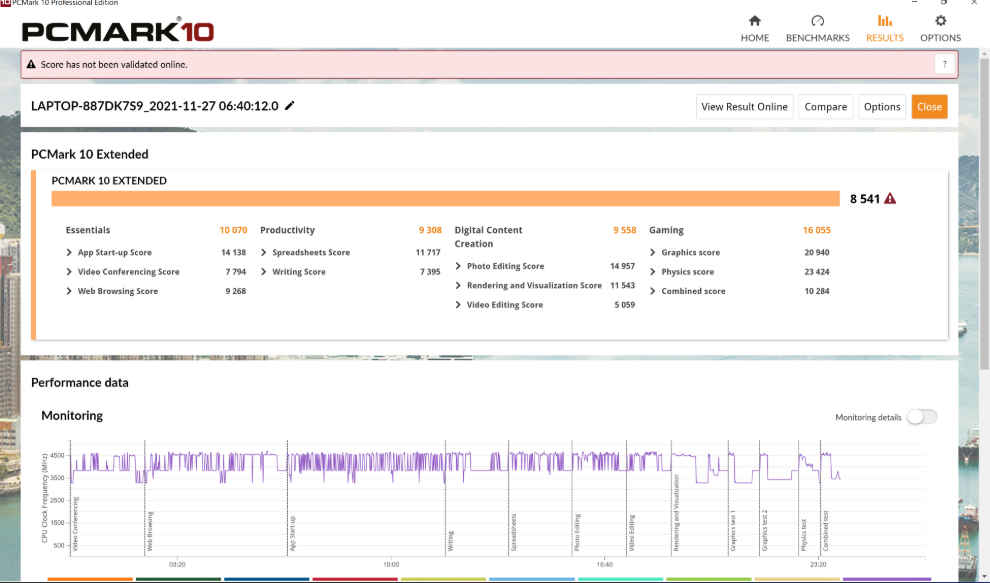 I ran the ASUS ProArt StudioBook 16 OLED through a variety of productivity, creative and gaming-focused synthetic benchmarks to get an overview of its performance. Starting off with productivity, I ran the standard PC Mark 10 Extended synthetic benchmark to find out how capable this creator laptop is in terms of daily tasks. Unsurprisingly, the ASUS ProArt StudioBook 16 OLED aced through all the tests beautifully. It especially scored high marks in Productivity and Digital Content Creation. Now, these numbers on their own don't mean much, so here's how another extremely powerful gaming laptop performed in the same test.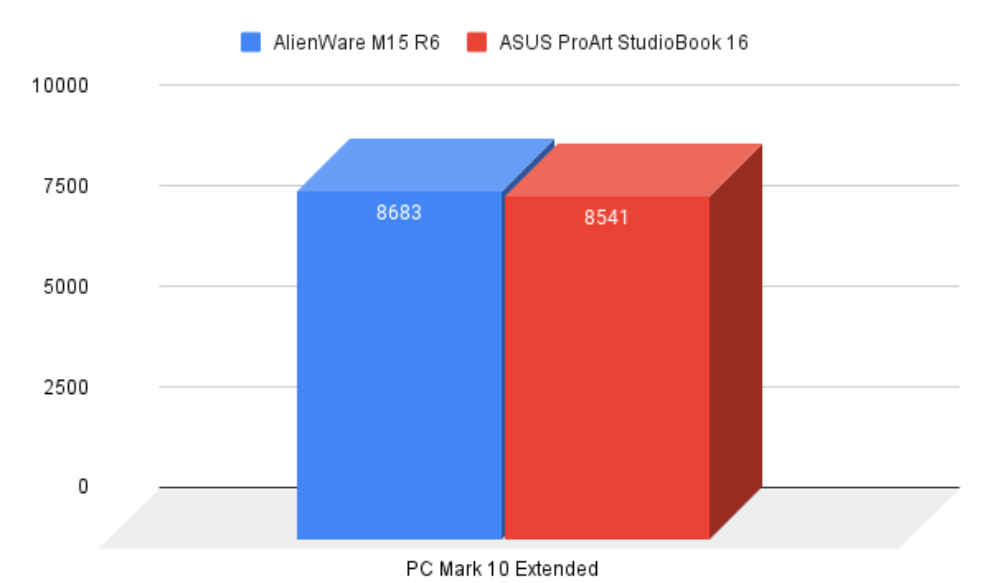 As you can see the laptop performed remarkably well compared to a gaming laptop with almost similar specs. However, this is just a glimpse of what the ASUS ProArt StudioBook 16 OLED can do. Quick reminder, I did all these tests while keeping the laptop in performance mode which increases the CPU power consumption significantly. It also increases the fan noise but even with fans spinning at maximum speed, the noise did not interfere with my work.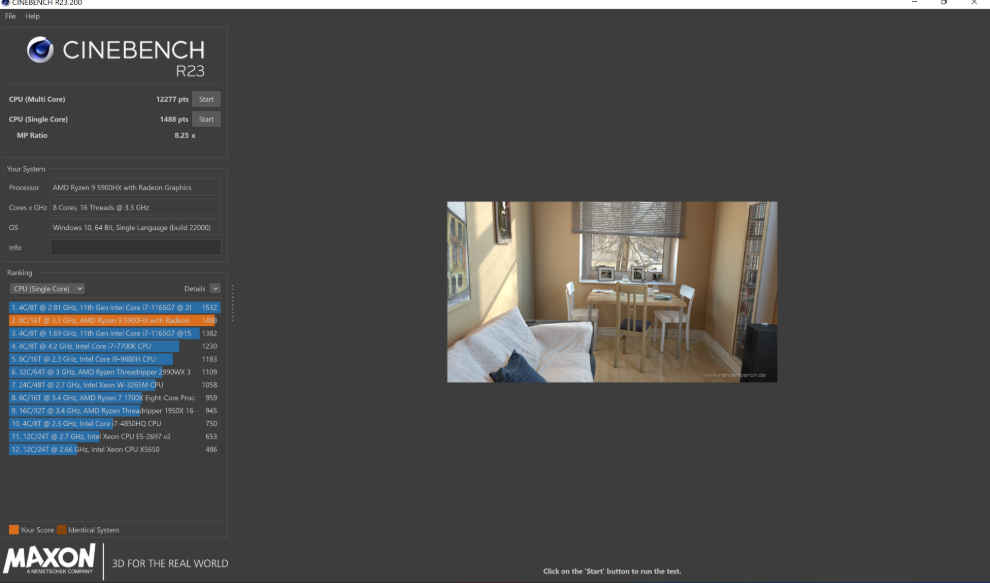 For the second test, I ran the ASUS ProArt StudioBook 16 through Cinebench R20 and R23 benchmarks. While running Cinebench R20, the laptop scored 4831, which is again a top league score. In the Cinebench R23, which tests a CPU's single and multi-core performance, the AMD Ryzen 9 5900HX scored 1488 and 12227 as single and multicore scores.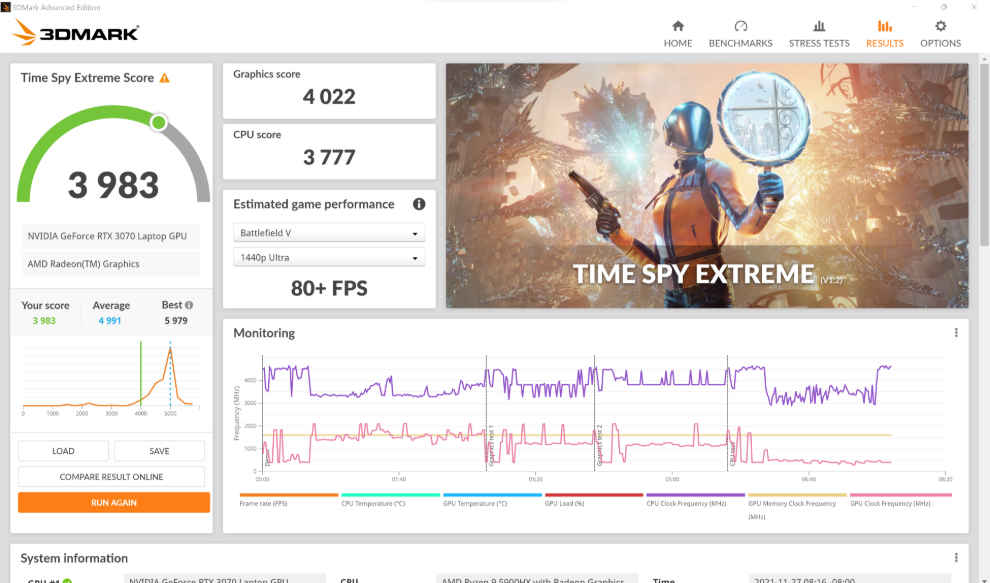 Moving on from the CPU and towards the GPU tests, the ASUS ProArt StudioBook 16 delivered exactly what its spec sheet claims. In the 3D Mark's TimeSpy and TimeSpy Extreme synthetic benchmark, the laptop scored 8196 and 3983 respectively. Meanwhile, in 3D Mark's FireStrike, which includes a physics test and a stress test for both the CPU and the GPU, the laptop scored high numbers as well. These scores prove that the combination of the CPU and the GPU in the ASUS ProArt StudioBook 16 works really well.
ASUS ProArt StudioBook 16 Keyboard, I/O, Trackpad and Dial Review
In terms of design, the ASUS ProArt StudioBook looks pretty sleek. The laptop is around 0.84-inch in terms of thickness and can be easily fit in most laptop bags. The thickness also allows for the inclusion of essential ports such as a full-size SD Express 7.0 Card Reader, an RJ45 Gigabit Ethernet slot, an HDMI 2.1 output port along with several USB Type-A and Type-C ports. The SD Express 7.0 Card Reader slot gives way to transfer speeds for up to 980MB/s for supported cards. However, I am not sure about how many modern cameras utilise this form of card standard, so take that accordingly.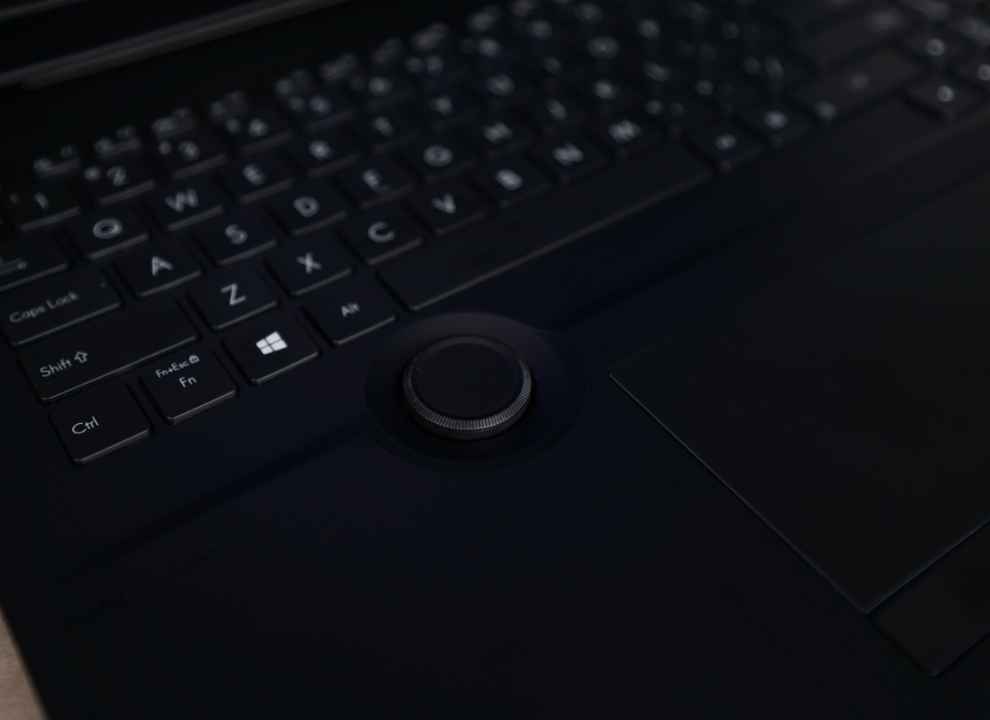 Moving on to the keyboard and it's a fairly decent one. One let down for me however is the small 1.4mm key travel. The pushback from the keys is good but the press itself is a little unsatisfactory. With the trackpad though, I have absolutely no complaints. It doubles up as a sketchpad and you can use a digital pencil to draw stuff on it too. The trackpad has three buttons that will remind you of a really old mouse. The middle click is fairly useful for navigating inside a 3D animation app. The button clicks are satisfactory and the mouse feels very precise to use.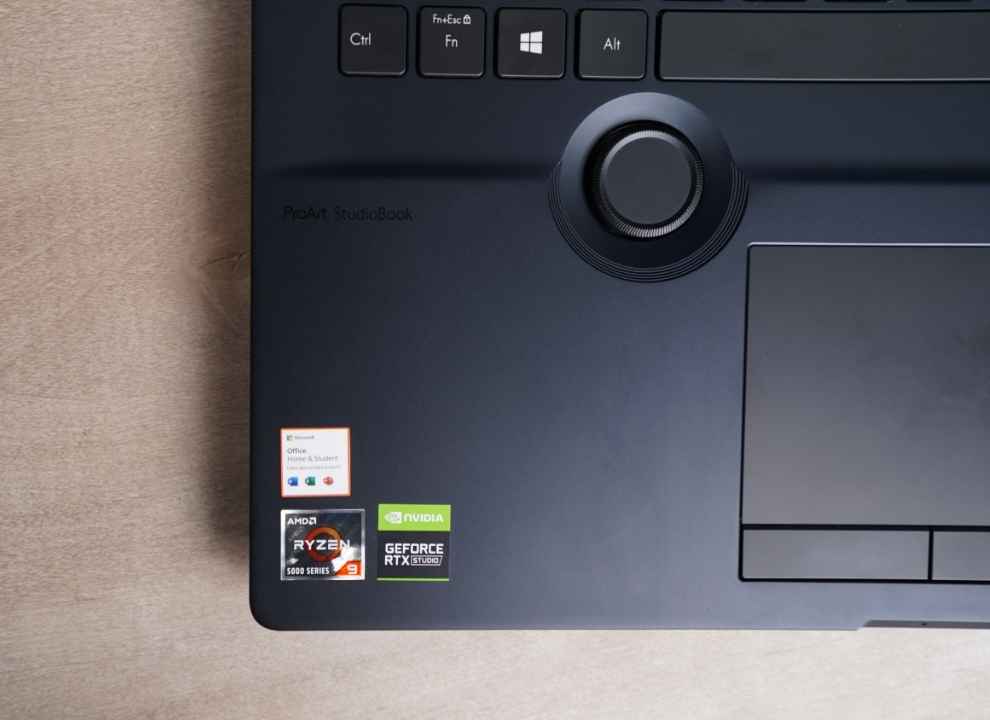 The dial deserves a special mention here because it brings a genuine level of ease of work to the table. You can rotate the dial and you can click it. It feels very tactile and premium to use. While using Adobe Creative Suite of apps the dial allows you to access the menu and sub-menus easily. It does take some getting used to but once you become familiar with it, editing videos and photos become a much easier task. You can also assign specific menu functions to the dial as per your preference.
ASUS has built their dial to work very nicely with Microsoft Windows and it, therefore, functions just like the Surface dial.
ASUS ProArt StudioBook 16 OLED Display Performance
The display is one of the highlighting factors of the ASUS ProArt StudioBook. Like I mentioned it is a 16-inch OLED display with a 16:10 aspect ratio. In fact, it's what makes StudioBook a creators laptop in the first place. In our testing, we found the laptop to sport a peak brightness of around 550 nits, which is better than the Lenovo Legion 7, another laptop with an amazingly bright and good screen. The laptop's screen also covers 100% of the DCI-P3 colour space and around 100% of the sRGB colour space as well.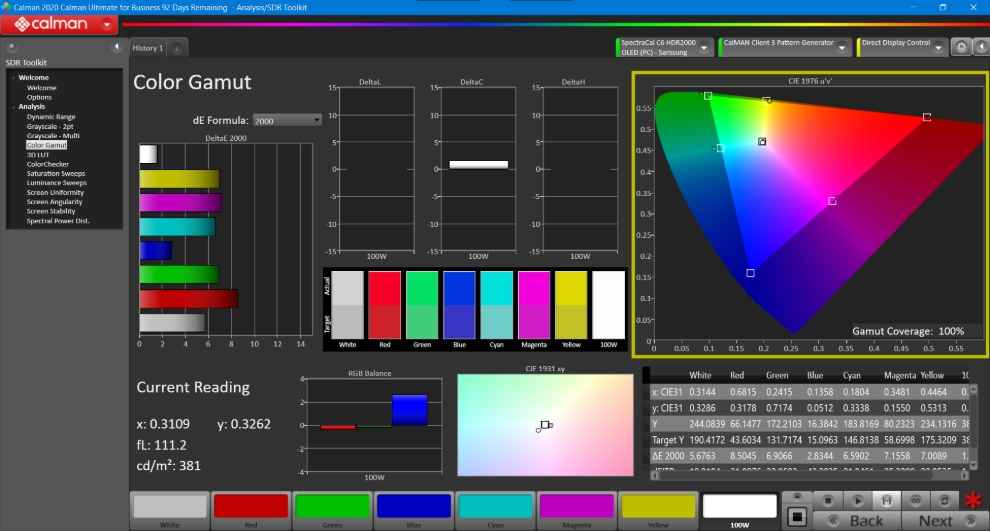 One of the most amazing factors of this laptop's display is its RGB balance. The screen favours a blue bias but the difference between the three primary colours is unnoticeable. The screen is a little glossy and does attract fingerprints. It is also a dirt magnet, so make sure to sit in a dust-free environment.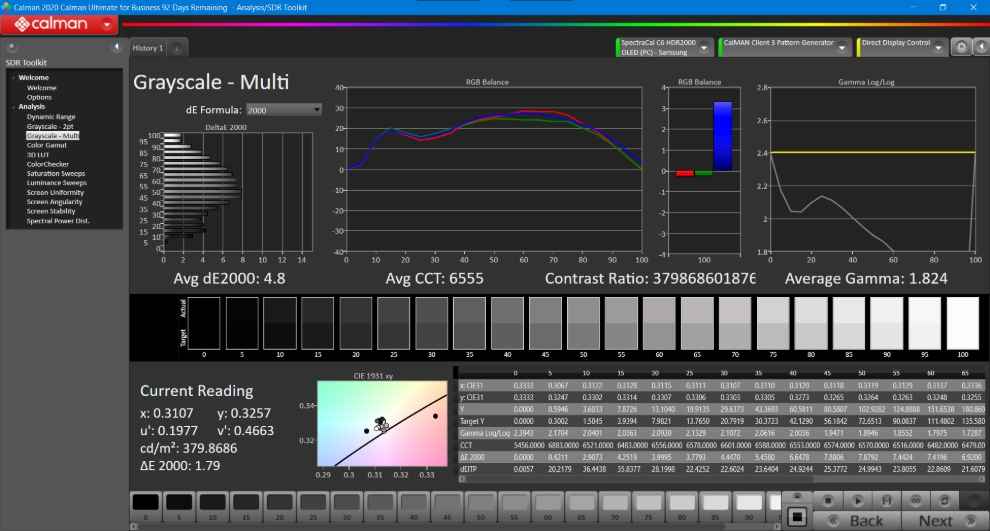 Furthermore, the display comes with a Calman verified and Pantone Validated Delta E of less than 2, making it suitable for professional-grade colour correction. The screen also comes with VESA HDR500 True Black certification, for those unfamiliar, VESA certifies a display's HDR capabilities. The higher the VESA certificate a display receives, the better its display is for HDR content. The HDR500 True Black is VESA's second-best certification for HDR content, making ASUS ProArt StudioBook's display pretty darn good.
ASUS ProArt StudioBook 16 Gaming Performance Review
The ASUS creator's laptop is fairly capable of editing videos and photos, but how capable is it while running games? The laptop comes with an AMD Ryzen 9 5900HX Octa-Core CPU and an Nvidia GeForce RTX 3070 GPU with 110W TGP and some Dynamic Boost as well. However, the laptop falls short in terms of display. Don't get me wrong, the display looks gorgeous from every angle however, it only supports a 60Hz maximum refresh rate.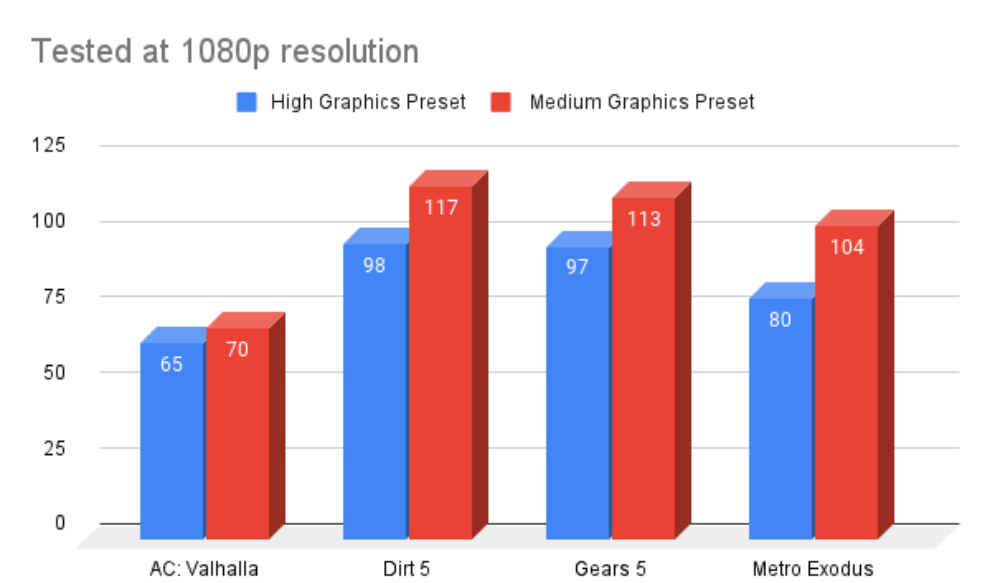 Meaning, any game running at more than 60FPS will still look as if it's running locked at that resolution. You can bypass this limitation by connecting the laptop to a monitor via HDMI 2.1 display port and if you manage to do that, here's the performance you can expect. As you can see the laptop delivered close to 100 FPS in all games except in AC: Valhalla at medium settings. I tested all these games at 1080p to get comparable results with other gaming laptops in our stable. In comparison to a full-fledged gaming laptop, here's how the ASUS ProArt StudioBook 16 performs. Please note that the RTX 3070 in the ASUS ProArt StudioBook 16 uses Nvidia Studio drivers.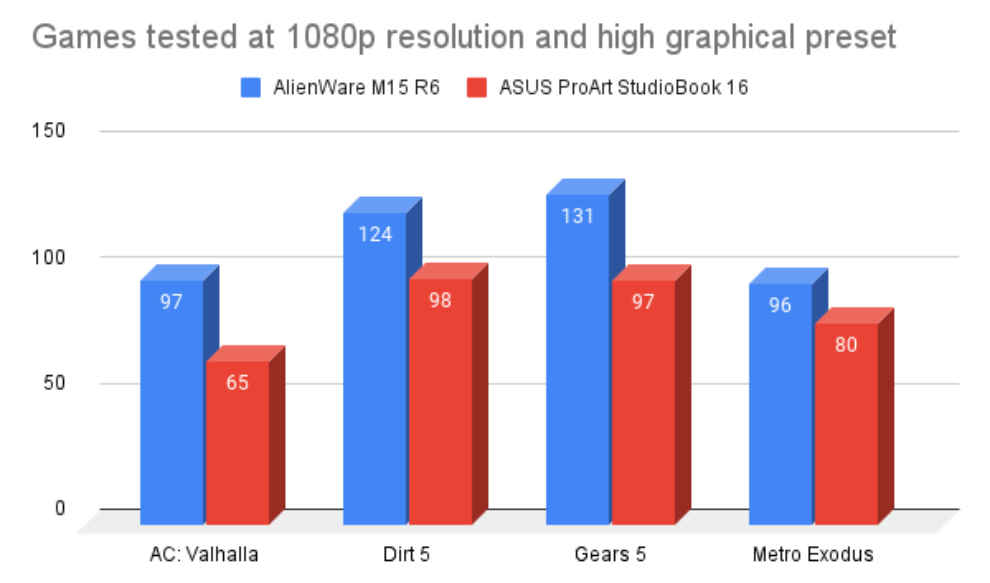 ASUS ProArt StudioBook 16 OLED Performance Review: Verdict
With a price tag of Rs 1,69,990, the ASUS ProArt StudioBook 16 represents one of the best gaming laptops you can buy on the market today. Surely you can find a better keyboard, or a much more powerful CPU or GPU but finding a complete package as the ASUS ProArt StudioBook 16 is quite difficult. For a creator, no matter if you're working from a fixed place or on the move, the ASUS ProArt StudioBook 16 fulfils your list of requirements very well. With a gorgeous OLED 4K colour accurate display you can do professional-level video and photo editing. With a powerful, AMD Ryzen 9 CPU, a productivity powerhouse, and an Nvidia GeForce RTX Studio certified driver the laptop delivers amazing stability and performance throughout the editing process. Lastly, the new ASUS Dial adds another tool for you to personalise, tinker with and get the job done. With an amazing screen, great form factor, easy to use dial, powerful processor and an equally capable GPU, the ASUS ProArt StudioBook 16 OLED is something you should definitely check out.
Some other viable options you can consider in this price range include the Lenovo Legion 5 Pro powered by a Ryzen 7 5000 series CPU and an Nvidia RTX 3060 with 130W TGP or an RTX 3070 with 140W TGP.