Looking at the current trend, anyone would say that 'Apps maketh a device' and so the devices which come in the market today must have pre-installed apps, be it for fun, or to increase productivity.
ASUS does a great job here by providing an extremely useful set of apps most of which are touch-based and show the capability of the ET2012IGTS.
On the main desktop screen of this AIO lies a dock called the "ASUS Dock" (see below) which gives you four options such as Fun Touch, ASUS Amuse, ASUS Sharing and ASUS Tools.
Of these, the section called "Fun Touch" houses all the relevant touch-enabled applications. Let's look at them one-by-one.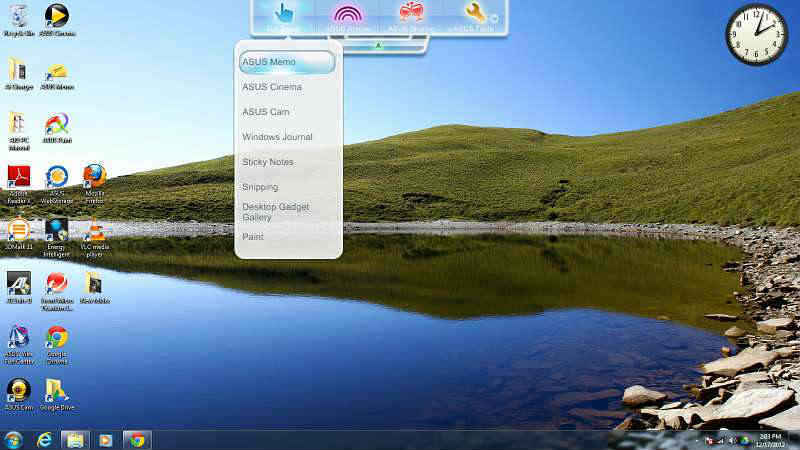 ASUS Memo
As the name suggests, ASUS Memo is a memo or a note-taking app and it has a good feature-set allowing us to create memos in style. We can use the "Stroke" option to scribble and even change the colour of the pen. Not in the mood to scribble, just pull out the on-screen keyboard option and touch-type on your memo. You also have options such as voice and video recording for memos along with additional options to print a memo or email a memo right from the app environment.
ASUS Cinema
Bored of using the same old Windows Media Centre? Don't be, as ASUS provides its own media centre app called "ASUS Cinema" to take care of all your media demands. Lets look at the features provided inside this App.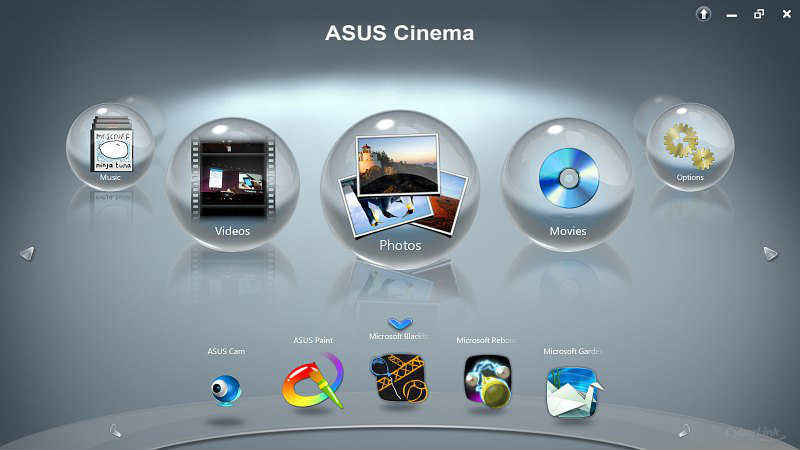 With the Photo section, viewing photos and editing them is easy, thanks to the ET2012's multi-touch support as you can pinch-to-zoom, rotate and swipe over your precious memories without using the physical keyboard or mouse.
Under the video option, you can see the stored videos in a beautiful stream and swipe across the screen to access them. You can also create a video playlist or see your videos according to the date, albums etc.
The music option in the ASUS Cinema list allows you to access and archive your music collection according to Albums, Artists, Genres, Songs, Playlists. And you can even create folders or browse through existing folders to manage your files.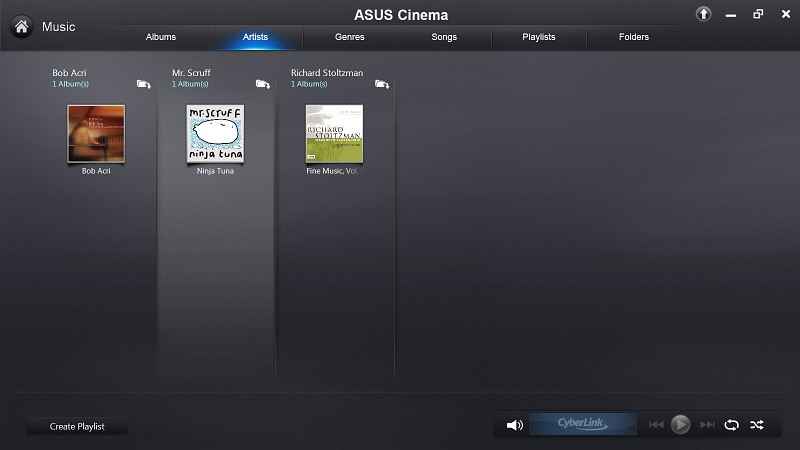 The most fun part of the ASUS Cinema is its built-in app called "You Memo" on which besides scribbling you can use stamps like emoticons, flowers, leaves etc, to make your memos look vivid. Adding text to your memos using the on-screen keyboard is simple and the You Memo application allows us to set reminders or alarms to our memos.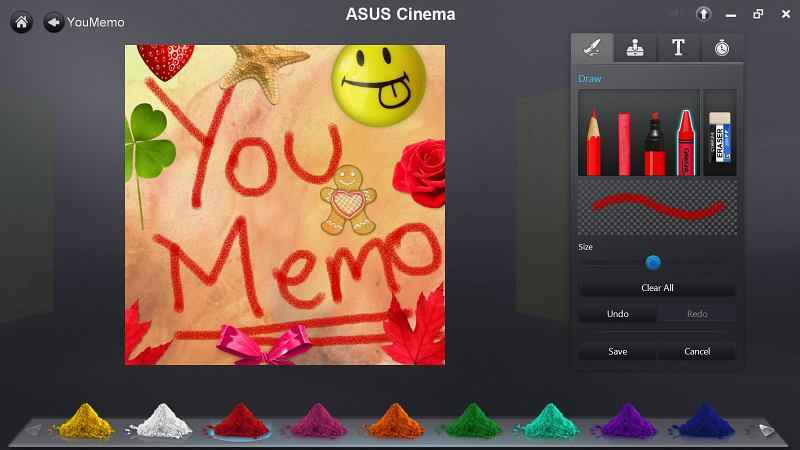 As every good application has options for changing preferences, so does ASUS Cinema. ASUS also tries to help us go green by providing a setting called "Green Preferences", which we can use to pause video previews when the AIO is idle or disable video enhancement by default, thus enabling us to save power and do our bit for the environment.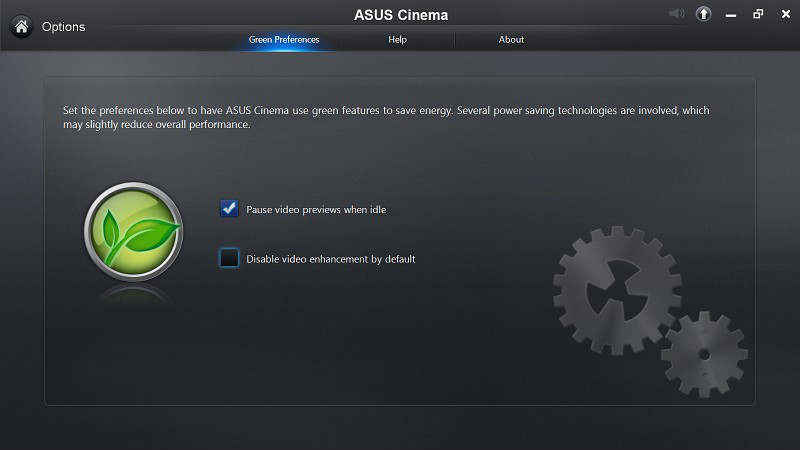 Let your kids take out their best creative side and see them become the next Picasso with this amusing application. ASUS Paint is a paint application included under ASUS Cinema with a very colourful User Interface and many options. It provides funny pre-included templates for colouring and sketching.Your kids can also put objects such as trees, bushes etc, in the background of their masterpiece. Finally the ASUS Cinema also provides games such as Solitaire, Mahjong Titans and others inside its menu.
ASUS Cam
Moving on, we have the "ASUS Cam" app, which enables video recording and allows you to take snapshots using the built-in webcam. We can also add various effects like stars, funny hats, masks, cartoons and other such animations to our snapshots and videos to make them humorous and memorable within the ASUS Cam application itself.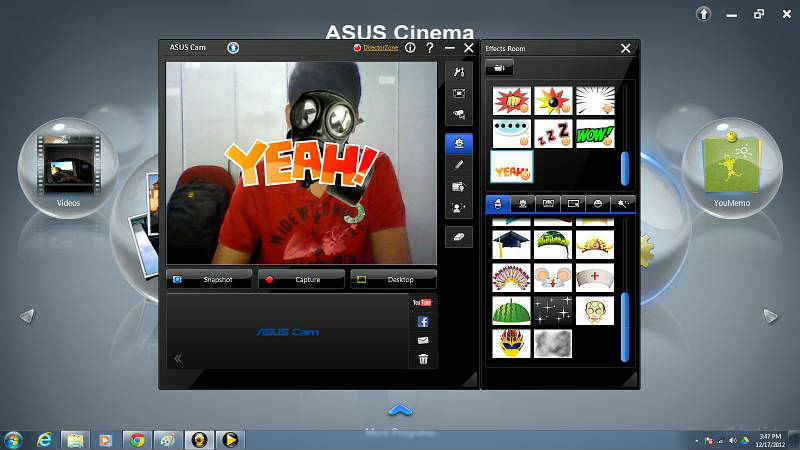 The settings section for the ASUS Cam application is also quite broad as it provides a host of features. We can change the video capture resolution, capture quality, capture format, and capture folder under the capture settings of the ASUS Cam app. We can also change settings for the no. of snapshots, time-stamp, and auto-launch for the ASUS Cam.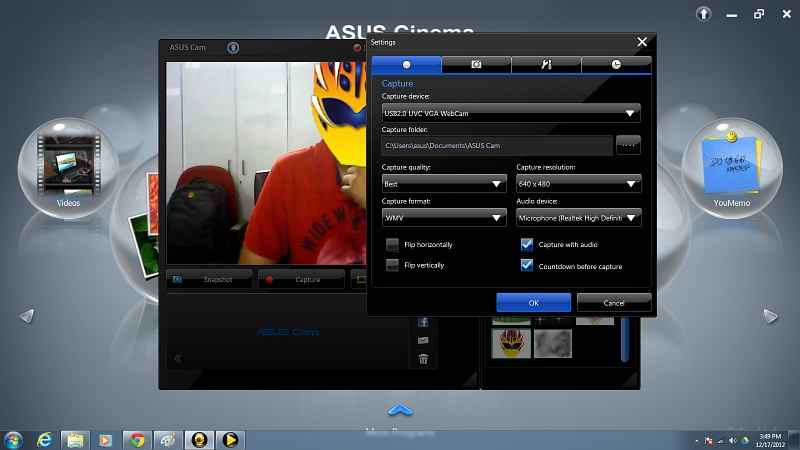 Other touch-enabled apps
Ohh Wait..!! The list isn't over. ET2012 also has the pre-installed Windows apps such as Windows Journal, Sticky notes, SnippingTool, Desktop Gadget Gallery and Paint added to the Fun Touch section to make life simpler.
ASUS Amuse
The other section on the ASUS Dock is ASUS Amuse which features ASUS @Vibe, an online entertainment content store, which includes a huge catalogue for downloading music, books, games, magazines and videos.
ASUS Sharing
Since cloud based services are increasing by the day, ASUS provides users with their popular ASUS Webstorage service in its ASUS Sharing section which lets you store and sync 5.5 GB of data online and you can increase the size of your online account by referring web storage to others or by paying for it.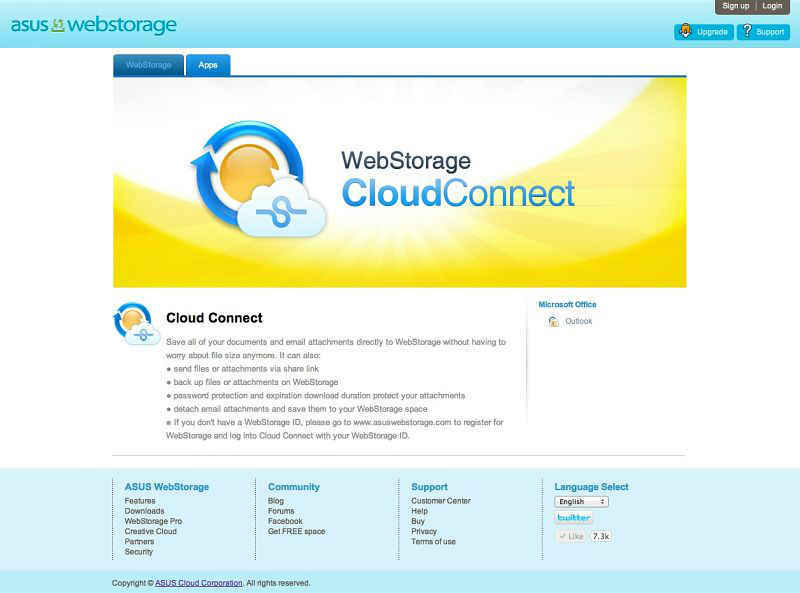 This concludes our overview of the bundled touch-enabled applications included with the ASUS ET2012 IGTS All-In-One.