The Acer Nitro series is famous for offering great performance at a value for money price. The Acer Nitro 5 gaming laptops are available in multiple variants. The specific model we're talking about today comes with an 11th Gen Intel Core i7-11800H CPU and an Nvidia RTX 3050 GPU. We picked this configuration in order to check how good the octa-core Intel chip performs in tandem with the latest Nvidia 3000 series GPUs and whether it's a good option for content creation and gaming as well.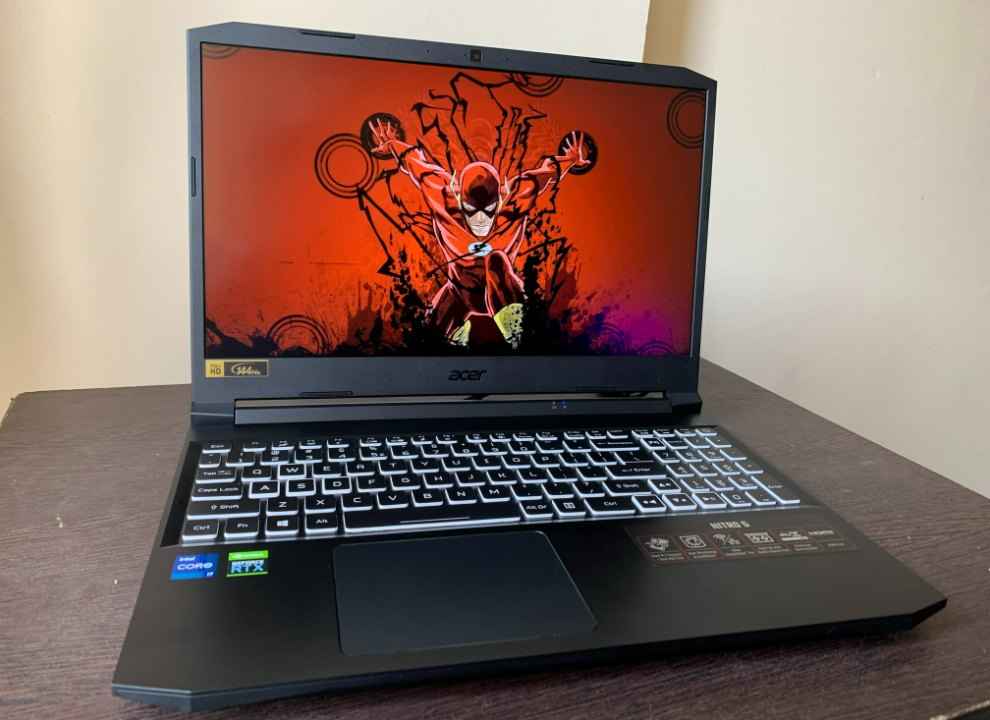 Acer Nitro 5 Specs
CPU: 11th Gen Intel Core i7-11800H 8-core/16-Thread processor with 2.30Ghz base clock, 4.60Ghz boost clock with 35W TDP
GPU: Nvidia RTX 3050 GPU 4GB GDDR6 VRAM
Memory: 8GB DDR4
Storage: 256GB SSD and 1TB HDD
Display: TFT LCD display with 1920 X 1080 resolution
Storage: 57.5Wh
Weight: 2.4kg
Acer Nitro 5 Synthetic Benchmarks Review
The Acer Nitro 5 stands tall thanks to its 11th Gen Intel Core i7-11800H processor. It is an 8-core / 16-thread processor capable of delivering amazing performance in computational workloads. While testing synthetic benchmarks we also got to see the same result. In PC Mark 10, which tests a PC's overall performance, the Acer Nitro 5 scored 6264. You can see in the chart how the chip compares to similarly priced laptops.
However, in CPU focused tests like the Cinebench R23, the Octa-core Intel chip really stretched its legs. Intel is known for delivering high single-core performance and we saw the same during the test. The 11th Gen Intel Core i7-11800H processor scored 1501 in single-core performance, beating the Ryzen 7 5800H we recently tested in HP Victus 16. In multicore performance as well the Intel processor scored 12547, which is pretty neck to neck to its equivalent AMD chip.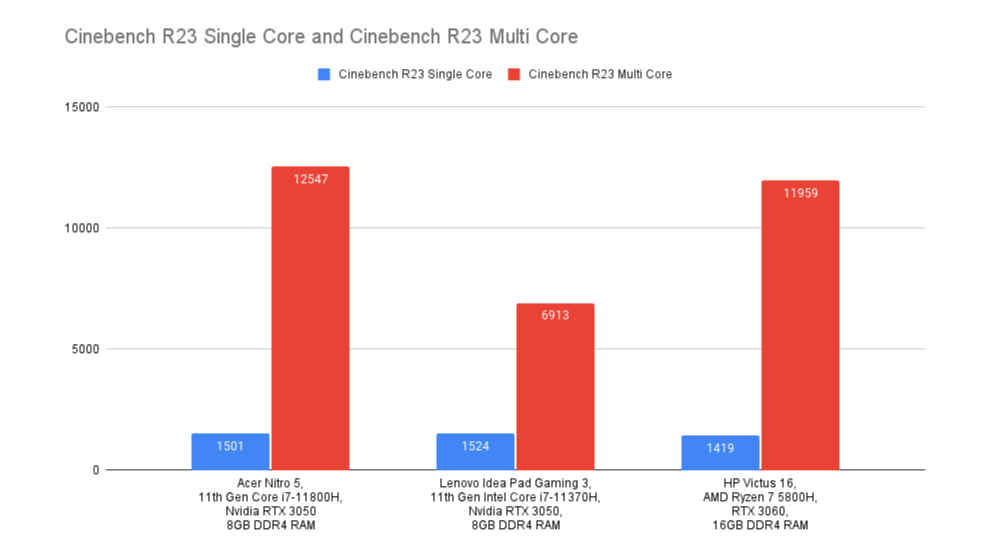 In Cinebench R20 as well, the 11th Gen Intel Core-i7 11800H scored noticeably higher than the AMD Ryzen 5800H, putting itself ahead of the competition.
The Acer Nitro 5 we tested comes with an Nvidia RTX 3050 GPU with 4GB GDDR6 VRAM. In 3d Mark's Timespy, the GPU scored 5252, which makes it out to be a better performer than the GTX 1650ti. In 3d Mark's Firestrike, the RTX 3050 packed in the Acer Nitro 5 scored 11986 putting it considerably above the GTX 1650ti but a tad bit less than the RTX 3050ti.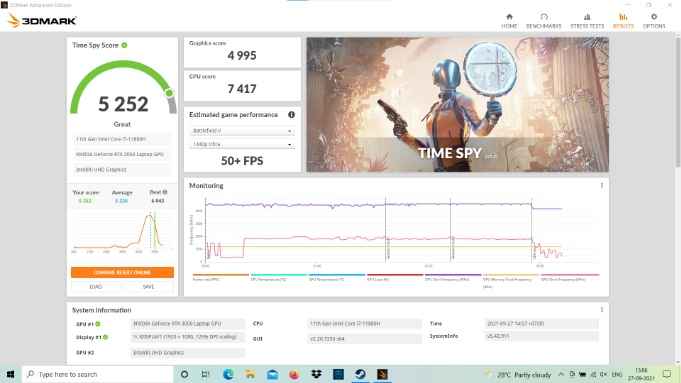 From these benchmarks, we can conclude that the Acer Nitro 5 has a pretty powerful processor and its GPU is adequately powerful. Thanks to an octa-core processor the laptop can easily handle a much more powerful GPU without any bottlenecking issues as well.
Acer Nitro 5 Thermal Performance
Acer Nitro 5 comes with two vents on the side, two vents on the back and multiple vents underneath the laptop. The laptop comes with manual fan control, which is great, however, the dual fans are very loud and can become irritating if you're using them at maximum speed all the time.
In terms of performance, here's how effective the fans can manage the cooling of the laptop.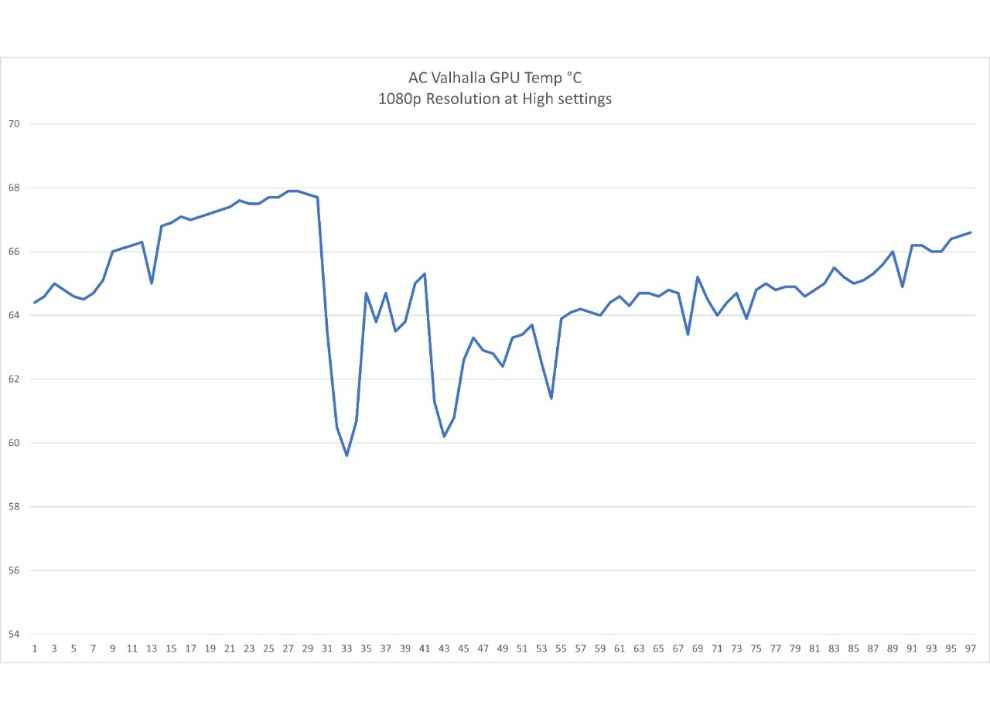 We tested the thermal performance of the CPU and the GPU while benchmarking a demanding AAA title, Assassins Creed: Valhalla at 1920 X 1080 pixel resolution and high graphical preset. As you can see, the CPU temperature consistently remained between 60 to 80 °C during the entire operation, which is pretty impressive.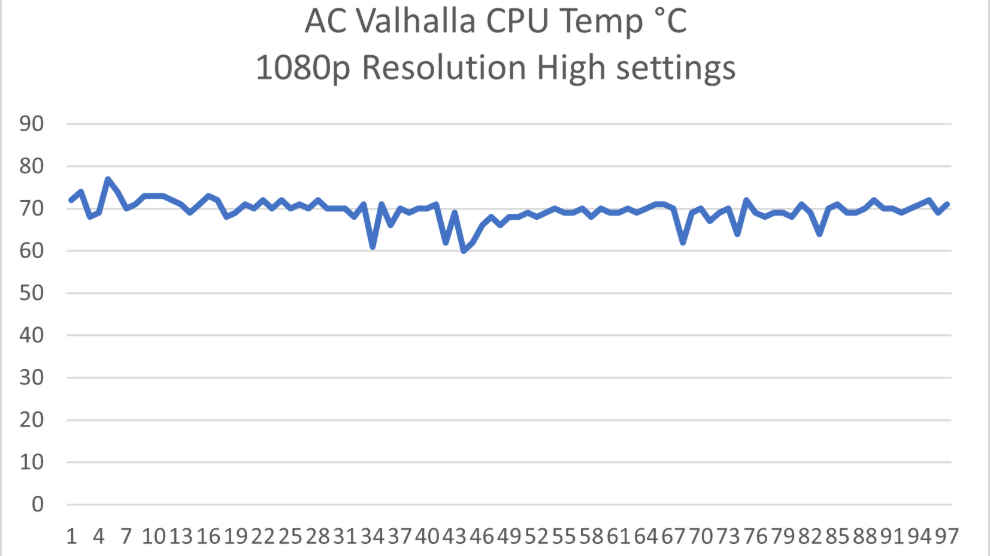 Moreover, the GPU temperature also rose to 68 °C during the start of the test but quickly came down and then slowly climbed back up again to 67 °C.
Overall, the Acer Nitro 5 delivers great cooling performance thanks to a pair of ultra-loud fans.
Acer Nitro 5 Display Performance
The Acer Nitro 5 gaming laptop comes with a 1080p TFT LCD display which supports a 144Hz of maximum refresh rate. The display is pretty average in terms of colour accuracy and has a maximum brightness of 285 nits. The FHD+ display also covers 66% RGB and 47% DCI P3 colour spaces. These figures are in line with the most laptops that you'd see in this price category.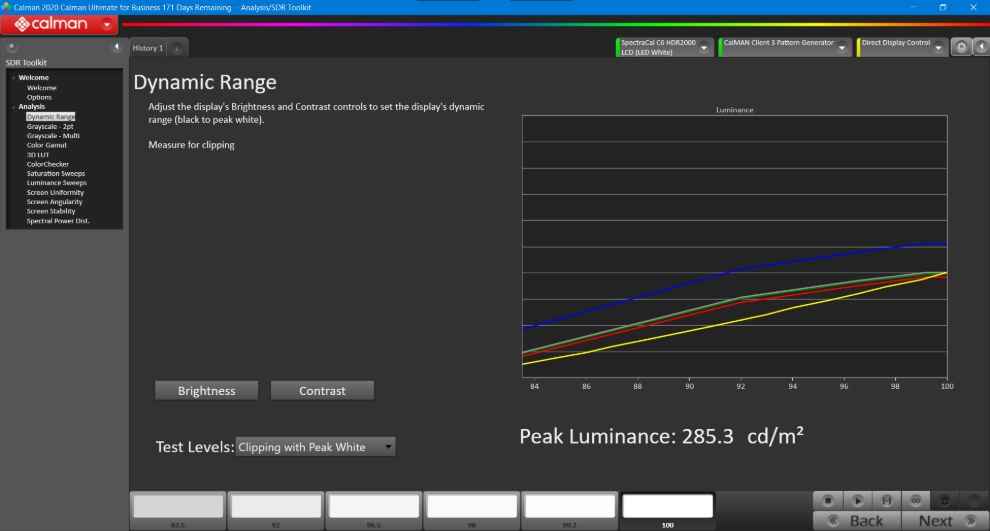 During the colour Checker analysis, we found that the display is not very colour accurate. However, it is to be expected for a sort of mid-range gaming machine whose main purpose deliver high cooling, faster frame rates and generally satisfactory performance in most areas.
Acer Nitro 5 Gaming Performance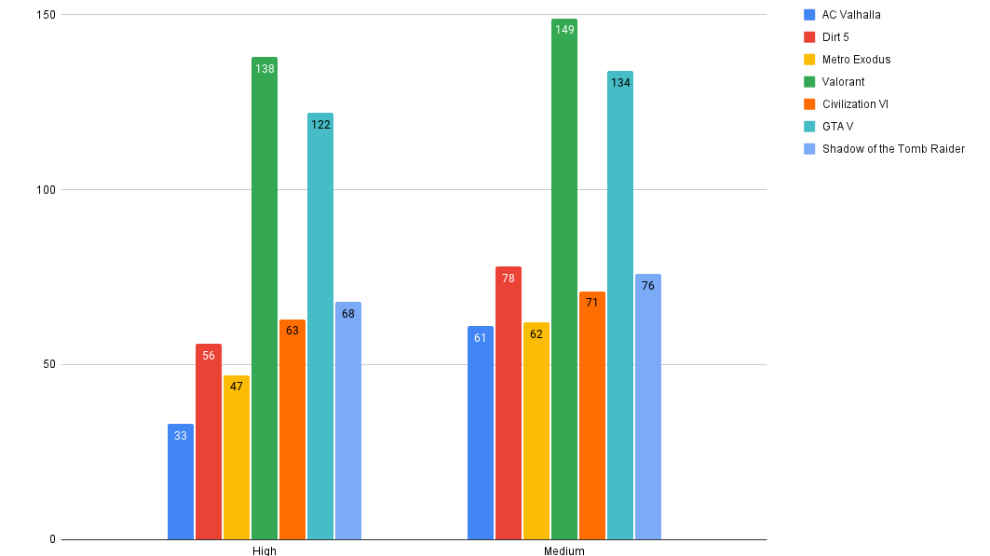 Considering how efficiently this laptop manages heat, I was expecting some good numbers from this laptop. Needless to say, I wasn't disappointed. Considering that the RTX 3050 is a tad bit powerful than the 1650ti, it was nice to see the GPU achieve 100+ FPS in games like Valorant and GTA V.
Furthermore, the GPU held its own in games like Metro Exodus, Gears 5, Civilization VI and Dirt 5, the laptop performed really well and delivered great results. However, while testing AC Valhalla, the GPU struggled to run the game at high settings. Majorly due to a small amount of VRAM. If this card came with 6GB VRAM instead of 4GB, THE RTX 3050 could've been one of the best budget cards out there.
Acer Nitro 5 Verdict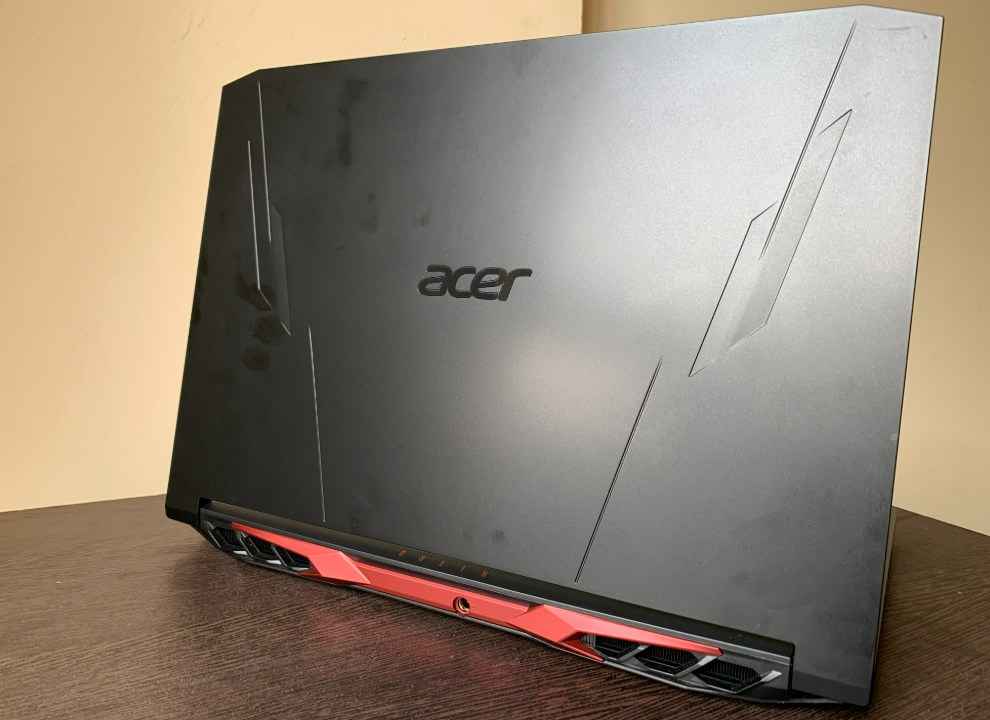 With a price tag of Rs 89,499 on Amazon, the Acer Nitro 5 powered by the 11th Gen Intel Core i7-11800H and RTX 3050 delivers great performance in terms of productivity and adequate performance in gaming. In terms of specs, the laptop is only limited by the small amount of visual memory available with the discreet GPU.
However, if you only play games at medium settings at 1080p resolution, then the RTX 3050 with its 4GB of GDDR6 memory will prove plenty. In case you're looking for extra graphical power, you can opt for the version with an RTX 3060 which has 6GB GDDR6 VRAM. You can also read our review of the HP Victus 16 laptop in case you're looking for a Ryzen powered machine instead.