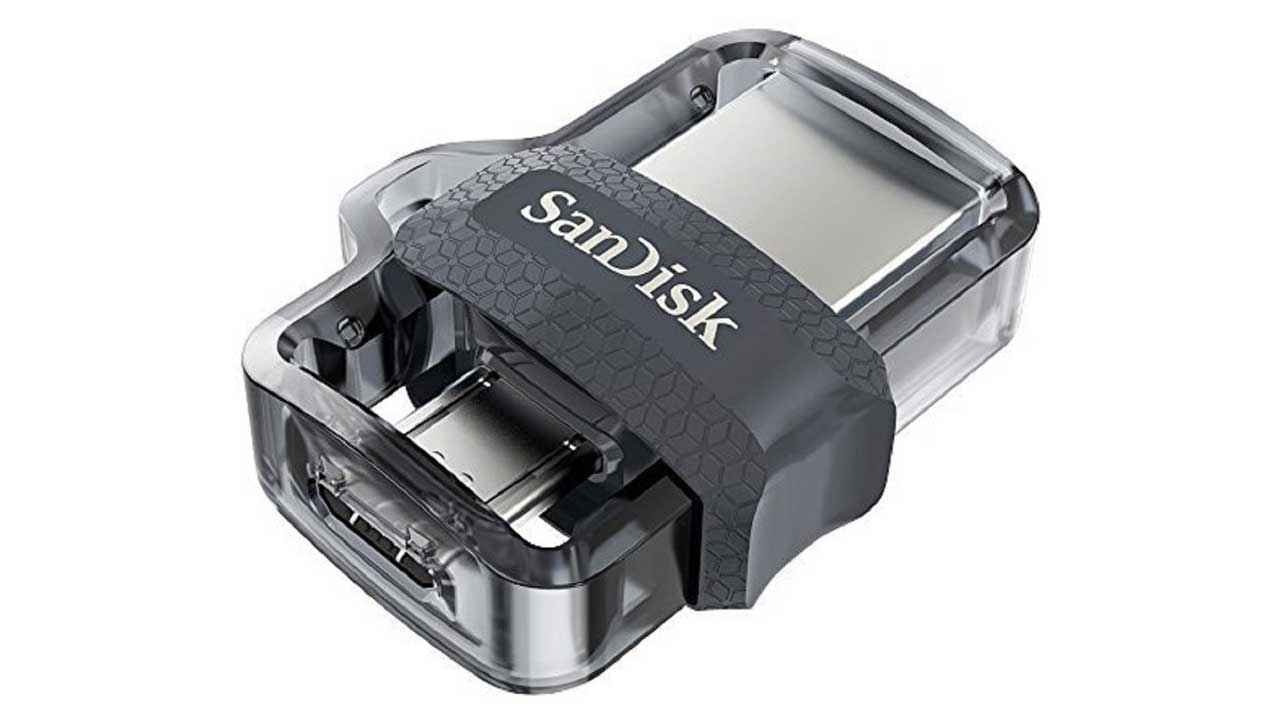 Most modern smartphones and laptops have plenty of storage for most user needs. But sometimes, we need to transfer data between the two which is in most cases not very fast and efficient. We have external storage solutions for you that will give you more storage along with the ease and speed of transferring files.
SanDisk Ultra Dual SDDD3-128G-I35 USB 3.0 128GB Flash Drive
SanDisk is one of the most trusted brands when it comes to storage solutions and its Ultra Dual SDDD3 is the perfect example for its popularity. With 128GB storage, you can store thousands of pictures and videos. The SanDisk Memory Zone app lets you manage your data through your phone and also regularly back up it. With Micro USB port on the side and a USB 3.0 (backward compatible with USB 2.0) port on the other side, you can easily transfer files from your Android devices to your computers. The USB 3.0 port promises faster transfer speeds of up to 150MB/s enabling a hassle-free experience.
SanDisk Ultra Flair USB 3.0 128GB
With high-speed USB 3.0 that supports transfer speeds of up to 150MB per second, you can transfer a full-length movie in just a few seconds. The simple design with metal casing makes it a durable and easy to carry device. The SanDisk secure access provides password protection and encryption for your data, so you don't need to worry when you eventually lose or misplace your phone. Transferring your files from your Android devices to a computer will be a breeze, thanks to wider compatibility and faster speeds.
SanDisk 128GB Extreme Pro SDXC UHS-I Card – C10, U3, V30, 4K UHD, SD Card
Sandisk calls the 128GB Extreme Pro, one of their most powerful storage solutions in its class. This device is designed for all camera enthusiasts and wants an easy medium to transfer pictures and videos. With a shot speed of 60MB/s and write speed of 150MB/s, the card is relatively fast. Sandisk promises a durable device with the Extreme Pro that is waterproof, shock-proof, and also temperature-proof. With the included RescurePRO Deluxe two year software, you can easily recover files that may have been deleted accidentally.
SanDisk 128GB Extreme Pro SDXC UHS-I Card – C10, U3, V30, 4K UHD, SD Card
Record and play high-resolution videos or store some games on this memory card. With superfast read & write speeds up to 100 MB/s & 90 MB/s respectively, transferring data should be a breeze. The 128G should be spacious enough for most users and that can be seen from the fact that almost 25,000 photos could be stored in this small design. It is compatible with all major devices with MicroSD and SD support with a dedicated full-sized adaptor included for use in PCs and cameras. It comes with full security thanks to protection from water, extreme temperatures, magnets, and even X-rays.