There are cool gadgets and THEN there are some even cooler. But even beyond those are the uber-luxurious, super-expensive and ultra-awesome products that most of us can only drool at and hope to own. When it comes to luxury and class you'll find ample amounts of here. So what are they? Here we go.
1. Casio MR-G Gold Hammer Tone
When you think G-Shock you think sporty watches. But that doesn't mean that a G-Shock can't go the luxury way. The all-new G-Shock MR-G Hammer Tone model was handcrafted in Japan and was made using the tradition Tsu-i-ki method in which the each bezel and band is hammered individually to create a unique pattern. The MR-G Hammer Tone features a titanium case and bracelet band, a non-reflective sapphire crystal, GPS satellite sync for accuracy and comes with Multiband 6 and Tough Solar capabilities. As expected of a G-Shock it's quite rugged, with shock resistance and water resistance upto 200M. There's only 300 of these watches, each priced at $6200(Rs.4,23,700/- approx).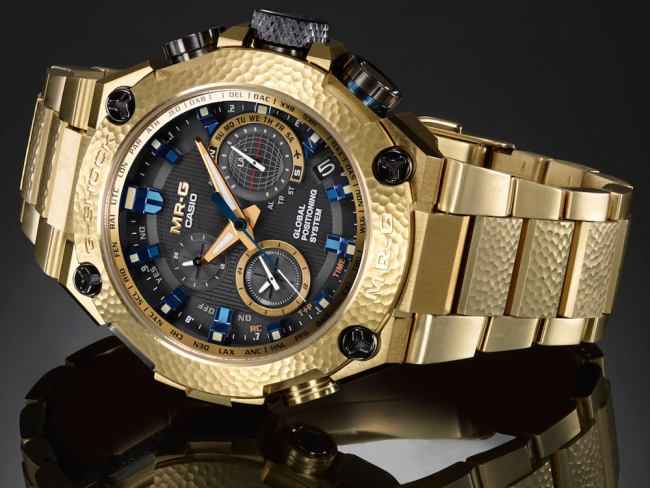 2. Ixoost Esavox
The Ixoost Esavox is a speaker system inspired by Lamborghini and their flagship 'Aventador'. A lot of us would love to own a Lamborghini of our own, but not all of can dish out the $200,000 needed to actually buy one, so instead, you can have an Ixoost Esavox parked in your garage. These speakers are crafted from a carbon monocoque chassis and houses two 8-inch carbon woofers on either side. It's also got dual 1-inch tweeters on the exhaust pipes and a mammoth 15-inch neodymium subwoofer in the centre which in itself outs 200 watts bringing the total output to 800 watts. You can connect to the speakers via Bluetooth and it's got an RCA input as well. Just like its inspiration, the Ixoost Esavox is designed to turn heads, and sure, you could get a lot more for its $21,000(Rs.14,35,000/- approx) price tag, but hey, it's a Lamborghini.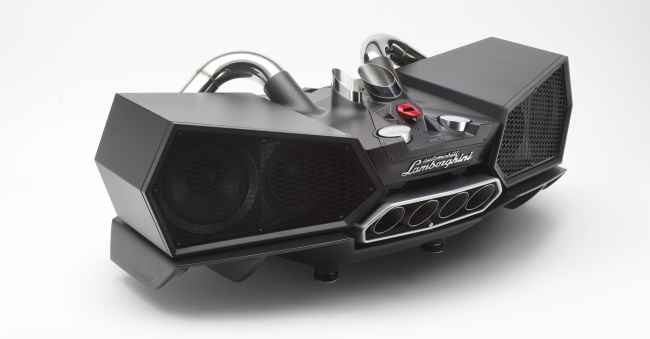 3. Trump Engraved iPhone 7
This Gold Trump emblazoned iPhone 7 is now in existence thanks to Russian Company Caviar, who are known for their extravagant designs. This custom iPhone has been created by the brand to honor Trump's iconic win. The iPhone features a gold plated portrait of Trump on the back and also features, in gold of course, his iconic campaign slogan, "Make America Great Again." The manufacturers aim to better the relations between the two countries with this and they also desire to hand over one to Donald Trump himself. These exclusive 'Trump'ified iPhones can be purchased for $3100 and are probably a must buy for the die-hard Trump supporters out there.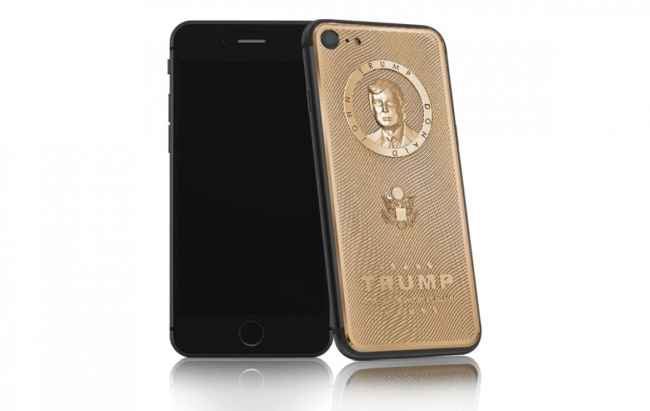 4. MAINGEAR Rush 1ofONE
The Maingear Rush 1ofONE is a custom gaming PC born of a collaboration between gaming PC maker Maingear and the soda behemoth Coca-Cola. This custom gaming PC is a sight to behold and has an actual glass coke bottle used in its design. The liquid inside the bottle is not Coca-Cola, don't worry. It is in fact, Maingear's hand crafted Crystal Hardline liquid cooling. As for specs, this baby packs quite the punch and is fitted with an Intel i7-6950X 10-Core CPU, two Nvidia GTX 1080s, HyperX Fury 16GB DDR4-2666 RAM, Samsung 950 Pro 512GB M.2 NVMe and an EVGA X99 Micro 2.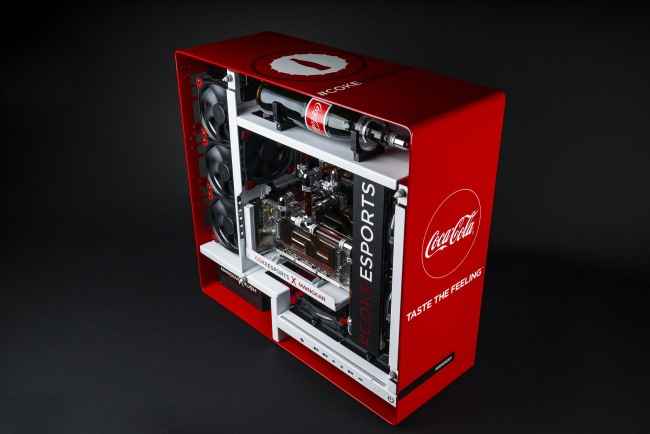 5. The Undersea Aquahoverer
When it comes to personal submarines, there are quite a few designs out there to choose from, but the more recent design introduced by Hammacher Schlemmer is proving to be far more versatile in comparison to its competition. This unique vehicle has been designed in such a way that it'll automatically hover in water when it's not being driven. This means it doesn't need any additional instruments or weights to balance it. The Undersea Aquahoverer can accommodate two passengers at a time and comes with six 400-RPM, 1.2-kilowatt ducted propellers and a rechargeable 15kWH battery. The Aquahoverer is easy to drive in any direction and you can park it anywhere, near reefs, or wrecks, or whatever it is you want to look at underwater, which is precisely why this is the ideal personal submarine for enthusiasts of the aquatic kind; that is, if you're willing to dish out the $15 million needed to get one of these.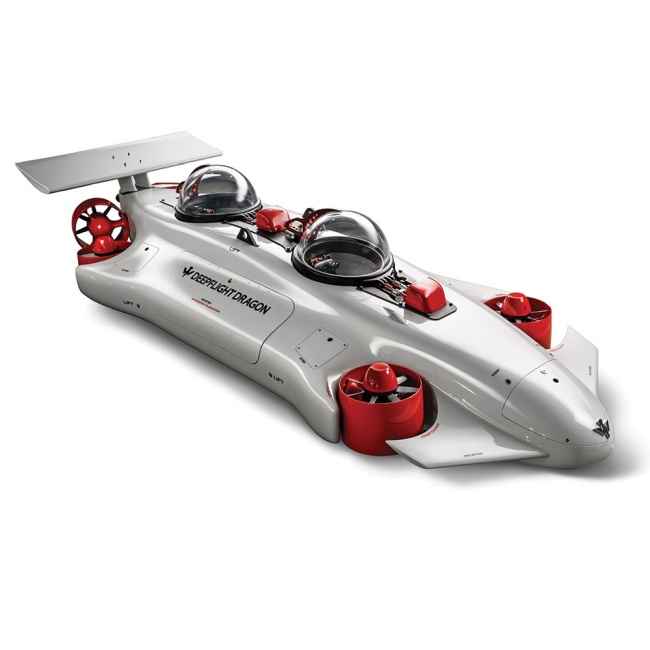 6. AB-100 Spectre
What makes the AB-100 Spectre special among yachts? Well for one thing, it's powered by three 1900hp engines which give it a cruise speed of 45 knots and a top speed of a whopping 54 knots. For a 100 foot long boat, that's very impressive. Every bit of this yacht is beautifully designed, with a top-grade galley to a living area with a massive flat screen TV. The main deck has large lateral windows flooding the place with natural lighting and then of course there's a winding staircase to the top deck where you can relax and take in the sights. There also 3 fully sized bedrooms as well, so you have room for guests as well. Nice. The price for this incredible yacht has yet to be announced, but you can be sure that you're going to need a rather sizeable budget to be able to acquire this beauty.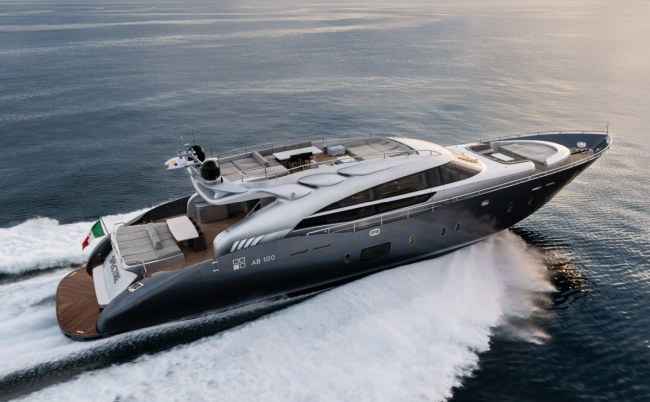 This article was first published in the January 2017 issue of Digit magazine. To read Digit's articles first, subscribe here or download the Digit e-magazine app for Android and iOS. You could also buy Digit's previous issues here.