The technology trade show, there's nothing like it. From the minute your feet hit the show floor with its deep, squishy carpet, bright lights, and flashy displays, all the way up to the time you eyeball your umpteenth 3D TV, and want to keel over from exhaustion, it's an experience.
IFA, the massive European consumer electronics and home appliance show, is winding down tomorrow, and for the past week PCMag has been on the ground in Berlin reporting on the hottest products and technologies there.
Light-as-air laptops
,
thin tablets
, and
cutting-edge mobile phones
got a lot of ink. Cutting-edge cars, cameras, and fun gadgets were also well represented. The biggest story at IFA was 3D technology, a theme that crossed several product categories including HDTVs, displays, home theater gear, cameras, and camcorders. Sony even unveiled a
head-mounted 3D OLED display
. For all the specifics read our
IFA coverage
.
[RELATED_ARTICLE]
What we haven't done, however, is give you a feel for what we've seen wandering the many exhibitor halls of the Messe Berlin fairgrounds searching for tech treasure. Since we focused on the technology side of the show, and a large portion of IFA show space is devoted to home appliances, there's a lot of cool stuff we didn't get to tell you about. Instead, we took pictures to show you.
With 1,441 technology companies on display at the show this year, many of them spending small fortunes to showcase their latest wares, there was practically a photo op around every corner.
Check out the photos below for a look at some of the most memorable show floor sights from IFA.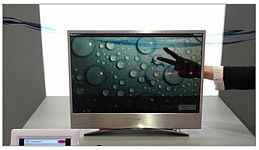 Haier Transparent Television
Crystal-clear picture" gets a whole new meaning with this transparent 22-inch OLED panel from Haier. The company also showed a completely cordless TV, which uses wireless-electricity technology developed at MIT, along with WHDI (Wireless Home Digital Interface) to cut the cords that connect your home theater gear.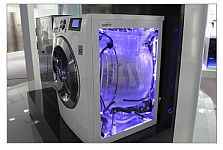 This washer with transparent side panel on display in the LG Home Appliance booth is clearly more showpiece than workhorse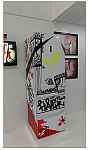 This funky refrigerator is a cool way to keep your food cold.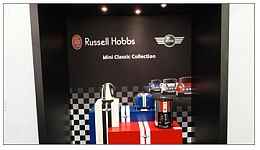 Mini Classic Collection Appliances
British appliance maker Russell Hobbs was showing off cute Mini Cooper–inspired coffee makers, kettles, and toasters.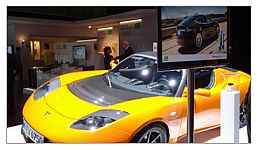 Did you know that Panasonic makes batteries that power electric vehicles? Neither did I. The company's cells help power this Tesla Roadstar.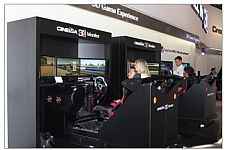 3D was the strongest theme here at IFA. Besides scores of 3D sets and a pen-touch controlled TV, here LG displays its Cinema 3D monitors for gamers.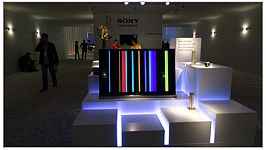 It's dark and moody at the entrance to the Sony hall, where the company stylishly showed off its latest audio, video, and home theater gear, including the HMZ-T13D head-mounted 3D OLED display and Android Walkman prototype..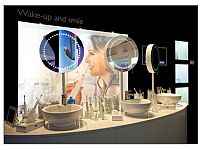 Philips invites show-floor wanderers with not-so-fresh-breath to brush up at its Sonicare display.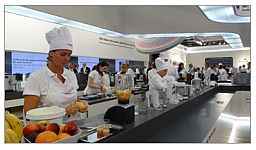 Bosch Appliances in Action
Fancy juicers, food processors, stand mixers, immersion blenders, and more, as far as the eye can see, and an army of chefs showing them off at the Bosch booth. Free food too.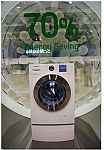 Samsung's Energy-Saving Washer
There are enough washing machines at IFA to clean all of Berlin's dirty laundry, and energy efficiency is a major theme in the appliance halls. Samsung claims this high-end Bubble Wash Washing Machine will save you up to 70 percent energy.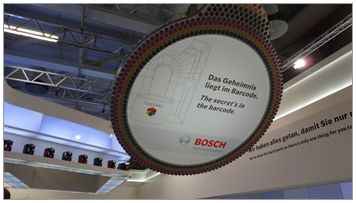 The smell of brewing java wafts through the appliance halls where there were more ultra-high-tech coffee machines than you can imagine, like the newest Tassimo models from Bosch.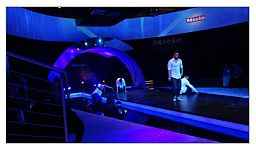 The smell of brewing java wafts through the appliance halls where there were more ultra-high-tech coffee machines than you can imagine, like the newest Tassimo models from Bosch.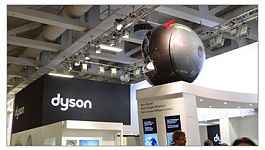 Only Dyson could make you want to spend a small fortune on a vacuum cleaner. The company's cutting-edge, cool-as-hell home appliances like the Dyson Ball, the new DC41 Animal vacuum, and those really neat bladeless fans are all on display at the Dyson booth.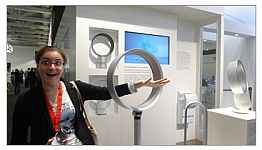 Yeah, I know it's not a new product, but I've got a thing for these bladeless fans. They're all over the place at the show, by the way. Happily, they're on hand to help cool the IFA press room!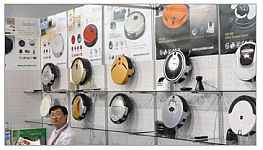 The China Hall houses a lot of look-alike products like these Roomba wannabes.
The China Hall houses a lot of look-alike products like these Roomba wannabes.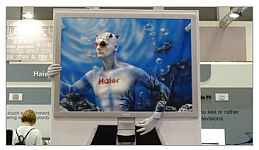 This Haier TV Lives and Breathes
There's no shortage of crazy mascots at any given tech trade show, and IFA is no exception. This bizarre and slightly creepy underwater-creature guy was on display at the Haier booth.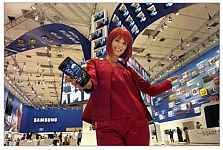 Speaking of mascots, Miss IFA is the official show spokesmodel. Here she is beckoning you to enter the humungous Samsung hall where the company displayed its new cameras, Galaxy phones and tablet, and laptops.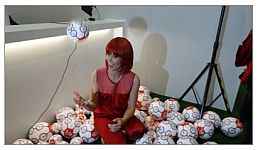 It's Miss IFA again! This time, she's tossing balls in the Sharp hall.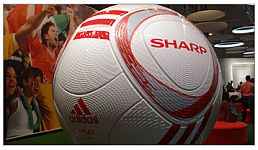 Why all the balls in the Sharp hall? At a press conference here at IFA, Sharp announced it has signed on as a sponsor for the Union of European Football Associations (UEFA). How come? The company wants you to buy its big Aquos Quattron HDTVs to watch the matches, of course.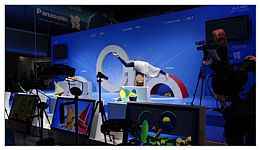 Just like the dancers, there are plenty acrobats. This show in the Panasonic hall provided a photo op for the company's prototype 3D Lumix Camera.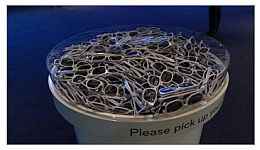 3D Glasses For the Taking at Toshiba
With walls and walls and walls of screens in the Toshiba booth, there was lots of 3D to experience, but you have to grab your glasses first.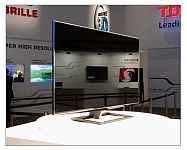 Don't let all the free pairs of plastic 3D glasses fool you. Toshiba also demoed the first glasses-free 3D HDTV here at IFA.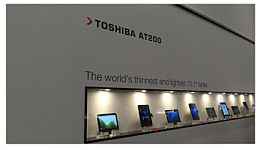 Skinny Tablets Strike a Pose
Toshiba also unveiled the AT200, the thinnest-ever Android tablet, at the show. Though these models were behind glass, we got some hands-on time with a heavily protected prototype.
Copyright © 2010 Ziff Davis Publishing Holdings Inc.