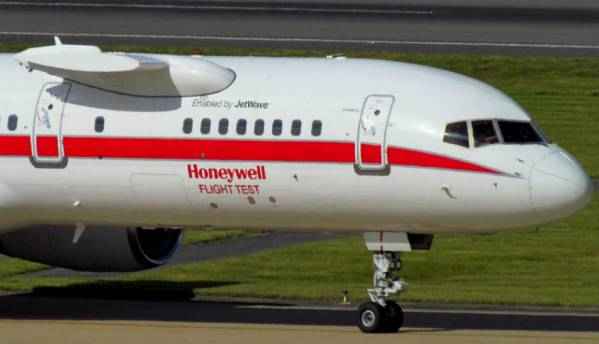 HIGHLIGHTS
Honeywell Aerospace, a leading avionics pioneer has developed the concept of "connected aircrafts" and plans to bring it to India soon.
This decade has seen dumb devices becoming smarter. We now have smart fridges, television, even a juice-maker. Internet transformed our everyday appliances into devices that can almost think for themselves and communicate with each other. The aerospace industry too is going through a digital transformation and Honeywell Aerospace is leading the way. A pioneer in avionics and aviation technologies, Honeywell has come out with a concept called "Connected Aircraft", which are smarter, more efficient and safer.
A connected aircraft means you no longer have to switch off your phones during takeoff. It also means high-speed in-flight internet connectivity. But more importantly, it dramatically improves flight operations for the airline operator.
Connecting the aircraft to a global network opens a whole world of possibilities. Flight crews have another means to communicate with the ground staff. Air traffic control can monitor flights better. Aircraft maintenance is quickened and turnaround times increase dramatically. For the passenger, a connected aircraft will allow a Netflix binge during long haul flights.
JetWave: What is it?
At the heart of the connected experience is JetWave, a piece of hardware designed and manufactured by Honeywell which connects to a global network of satellites to bring high-speed internet connectivity to the aircraft. The global network is owned and operated by Inmarsat. JetWave and Inmarsat's Global Xpress (GX) network enables a variety of applications like real-time weather monitoring, large file transfer, encryption capabilities, as well as video-conferencing and internet connectivity through high-speed, high-bandwidth and secure connectivity.
Honeywell claims JetWave provides data rates of up to 50 Mbps by using three Ka-band bandwidth satellites with spot-beam technology that provides internet connectivity that are reliable and consistent, much like the broadband connection that passengers are used to at home and office.
Power of being connected
Connectivity is only one part of the story. Once JetWave is up and running and the aircraft is connected to high-speed internet, Honeywell has a suite of applications that leverages the data generated by the sensors on board the aircraft to provide a seamless way of managing and operating the aircraft.
The applications come into play even before the flight takes off. For instance, the GoDirect Flight Preview app offers a 3D animated view of the flight path to the pilot to increase his situational awareness and to prepare him visually and mentally for the flight. Once up in the air, GoDirect Weather offers the pilot real-time weather of the flight path, which allows him to plan the safest routes. There is a connected radar function that crowdsource weather data from other airplanes in the sky providing an accurate view of the weather across the world.
Inside the cabin, the GoDirect Cabin Connectivity allows passengers to connect to a suite of satellite communication services which includes real-time TV, high-speed broadband internet, video-conferencing and VoIP calls.
Then there is the GoDirect Fuel Efficiency app that collects, monitors and analyses data to help operators optimise fuel efficiency across a fleet. The GoDirect Connected Maintenance is an app that leverages big data and provides predictive analysis that enables ground crews to identify components that will require maintenance or replacement even before the components fail, improving on-time performance and reducing delays.
The curious case of India
While the idea of a "Connected Aircraft" is tantalising, it might take some time for it to come to India. So far, in-flight satellite communications is not allowed in domestic as well as international aircrafts in India. Even international flights have to turn their SatComs off when flying over Indian airspace. But that might soon change. The Ministry of Civil Aviation, Department of Telecom and TRAI, have all nodded in favour of having in-flight Wi-Fi in India.
A survey conducted by Honeywell also found nearly 60 percent passengers deem internet in flights a necessity. However, in-flight Wi-Fi is yet to become a reality in India. In fact, India and North Korea are the only countries that doesn't offer the service. That is surely not the right company to hang out with.
Having said that, Honeywell is already working with airline operators to bring the Connected Aircraft concept to India. JetAirways already uses its GoDirect Fuel Efficiency app to be more fuel efficient while other airlines are also in talks with Honeywell to make the concept a reality in India.
The good news is that TRAI released a consultation paper to frame rules for in-flight Wi-Fi services in September. The regulator is examining whether to enable internet the moment they board the flight to when they get down, or when the aircraft has reached an altitude of 3km.
TRAI had earlier said that the service could be rolled out by the end of this year after getting the necessary security clearances.
"Given the rapidly expanding demand for IFC, there is a proposal to introduce (it) for voice, data and video services over Indian airspace for domestic, international and overflying flight in Indian airspace. Department of Telecommunications (DoT), through its reference dated August 10, 2017, has requested TRAI to furnish its recommendations on licensing terms and conditions for provision of IFC for voice, data and video services and associated issues such as entry fee, licence fee, spectrum related issues including usage charges and method of allocation,"the TRAI paper states.
Are Connected Aircrafts hackable?
A big fear that has prevented India from enabling in-flight Wi-Fi and making the whole connect aircraft dream come true in India is threats to security. An active internet connection onboard an aircraft flying thousand of feet above the ground could be utilised to hack into the aircraft's systems.
Honeywell however quashed the fear by stating that the cabin and the cockpit use isolated connectivity to tackle security concerns. Moreover, Inmarsat GX network is encrypted preventing others to snoop in on the data being transmitted through the network.
Cases of aircraft hacking has surfaced however. Researchers found a flaw in the in-flight entertainment system in major airlines could let hackers access the plane's controls. Panasonic Avionics was behind that in-flight system. There were other instances of aircraft hacking as well. But Honeywell is confident and claims to have taken steps to prevent malicious hackers to get into the system.