1. Bentley Continental Supersports
It seems like every year Bentley comes out with a new car, it takes over its predecessor's title of 'Fastest Bentley ever'. This time, it's the Bentley Continental Supersports, which is being powered by a revamped version of the 6.0 litre W12 engine which churns out 700 bhp at 750 lb/ft of torque. But that's not all that contributes to the Supersports' output. Higher capacity turbochargers and a revised charge-air cooling system help create more power and add more oomph to the boost. Of course, all that torque will need some smooth handling, which Bentley provides with a specially calibrated torque vectoring system that individually brakes front and rear wheels when accelerating out of corners. The suspension is lower than compared to its predecessors but it gives the ride a more agile feel. Bentley claims this luxury wagon can hit 62 mph (roughly 100 km/h) in just 33.4 seconds, making it the fastest accelerating Bentley to date. And at a top speed of 209 mph(336 km/h approx), it also takes the title for world's fastest four-seat car. In terms of design they've ditched traditional chrome for black with this one: from the carbon fibre splitter and diffuser in the front and rear bumpers to the dark tinted headlamps and door handles. There's a convertible version as well, which while only slightly slower than its coupe counterpart still holds the 'fastest four-seat convertible in the world title.' The Bentley Continental Supersports Coupe will set you back by $296,025 (Rs. 2,01,81,000 approx) while the convertible will cost you $325,325 (Rs. 2,21,78,700 approx).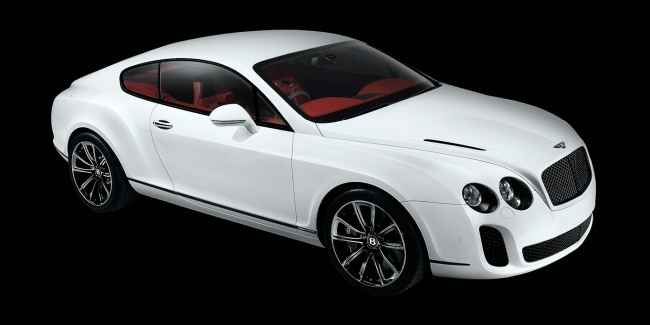 2. 2017 Lamborghini Aventador S
After five long years, Lamborghini's flagship is finally getting an update. The new 2017 Lamborghini Aventador S will be packing a 6.5-litre V12, now producing 740 bhp, 40 more than the current. The redline has been upped to 8500 rpm from 8350, the exhaust has been made lighter and fans of the car will love the flooring and pedal tunnels. The new Aventador S can go from 0 - 62 mph(100 km h) in 2.9 seconds and can hit a top speed of 217 mph(349 km h). Of course, slight changes have been made to the suspension and aerodynamics to cater to the upgrades but the most important addition by far would be the addition of Four Wheel Drive. The addition of a FWD will be a first for a production car by Lamborghini. The inclusion of FWD will help reduce turning radius and improve the overall stability of the car. The 2017 Aventador S will start at $421,350 (Rs. 2,87,25,000 approx) and is expected to start shipping this spring.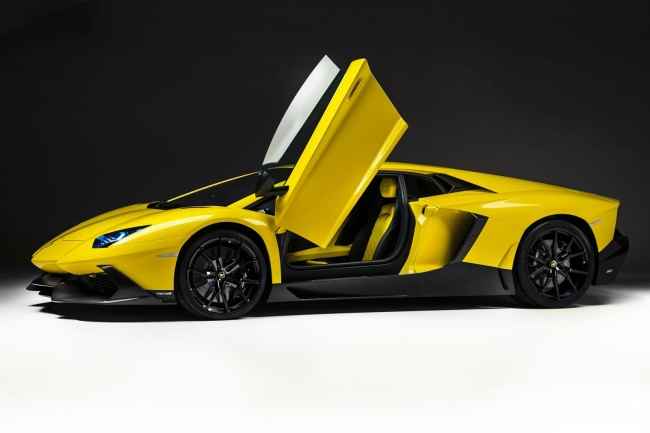 3. 24K Gold Bose QuietComfort 35
The wireless Bose QC35 boasts built-in Bluetooth functionality and active noise cancellation for unblemished sound. Bose does ANC pretty well and the QC 35 by itself is a decent pair of headphones on its own, but ColorWare CEO Justin Cisewski thought maybe it would look better in gold. All we can say is it definitely brings the bling! According to Justin, 24K gold is always in high demand, so he thought, why not offer it with their best selling headphones. Ingenious. And it's not as simple as just a simple gold coating, the process involves disassembly, cleaning, masking, painting, and inspection before being buffed and reassembled. The product is checked yet again after the reassembly stage to ensure you're getting the quality you expect. The regular Bose QC35 would sets you back by $350 (Rs. 29,363 approx), but the 24K model will set you back by $749 (Rs. 51,000 approx). Apparently, they're quite popular and there's only 50, so if you're interested, you can buy yourself a pair on the company's site before they run out of stock.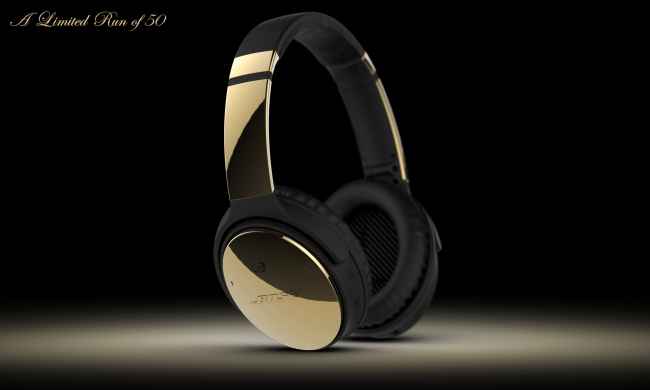 4. Audi Layer
It's not unheard of for an automobile maker to venture into making something other than, you know, automobiles. To that end, German car maker Audi recently collaborated with Jarim Koo – a renowned industrial and product designer – to create the Audi Layer. The Audi Layer is an exquisite looking, multipurpose input device for your PC. There's 4-in-1 functionality packed into its sleek design. Its flat surface can be used as a trackpad, and when the accompanying stylus is activated, the trackpad doubles as a tablet. If touch-based surfaces aren't your thing, the Audi Layer also comes with a keyboard that slides out along with the trackpad. However, the most noticeable thing about the Audi Layer would be the mouse it houses, proudly sporting an emblazoned Audi logo on it. Audi hasn't revealed the price for the Layer, but you can be sure that this is one gadget you'd want to have on display.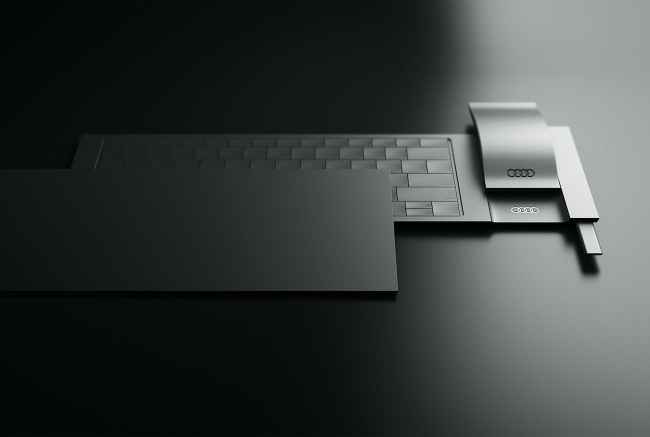 5. Vertu Signature Touch Teal Fluted edition
When it comes to luxury smartphones, Vertu is a well known name. The new Vertu Signature Touch draws inspiration from the Art Deco period with matt Titanium fluting, polished grade 5 Titanium sides and a black ceramic pillow. All of the above means that this phone is as much of a pleasure on the eyes as it is to use. The 'Teal' in the name comes from the Teal Blue leather that the phone is wrapped in, which comes from a specialist Italian tannery. The touch screen has been made from a single 130 carat sapphire crystal, for both a crystal clear high-def display, and a virtually scratch proof one. On the inside we have a Qualcomm Snapdragon 810 octa-core processor and for the OS it uses the Android Lollipop 5.1 64-bit OS. It's accompanied by ringtones and alert tones composed by the renowned London Symphony Orchestra. As for the price, you can buy it from Vertu's website for a whopping €10,400 (Rs. 7,54,000 approx).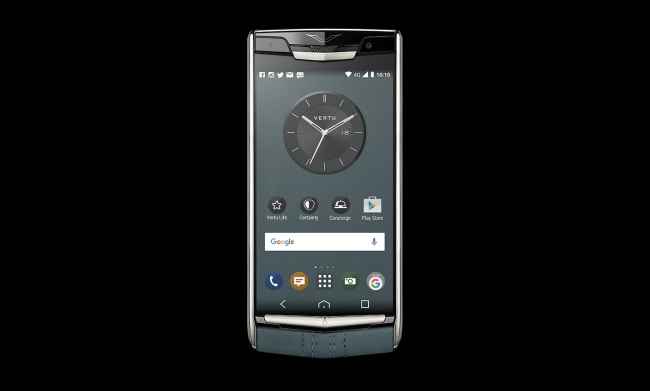 6. Royal Oak Perpetual Calendar
The all-black Royal Oak Perpetual Calendar is the latest from luxury swiss watchmaker Audemars Piguet. The Royal Oak Perpetual Calendar comes in all-black; that includes the bracelet as well, which is a matte black brushed ceramic bracelet. The case is also ceramic, and is supposedly scratch-proof. It's also resistant to high temperatures and thermal shock. It doesn't age either. In classic Audemars Piguet style you'll find the "Grande Tapisserie" dial which features a gorgeous moonphase. The workmanship and attention to detail on this watch is what steal the show. Over 600 hours of research went into the development of this beauty, piece taking thirty hours of machining, polishing and careful hand-finishing to assemble. If you want to own one however, it'll set you back by $85,000 (Rs. 57,00,000).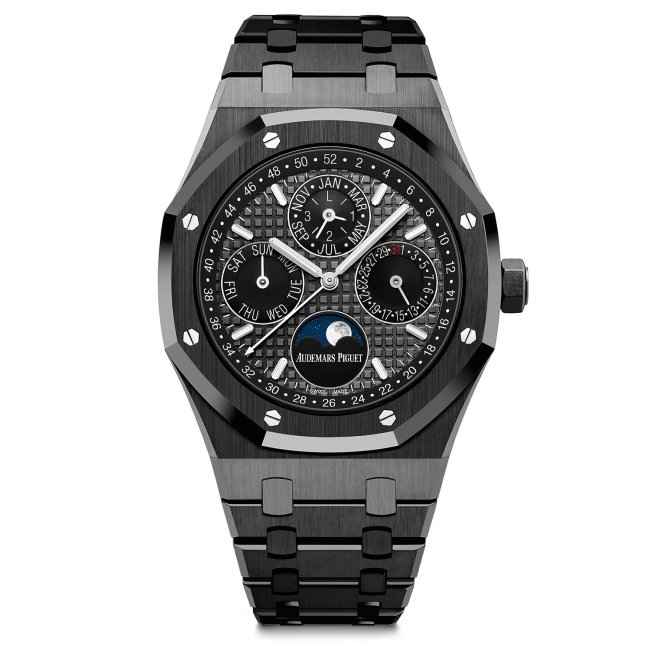 This article was first published in the February 2017 issue of Digit magazine. To read Digit's articles first, subscribe here or download the Digit e-magazine app for Android and iOS. You could also buy Digit's previous issues here.