Hard drives have always been treated as a commodity segment and rightly so. The scope of improvements have always been limited owing to how rarely innovation happens in this segment. Talks of HAMR and MAMR have been going on for a few years now but we're yet to see the drives get to the consumers. As far as we know, only select data centre clients of the hardware manufacturers have had a taste of the new drive technologies that are expected to be launched in 2020-2021. As of now there are certain SKUs such as the Ultrastar enterprise lineup which leverages MAMR technology to scale data density and Seagate is reportedly coming out with their first consumer grade HAMR drives in the later half of next year. It's a no brainer that such high capacity drives are going to be released for enterprises. Consumer grade high-density drives are still some time away.
Winner: WD Red 10TB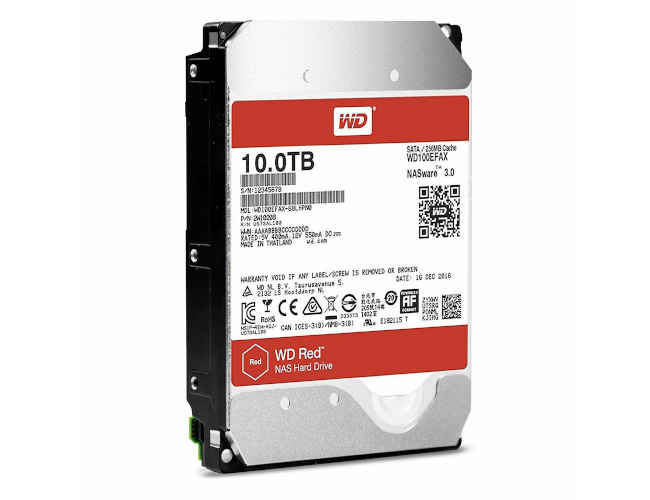 The WD Red 10 TB drive is the absolute top end NAS drive from their WD Red lineup. They also have the WD Red Pro lineup which has slightly better specs but we didn't get that particular hard drive. WD also sent us the WD Gold hard drive which we had to exclude since it was an Enterprise grade hard drive and we were only calling for Consumer grade ones. The WD Red is a 5400 RPM class hard drive with 256 MB of cache and a rated interface speed of 210 MB/s. Coming to the power efficiency, it consumes 5.7 W during read/write operations and idles at 2.8 Watts. When we examined the spec sheets of all the competitors, it appeared that the 7200 RPM class drives would easily have the advantage since read and write IOPS were bound to be higher. We were surprised to see that the controller can easily turn the tide in favour of 5400 RPM drives as well. IOPS figures for 8K 100% read was a little higher than the Seagate IronWolf drive and 4K 100% read/write throughput was also in favour of the WD Red. Latency-wise, with 4K characteristics we noticed, the drives seem to be quite evenly matched.
Runner up: Seagate IronWolf 16TB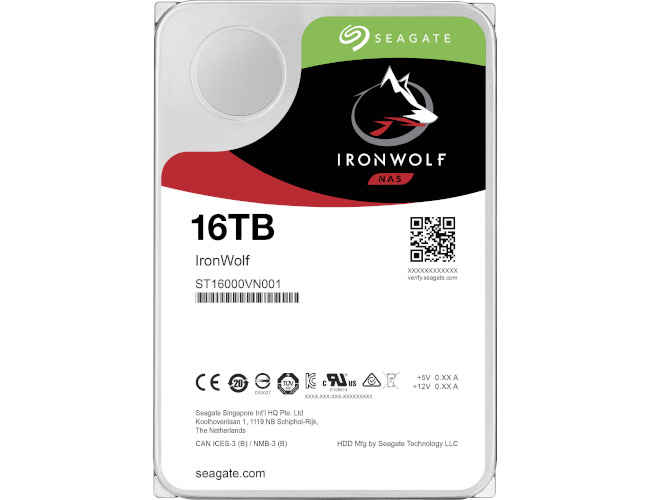 Seagate also has an IronWolf lineup for NAS drives as well as an IronWolf Pro lineup of NAS drives in a similar fashion to what WD does. We received the latest 16 TB SKU from Seagate which is a 7200 RPM class drive with 256 MB of cache and a rated interface speed of 210 MB/s. As for power consumption, it eats up 7.3 W on average during read/write operations and idles at 5.3 watts. Being of a higher RPM class, it was natural for the Seagate IronWolf drive to consume more power. The latency timings for the IronWolf were a tad higher than the WD Red in most of the benchmark runs as we scaled the number of threads. The drive did perform better than the WD Red in certain 128K read/write throughput runs and in 8K read/write throughput it was very close to the WD Red drive. These minor differences are what kept the Seagate IronWolf drive from winning the Zero1 award this year.
Best Buy: Seagate IronWolf 4TB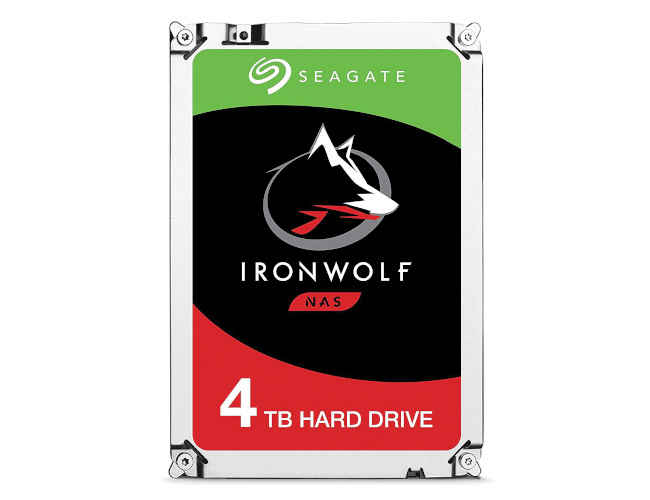 Seagate's NAS hard drives are comparatively cheaper than WD's NAS drives in India. At the 4 TB sweet spot, you'll end up paying `2175/TB for Seagate IronWolf drives whereas if you opt for WD, it's going to be about `2816/TB. Moreover, Seagate also has a lot more capacities of their IronWolf NAS drives selling in India at similarly attractive price points. Given that the hard drives from the very same series that we tested tend to perform so close to each other, it makes sense to opt for the Seagate IronWolf with the more economical offering. As we scale into the higher capacity drives, we see the cost-per-TB go higher and higher, so for this year with Seagate still providing more appealing rates even at the top. This makes it easy for us to side with Seagate for being the more appealing choice.