Technology is no longer limited to the wonders of the smartphone. Yes, the smartphone has given us lots to do from the comfort of our palms, but when it comes to innovation in smart devices, your phablets and tablets will soon seem passé compared to these exciting new gadgets just waiting to reach your hands and your homes.
Free your eyes with O6
Imagine having your emails read out to you as you drive to work. What if you had something that read out your Tweets and Facebook messages while you're out for your morning run? O6 is that device, a tiny circular disc that will enable you to use your smartphone without ever having to touch it. O6 connects to smartphones using Bluetooth and uses touch and tap actions to navigate through apps and other functions. It also offers context sensitive actions. For example, if you want to respond to a text while driving and have an O6 mounted on the wheel of your car, it will analyse the content of the message and suggest appropriate options as potential responses. All you would need to do is tap O6 and select your preferred response. O6 also has its uses at home and if you have your smartphone hooked onto casting devices like the Chromecast, O6 can act as a remote to toggle and control apps such as Netflix, YouTube, Amazon Video, photos and more. Because O6 reads out every action that can be performed on a smartphone, it also makes for a great tool for the visually challenged. Sounds amazing, doesn't it?
Knocki: Make any surface smart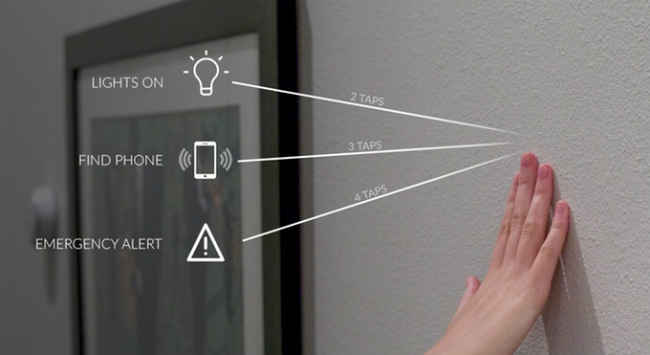 With Knocki, you can literally knock your way into smartness. The circular device can be attached to any surface of your choice to control the world around you. When you attach a Knocki to a wall, table, door or any piece of furniture, you can turn all these surfaces into remote controls for your smart devices. Knock on the kitchen table to turn on the lights. Knock on a wall to find your phone and make it ring. Expecting a knock on the door? Attach a Knocki to it and get a notification on your phone when your guests arrive. Knocki can also speak to your smart home devices and make them obey your knocks. One Knocki can store up to 10 unique gestures. These gestures or knocks can then trigger multiple actions as per the user's preferences. The device is currently compatible with iOS and Android smartphones and a bunch of other home automation gadgets such as the Philips Hue, NEST, Smart Things, IFTTT, etc.
GeoOrbital Wheel: Make your bike electrical in 60 seconds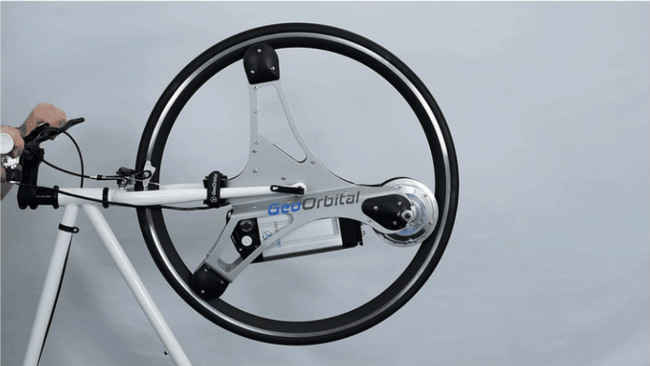 Always wanted an electric bike but stuck with a lame old bicycle? No more! The GeoOrbital Wheel is about to transform your bicycle into an cool electric bike and it promises to do so in just 60 seconds. The wheel is flat-proof and made of Aerospace grade Aluminium. It can easily replace any standard front wheel of a bicycle, with no tools required to do so. Running on 500w DC motor, it is powered by a 6Ah removable Li-ion battery, which lasts for 50 miles on a single charge. With the GeoOrbital wheel at your service, you can reach speeds up to 30 miles an hour, and you can always pedal to go faster. Whats's more? Well, with a built-in USB port, you can also also charge your smartphones using the massive battery that powers the wheel. Want to take it for a spin?
Povi: The connected story-telling buddy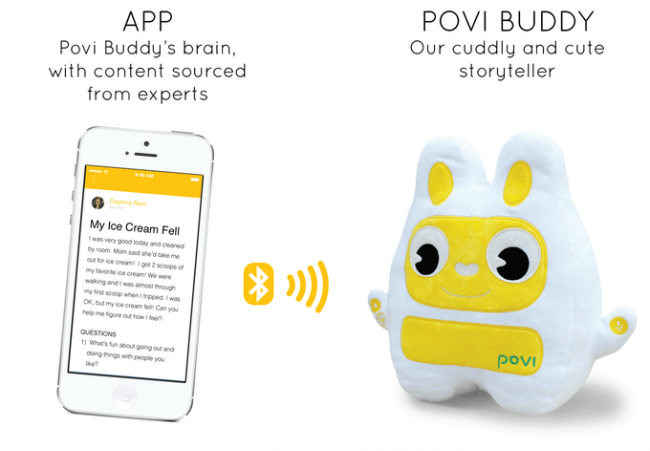 Kids are always looking for something fun to do, but these days, all you can distract them with is a smartphone or a tablet. That's why you need to check out Povi, a cute & cuddly toy that is also a smart adviser and storyteller for your children. Povi connects to a smartphone app via Bluetooth and relieves story packages curated from psychologists, teachers and other child development specialists. These story packages are then played out though Povi's internal speaker system, making it a great bedtime storyteller for your kids. The Povi app enables parents to choose stories relevant to their child's age and interest. It also provides follow up questions so that the parents and children can have a guided conversation later.
Socket: Because why do we need to buy expensive smart bulbs?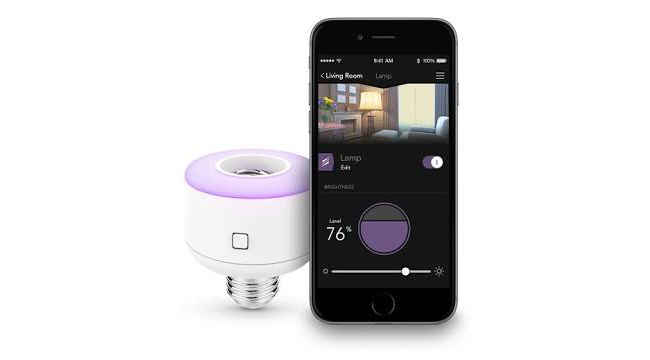 Smart connected bulbs are expensive. Plus there's always a chance of bulbs going bust. Therefore, a bunch of smart people decided to come up with Socket. Simply put, you can fit in any regular bulb into Socket and control the same with your smartphones. Socket Also works with Apple HomeKit so you can actually use Siri commands to dim the lights, turn them off and on and schedule timer. Connected lights anyone?