2021 is about to be a treat for gamers as a slew of new titles are about to hit the marketplace this year. The month of April, however, is barren of new releases which is why I decided to check out People Can Fly's new superpowered sci-fi shooter, Outriders, and spend a good amount of time grinding it. Outriders seem like a perfect game for washed-out Destiny, Gears, and The Division players and there's already a solid community in the making.
I started playing Outriders a couple of days back on the PC and I now have a pretty good idea of what to expect from the game. This is not the full review because I haven't explored the world enough to draw a conclusion, but I am going to share some of my initial thoughts about this game and try to help you figure out if it's even worth checking out.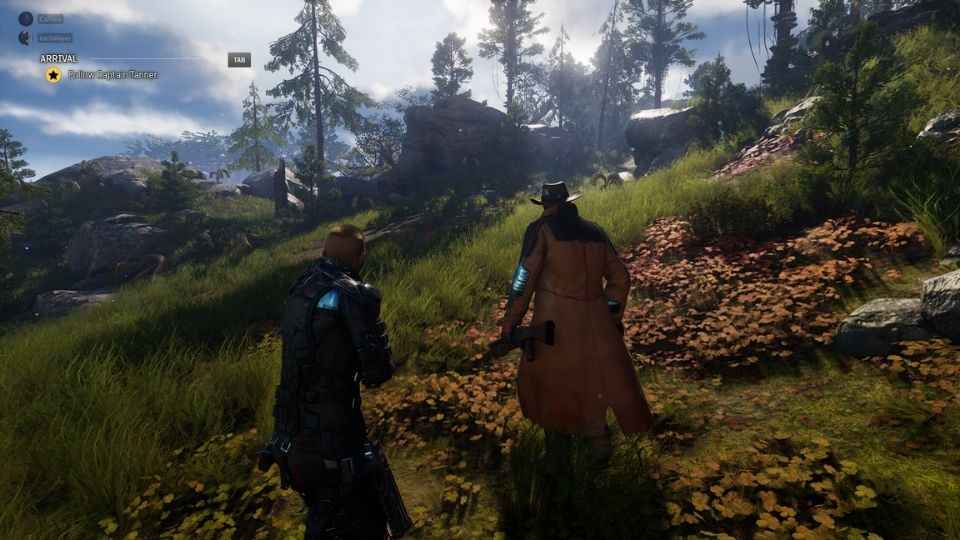 Outriders Gameplay: Grisly combo of gunplay and superpowers
'Outriders' is primarily a shooter and the core focus is on gunplay. Everything else like looting, crafting, abilities, etc. revolves around the idea of making it easier for you to take down enemies with your guns mainly. As soon as you finish the prologue, you can embark on the journey to explore and world either solo or team up with your friends.
The objective is to take down enemy mercenaries, gather as much loot as can you to gear up for potentially tougher fights going forward. Looting in the game, at least from what I have experienced so far, is very satisfying. You get new items either on stashes that are spread across the biomes or by killing enemies.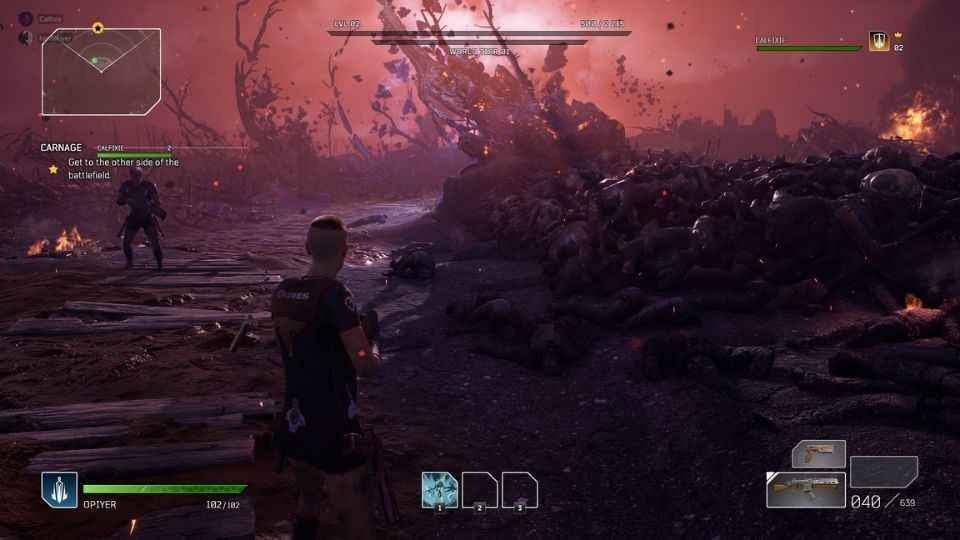 From jackets, pants, gloves, and headgears to heavy-duty sniper rifles, you get a good assortment of loot. Each item belongs to a particular class and the best items in the game are 'legendary' stuff that will greatly enhance your experience and make it easier to progress through the raids that get keep getting more difficult. I haven't found a legendary item yet but I have told that it will be worth the wait and effort, so I am really looking forward to it.
My current loadout includes an assault rifle, a terrific shotgun, and a pistol that's very satisfying to shoot. I also have an insane sniper rifle in my inventory which I see myself using a lot going forward. You can also dismantle the items that you don't want and get scraps out of them. Scraps can be used to purchase items from a merchant in your camp. Fights have mostly been rewarding so far because of the phenomenal gun mechanics and a barrage of loot that you get right after clearing a hoard of enemies.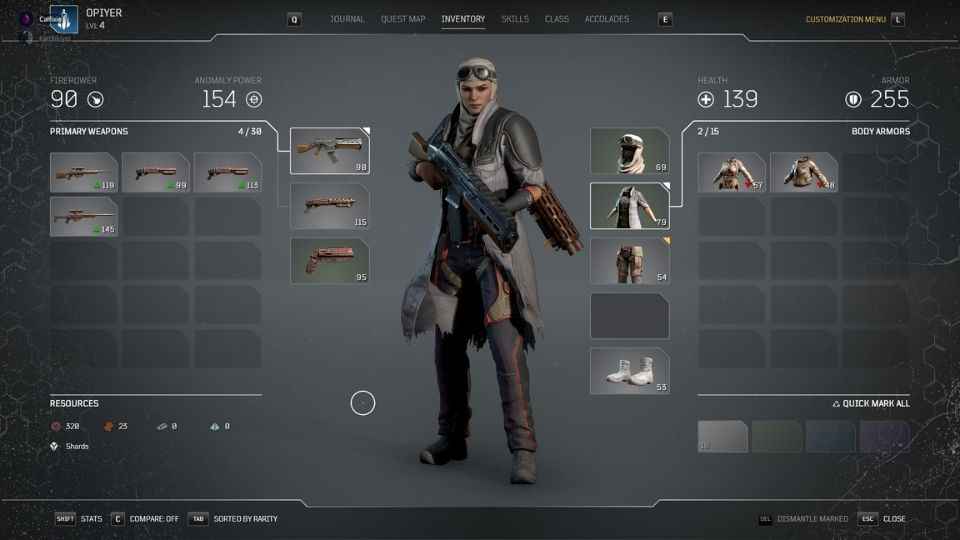 The abilities, I must say, compliment the gunplay very well. The trickster class abilities, especially, make up for some super aggressive play. We all know how well the abilities can complement gunplay with titles like Apex Legends, and I am glad that it's the main focus in Outriders too.
Each character class will get two abilities to begin with. You'll unlock more as you progress through the game. As a trickster, it's very satisfying to zip around the battlefield slicing and dicing foes. Other characters are equally fun to play if not more. If you can gather a group of people playing a different character from each class, then you'll definitely be an unstoppable force.
Each character class has different rewards but I would say Trickster is probably the best if you are planning to go solo. It can get a little difficult to manage early on in the game when you are getting used to the game and be healthy during the gunfights. As a trickster, you'll constantly replenish both your health and shields as you slice through the enemies.
Outriders Story: Surviving Enoch
The prologue of the game can be a little underwhelming considering all the hype but it sets a good pace for what's to follow during the next few hours. You essentially escape the dying Earth on a colony ship to a new destination called Enoch. It's a lush planet that looks like the dream planet until the expedition goes awry. Without spoiling much I can just say that the world you wake after decades in cryo is not very welcoming.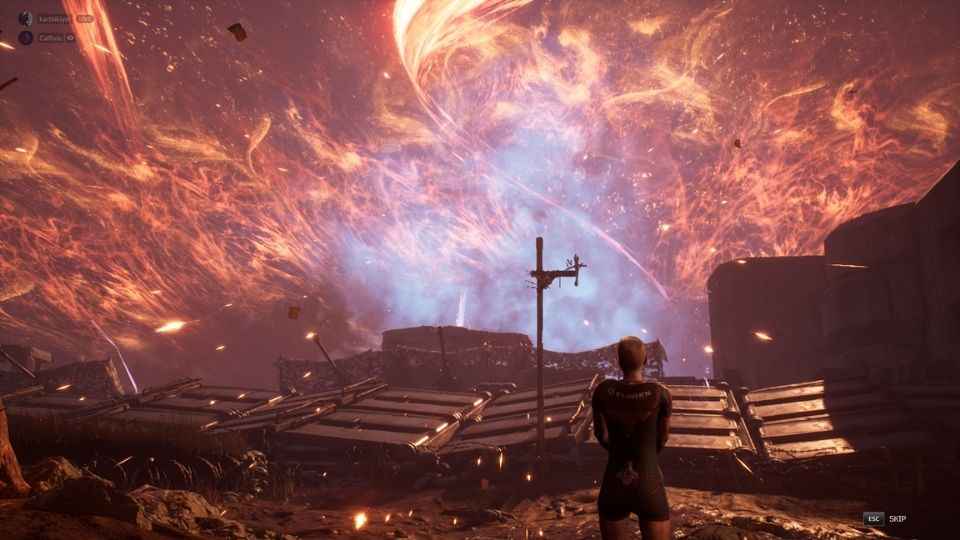 'Outriders' puts you in the middle of a bizarre anomaly that's altering the planet and its species to fight against humans who tried invading their planet. Everything picks up from there and the rest, as they say, is history. You are in complete control of the game and your character from that point and you will have the complete freedom to customize and weave your own path towards the endgame.
Outriders Graphics: Looks Stunning
As I mentioned earlier, I am playing a PC version of 'Outriders' and I can confirm that it looks stunning. The environments have a ton of details and the particle effects make it look that much better if you are running at max quality. The game full of mesmerizing visuals and you can tell that right after a couple of hours into the game. Even spraying bullets or tricking them my abilities looked and felt great.
I did experience some terrain glitches that made the game look a little weird at times, but that's more to do with the technical issue than a graphical error. There's a fully detailed and beautiful environment waiting to be explored every time you step out of your camp and that itself is enough to keep me glued to this game for hours.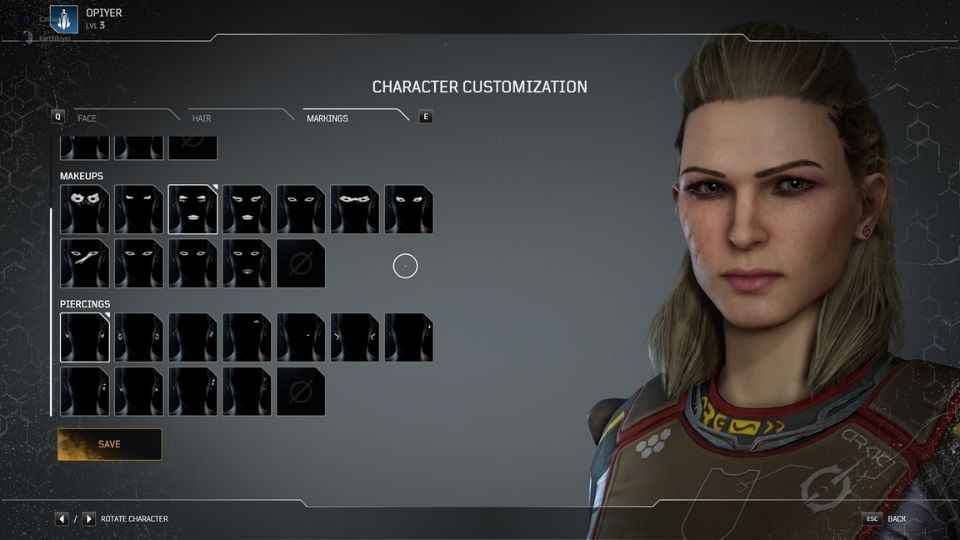 I love how there's never a dull moment in 'Outirders' and it manages to look good and run smoothly even when the enemies and effects fill the screen. I am running the game at max settings and I haven't faced any frame drops or stutters while playing it. My RTX 2060 Super is able to handle it very well and I am sure RTX 30 series GPU users will be able to hit the 60FPS mark even at 1440p or more with the help of DLSS.
Yes, the game also supports Nvidia DLSS that will help all the RTX gamers to maintain smoothly playable frame rates during the title's most hectic 3-player moments. I highly recommend using Nvidia's DLSS if you have an RTX card to gain performance improvement and boost your frame rates. I will try to add a detailed performance analysis of the game in my full review, so stay tuned for that.
Outriders First Impressions
From what I have played so far, Outriders certainly feels like a fun shooter with a compelling story in its hands. Even beyond that, it feels like the game has a lot of potential to be the next big online multiplayer game should Square Enix and People Can Fly choose to support the title and its player base.
But yes, there are a lot of rough edges and I want Square Enix to fix those in the future patches. For instance, the PC version of the game seems to have aiming issues wherein your crosshair doesn't show up. The controls also feel a bit wonky at times. Like, nobody wants to somersault by accidentally double-tapping A-D keys to strafe. Even the cover system of the game leaves a lot to be desired. It's also worth pointing out that I was locked out of the game for the first couple of hours of its launch due to some server issues. It makes me want to highlight the fact that there's no offline mode.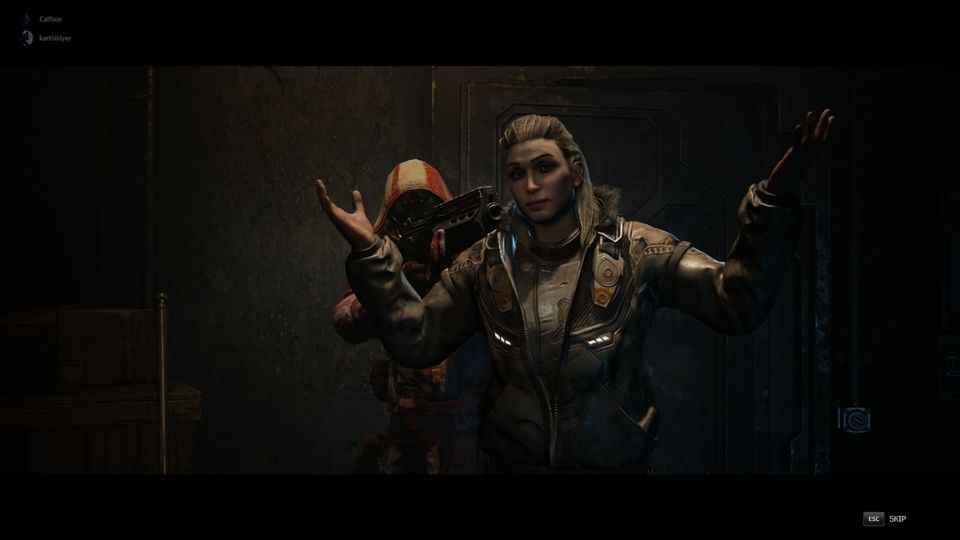 I am sure the Outriders team is working hard to iron out these issues to deliver a solid experience. There's already an incredible community in the making which I am so happy to be a part of already. I definitely see this growing into something big and stretch its legs for years to come. Even if you are not looking forward to Square Enix's expansion plans for the future, I think Outriders is definitely worth picking up and giving it a shot. I hope my initial impressions will hold true as I continue to put more hours into the game before giving out the final verdict.