Take the Delhi Metro during the morning rush hour, and among passengers glued to their smartphone screens watching movies, you will find many thumbs frantically tapping the screens, with eyes glued to their smartphones. Some might scream out in frustration while some may just do small jig in the middle of the crowd, grinning wide. Fret not, they aren't lunatics. They are deep into gaming and every place is good enough for a quick session. Thanks to faster internet connectivity and affordable smartphones, smartphones have become the primary bastion of gaming in India. Not that there aren't many PC or console gamers, but mobile gamers have been increasingly outnumbering them over the past few years.
According to a report by The Mobile Marketing Association (MMA), three out of four Indian gamers are into mobile gaming and play at least twice a day, for an average of over 60 minutes every day. Most players in the 20-34 years age group prefer to play action and racing games. Of course there are your casual gamers playing Candy Crush or Farmville, but with the phenomenal popularity of battle royale games like PubG Mobile and Fortnite, mobile gaming has suddenly become competitive.
It took PC and console gaming years to be recognized as a mainstream professional sport. While the first video game was launched back in 1958, it was only in 2017 that the International Olympic Committee recognised gaming as a viable sports. It took years for PC and console gaming to become a competitive affair with international eSports organisers like ESL and Nodwin setting camp in India in the past decade. In contrast to that, while mobile gaming is indeed the more popular choice, it is still isn't globally an 'eSport'.
You might argue the recent spike in PubG Mobile's popularity and it's community-based competitive multiplayer gaming is spuriously addictive. 100 players battling it out to be the last man standing is certainly a virtual Hunger games-like situation. It's addictive, but there is also a certain amount of luck involved. A packed arena of 5,000 people watched Thailand's RRQ Athena take home the trophy at the PubG Mobile Star Challenge finals and millions more tuned in online.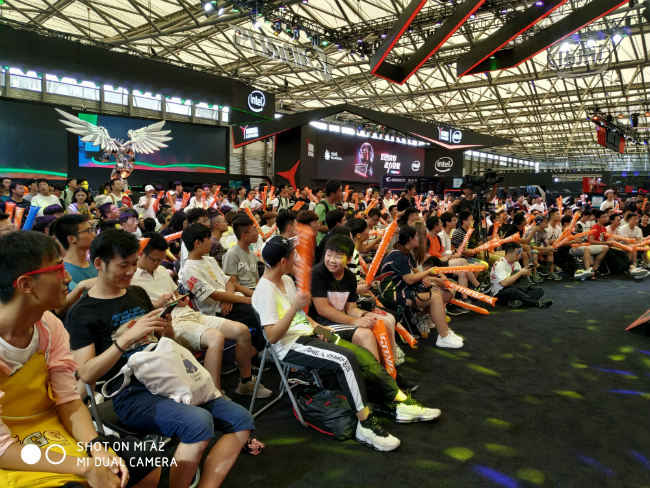 A big crowd cheering their teams at ChinaJoy 2018
However, many believe that the game and platform itself doesn't qualify as eSports. It's a matter of luck what guns you will find when you land, and where you will be encountering enemies. Unlike CS:GO where the guns and ammo are measured equal for both teams in the beginning and the map is pretty much predictable.
Then again, PubG Mobile was awarded the 'Best Game of 2018', 'Most Competitive' and 'User Choice' in Google's list of best games of 2018. Last reported, the game has five million daily active users and there is a thriving community of streamers, some of whom have become celebrities in their own way. eSports or not, there's no denying that mobile games like PubG Mobile, Fortnite, Clash of Clans and Clash Royale can keep you hooked for hours. Two teams, 8Bit and Team IND recently qualified for the Asian finals of the recently concluded PubG Mobile Star Challenge beating players from across Asia. Clearly, mobile gaming is on its way to becoming a ragingly popular eSports category. Building a platform for mobile gaming to emerge as a viable career is Delhi-based startup GamingMonk.
Nurturing eSports players in India
If you're a gamer reading this piece, the name GamingMonk should be quite familiar. It's one of the leading proponents of competitive eSports in India, frequently organising tournaments across a multitude of platforms. Over 70,000 players battle it out across platforms and games hosted by Gaming Monk everyday. Unsurprisingly, it's mobile gaming tournaments are more popular. A quick look at the list of their upcoming tournaments will tell you PubGMobile, Clash Royale and Fortnite are the three most popular games people are playing competitively on their platform.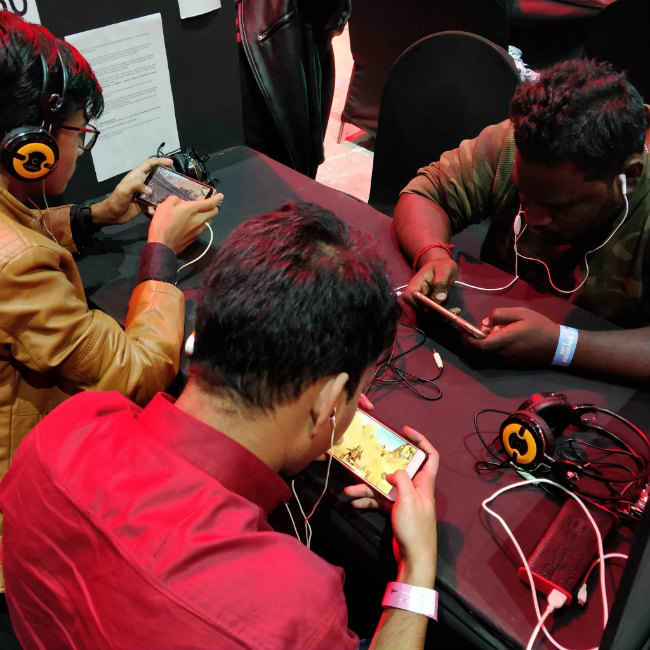 Young gamers battling it out at DreamHack Mumbai 2018
While the startup initially hosted offline tournaments for PC and console gamers, founders Abhay Sharma and Ashwin Haryani realised shifting the game online was more lucrative. Organising offline tournaments required high investments and were geographically restricted. Instead, they now host virtual tournaments almost every hour, every day. Co-founder Abhay Sharma considers this to be the ideal model as it circumvents the geographical restriction and allows for more tournaments every day.
"This system helps the consumer play every tournament from the comfort of home, office or anywhere else. It's a side hobby of many of our users and many players have already earned around 70-80k (rupees) each month from our portal," he said.
Nothing works better as an incentive as money. The company has doled out cash prizes totalling Rs 40 lakhs in 2018. With a big prize pool, GamingMonk is enabling a culture of fierce competition in gaming. For instance, PubG Mobile tournaments have a monthly cash prize of Rs 50,000 and players have to play every day to earn points. The player with the highest points gets awarded a big cash prize. Sharma said from February onwards, there will be weekly cash prizes as well. The startup recently closed another funding round and the prizes go out of their operating funds, but there are sponsorships and advertisements on the platform as well to keep things commercially viable. The gaming format also changes every month, as does the cash prize offered.
With a huge prize pool and an active leaderboard, GamingMonk is also giving less reason for players to shift to other platforms. In fact, there are quite a few rivals of GamingMonk cropping up such as Toornament, and Amazon's own venture in competitive mobile gaming.
Community as the USP
"We invite players through a closed, verified portal. We also have retention models like a points system that a player accumulates over time playing games. These points actually bring out the history of players that he can maintain as proof of how well they play. That along with cash prizes ensures there's little motivation for gamers to go elsewhere," Sharma said.
Clearly, the GamingMonk community is a strong and active one. They play together, know each other and follow each other which Sharma believes is what makes GamingMonk special. Tomorrow there could be more startups organising eSports tournaments online, but Sharma isn't worried. "We have already built retention and community models, and by the time others come into the space, it will be too late for them," he said.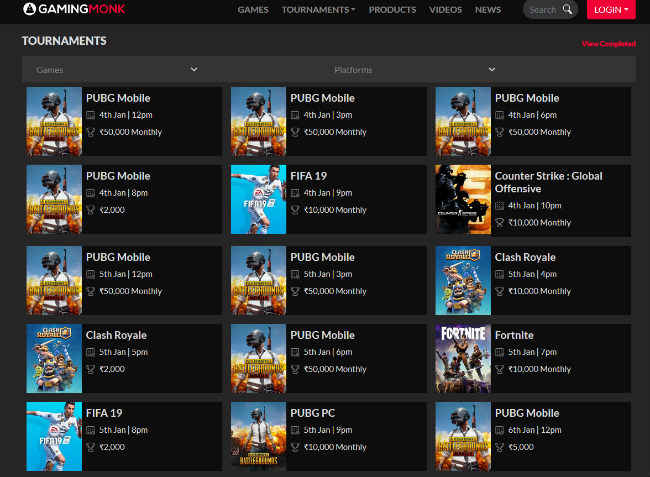 GamingMonk hosts daily tournaments where you can earn cash prizes
Sharma himself is a hardcore gamer and plays across all platforms. With co-founder Ashwin Haryani, he founded GamingMonk in 2014. In fact, the startup was initially an e-commerce platform. Perhaps due to stiff competition from established e-commerce platforms, they quickly pivoted to hosting gaming tournaments and have not looked back ever since.
A government policy for professional eSports
Even as online gaming tournaments continue to become more and more popular, India's hopes of competing with other countries in international eSports tournaments isn't going to become a reality soon. While Sharma believes there are highly skilled and competitive players in India, the infrastructure is still lacking.
"It (the infrastructure) is not strong enough to allow gamers to compete to their full potential and go head-to-head with the world's best. With little or no support, how can you expect local players to spend 8-10 hours a day practicing and then competing globally?," Sharma says.
Those who play eSports professionally don't just sit on chairs and play games all day. Their "training" involves vigorous exercise and a strict diet jst like any other athlete. This is to ensure the highest levels of alertness and peak physical endurance to power through long hours of competitive gaming.
To overcome that challenge, Sharma is in talks with members of IOC and also with Akash Ambani, who himself is an ardent gamer and is keen on using Reliance Jio's reach and popularity to improve competitive eSports. Sharma has even approached the government to create a policy and regulation for eSports in India, and remains hopeful that the country will soon see a world champion in video games.
But one can only do so much. Even after supporting local talent, building communities and incentivising gaming as a serious hobby, work remains to be done. India already has the fifth highest number of game downloads in the world while gaming has flourished into a $890 million industry. If not now, then when?