India hosted ESL One Mumbai between 19th and 21st April, the first ESL One tournament to be hosted in the country. The event marked a turning point in India's journey to being an eSports-friendly country. We caught up with Intel's Lee Machen at ESL One Mumbai and asked him, "how long till India hosts an Intel Extreme Masters (IEM) tournament?" His response was a simple smile. A few weeks later, Intel flew us to Sydney for their Intel Extreme Masters CS:Go championship, where we learned just what it takes for a country to host a tournament of this scale. There are four components that must come together in order for an event like ESL One or IEM a success.
The Fans
Honestly, I wasn't sure whether to list this last or first, but one thing that has been consistent in my conversation with the people from ESL, Nodwin Games and even Intel, is that the heart and soul of any gaming tournament is the audience. While ESL One Mumbai had a rather modest turnout, the crowd was still incredibly engaged with the action taking place on the stage. However, what I witnessed in Sydney, was nothing short of a revelation. Held at the Qudos Bank Arena, Intel Extreme Masters saw over 22,500 people in attendance over the three days. On any given day, the matches lasted 7-8 hours, with the final match between Team Liquid and Fnatic lasting a whopping 6 hours. For the entire duration of the match, the stadium remained comfortably packed, all they way to the nosebleed section. Perhaps the most overwhelming aspect of being in attendance at the IEM was the fact that, for the entire duration of the matches, the crowd not only stayed in their seats, only getting up for the occasional toilet and beer break, but they were ceremoniously involved. The constant cheering and jeering, one seating section mocking another, the Mexican waves and even the occasional screaming matches between the various sections made the audience just as interesting as the games being played. In all honesty, if you closed your eyes and just listened to the crowd, you wouldn't be able to tell whether you were watching a cricket match or a video game competition. That was the level of energy in the space.
The crowd eagerly awaiting the first match of Day 1 to begin at Intel Extreme Masters Sydney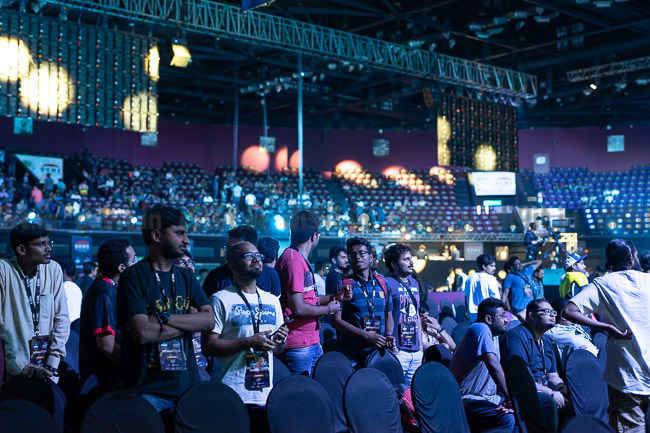 ESL One Mumbai had a more modest turnout
India has a massive audience for games with 22.70 million people in India having watched eSports games. We just need to get them into stadiums and build the kind of rabid fandom for eSports as they would have for a cricket match
The Teams
Part of what gets the fans going is their favourite team. During ESL One Mumbai, everyone was rooting for Signify, being the only Indian team in the tournament. We caught up with Akshat Rathee, Managing Director, Nodwin Games who shed some light on the eSports team scene in India. Commenting on Team Signify's elimination, he said that this was the very best DotA 2 team in the country, but from an international standpoint, they just couldn't compete. This is due to a lack of abundance in training facilities. Usually, a few friends will come together and form a team, but in order to be a team capable of competing internationally, Rathee feels companies need to scout for talent, hire them, pay them salaries and put them through a proper training regime. In addition, Team Signify's Raunak Sen, better known as Crowley, shared that there is a dire need for international coaches in the Indian eSports scene.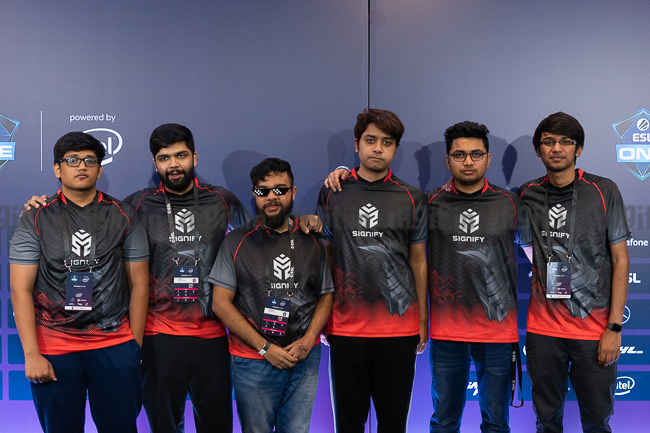 India's Team Signify represented India at ESL One Mumbai DotA 2 Championship
While it isn't important that India have world-class teams for Indians to be interested in eSports, it does go a long way. During IEM Sydey, Renegades was a semi-Australian team, but the final was held between a team from the USA and Sweden. The crowd, however, couldn't have cared less as they were there for the love of the (e)Sport. However, there is no doubt having a growing number of professional teams will go a long way in spiking the Indian gamer's interest in eSports. Rathee shared that since the infamous "Forsaken" incident, the number of teams in India has grown threefold, as the opportunity for recognition, making money and doing what so many love, has become more widely known.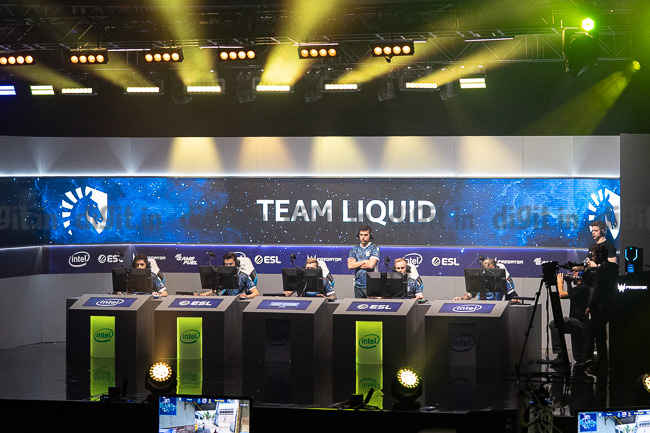 Team Liquid won the Intel Extreme Masters Sydney
Venue & The Infrastructure
While at IEM Sydney, we got to be part of a closed door session with a few notable individuals, two of whom were Lee Machen ,General Manager (Gaming Sales at Intel Corporation) and ESL Pro Gaming Vice President Michal Blicharz. Part of the discussion revolved around the difficulty in hosting tournaments of this scale in more countries, due to the massive amounts of logistical work involved. For example, IEM Katowice, which takes place in Poland, had the ESL crew on ground for 6 weeks to set up the whole venue. This is in addition to the months of prep work done before the crew flew in. In this conversation, Lee Machen brought up ESL One Mumbai, where he said that he was surprised (pleasantly) to see how the organisers had arranged for power backup at the NSCI stadium, where the tournament was taking place. In his words, "there was enough power backup to power an entire city block. It was amazing!" On a similar note, Akshat Rathee of Nodwin Gaming told us during ESL One Mumbai that they had to pull four dedicated leased lines into the venue to ensure uninterrupted connectivity for the players and the fans watching the game online. He said that two lines were actually backup lines, as the area was notorious for people cutting off internet wires, and as shared, someone did snip one of the four internet lines while coming into the venue.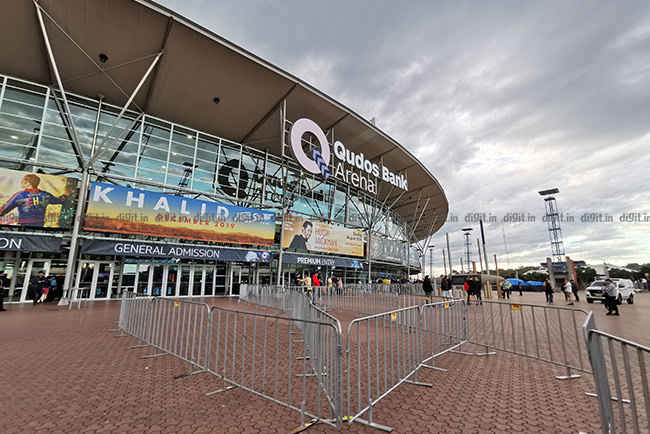 The venue for Intel Extreme Masters could seat over 18,000 people
For any successful eSports tournament, power and internet are two critical needs that cannot falter even for a second. Both Intel and ESL take starting a match on-time extremely seriously as there are thousands and thousands of people waking up at all odd times of the day to watch the match. To make this happen, power and internet cannot go out.
OEM and Partner Showcase
One important aspect of both ESL and Intel's eSports tournament properties is the massive showcase of products and gaming experience zones they put together. NSCI Mumbai offered a rather modest area to Intel and Asus for their showcase, but the Qudos Bank Arena in Sydney had three demo zones spread across three floors. On the main floor was a space taken up by Intel and Acer, a co-sponsor for IEM. A second hall was dedicated to all the OEM partners of Intel like HP, MSI, Asus etc. to showcase their machines. The third pavilion saw many Australian PC building companies showing off their cool custom builds using funky cases, liquid cooling and some very outlandish case mods. Lee Machen says that this showcase is a vital part of IEM as it allows gamers to experience all kinds of games, and engages them through various giveaways. During the three days of IEM, I witnessed T-Shirts, mouse pads, mechanical keyboards, gaming mice and even gaming laptops being given away at the end of competitions. Intel even gave away a number of Core i7-9700K processors and a bunch of Intel NUC Haydes Canyon machines. All of this is to help boost the sales of gaming hardware, whether its pre-built gaming PCs or custom rigs. The end goal of this entire exercise is to get people to buy/upgrade their PCs. A venue that doesn't accommodate such experience zones would not help Intel's goal of helping their OEM and local partners grow.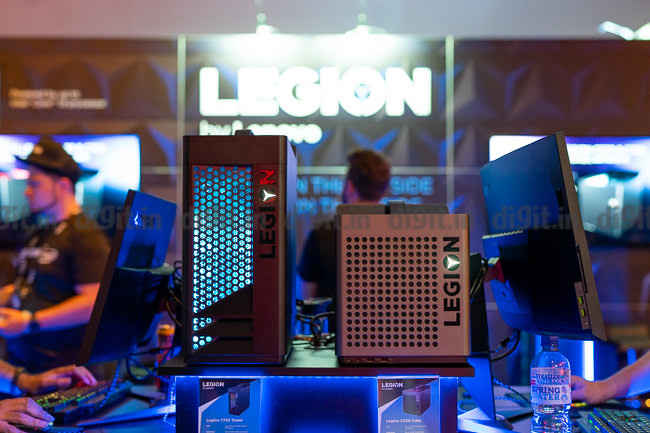 OEMs get dedicated space at IEM to showcase their machines and host tournaments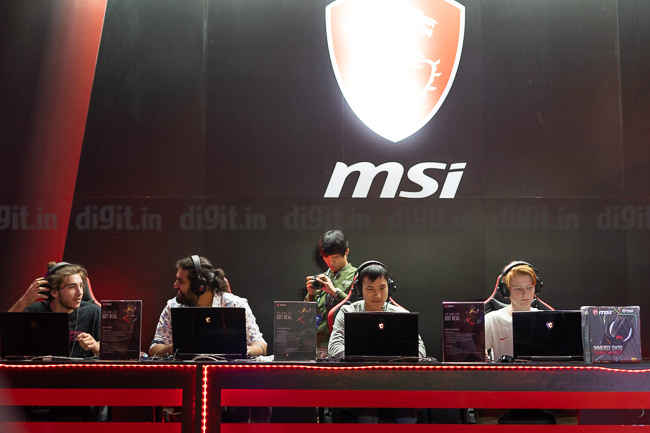 Mini CS:Go tournament at the MSI booth. Winner got a laptop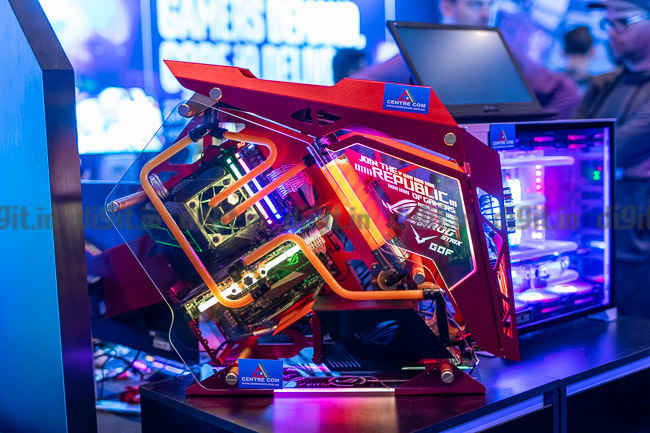 Local Vendors get their own space to showcase their custom builds
Intel-inspired PC cases
India's Place in the eSports scene
India being chosen to host the ESL One Mumbai in of itself is proof that the country is now ready to play in the big leagues. We do need more talent to come up, and that's not just in the form of gamers. The eSports industry as a whole needs commentators, analysts, coders, event managers, IT staff and what not, so events like these pose great opportunity for employment as well. We have enough venues around the country to host large scale events like these, and ESL One Mumbai proved that we can also manage the power and internet issues. What we are definitely in need of is growing the eSports audience, not just in terms of numbers, but also in terms of the enthusiasm. We also need to find ways to support our eSports athletes and help them upgrade their skills to the point where they can not only compete internationally but give the best teams the toughest of competitions.
Double your productivity with the ASUS ZenBook Duo Series
Previous Post