In a move that was probably intended to shake things up a bit before the Nvidia's Fermi GPU family finally launched, AMD ATI will release new ATI Catalyst drivers on March 24th, following their February preview release. Say hello to the ATI Catalyst 10.3a Drivers. They are here to give you better performance out your ATI Radeon and Mobility Radeon graphics cards, on your Windows 7/Vista machines.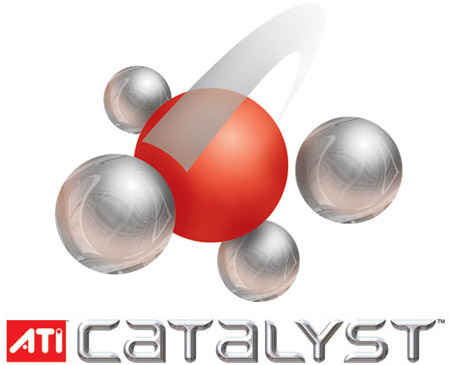 ATI says the new driver updates will offer optimization for the latest game titles, as well as Eyefinity updates, apart from an overall speed boost. The drivers would also provide support for 120Hz Stereoscopic 3D with updated Direct3D (Quad buffer support) driver, which will "enable 3rd party middleware vendors such as DDD and iZ3D to output stereo L/R images at 120 Hz (60 Hz per eye)". It will also show an average 5% increase in performance of HD 5xxx series graphics cards, with such highlights as a 20% performance increase in the DX 11 title Dirt 2 on HD 48xx and HD 58xx series.
Legit Reviews benchmarked the new ATI Catalyst 10.3a Preview Drivers versus the ATI Catalyst 10.2 Drivers on a ATI Radeon HD 5870 GPU, which was fitted on a Win7 64-bit, Core i7 975, Asus P6T Deluxe V2, 6GB DDR3 1866Mhz system. What they found was quite interesting, and completely justifies benchmarking the entire HD 5xxx series again, to be truly able to check them out against the Nvidia Geforce GTX 480 and 470.
Apart from the Unigine 'Heaven' DX11 and 3DMark Vantage tests, the new drivers were also put up against some major game titles, such as Batman: Arkham Asylum, Resident Evil 5, Tom Clancy's H.A.W.X, and S.T.A.L.K.E.R.: Call of Pripyat.
While the performance was only marginally better in some games, two games stood out for different reasons, with Batman: Arkham Asylum actually taking a small performance drop, and Tom Clancy's H.A.W.X flying with19% jump in FPS. The Unigine 'Heaven' DX11 test showed a 9% increase, while 3DMark Vantage had 11% increase, Resident Evil 5 had a 6% increase, and S.T.A.L.K.E.R.: Call of Pripyat had a 7.7% increase. Check out the benchmark charts in the photo-gallery below, courtesy LegitReviews.com.
All this gives us a feeling that the Nvidia Fermi and ATI Radeon HD 5xxx series will stand pretty evenly matched in the upcoming battle for DX11 supremacy. Looking forward to the melee! Download the ATI Catalyst 10.3a Preview Driver here, if you can't wait for the full-release tomorrow.